Garage Doors: Simple Makeover With Big Impact
A BUDGET-FRIENDLY MAKEOVER FOR GARAGE DOORS: A SIMPLE PROJECT WITH BIG IMPACT!
You guys, if you have plain garage doors you need to see this simple makeover! I've had this idea for years and I'm not sure why I waited so long to tackle this project! This is not only simple, the total cost of this makeover is only around $40!
Here is the before photo.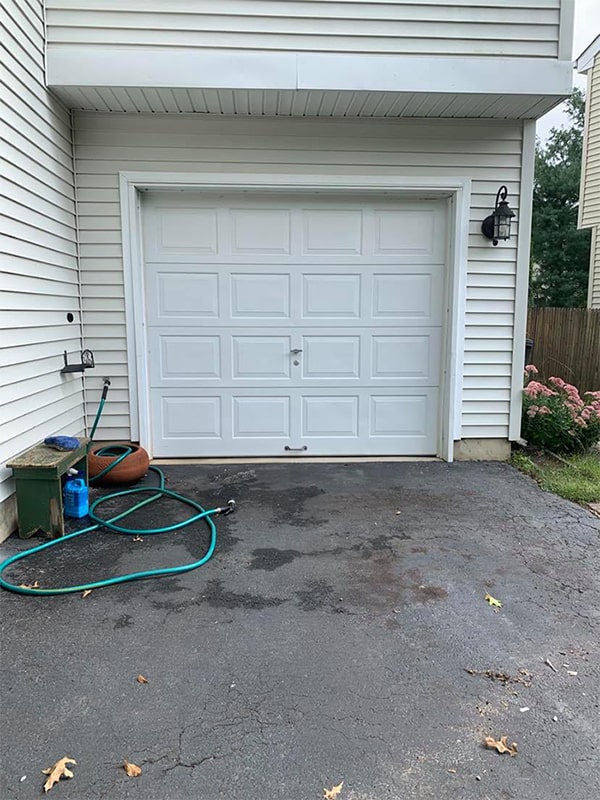 My idea was to paint windows on the top squares of my plain garage doors and add decorative hardware. I wanted to get the look of pretty carriage doors without actually replacing the doors.
Cleaning The Garage Doors
First I cleaned the garage doors and surrounding siding with Mr. Clean Outdoor Cleaner. This product attaches to your hose and worked really well to get rid of the dirt. The directions say to rinse it with water first, spray on the cleaner next, and let sit for 10 minutes before rinsing. Though it worked really well overall, there were a few stubborn spots I had to use a scrub brush on.
Prepping For "Windows"
Once that had fully dried, I prepped the door for painting the faux windows. I lined the top four squares with a good amount of painters tape. I intended to use my Flexio paint sprayer for the windows so I wanted to take care to protect the surrounding area from overspray.
Next, I measured the center of each "window" and used a level to mark a straight line horizontally and vertically.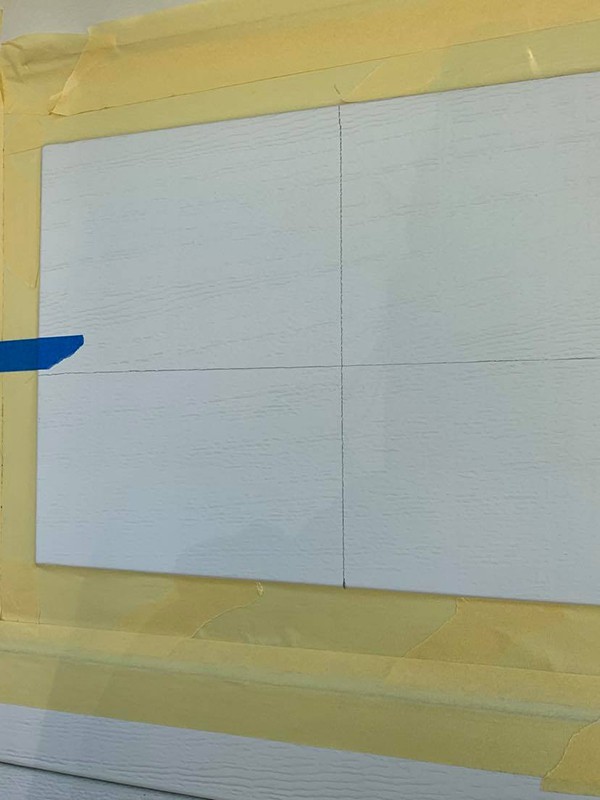 After that, I added a thin piece of 1/2″ painters tape across each window along my pencil line. Press down all around your painter's tape very well to make sure you don't have any gaps. You definitely do not want any bleed through on this one.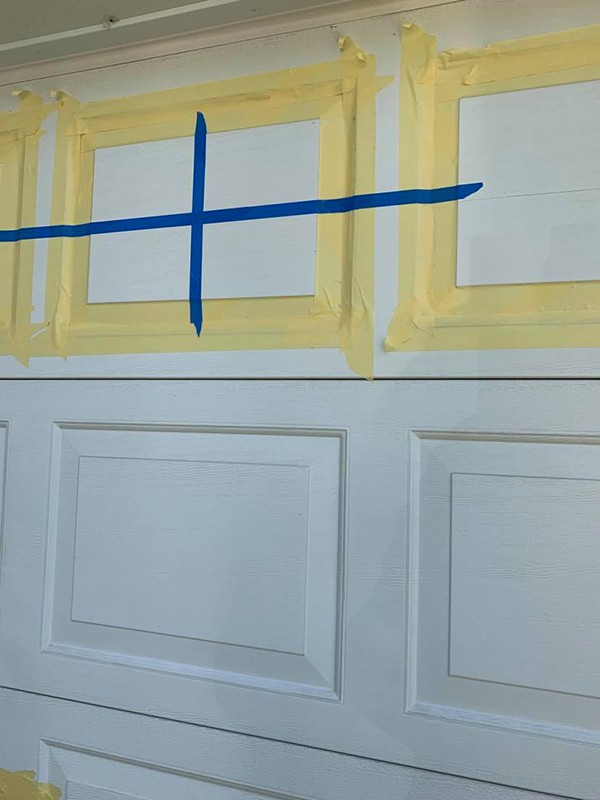 When I was preparing for this project my eye kept going to the ugly cement foundation. I decided to paint that as well to clean it up, so I taped off around those areas with painters tape as well.
For my windows, I used Rustoleum prevents rust paint in high gloss black. I wanted the shiniest finish I could find to make the faux windows look reflective and more realistic.
Painting Faux Garage Door Windows
First, I set up my Flexio 5000 paint sprayer with the Rustoleum paint. I had used my sprayer with stencils before and it's amazing how crisp the lines come out. Much better than when using a brush. For more on that, you can see how I stenciled floors here and how I did it again during a design challenge here.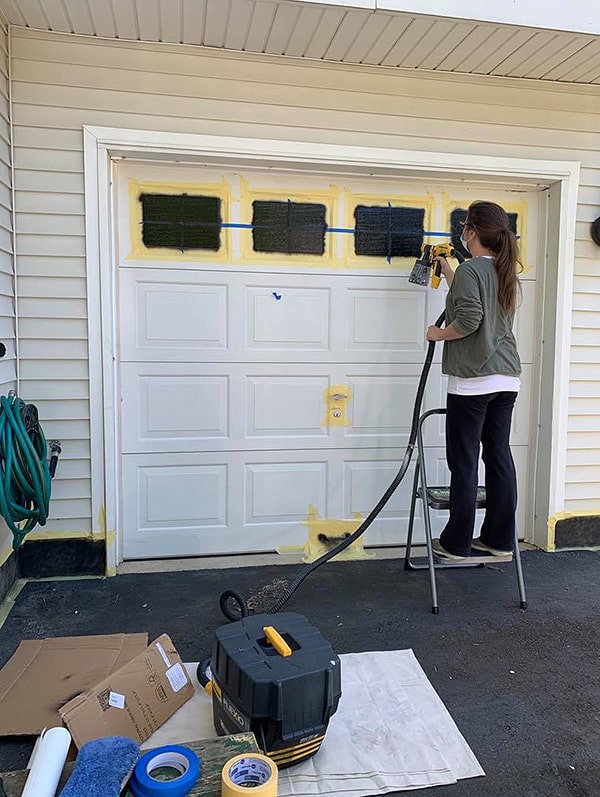 Spraying the paint onto the windows took no time at all. It took ten times longer to set up for this than it did to actually paint it.
For the foundation, I did not want a shiny finish. But since I had a good amount of the satin black still in the sprayer, I mixed in a soft black paint called Soot from Benjamin Moore in a flat finish to tone down the shine.
This worked well enough until suddenly my sprayer started to clog. I realized that the shiny paint is exterior paint and the soot color was interior paint. Apparently, those don't mix well and they started to goop up. Fortunately, I was able to get the area sprayed before it completely clogged. I quickly ran a good amount of paint thinner through the sprayer to clean it and all was well.
One other thing to note is the existing garage door handles and lock. Those couldn't be removed so they also got painted black. I was a bit concerned that wouldn't look right but overall, I think it came out pretty good.
Magnetic Hardware for Garage Doors
After the painting was done, it was time to add my carriage door hardware. I have to say, this product is so cool. These are actually magnetic hinges and handles that stick right to your garage doors! It doesn't get any easier than that!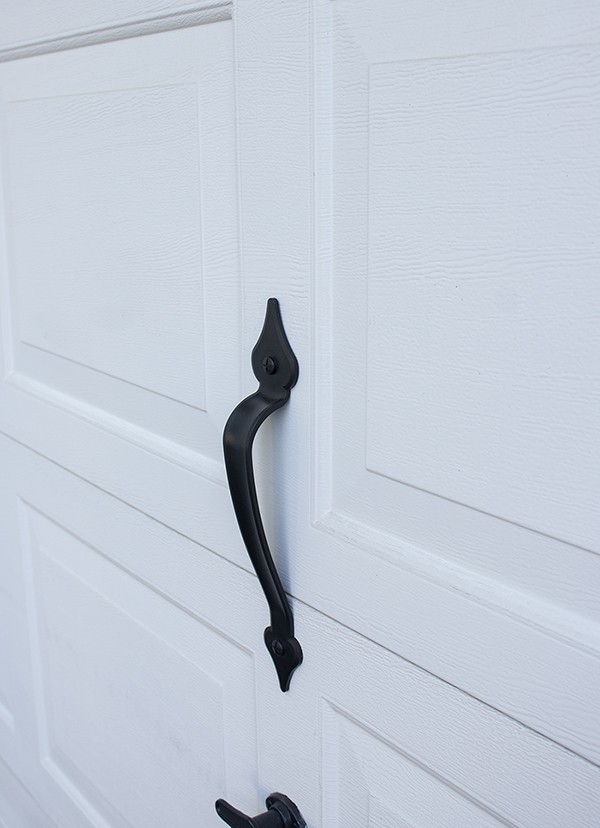 Are you ready to see what it looks like now?
Pretty cool right? For less than about $40 I got the look of brand new garage doors! We had painted our shutters black a few years ago and the black accents on the garage door really complement those well. I had also painted the cement porch floor last year to look like wood planks, that is really holding up well!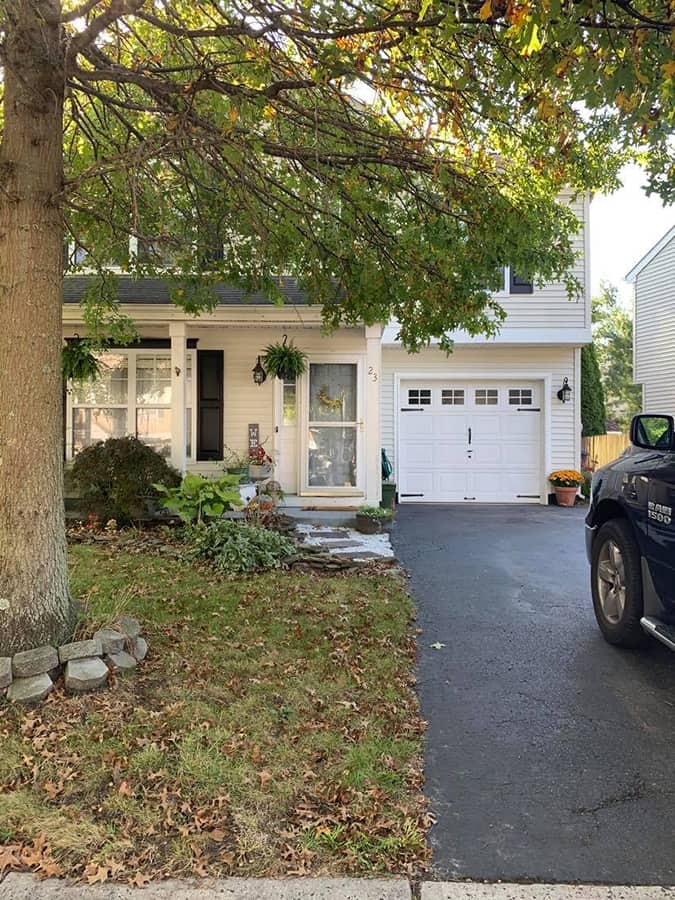 I still want to do a few things to spruce up this area but I'll likely wait until next spring for that. The green bulky hose will get replaced with something sleeker in black. And that little green bench will get replaced with something more substantial. Lastly, I'm thinking of adding a trellis and a climbing vine in that terra cotta pot on the right. I really have a love of climbing vines!
Want to see that before and after one more time??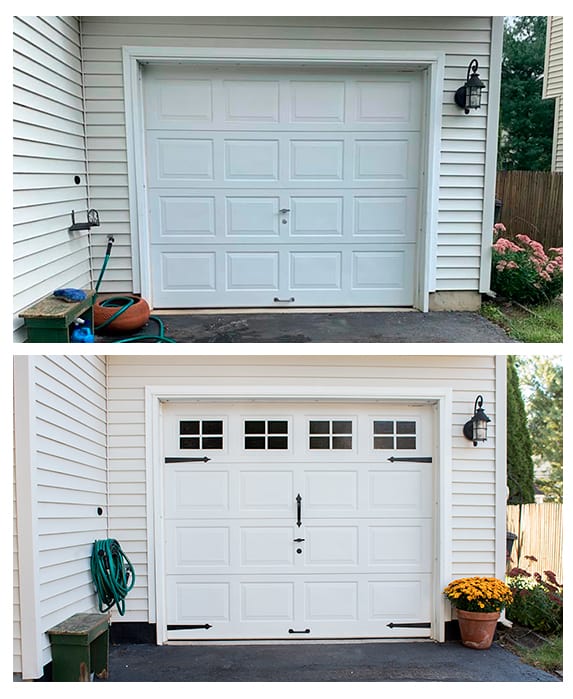 This post was in partnership with Wagner Spray Tech and may contain affiliate links, all opinions are my own. See my full disclosure for more information.