9 Soft Black Paint Colors from Benjamin Moore
I've been noticing more and more black being used in homes lately and I'm definitely liking the trend. However, as with white paint colors, the shade from one color to the next can vary dramatically. I've been looking for just the right shade of black paint lately, which led me to this whole exploration of black paint colors.
Dark black works well in traditional and modern spaces but with my light color palette, I need a soft black. Small accents of black throughout a room adds a bit of sophistication whatever your design style.
The reason I've been searching for the right shade of soft black is for a small vintage table I found recently. The table is already black, but it's very weathered and not in a good way. A pure soft black without any strong undertones would be ideal.
Here is what I've found so far.
Soft Black Paint Colors from Benjamin Moore
Kendall Charcoal HC-166
Benjamin Moore calls Kendall Charcoal "a versatile neutral that works well with most color schemes". This shade leans towards warm and would be a beautiful exterior color as well!
Gray 2121-10
Simply called Gray, this Benjamin Moore shade is a soft take on classic black. As you can see it makes a statement on interior doors.
Iron Mountain 2134-30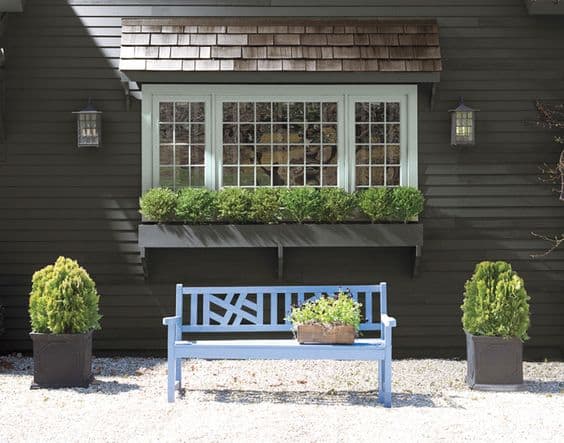 Iron Mountain is a bold gray, it would look beautiful on kitchen cabinets paired with white accents. I love it on the exterior shown above contrasted with the green plants and blue bench.
Raccoon Fur 2126-20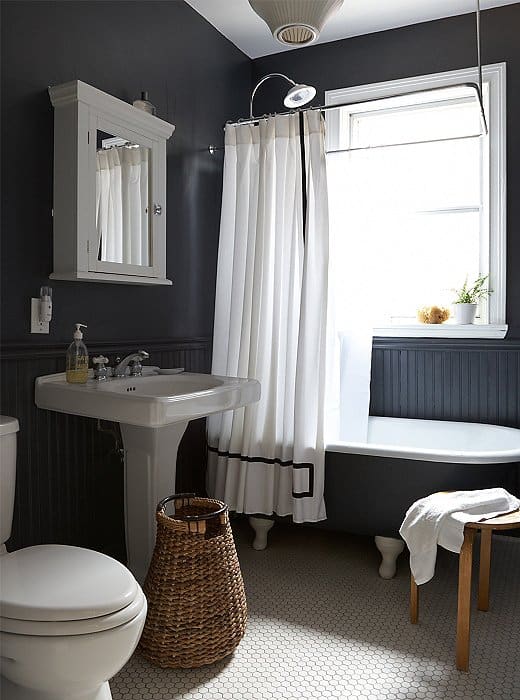 Raccoon Fur is another beautiful option. It's black without being jet black, with a hint of blue undertones. It's absolutely stunning in this beautiful bathroom.
Wrought Iron 2124-10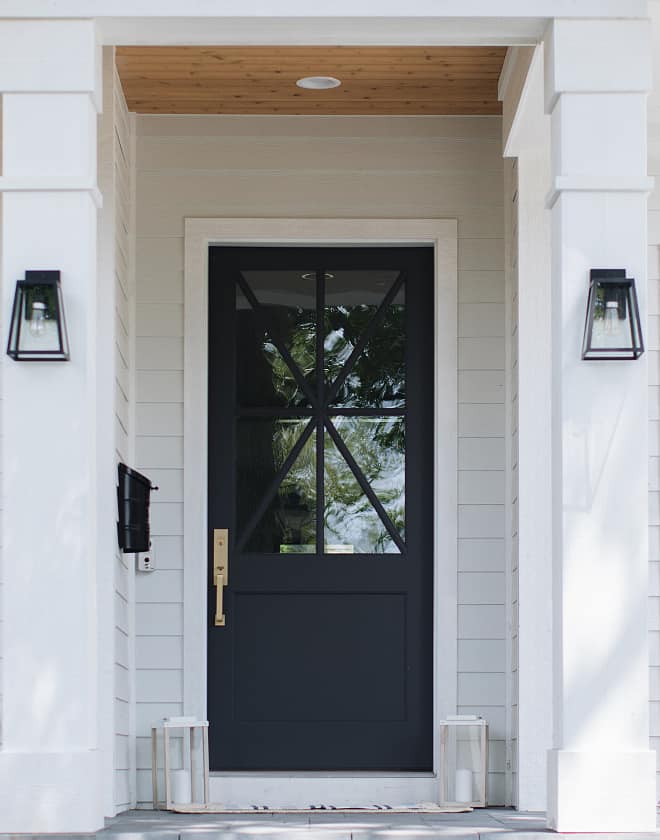 Wrought Iron is soft, muted, and warm. This would be gorgeous on your front door or used on furniture. This one is high on my list.
Soot 2129-20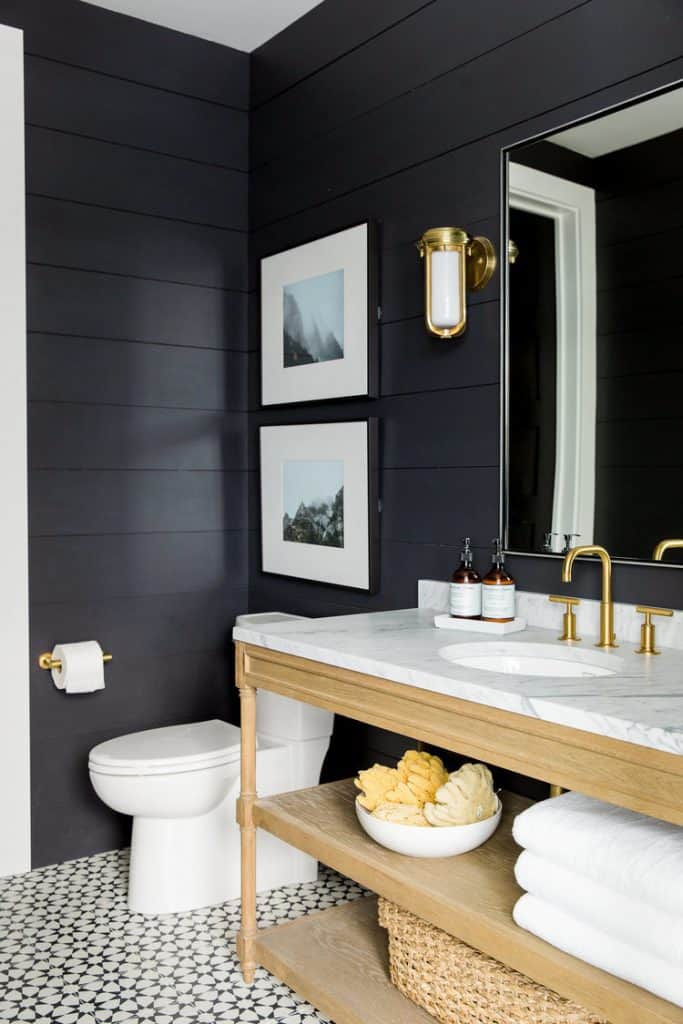 Studio McGee cites Soot as one of their favorite interior black paint colors, calling it a "moody gray-black that isn't too cold". You can see how they used it on the wall of this bathroom above. I'm torn between this color and Iron Mountain for my side table.
French Beret 1610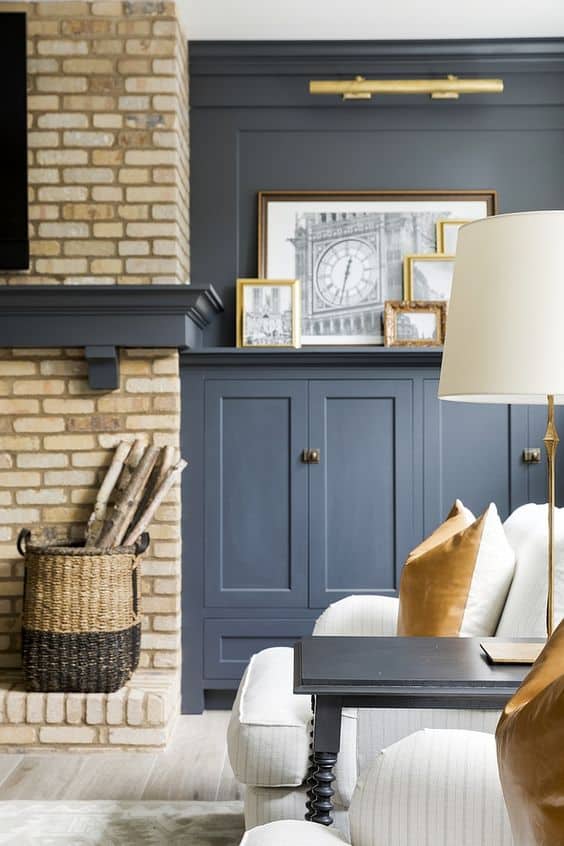 French Beret has blue undertones and leans towards cool. Though it's still warm enough to pair with warm colors like in the brick and accent pillows above.
Witching Hour 2120-30
Witching Hour is another beautiful soft black option, though closer to true black than most of the others.
Black Panther 2125-10
Black Panther would be a beautiful shade on kitchen cabinets (as you can see here) paired with lots of white accents.
I love a few black accent pieces (like this pedestal table) in my otherwise light color scheme at home. It's like jewelry for the room, providing a hint of contrast.
Whether used on accent furniture or hardware, adding contrast with black will also create interest. The hardware in your house (curtain rods, door pulls, etc) can really pull a color palette together. Mixing metals is something else I touch on in my eBook, Picking Paint Colors Simplified. If you haven't had a chance to look at that yet, you should definitely check it out.
PIN FOR LATER: