Design Challenge with Wagner & A Giveaway
Last week I had the opportunity to take part in a design challenge in Minnesota hosted by Wagner. I've never met a design challenge I didn't like so, of course, I said yes! Only nine bloggers were invited to participate, so I was honored to be one of them!
I flew to Minnesota on Wednesday and met up at the hotel with the other ladies. Some of which were bloggers I already knew (and love) and the rest were women I am so happy I got to meet. Wagner was a gracious host and took us out to a beautiful restaurant on Lake Minnetonka. It was one of the most beautiful restaurants I've been to and the food was exceptional!
Design Challenge Details
Thursday morning we were up early and bused over to Wagner's headquarters for the design challenge.
We were given a presentation on paint colors and trends from Michelle, the color and design consultant of PPG Paints, well as a welcome speech from Wagner. After that, we were taken into a large area where the design challenge would take place. Up until this point, we really weren't given much information on what our tasks would be.
Once in the design area, we were presented with demos on the different paint sprayers available from Wagner and how to use them. We each had an identical area we were to decorate. The theme was kitchen nooks and this is what it looked like before we started.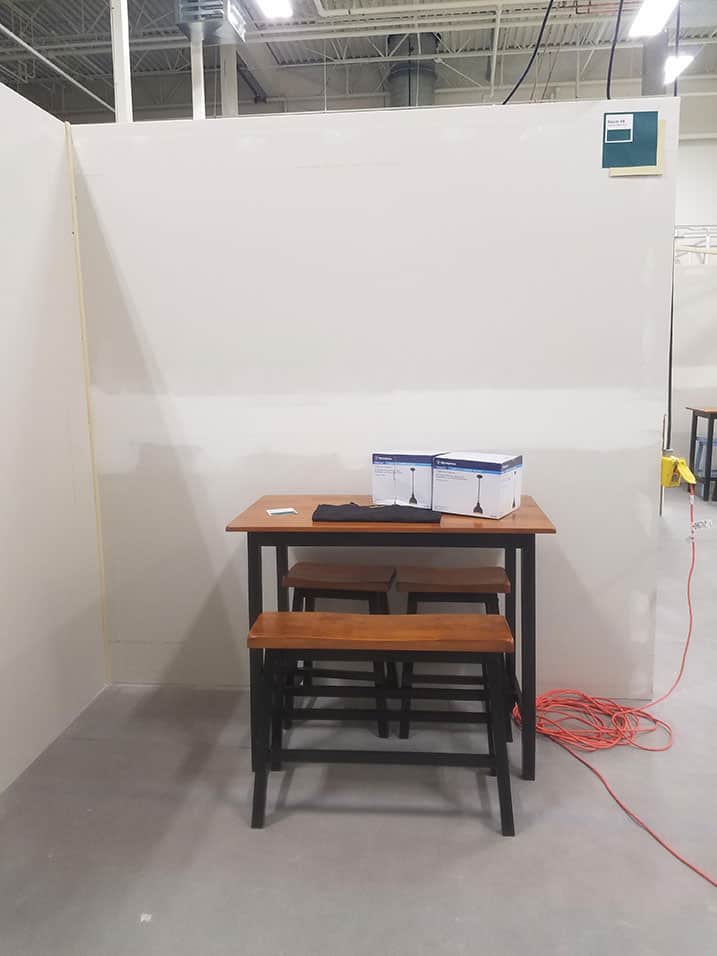 Part of the design challenge was to use colors that were assigned to us. You can see mine hanging in the top right of that photo. My primary color was Empress Teal and my accent color was Sandy Pail. I had to incorporate them both into my design as part of the challenge. We were also allowed to use black and white.
Wagner had a fully stocked "shopping" area for us to pick accessories from. We were able to paint anything from that stash as well. It was actually double the size of what you see here.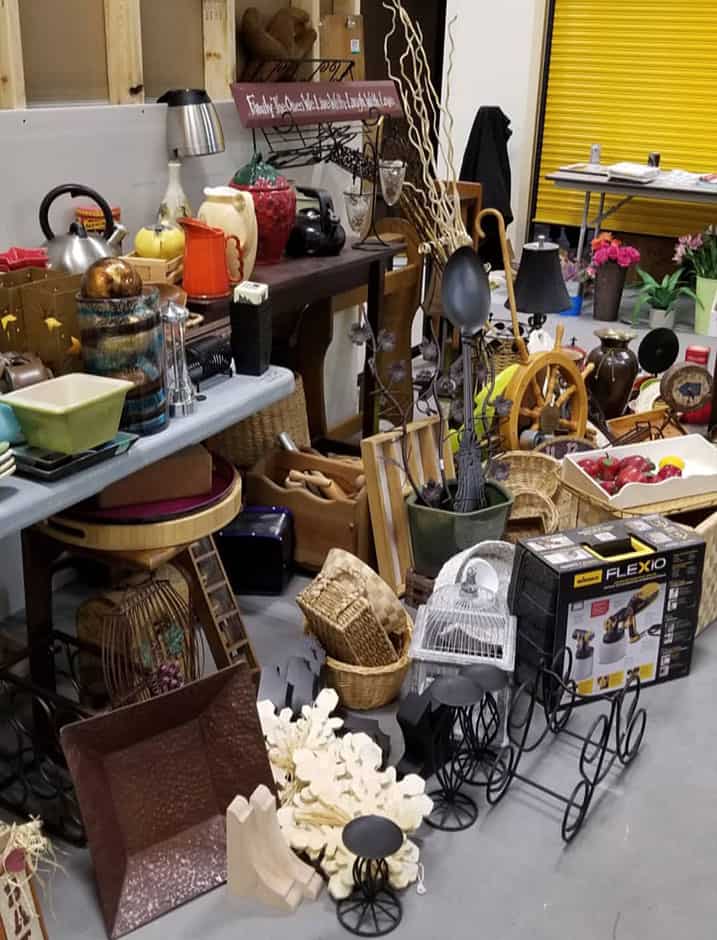 Once the tour of the space was over, we were off! We had 5 hours to come up with a design plan, paint our spaces and decorate them! I think the most challenging part was the time frame, I usually mull over a design for days or weeks before starting anything so I had to think quick!
My Design Plan
If I had to summarize my design plan, I would call it Scandinavian design with a pop of color. I also wanted to create the illusion of architectural detail with paint.
The assigned colors were a challenge for me. My neutral loving heart rarely decorates with such bold color! My first thought was how can I create some architectural detail using only paint? I decided to do my teal color 3/4 of the way up the wall to sort of mimic a board and batten type treatment.
We did have additional items available to us such as painters tape, stencils, small paint brushes, etc. as well as people to help us fill the sprayers, move furniture and find us things we needed.
At one point I realized I was going to need a level to get my painters tape on the wall straight. We couldn't find one anywhere and then I was reminded there was an app for that! I used to have that app on my old cell phone but had forgotten about it.
Using my phone as a level, I drew a line around the wall and got my painters tape on there nice and straight. I sprayed the bottom 3/4 of the wall teal with the Wagner FLEXio 5000 sprayer.
During the morning session, I also sprayed my table and benches all white in another spraying area.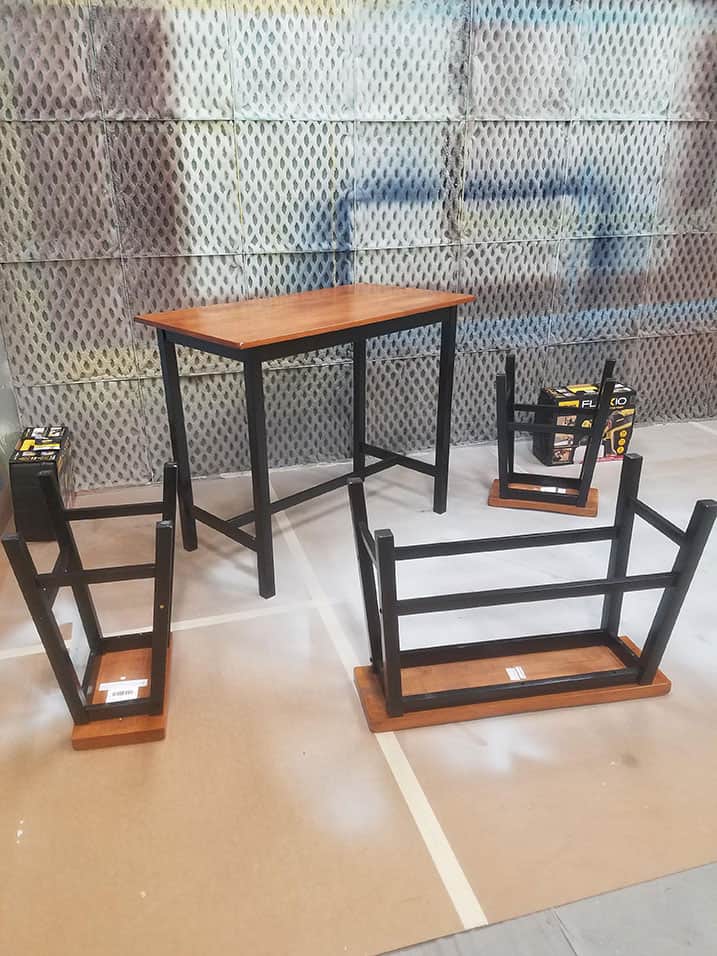 Then I ran back over to my "room" to start painting the top part of my wall white. Another problem we faced with the timed challenge was not really having enough time for paint to dry before moving painters tape, etc. I had to completely repaint the bottom part of my wall due to that.
Once I started on the white portion of my walls,  it was time for our lunch break. They basically had to drag us out to the lunch area because no one wanted to lose any time.
During our buffet lunch (we were very well fed by Wagner!) Matthew Mead, a celebrity stylist gave another presentation. While that was very interesting, I think we were all itching to get back to our designs! Here is a great shot of the work area with all of us in action.
After lunch I was able to finish my wall painting, then I wanted to tackle the floor because I thought the space would look a bit unfinished without it. I had picked a stencil during our "shopping" spree that I used for the floor.
Luckily, I had experience with stenciling a floor with Wagner's sprayers when I painted my niece's floors. When it comes to stenciling, there is no better way than with a sprayer. I was amazed when I did my niece's floors what a neat, crisp line you get with the sprayer!
I sprayed the floor with white paint first and used black paint for the design. The Control Painter Sprayer  gives a more concentrated spray so that is what I used with the stencil. I'm glad I invested the time to do the floor because I love how this turned out.
I let that dry for about all of five minutes before getting my furniture back into the nook. Time was running out and I still needed to think about how to style it. Scandinavian design is usually very minimalist and mostly all white with a few well-placed accents, so I kept the accessories basic. Here is my completed space.
I wanted to use that Minneapolis sign to represent this all took place in Minnesota as well as to tie in the black from the floors and the pendant lights. The two vases on the table as well as the larger one in the corner were painted in my assigned accent color. On the side wall, I hung 3 plates that I painted with the Empress teal to match the walls. I was running out of time at this point and I couldn't hang them until the paint dried, so I grabbed the Wagner Furno 750 heat gun which dried the paint in no time for me!
When I was down to the last five minutes, I also grabbed this basket and gave it a super light spraying of white paint. I filled it with what was left of the flowers also provided in our shopping area. Notice how crisp those stencil lines are, can you believe you can get that result with a paint sprayer?
The pitches on the table and the vase on the floor were all painted with my accent color, Sandy Pail.
This was definitely one of the most challenging things I've ever done! Every muscle in my body hurt for about 3 days after it, lol. I can honestly say it is also one of the most rewarding things I've ever done!
Enter to Win a Paint Sprayer
Now this design challenge is in your hands! You get to vote for which finished space is your favorite (I'm number 5!). When you do, you will be automatically entered to win a FLEXio 3000 Wagner paint sprayer of your own! You can find the voting page here.
Thank you so much to Wagner for hosting such an amazing event. It's an experience I'll never forget! I may even change my neutral-color-loving ways and start adding more bold colors in my home!
UPDATE: Thank you SO much to everyone who took the time to vote, I won this challenge!