Garden Arbor – From Eyesore to Focal Point
We have an old wooden garden arbor in our backyard that had really become an eyesore. It was originally built into the fence, but most of the fence came down last year when we had some large trees removed.
The only thing left standing was one section of the fence and the gate with an arbor. This is what it looked like (very embarrassing).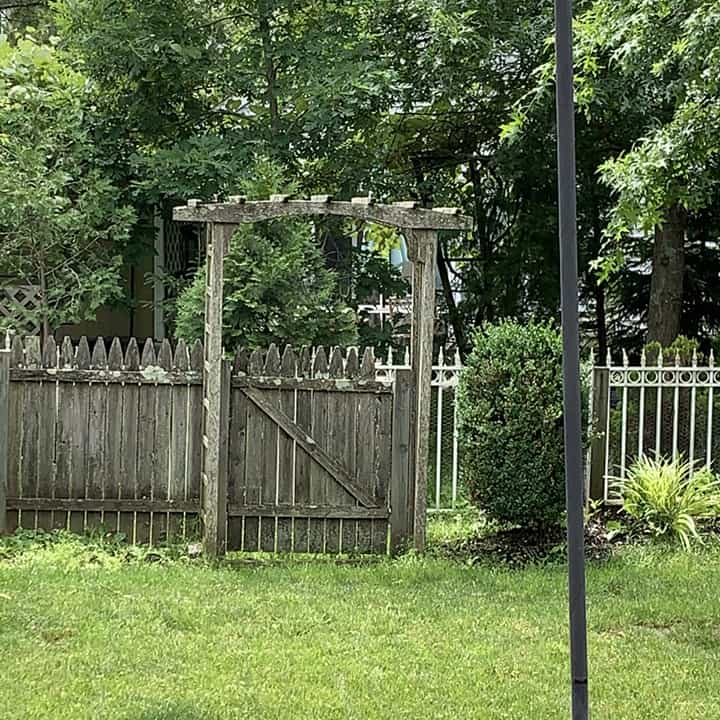 I've had some ideas to turn the weathered arbor into more of a focal point. The plan was to remove the last section of the fence, rebuild the garden gate, and paint it all. My friend and I were planning to build a taller gate for the arbor. We were imagining it to look more like a door, with an arched top.
However, when I went out to remove that last section of the fence and prep the arbor I realized the wood was so weathered that it was soft. I knew the arbor wouldn't support a taller, heavier gate.
While that was very disappointing, I still needed to spruce this area up desperately. After I removed the old fence piece, I gave the arbor a light power washing in preparation for painting.
I used my Flexio 5000 sprayer to paint the arbor. It would have taken forever to paint the lattice with a brush. Even after power washing, it was in rough shape. The sprayer covers those rough areas much easier than a brush would.
Usually, I do my outdoor projects in the spring before it gets too hot. However, due to my husband being sick with the virus, this project was very delayed. (You can learn more about my husband's battle with the virus via my Instagram). My yard is like the Sahara desert in the summer and I was feeling it this day.
My daughter took this photo of me. If you look close, you can see how red my face was from the heat but I was determined to get this done. I didn't want to look at that weathered wood anymore.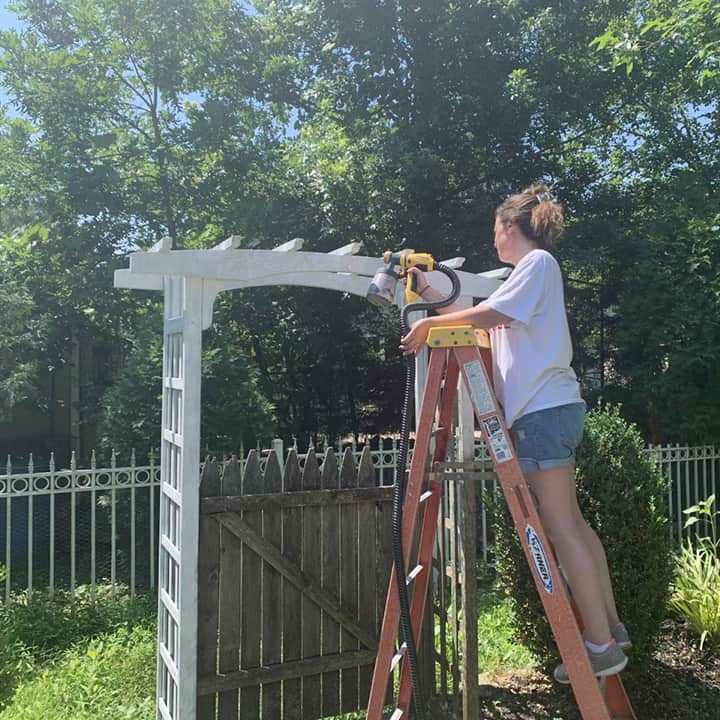 Even with the sprayer, this took several hours to paint. The wood was soaking up the paint like water, requiring several coats.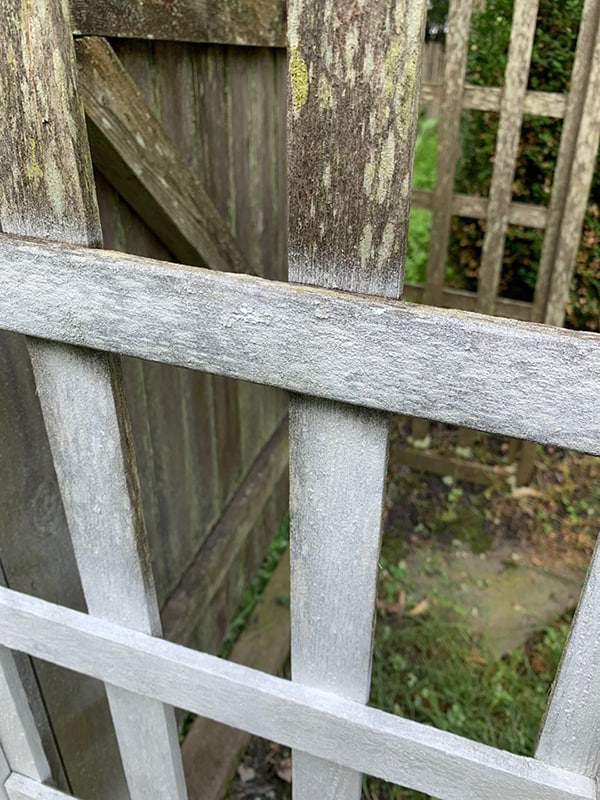 Once the garden arbor was painted, I added a new boxwood to the left of it. I did this to balance out the boxwoods on the right. I really considered swapping them out for different evergreens that grow faster and bigger, such as Bay Laurels.
In the end, I decided to keep it simple and go with what I already have. Once those boxwoods fill in, this will look much more charming.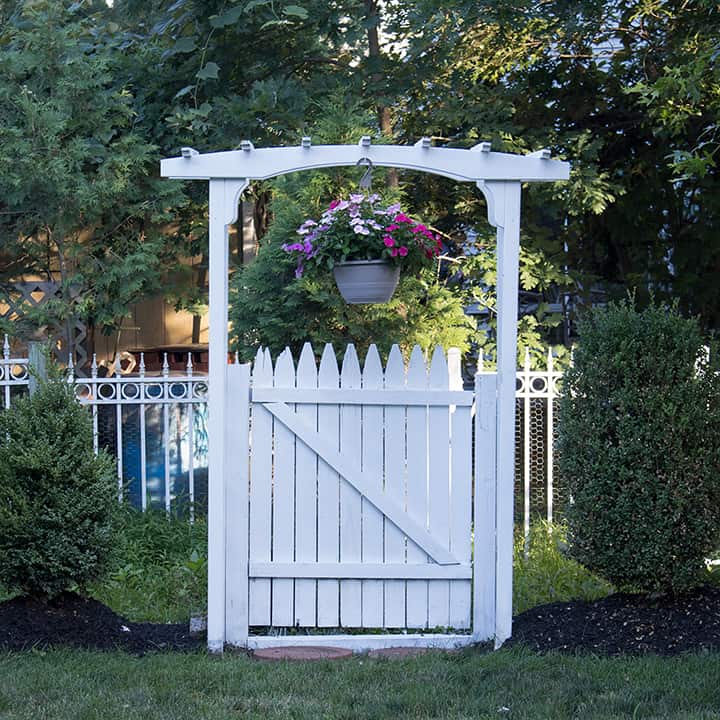 I also have a wisteria vine on order. Hopefully, that will grow up the arbor for some cottage charm. Imagine the arbor draped in wisteria and a wall of boxwoods on either side. That will be closer to my original vision for this area. I love cottage gardens.
Now that this project is finally done, the view when you enter our yard is much prettier. You can see more of the wheelbarrow planter here.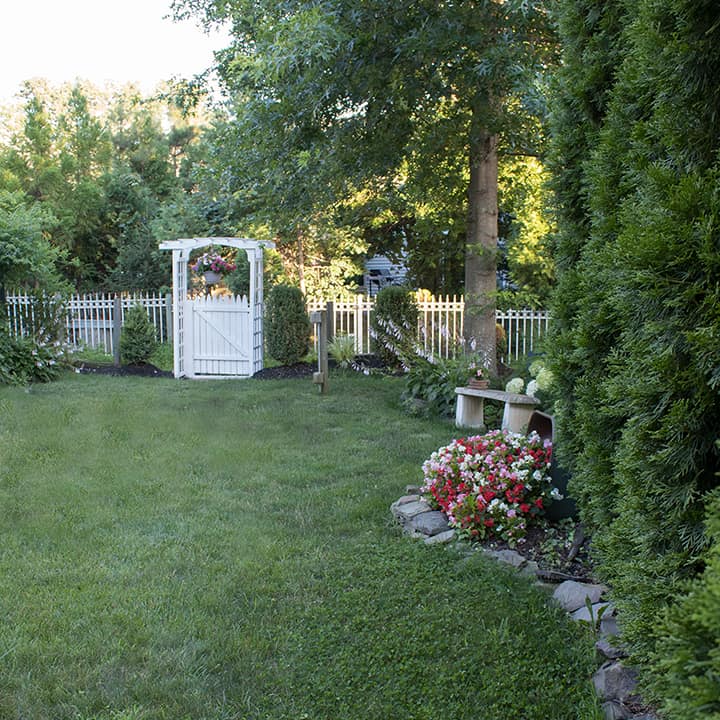 Now I'm off to start adding tons of miracle grow to the boxwoods. Why do they grow so slowly?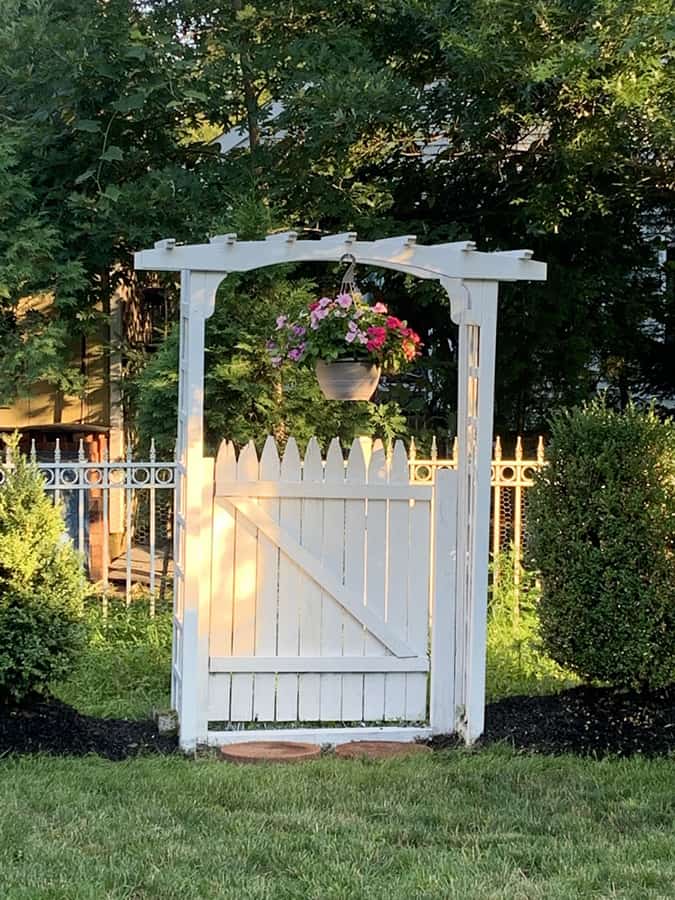 I'll be enjoying the view of our garden arbor from the air-conditioned house until the heatwave is over!
This post was in partnership with Wagner Spray Tech and may contain affiliate links. All opinions are my own, you can read my full disclosure here.