What You Need To Know Before Buying Kitchen Countertops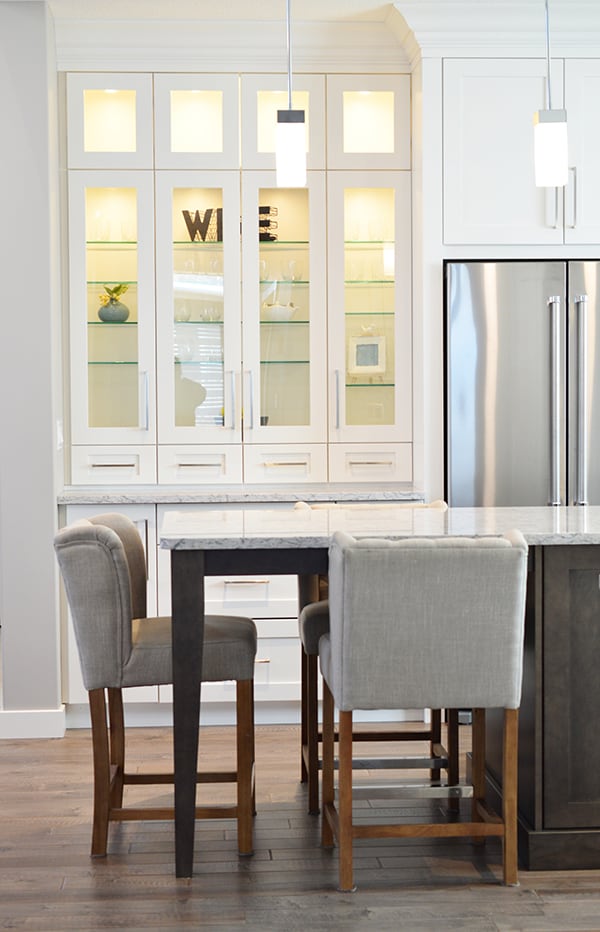 Picking kitchen countertops is a huge decision when remodeling your kitchen. It's something you're likely never going to change again so it's important to take your time and do your homework on this one.
There are a number of different countertop options to pick from in varying price ranges. To help you cover all the bases, I put together this guide to picking countertops with the help of some friends. I asked each friend with popular countertop types to give me some feedback on their countertop choice now that they have lived with them for some time.
As far as costs go, the national average for replacing countertops ranges from $2,000 – $4,500. However, there are SO many variable factors related to cost. Such as type of material, your location, and the size of your kitchen to name a few.
Quartz
When we were planning our kitchen remodel, I was set on Quartz. I had heard amazing things about the quality of this countertop. I also liked that unlike most granite, it comes in one uniform color rather than the multicolor look. Before buying, my husband and I brought home samples of a few different counter types to test out. We poured red wine on them, scrubbed them with scrubber sponges and everything else we could think of to test the durability. The quartz stood up to them all. I also love the reflective shine of quartz, as you can see below.
When we were shopping for Quartz I found the price varied greatly between colors. I really had my heart set on white but it was far more expensive than the gray. Another way we saved money on the countertops was to remove the old laminate counters ourselves.
One thing to note with Quartz is that it can be scorched by hot pots and pans. I've never had a problem with that because I never set steaming hot pots or pans directly on my counters. I would highly recommend Quartz and would definitely buy them again should I move.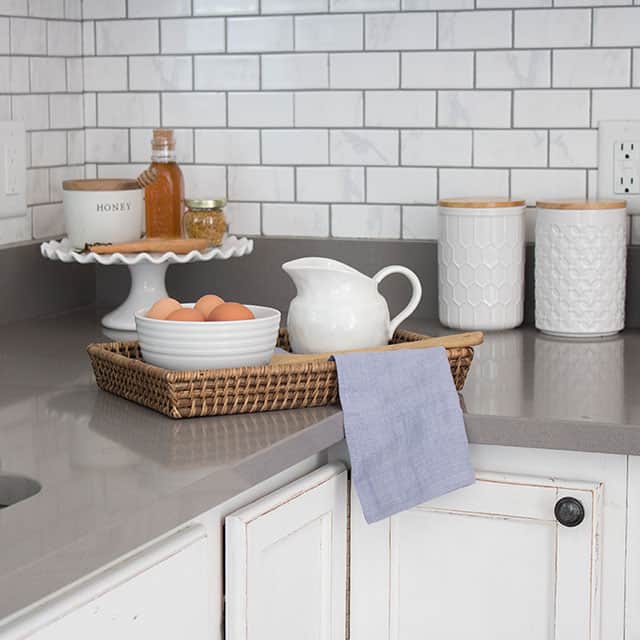 The average price per square foot for quartz countertops (installed) ranges from $50-$80.
Granite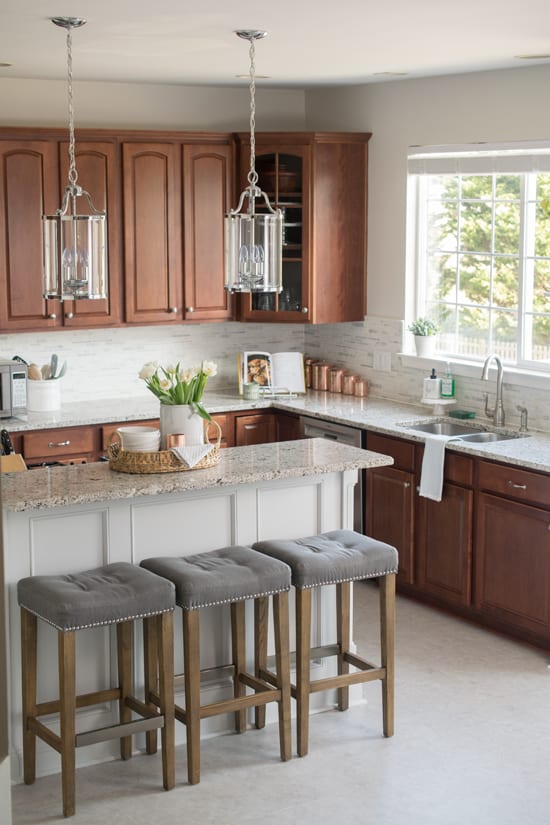 Granite is so highly regarded that adding it to your kitchen can increase the resale value of your home.
My friend Rachel from Craving Some Creativity says she was skeptical when selecting granite for her kitchen, it was her husband who persuaded her to go that route. Rachel says she has no regrets on that decision now. She likes the durability and she's never had any issue with staining. They also like that it hides her son's cereal crumbs from surprise visitors. The one thing she mentioned that really stuck out to me is that when the light hits it right it sparkles in spots like tiny diamonds.
The average cost for Granite counters varies the most but ranges from $40-$200 per square foot installed.
butcher block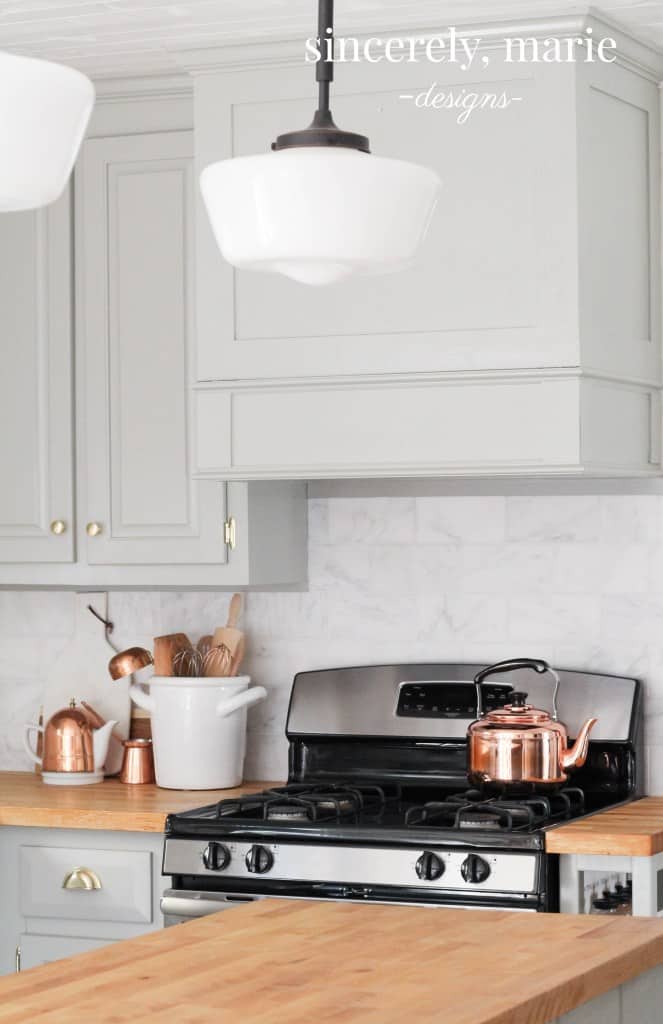 Butcher Block counters are one of the few options that can add warmth to your kitchen as opposed to the cold look of natural stone. This is one of my favorite looks though they are often associated with needing a lot of maintenance. They do require periodic sealing to protect from water damage. One advantage to Butcher Block is that if damage occurs, they are easily sanded down and can be resealed.
Amanda from Sincerely Marie designs has a beautiful and classic kitchen featuring butcher block countertops. Here is what Amanda has to say about that.
"I couldn't be happier with our butcher block countertops! They were easy on our budget and have held up perfectly to everyday use. We made sure to seal them with a heavy-duty sealer, called Waterlox. We haven't had any staining or water damage in the three years we've had them. We've always been very diligent to not leave any standing water on the countertops, making sure to wipe up any after doing dishes especially. To clean them we simply use mild dish soap and warm water and Clorox wipes on occasion. It's been over three years now and they look great We have no regrets!"
The average cost for Butcher Block counters can range from $25-$40 per square foot installed, making it an affordable option.
corian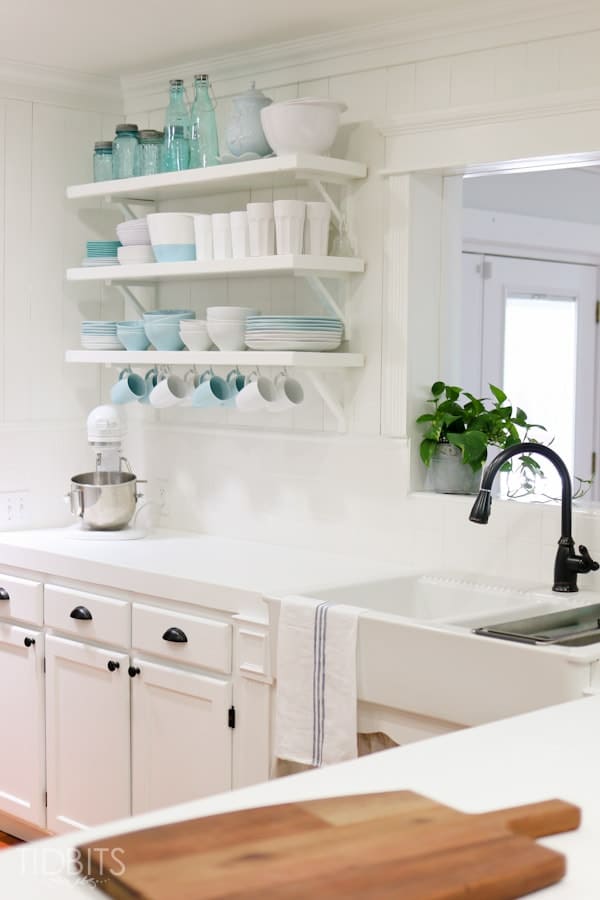 Blogger Cami from Tidbits blog and her husband saved a ton of money when they opted to install their Corian countertops themselves. They were looking for something that would last for years and give them a high-end look.
Cami chose Corian for the durability and aesthetic, but the cost (which is comparable to Granite) is a disadvantage of Corian. Cami was quoted between $3,000-$4,500 to have the professionals install these counters, they saved thousands by installing them on their own. As with Quartz, Corian is low-maintenance (no sealing required) but can be scorched by hot pots and pans.
The average cost for Corian counters ranges from $45-$75 per square foot, installed.
carrara marble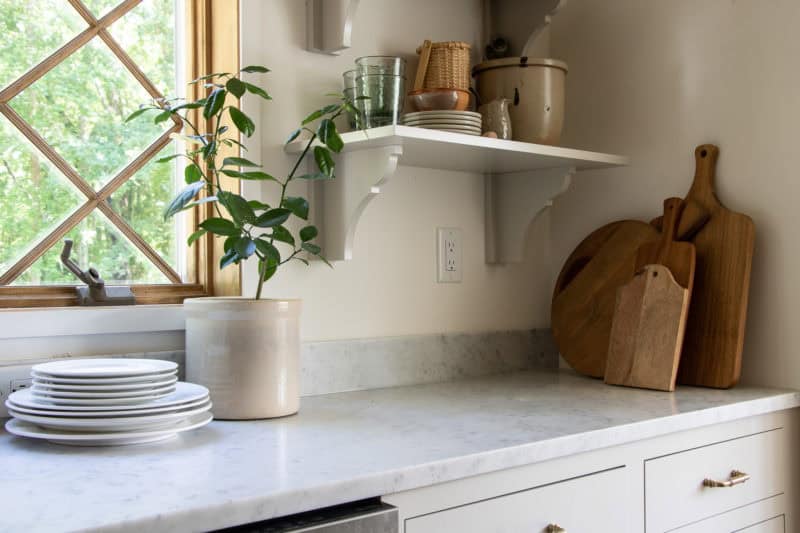 Carrara marble is considered one of the most luxurious countertop choices and may carry the highest price tag of all the countertops. I was interested to hear what my blogging friends thought of this one. Deb of Seeking Lavender Lane recently had Carrara marble installed in her new kitchen and here is what she has to say on it.
"Pros to Carrara: There is nothing quite like real marble. I love the traditional and old-world feel of Carrara. We chose honed for ours since it has more of a casual feel (which goes with my French Farmhouse style). The depth of the veining, the color, and the coolness to touch is something you can't replicate in man-made materials. I wanted something classic and that would never go out of trend. We chose Carrara because of its simple veining. Though I am loving a "busier" patterned stone and it is trending again, for our casual feel I felt the Carrara veining would be best.
Cons: it's definitely not durable. Don't expect to buy marble and think it won't scratch or stain. I will say the etching is not as pronounced on the honed which is another reason we went with it vs. the polished. We seal our counters every few months which also is not something everyone wants to do for the maintenance, but it is more durable this way. Our biggest culprit is lemon so far. We have some stains and one decent scratch, but going into buying marble I knew I would have to embrace the character of it rather than get upset with every stain and accident. I may lose it if red wine ever spills though. "
The average cost for Marble counters ranges from $150-$275 per square foot, installed.
concrete countertops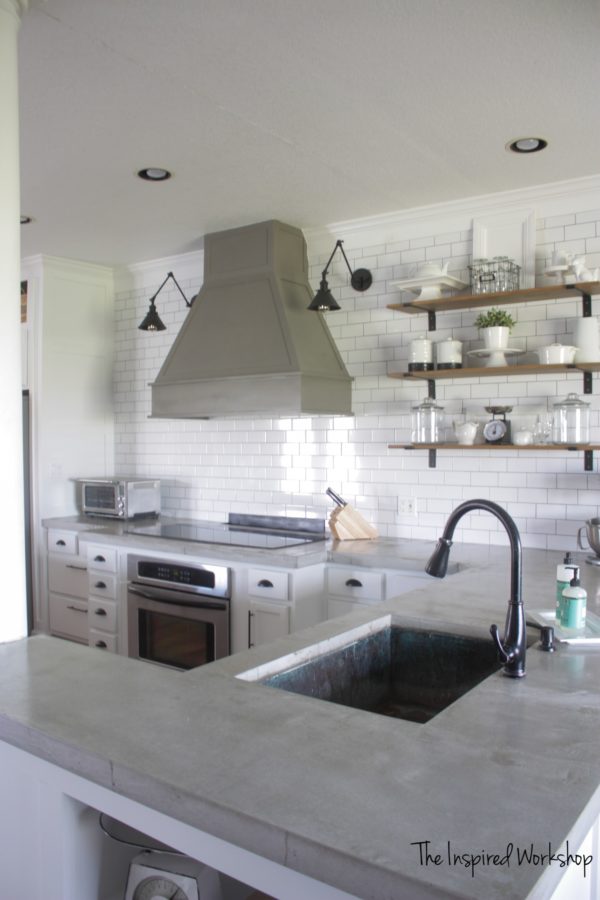 Concrete kitchen countertops are a popular choice for DIY'ers looking to save money. You can install these for under $500 if you do it yourself. I have heard that these are susceptible to scratching and can also stain fairly easy from grease. Cara from The Inspired Workshop did a beautiful job of pouring her own concrete counters, this is what she has to say about them.
"I feel that concrete countertops are a great budget-friendly option for anyone who isn't afraid to roll up their sleeves and get dirty. We DIYed our concrete countertops and although we made a few mistakes, I think they are absolutely beautiful nonetheless! They were the least expensive option we were able to find for our large amount of counter space. I love how durable they are, and the organic yet sophisticated look they bring to our kitchen! Concrete countertops aren't for everyone though, you have to be completely okay with the imperfections that come with them, even if you have them professionally poured.
Although I am still madly in love with my counters, the one downfall of concrete countertops is finding a good sealer, so many of them tend to flake after a while and that can be very frustrating. We have only had small spots that needed to be fixed (from me spilling super glue on the island), but it is still maintenance any way you look at it! All in all, I would pour concrete countertops again in a heartbeat, and even recommend them to anyone contemplating them as an option for their kitchen, just so long as you can embrace imperfection as beauty, and are willing to possibly do a little maintenance on them from time to time!"
The average cost for concrete counters is $60-$135 per square foot installed, but that cost is drastically less if you can pour them yourself.
laminate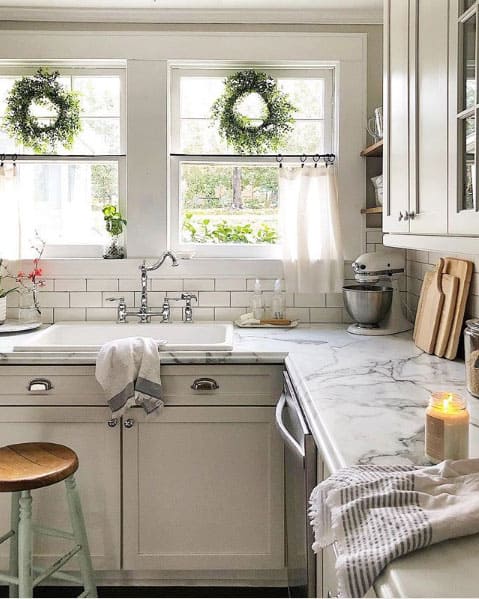 Loren from Blue Barn and Cottage opted to save money and go with laminate counters that mimic Calcatta marble. Here is what she has to say about that.
"I love the affordability of laminate and the overall look of the high definition 180fx (faux) Calcutta marble countertops. I chose the ogee edge because it masks the divide/crease you typically see in the standard squared edge of the laminate. Of course, I would prefer the real thing (marble counters) but I'm thankful I don't have to worry about staining or caring for it now."
The average cost for laminate counters ranges from $29-$50 per square foot installed.
more kitchen countertop options
The countertops mentioned above are the most commonly used. However, there are several other options worth mentioning.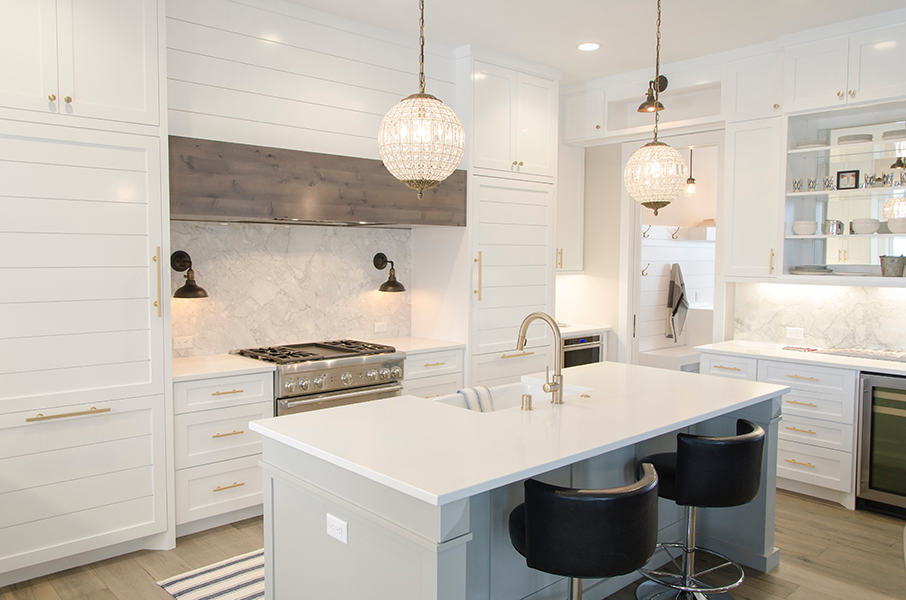 Tile: Tile is a budget-friendly option, especially if you're handy and can do it yourself. However, most people with tiled kitchen countertops are looking to upgrade. Another downside is that the grout can be easily stained.
Stainless Steel: Stainless steel is a popular choice in commercial kitchens, but would also be fitting for a modern style kitchen. These are a durable option, however be aware that scratching will occur and of course you'll constantly have to wipe off fingerprints. If this is an option you're seriously considering, I would refer you to this article with all the details.
SoapStone: SoapStone is usually gray in color, not giving you many options for color choices. Grade matters with soapstone, not all grades are suitable for kitchen countertops.
Slate: Slate is another good option if you prefer durable, maintenance-free counters. Keep in mind the color selection is very limited.
Reclaimed Wood: Reclaimed wood is another environmentally-friendly choice and will lend uniqueness to your kitchen. Although relatively inexpensive, reclaimed wood is in demand these days which can drive the price up significantly. You can find more information on the pros and cons of reclaimed wood counters here.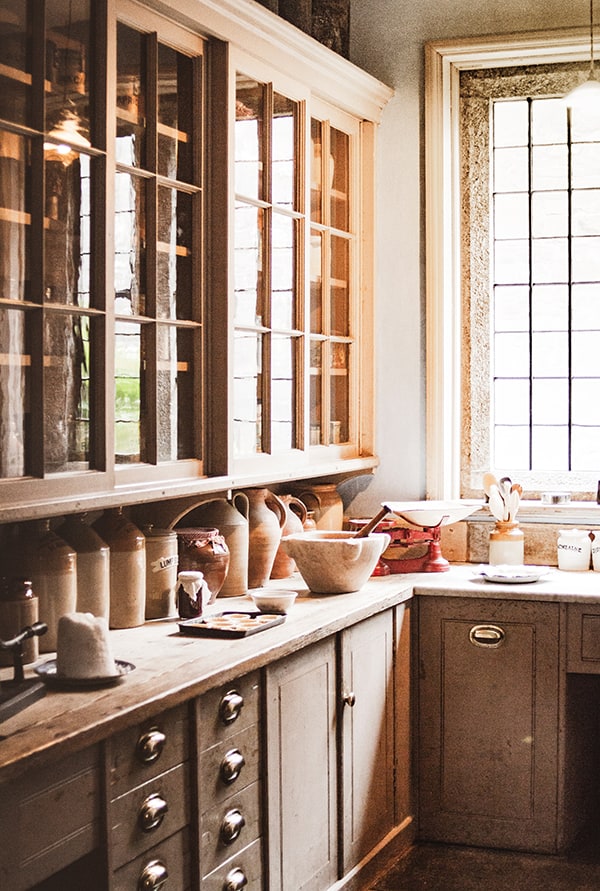 Recycled Glass: These types of countertops are a good option for anyone looking for a more eco-friendly countertop. The recycled glass is often added to cement countertops or can be used with resin materials.
Travertine: Though Travertine is often associated with tile, it is available in slabs making it an option for countertops.
As you can see, the choices for kitchen countertops can be slightly overwhelming when designing or remodeling a kitchen. I hope this guide and the feedback from my friends will help steer you in the direction that's best for you.
Not ready to make the investment into new counters yets? Check out how to get the look of granite countertops- DIY style!
---
---
PLEASE PIN: