Painted Dresser – Vintage Upcycle
PAINTED DRESSER: HOW TO UPCYCLE AN ANTIQUE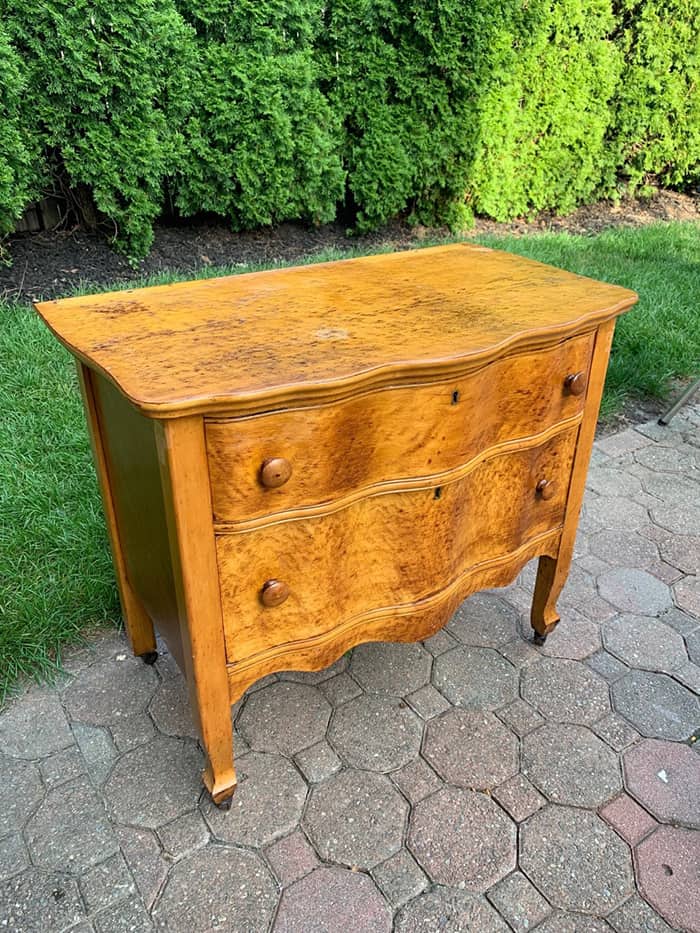 While shopping around for new nightstands for my daughter's room, I came across this vintage beauty on Facebook Marketplace.
It's actually a small dresser, which is perfect for her room. Want to know the best part? It was only $35! It has the curved drawers that I love so much, and it came with a mirror which I didn't even know until I picked it up.
When I got it home, I found a magazine article tucked in the top drawer with a story about Ronald Reagan's childhood bedroom. It shows this exact same little dresser in the bedroom he grew up in.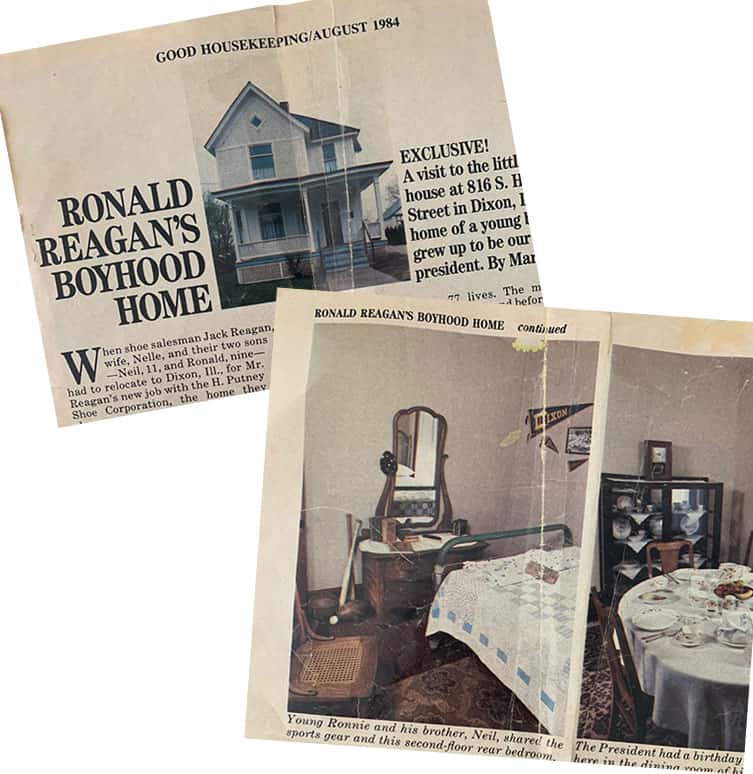 Should You Paint an Antique?
I know there's a lot of debate on this, but I believe you should do what makes you happy. However, it is probably a good idea to find out if your piece is valuable first. You wouldn't want to paint a priceless heirloom! I'd recommend getting quotes from two to three dealers first.
The wood on this piece was rare looking, and I found out its called birds eye maple. After checking with several antique dealers to see if it was valueable they all agreed it's not worth much due to the condition. There was a piece missing on the top as well as on the side. My only option was to paint it.
Prep Work Before Painting
I used a wood filler to fill those damaged areas and gave it a good sanding with a sanding sponge.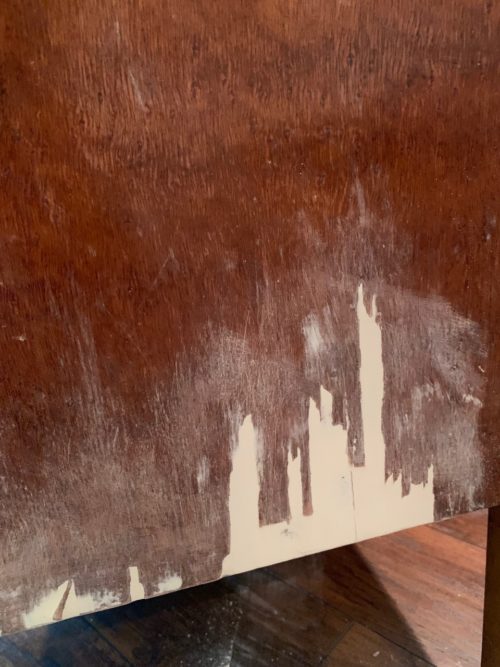 After weeks of oppressive humidity, it was so refreshing to take this outside and begin work on it. I wanted to cover the keyholes as to not get any paint on them. I applied a bit of Frog Tape (painters tape) and cut around the keyhole with a box cutter. The wheels were also taped off the dresser to protect those.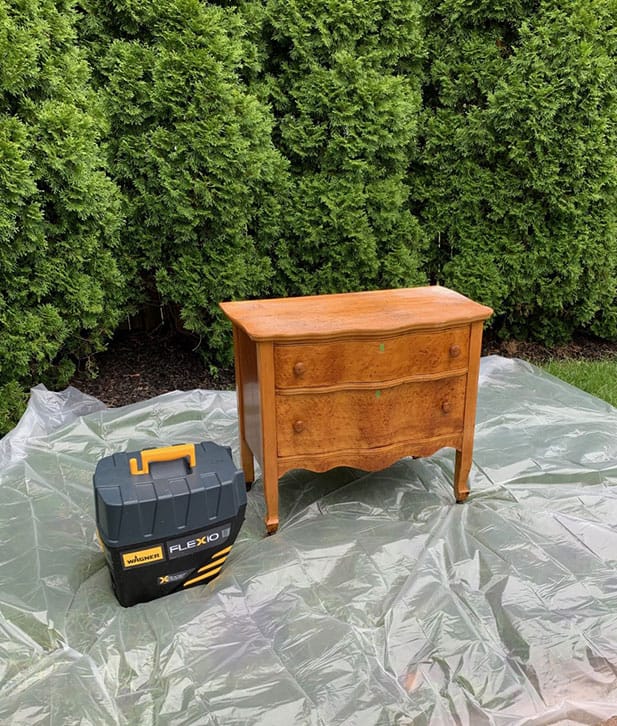 The Best Way To Paint For A Perfectly Smooth Finish
I removed the drawers and set up to paint the frame first. Last month I used my Wagner paint sprayer on my kitchen chairs and I really loved the fact that you don't get any brush strokes with the sprayer. Because I love the shape of this vintage dresser so much, I really wanted the end result to be as flawless as possible so I opted to use my Wagner Flexio 5000 on this as well.
I picked a beautiful shade of green called Vine Leaf from Behr. This color will tie in well with the sliding barn door we built in my daughter's room. And green is her favorite color.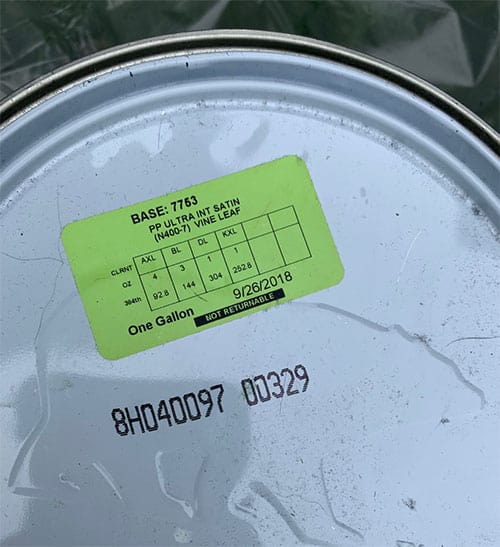 I set my sprayer to the lowest setting on the dial as I always do and began spraying the outer sides first. I could have gone higher with this spray setting, but I prefer to work on the lower settings. It's better to have to go back over an area than to apply too much paint at once.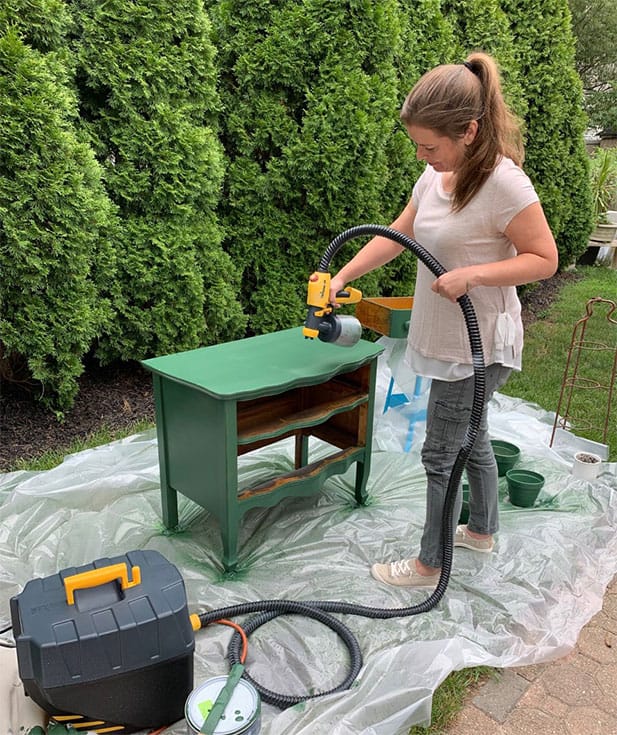 You may have noticed the green pots in the photo above. I loved this green so much I painted those as well. I was about to paint everything that wasn't nailed down. 🙂
Once I had the frame done, I propped the drawers up on a stool and sprayed those as well.
I didn't take the knobs off because I was planning to change those out anyway. After the first coat, I went ahead and did a second coat for better coverage.
Using A Protective Top Coat
I let the painted dresser dry a full 24 hours before applying the topcoat. On day 2, I set up the sprayer again for the topcoat. I used Fusion Mineral Paint's Tough Coat for this. I had used this once before on my vintage mantel and have been happy with the results. No yellowing at all.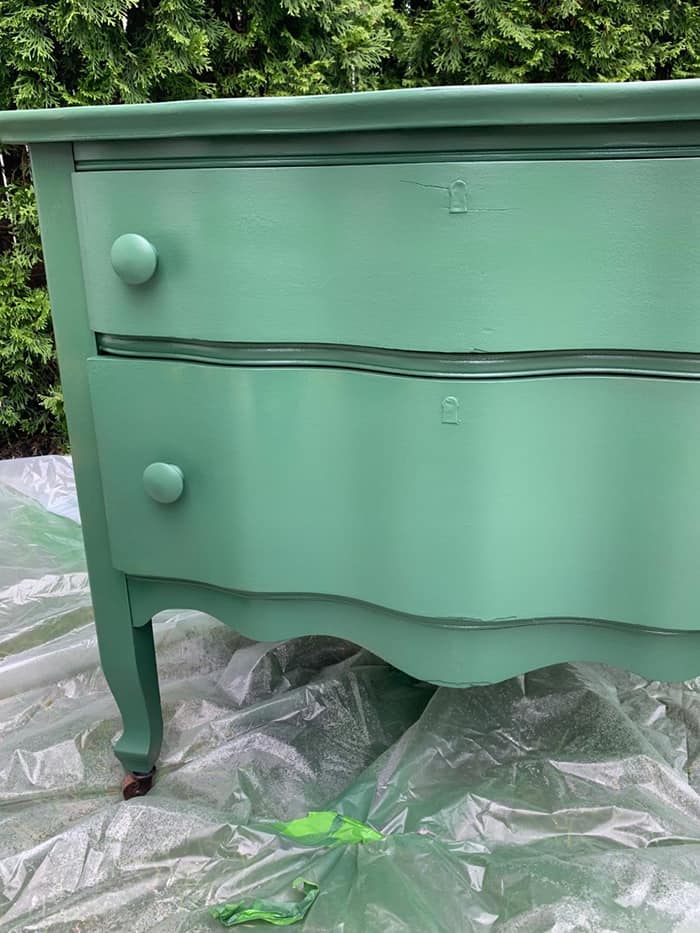 To clean my sprayer after using paint, I run water through it. To clean it after using the topcoat I used paint thinner to be sure it was thoroughly clean.
Here is a look at the finish up close after painting. It's flawless with no brush strokes. The only texture you see is from the natural grains in the wood. I may never go back to using a paintbrush.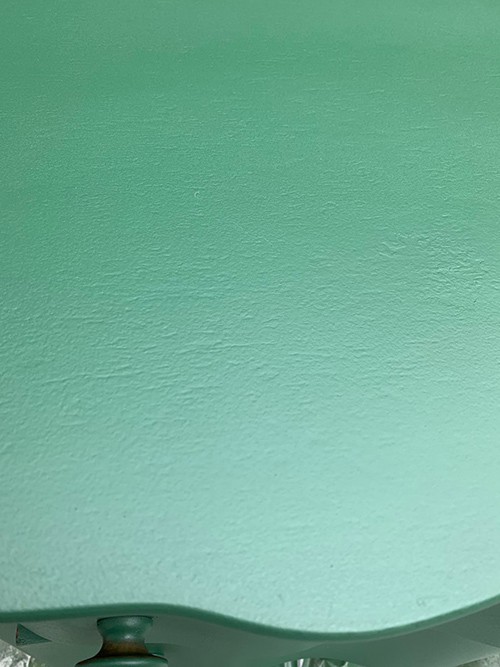 The last step was to change out the knobs. I had a pile of Hepplewhite bail pulls that I had gotten for a steal at a flea market. Unfortunately, those were not the right size or shape for this dresser so I ordered these four pulls on eBay.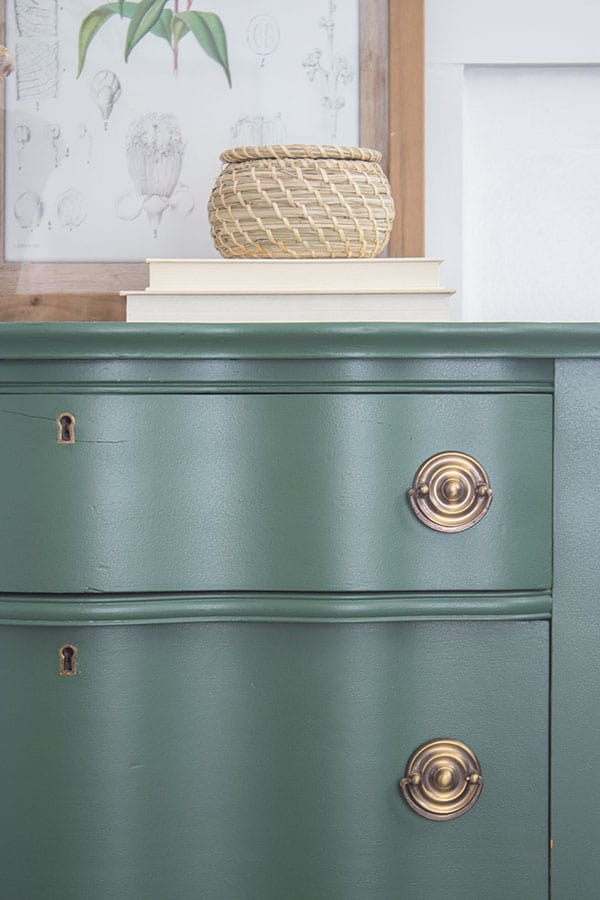 The green paint tends to look slightly different depending on the light, but this photo below best reflects its true color.
Now I just need to get this painted dresser upstairs into my daughter's room and get rid of the old Ikea furniture. I've been making a few minor changes in her room, which I'll share soon. I love decorating with vintage finds from the marketplace or from the flea market.
I put a quick video together in case you'd like to see this one in action.
If you'd like to more furniture flips like this painted dresser, you have to see what I did with an old upcycled hutch I found on the marketplace!
*This post was in partnership with Wagner SprayTech and may contain affiliate links. All opinions are 100% my own, you can read my full disclosure here.