How to Paint Furniture Black Distressed (Without Sanding!)
HOW TO PAINT FURNITURE BLACK WHILE ALLOWING SOME OF THE COLOR UNDERNEATH TO SHOW THROUGH FOR A SLIGHTLY DISTRESSED LOOK – THE EASY WAY!
I took a walk through a local home store last week for the first time in many months. As I was looking at the new home decor on the shelves, I found myself thinking about the summer flea markets. I truly love old, vintage things so much more than anything new. New items lack the character that I crave!
Which brings me to my next little project. This side table was actually found at a house my husband and I were looking at when we were thinking of moving (before the pandemic). Sadly, we didn't get the house, but I did manage to buy this beautiful vintage piece.
Preparing Furniture for Painting
While I loved the color of it, it was so beat up I had no choice but to paint it. There was an "X" carved into the front of the table and some big dings in other spots that had to be filled with wood filler.
It was really a mess.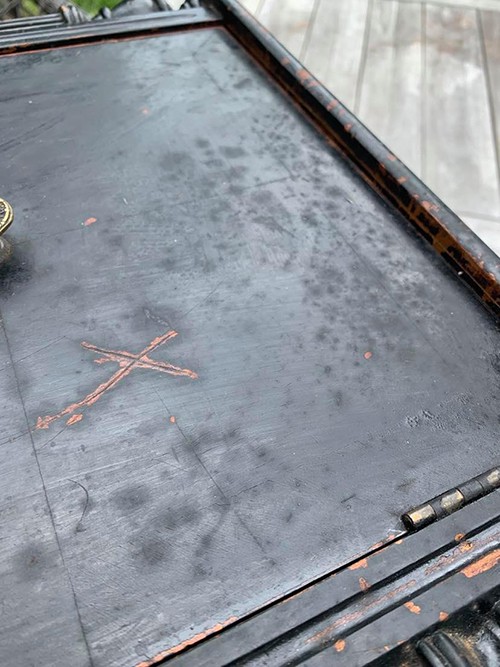 In addition to the style of the table, I also really loved the color of the wood showing through the old black finish. I wanted to keep some of that visible after painting.
Rather than paint it and sand it, I wanted to preserve some of those naturally worn areas. (They match Donny's eyes)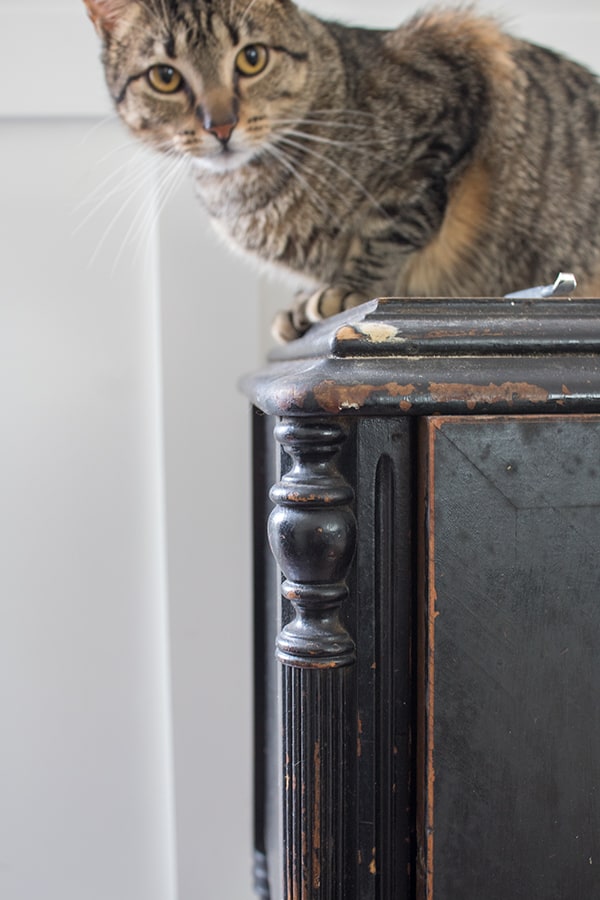 Because it's January here in NJ, I had to set up shop inside for this one. I had it as clean as I could get it and I had filled in all the dings and dents with wood filler.
The Trick to Distressed Furniture Without Sanding
I had heard that if you apply vaseline to the wood before painting, that the paint will not adhere to those areas. I hadn't tried this myself but this sounded like the best option to preserve some of those worn areas.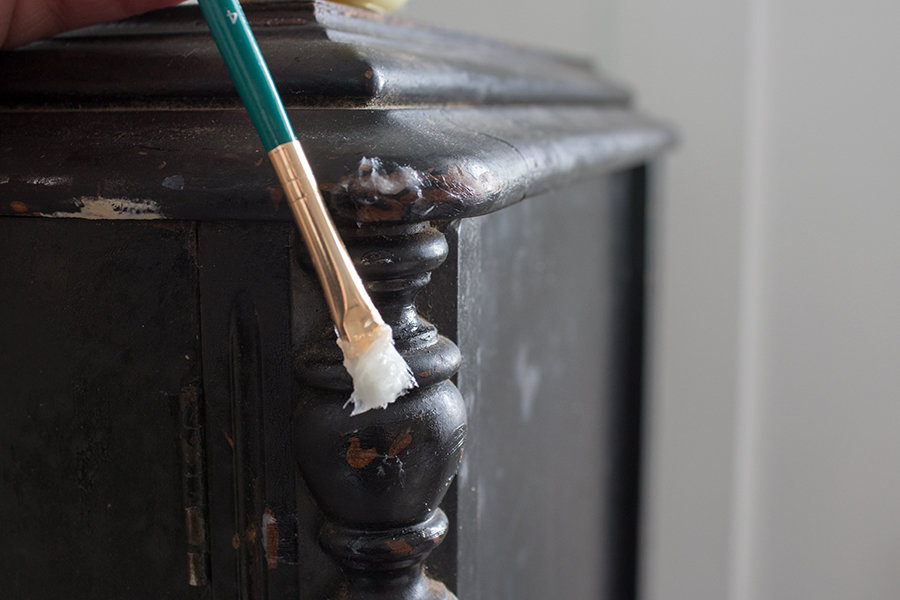 Using a small paintbrush, I applied the vaseline to the areas I wanted to keep distressed. I was nervous this wasn't going to work. In retropsect, I really should have tried this on something else first but fortunately, it worked perfectly.
Black Furniture Paint Colors
After the vaseline was applied, I painted the table with a color called Black Magic. I started out with a color called Soot from Benjamin Moore. Though it was beautiful, Soot is a soft black. I wanted to match the existing black and Black Magic (from Sherwin Williams) was an exact match.
This was not any type of special furniture paint that I used. It was actually regular wall paint.
The Best Brushes for No Brush Strokes
Usually, I prefer my paint sprayer for furniture painting because I don't get any brush strokes showing with that. While the paint sprayer works well, sometimes it's fun just to have a brush in your hand. Plus, it was too cold out to use that and I've found these paintbrushes work well without leaving any brush strokes showing.
Once the paint was fully dry, I used a paper towel to wipe down the areas where I had applied the vaseline. The paint in those areas came right off!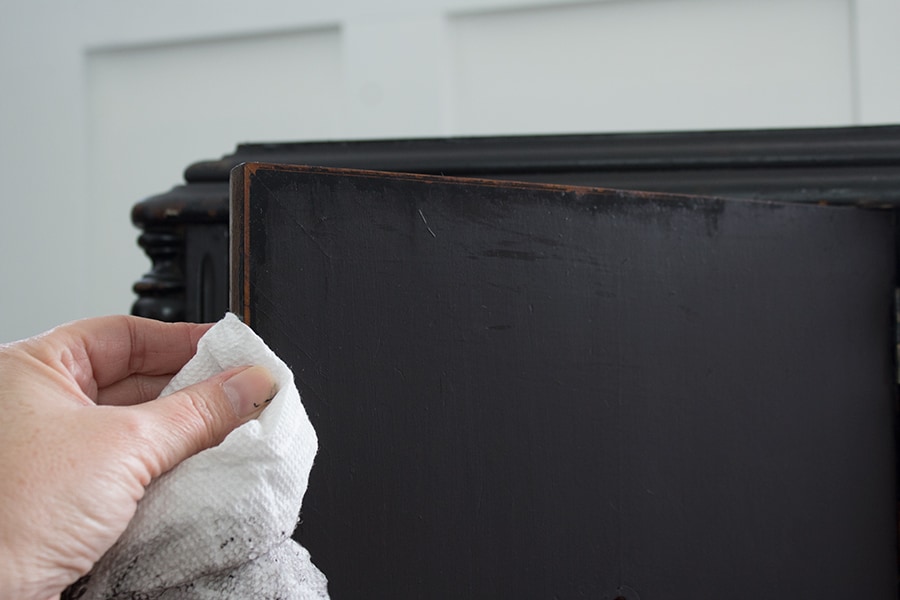 The Best Sealer for Furniture
Next, when all the vaseline is cleaned off it's time to apply a sealer. I always use Fusion Tough Coat on my painted furniture. I find that the type of paint I use doesn't matter as much as the sealer.
This sealer does not yellow over time, holds up well, and dries to a nice matte finish, just be sure to mix well before using.
How to Clean Old Hardware
For the hardware on this one, I only had that one tiny knob. However, that was so dirty it was almost black.
To clean it, I soaked it in a solution of white vinegar and baking soda for about a half-hour. Then I took it out and scrubbed it with an old toothbrush. It brought much of the metal color back.
The End Result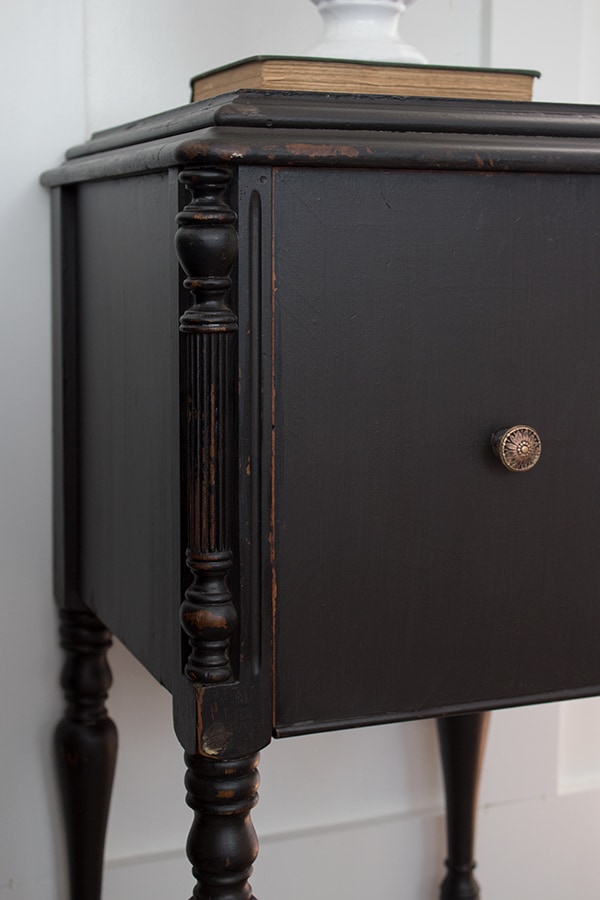 Here's the finished project! It almost looks like it may have been a little telephone table back in the day.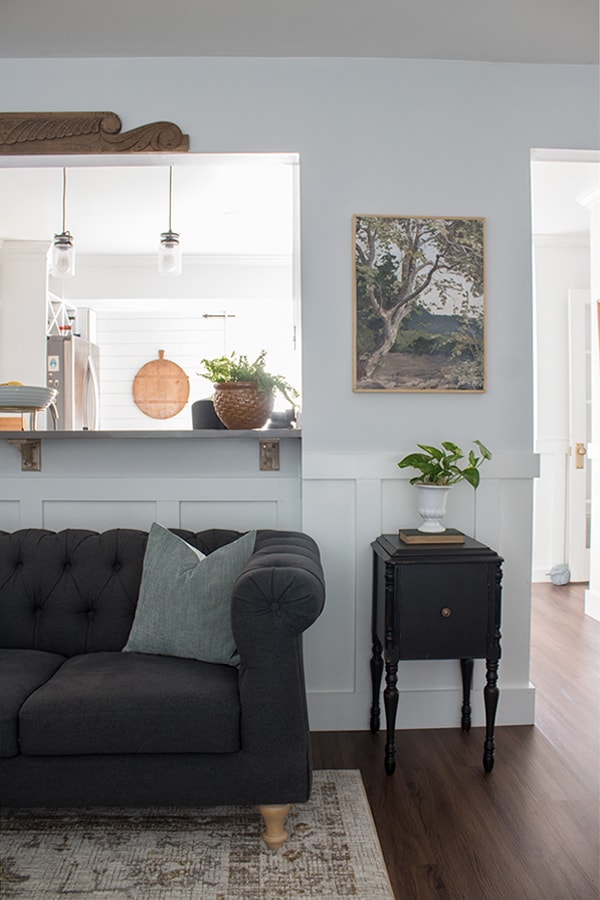 Whatever she was before, I'm glad she's mine now! Here's another look at the before and after.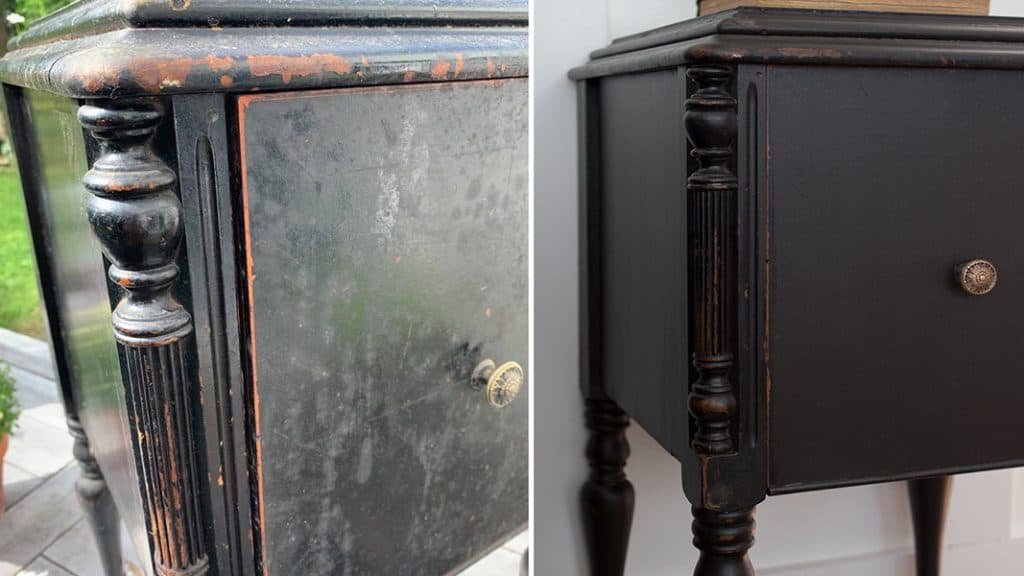 She's all cleaned up but still retains her vintage charm.