Hydrangea Cupcakes – Vanilla Bean Flavored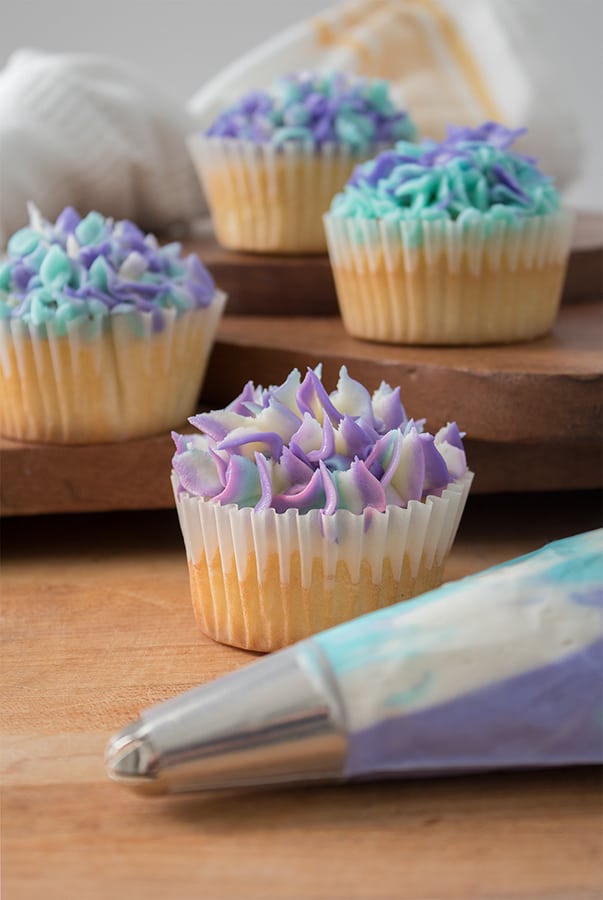 Last year around Mother's day my daughter made these hydrangea cupcakes for me. She and I both really enjoy cake decorating so we decided to recreate them last weekend.
To make it more interesting we made the hydrangea cupcake batter from scratch and used vanilla bean paste instead of vanilla extract for increased flavor.
When my girls were little I took cake decorating classes held at Michael's stores. When my younger daughter was in high school, her and a friend took those same classes. You end up buying a lot of supplies when you take that class, so we are well stocked on various cake decorating supplies.
The entire recipe and ingredient list can be found at the bottom of this post. In addition to that, if you want to make the icing flowers, this is the list of supplies you'll need.
What You Will Need for Piping Hydrangea Cupcakes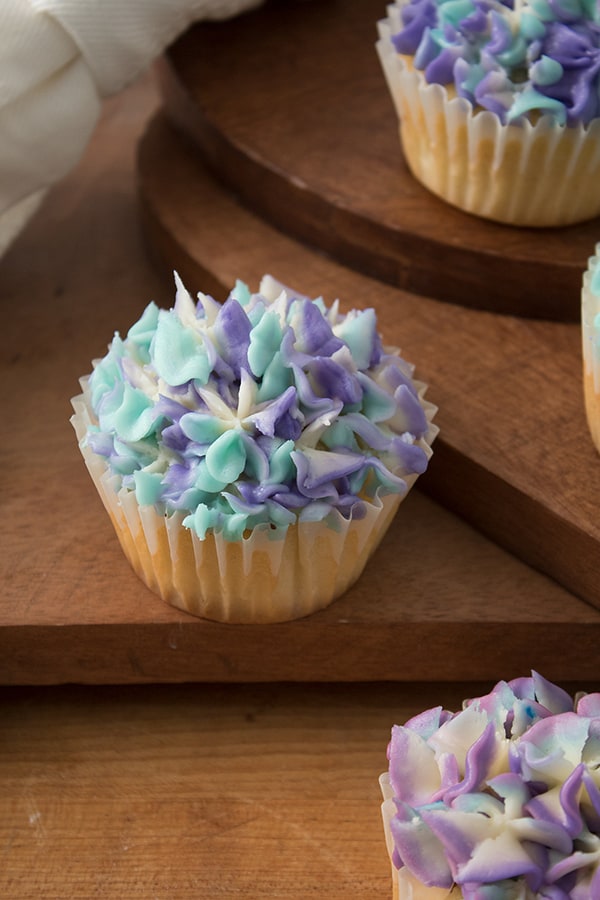 Making the Vanilla Bean Batter
Making your own batter from scratch is always way more delicious than a store-bought mix. Just remember to leave the butter out to soften before you plan to begin. I always forget to do that until I'm ready to get started!
With the vanilla bean paste, you add that in the same amount as you would vanilla extract. You can basically swap it out in any recipe that calls for vanilla extract.
What is Vanilla Bean Paste?
One difference between vanilla extract and vanilla bean paste with seeds is the consistency. The vanilla bean paste is thicker, slightly less so than syrup or honey. Another difference is that the paste is made from grounding the vanilla beans.
Because it's made from the ground vanilla beans, it will give you a more intense flavor. You can even make your own if you want to.
This isn't the best picture but you can see the little black flecks of the paste in the batter.
Buttercream Decorator's Icing
Once we had the cupcakes in the oven, we made our own buttercream decorators icing. When I decorate my own cakes I prefer to make the icing myself to get the right consistency as well as a good flavor. You want it stiff enough to hold the shape but not so stiff you can't squeeze it out of the bag.
This recipe (at the bottom of the post) is the best I've found. I usually double it so that I don't run out in the middle of decorating. Whenever I've tried store-bought decorator's icing either it wasn't the right consistency or it tasted horrible.
How To Make The Hydrangea Flower Cupcakes
For this batch of cupcakes, we divided the icing between four bowls. We left one white and colored the other three using pink, purple, and blue icing gel coloring. You can use as many or as few colors as you like.
The trick for the hydrangea icing is how you put it into the bag. I like the colors to be variated, not solid. Rather than spoon the icing in one color on top of another, I spoon it in so that they're next to each other.
The best way I found to do that is when spooning the icing in, press it up against the side of the bag. Then rotate the bag and do the same with the next color. As you can see in the photo above, I used three colors.
That when, when you pipe it each "petal" will be a variety of colors.
Here is another one we made using only two colors, pink and white. Also very pretty.
I made a really quick video of my daughter piping the icing onto the hydrangea cupcakes in case you need a visual.
My daughter and I are really on a cake decorating and baking kick now. We have a few more ideas we are thinking of trying. Such as angel food cake from scratch, peony icing flowers, a chocolate buttercream icing recipe. Let me know if there's anything specific you'd be interested in seeing!
You may also want to check out the fault line cake I made last year. That one came out really cool and would be ideal for Valentine's Day.
Enjoy!
Vanilla Bean Flower Cupcakes
Ingredients
1 1/2

cups

all purpose flour

1

cup

sugar

1/2

cup

butter

softened

2

eggs

2

teaspoons

vanilla bean paste

1 3/4

teaspoons

baking powder

1/2

cup

milk
Buttercream Decorator's Icing
5

cups

confectioners sugar

1

cup

butter

softened

1

teaspoons

vanilla extract

2

tablespoons

milk

1/2

teaspoon

salt

food coloring

optional
Instructions
Preheat oven to 350 degrees and add cupcake liners to muffin pan.

Using electric mixer, cream the butter and sugar until well mixed. Add all other ingredients and beat until combined and smooth.

Spoon batter into prepared cupcake liners.

Bake for 20 – 25 minutes or until a knife inserted comes out clean.
Buttercream Decorator's Icing
Using an electric mixer, beat the butter until softened. Add the milk, vanilla and salt. Slowly mix in the confectioners sugar until well combined. The mix will be stiff.

If desired, mix in a few drops of food coloring until combined.
Notes
To color the icing for piping hydrangeas, we divided our icing mix into four different bowls.  We left one white and used blue, purple, and pink food coloring for the others.
This post may contain affiliate links, for more information read my full disclosure.