3 Drawer Nightstand Decor Swap
Back when I gave my younger daughter's bedroom a makeover, I was specifically looking for a 3-drawer nightstand for extra clothing storage.
I ended up buying 2 unfinished nightstands from Ikea and giving them a makeover. Sadly, I've now learned my lesson that Ikea furniture really doesn't hold up well. One of the nightstands broke when the facing came unattached from the drawer. I had the same issue in the past with a dresser from there, so rather than trying to fix it like I did last time (it didn't last) I decided to replace it.
The nightstand that broke was a little too wide for this space anyway. I hadn't accounted for the thick baseboard molding we added after installing vinyl flooring in the room.
I needed to replace it with another 3 drawer nightstand to accommodate my daughter's clothing. You may remember from the makeover that we forfeited a big dresser in here in favor of a desk. The nightstands and the storage bench were to make up for the lost dresser space.
My new nightstand had to be just the right dimensions. As big as possible for storage while not being as squeezed in as the last one. I also specifically wanted something with legs, raising it up from the floor a bit. I love furniture with that look, it feels airier than pieces that sit flat.
After a good bit of shopping around, I found this wood nightstand that fit what I was looking for. I was unsure if I wanted dark wood in here, but everything else met my specs exactly.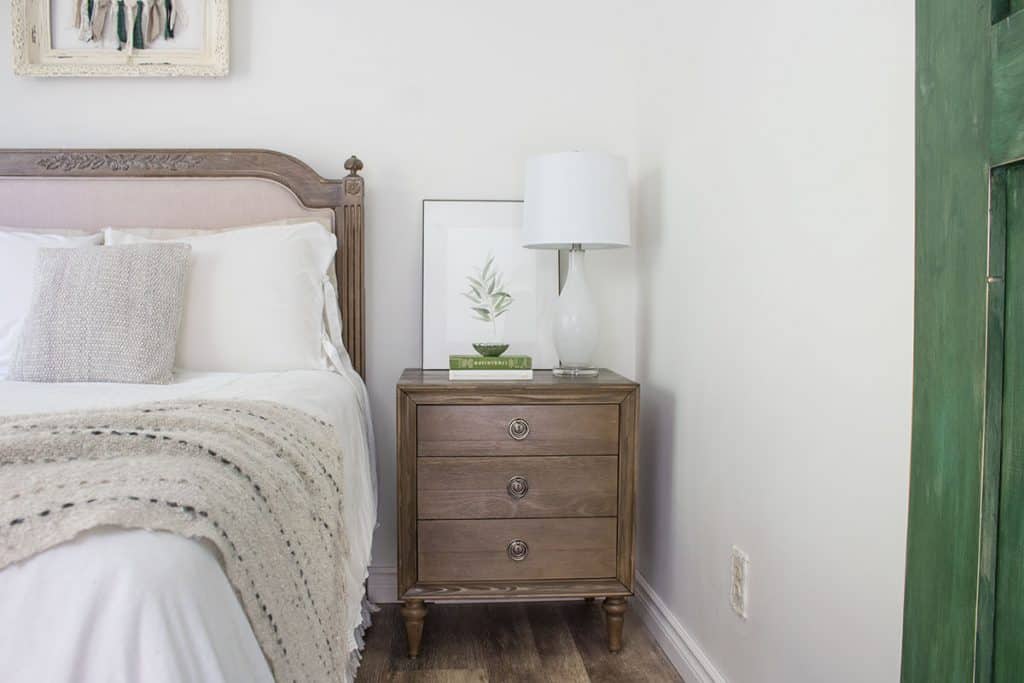 As it turns out, it matches the headboard very well. I really love the drawer pulls. They're a nice take on vintage bail pulls.
And though this is a few inches smaller than the last nightstand, it packs a good amount of storage. I went a little Marie Kondo on the drawers. Look how many of my daughter's T-shirts I fit in one drawer!
Seriously, there are about 21 T-shirts in that one drawer. Though, keep in mind although my daughter is grown, she is petite so her clothes might be smaller than someone average to large-sized. You can see it fits the space between the bed and wall much better than the old one did.
And I had fun styling it with new art prints. Sometimes it's the little changes that can give a room new life. 🙂
I also replaced the nightstand on the other side of the bed with this upcycled vintage dresser.
*This post was sponsored by Wayfair, all opinions are my own. You can read my full disclosure here.