Small Master Bedroom Ideas
This simple bedroom makeover actually took several months of planning. I was looking to do a very serene, monochromatic color scheme in our bedroom. Monochromatic, I've found, isn't easy to do. Today I'll show you how I put it all together, and maybe give you some small master bedroom ideas for yourself.
First, I started off with a neutral bedroom design board to be sure everything I chose was cohesive. Next, I began buying a few of the accessories over six months ago. It helps the budget to buy a little at a time. After that, I started searching for the perfect headboard and area rug.
Caned Headboard
The thing that held me up the most was finding the right headboard. I could not create the neutral color scheme I was imagining with our old gray headboard, I really wanted something wood-toned. I sold the gray one on marketplace and spent months searching marketplace for a vintage wood nightstand.
After over six months of searching, I still couldn't find anything I liked. My other thought was to get a pretty caned headboard but those are surprisingly hard to find within a reasonable price range. Finally, I caved and ordered this caned headboard. It was more than I wanted to spend but I am really happy with it.
Nightstand Makeover
Another item I was searching for was vintage nightstands. Again, after many months I found nothing I liked even a little bit. I decided to refinish my existing nightstands to save money. These nightstands had an extreme farmhouse makeover a few years back. I still liked the wood-toned finish on them but it was a bit off with the wood on the headboard so I repainted all but the tops of them.
I used the color Raw Silk (just as I used on this caned sideboard) and changed out the drawer pulls. This made a huge difference! These nightstands fit the space perfectly and offer a good amount of storage. In the end, this worked out well.
Area Rug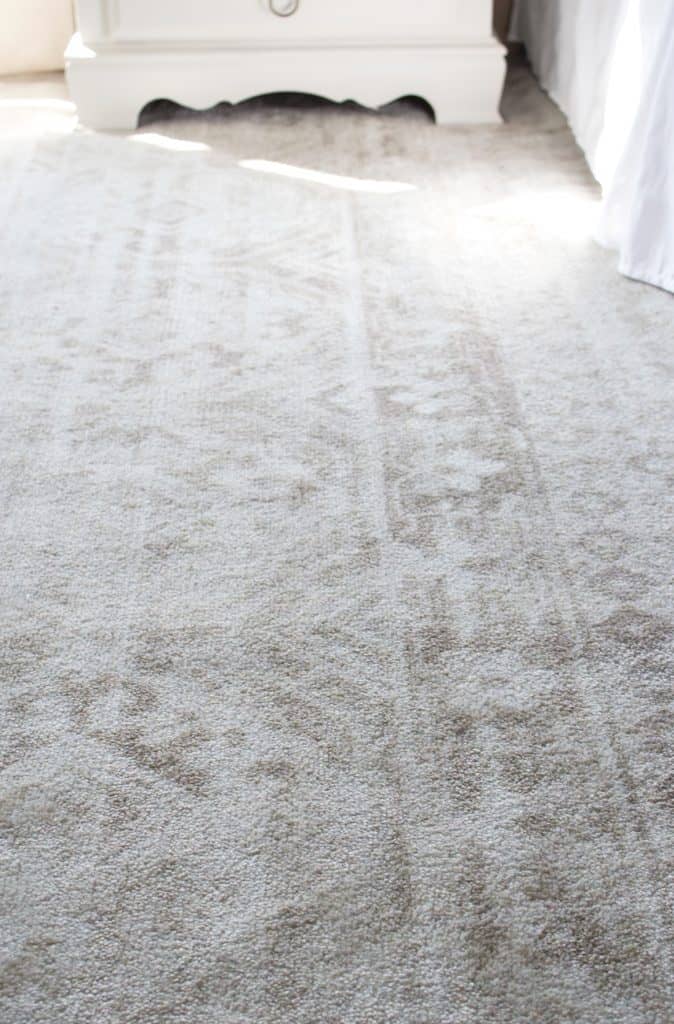 Finding the perfect area rug wasn't hard. The muted tones in this Prismatic Layland Rug from Mohawk Home was the perfect fit. My husband and I planned to remove the existing carpet here but that project is on hold for now so I put this area rug right over the existing carpet for now.
Just changing the area rug in the bedroom made a night and day difference in itself. The rug really pulled the whole room together.
I do love the rug pads from Mohawk Home as well, they are just the right thickness and add just the right amount of softness under the rug without being too bulky.
Armoire Makeover
All the bedroom furniture in here is part of the original set we bought when we bought the house. Unfortunately, we picked a not-so-pretty oak-colored wood. The armoire was painted blue a few years ago, but this time I decided to lighten it up to match the rest of the room.
I also used the Raw Silk color on this. It looks slightly different than the nightstands because I painted right over the blue without priming. I actually love the shade that it turned out so that also ended up working out for the best.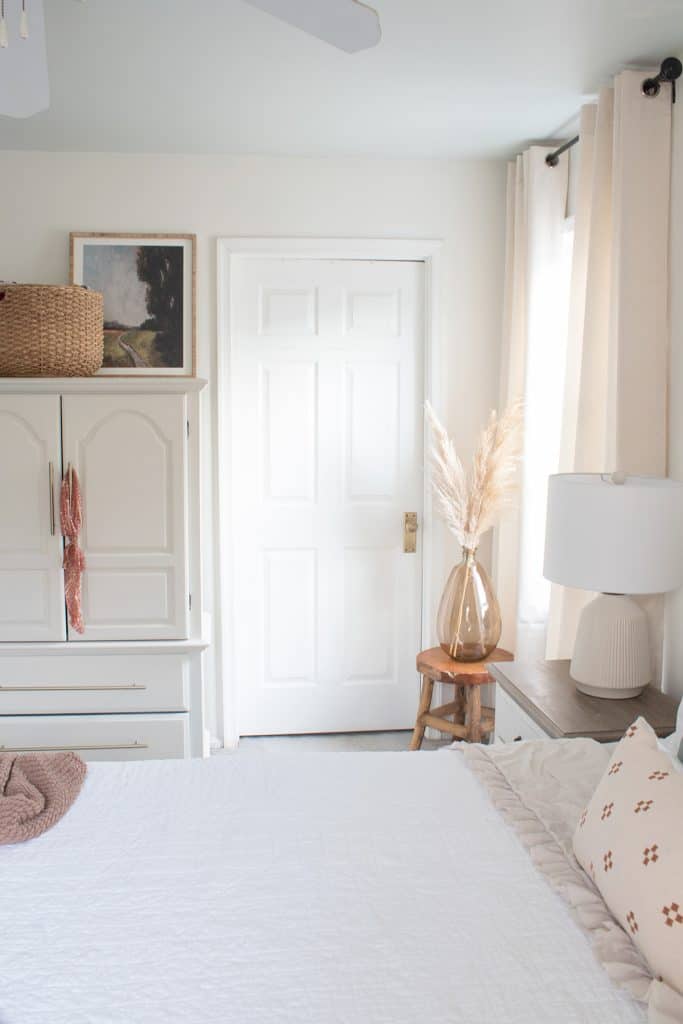 I styled the top of the armoire with some of the decor that I've been hoarding.
Master Bedroom Accessories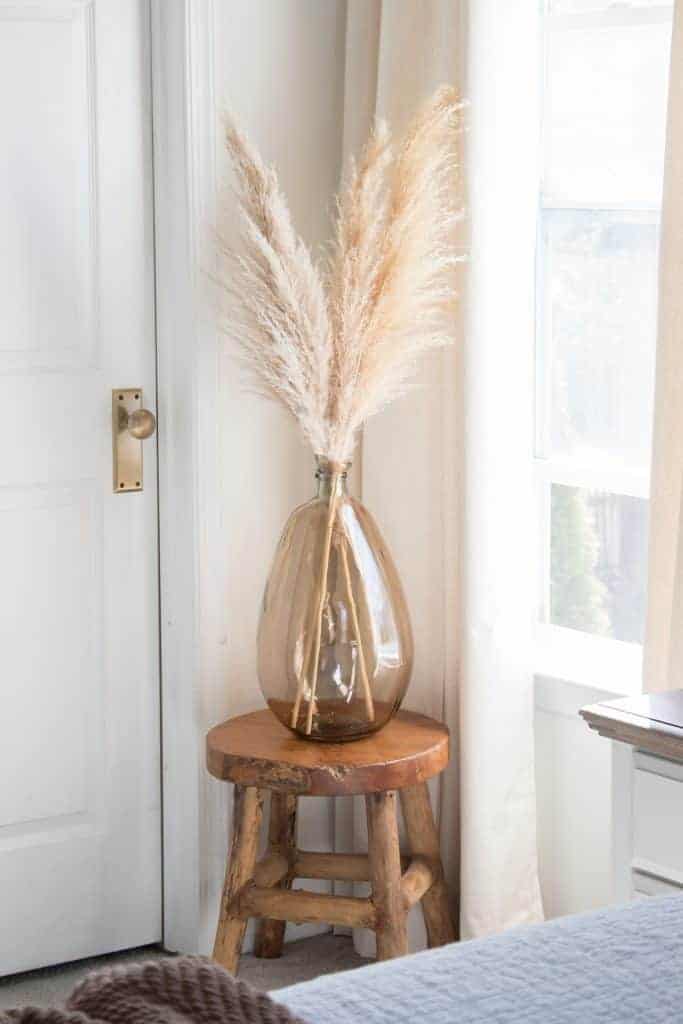 Who says pampas grass is just for fall? It's the perfect natural element in this neutral room. A few new pillow covers were added for a touch of color and pattern. I moved our old lamps downstairs and replaced those with these pretty white lamps that have just the right little wood tone accent on them.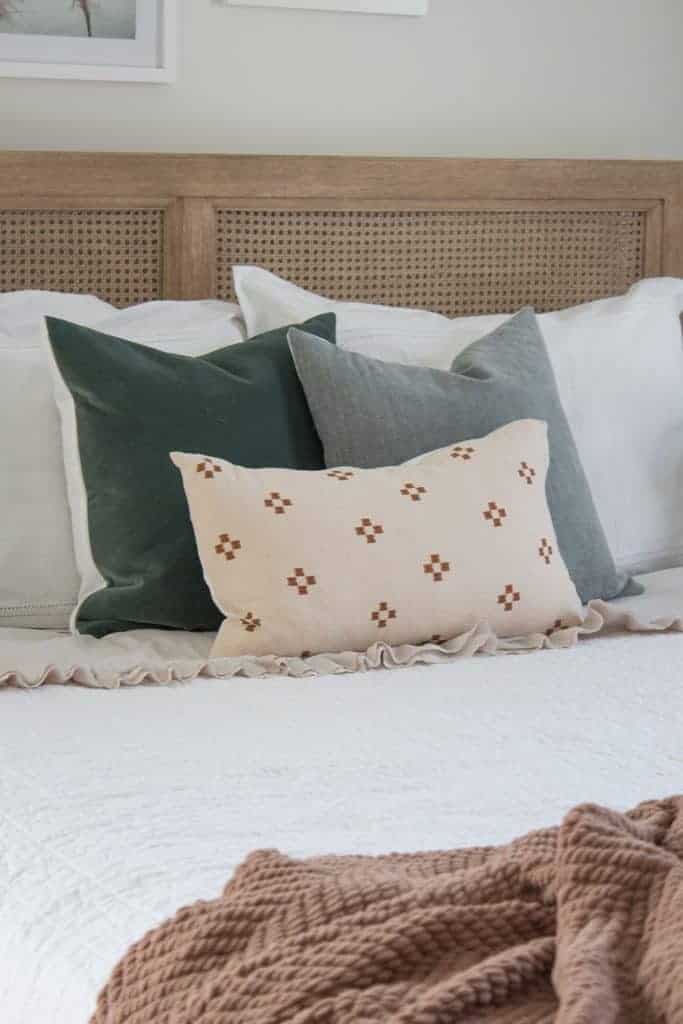 Our bedroom is approximately 10 x 14 which is pretty small by most standards. I did manage to pack a lot of enclosed storage into the space. We do have a walk-in closet which helps with storage as well. Though that is in desperate need of cleaning out.
What To Hang Over The Bed in The Master Bedroom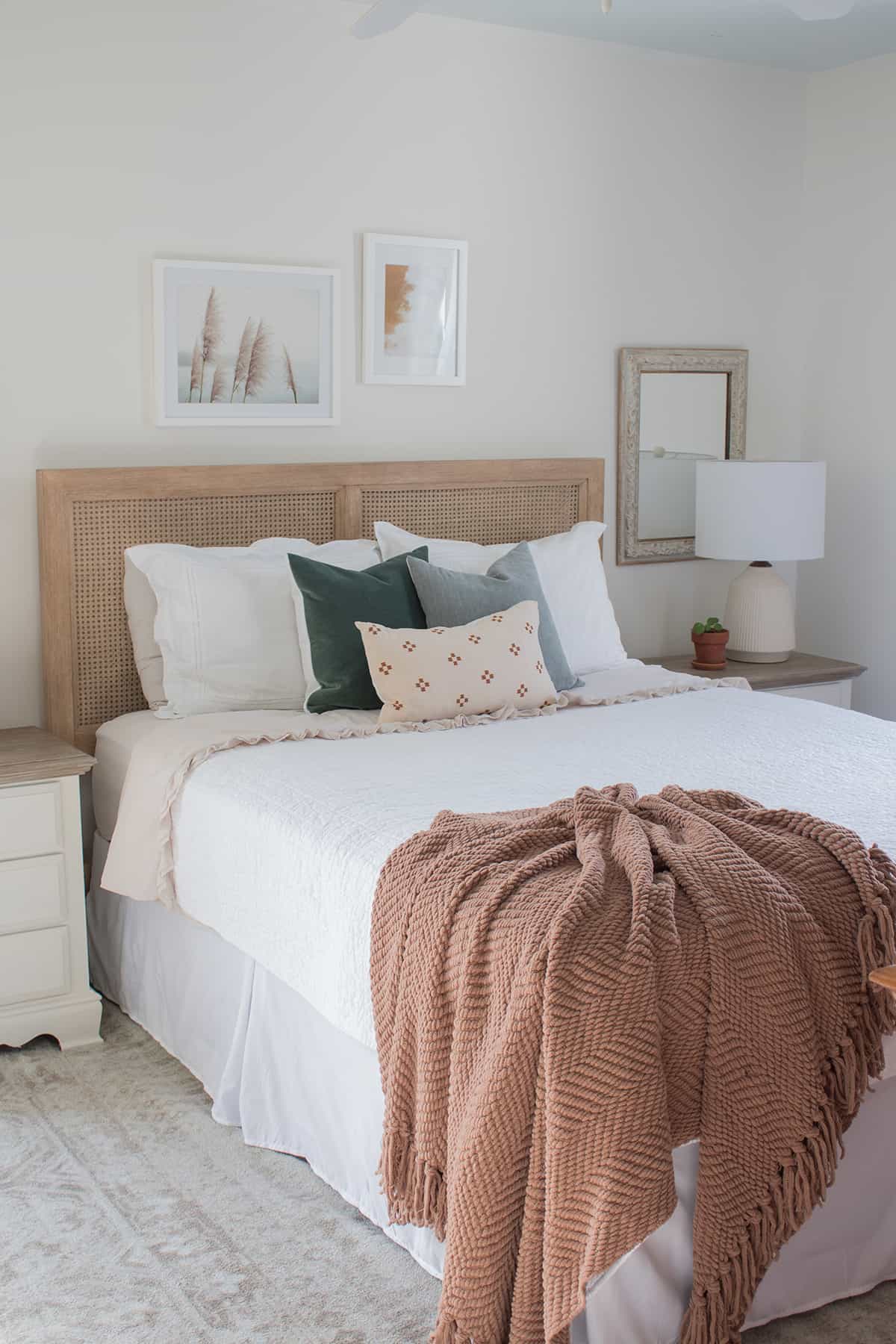 Simple, neutral, and serene were what I was trying to achieve with my small master bedroom ideas. Therefore, any artwork had to be along those lines. I found the pampas grass photo that matched perfectly. I also had bought a few pieces of digital art online at BFF Print Shop, which I framed myself.
If you're in need of wall art, that shop is an excellent resource.
Easy Fit Bed Skirt
I love beautiful pictures of bedrooms with raised beds that you can see under. However, when you need all the storage space you can get, that is not an option so bed skirts are my best friend.
When I was removing the existing skirt for washing I had trouble getting it off the bed and it ripped. Leaving me no choice but to buy a new one. Fortunately, I found this easy to attach bed skirt, that goes around the perimeter of the mattress without needing to lift the mattress up or off to get it on. Brilliant idea and SO much easier!
See something you like? Shop the look below!