Simple Christmas Decorating Ideas From Years Past
While I'm still working on all things Christmas this year, I thought I'd share a post with simple Christmas decorating ideas from years past. Christmas is my favorite holiday, I really love decorating for it.
Even in my small house, I try to come up with different holiday decorating ideas each year to keep it fun and fresh. I definitely have a vision in mind for my tree this year that I hope comes out the way I'm imagining it.
I haven't started decorating as early as I did last year, but I am hoping to get some done before Thanksgiving. If you like to start early, you're probably in planning mode now too!
DIY Christmas Ornaments
Making homemade Christmas ornaments is a fun and easy way to get creative for the holiday.
Though I'm not a big crafter, I was surprised when I looked back and remembered that I've made quite a few DIY ornaments over the years. These are a few of my favorites.
The gold leaf ornaments above were very easy, definitely one the kids could get involved in. These are an excellent way to update older ornaments you may not like anymore. You can also make them silver or rose gold, depending on your preference.
When possible, I will always use natural elements in my decorating. The simple floral ornaments above are a good example of that. These are a fun way to use up your dried flowers or garden leftovers.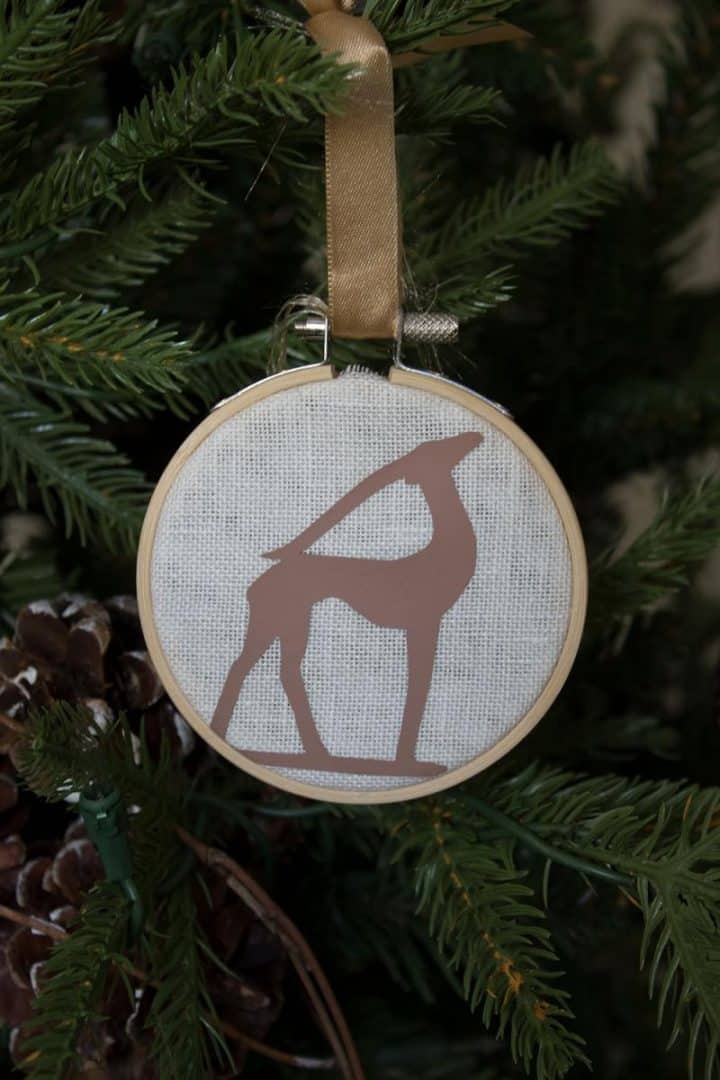 The DIY deer ornaments were inspired by an antique brass deer figure I bought. You never know where inspiration will come from!
Christmas Tree Ideas
You guys, my kids will tell you I spend a ridiculous amount of time decorating the tree each year. Honestly, they should look better for how long I take! For me, trees aren't easy to get exactly right.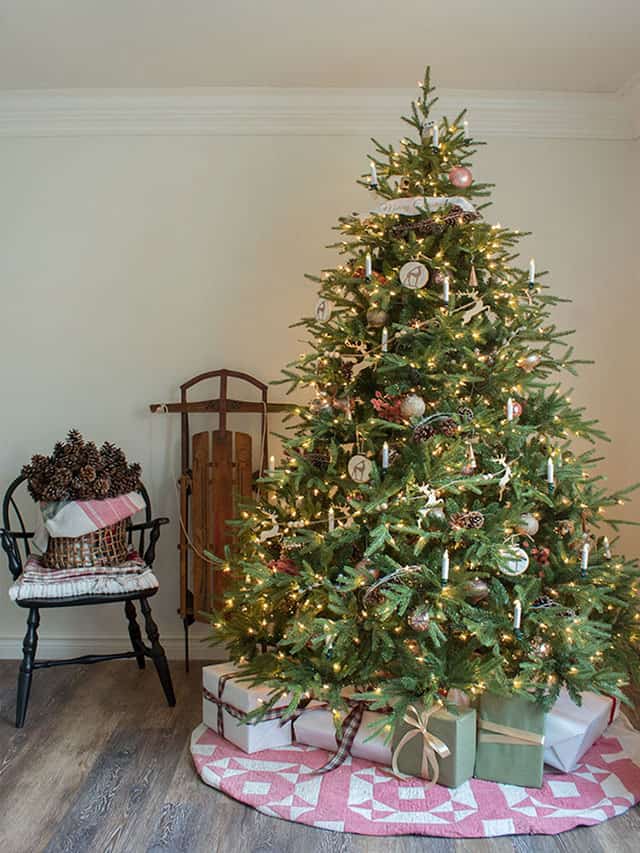 My natural Christmas tree style from last year is my favorite so far. I went with a bit of a vintage theme and plan to expand on that this year.
A close second was my woodland themed Christmas tree. I did not use any ornaments on this one! I used magnolia leaves, pinecones and lots of other nature inspired items.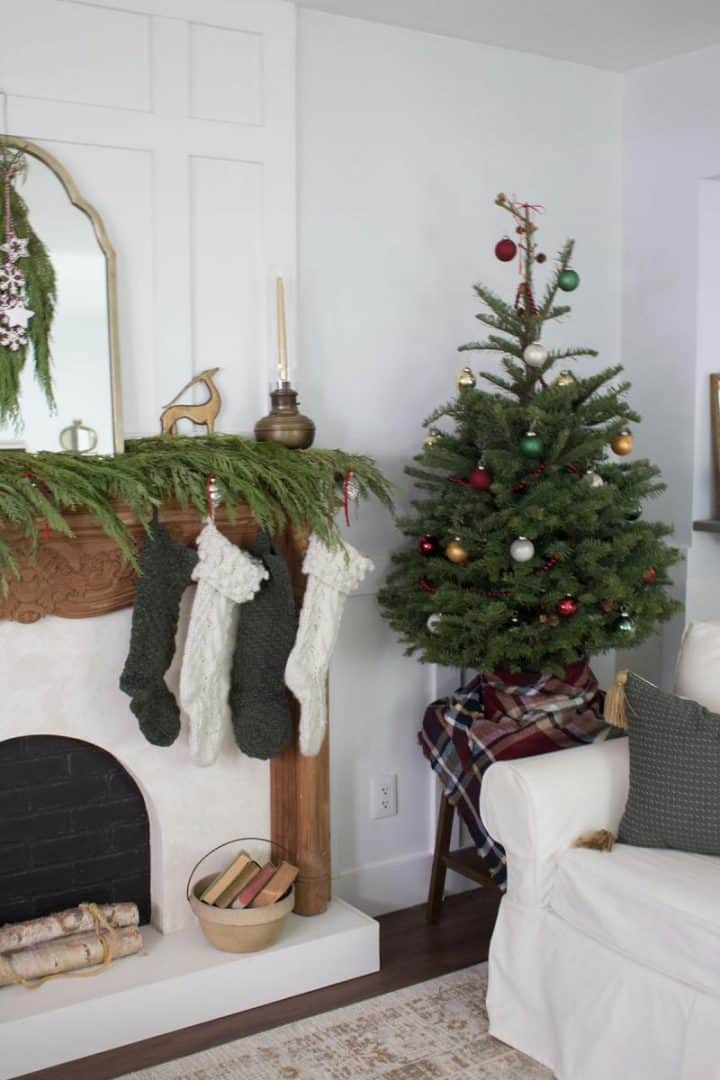 My mini easy Christmas tree was perfect for what I needed in my living room. I went with an intentionally undone look on this one which is a Christmas tree look I really like.
Christmas mantel dECOR
The mantel is the focal point of my living room and one of the first things you see when you walk in our front door. It's one area I do switch up not only for holidays but throughout the year to keep it interesting.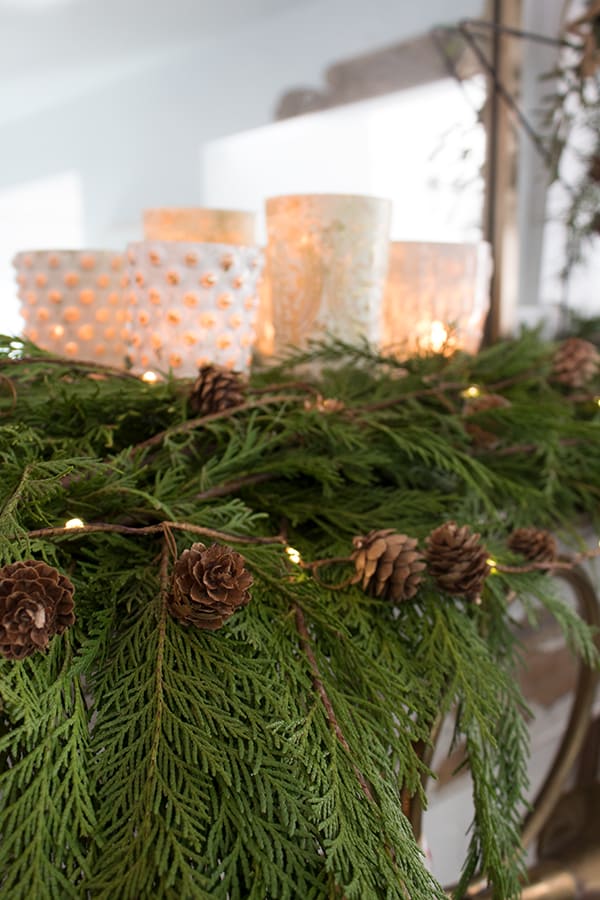 I've used fresh cedar garland for several years now because it's so classic and beautiful that it almost doesn't matter what else you add to it!
Candles are always a must though I vary those from year to year. I really liked these extra tall tapers from last year.
Christmas Table sETTING iDEAS
Setting a pretty table is a fun way to bring the festivities to the kitchen or dining room. Considering it's where people will spend the most time, it's worth the effort!
One year I filled a large bowl with floating candles and cranberries for a very simple centerpiece. I used a gold plant stand to raise it up above the table a bit.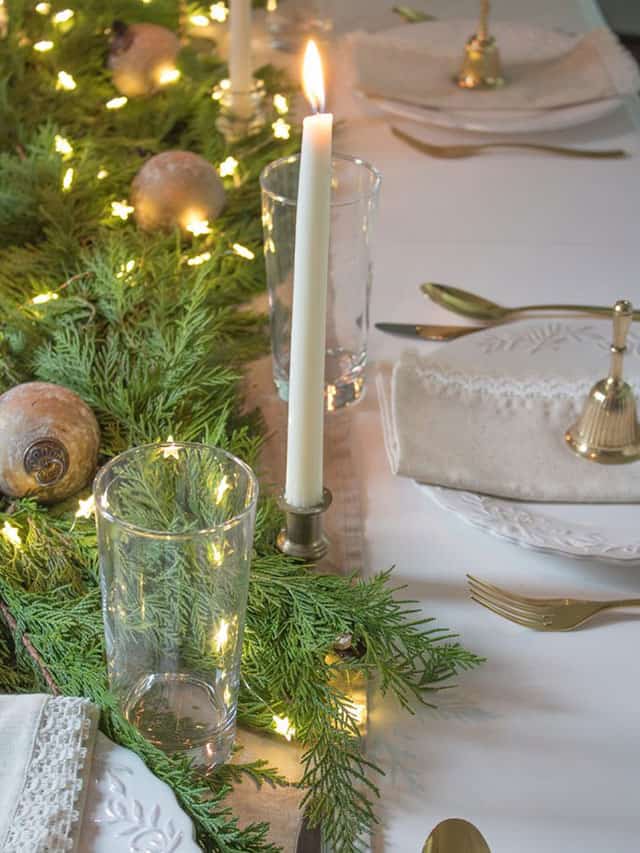 That fresh cedar garland I use on my mantel will get stretched to several other areas of the house as well. Above you can see I placed it down the center of our kitchen table with candles, ornaments, and string lights.
The pink glasses and ornaments above are vintage and inspired a simple but pretty vintage Christmas style table setting. I bought an extra large amaryllis bulb and placed that into a small vintage crock as a centerpiece.
DIY Christmas Decorations
And if you're looking to get creative and make decorations yourself, here are a few more ideas.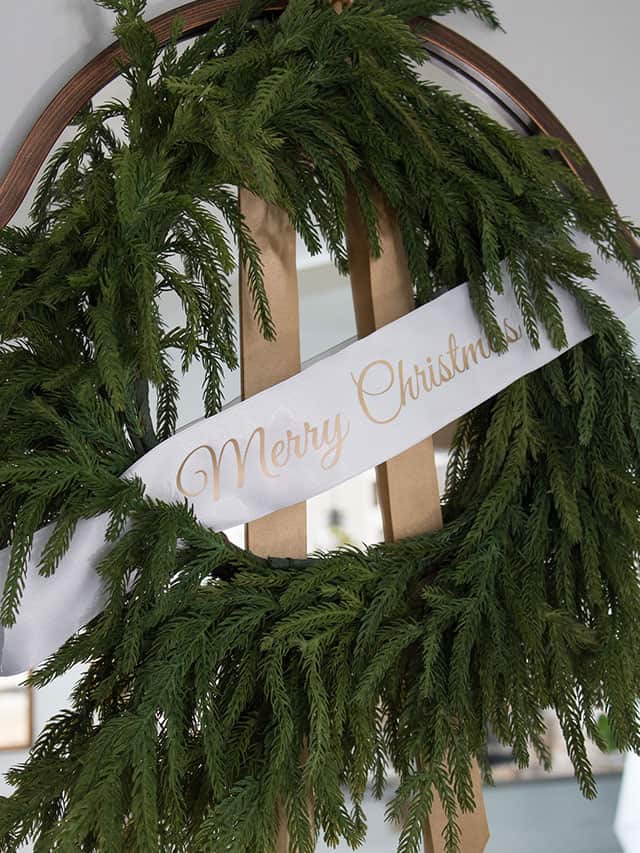 Last year I was searching for a little banner like the one above. I could not find one anywhere! So I made my own Christmas banner with white satin ribbon and iron-on lettering I printed with my Cricut machine.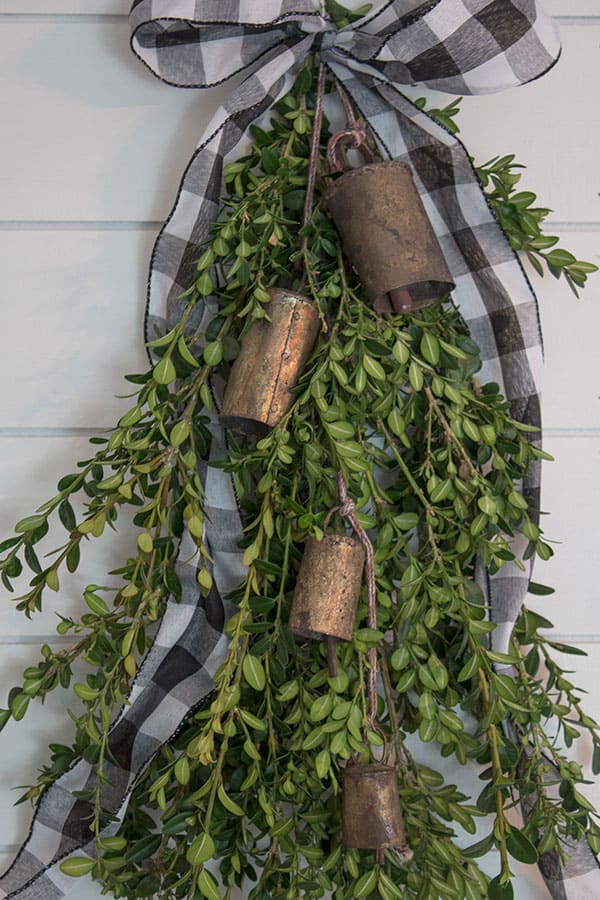 For an inexpensive holiday door swag, cut boxwood clippings from your yard. You can also use any other evergreens you happen to have growing. For this one, I added bells and plaid ribbons for a farmhouse look.
Last year I also made my own pinecone picks. These were easy enough but took a little bit of time because I made so many. A bag of pinecones is very inexpensive (or free if you have a tree) and they can really stretch as far as decorating!
I hope you guys found one or two simple Christmas decorating ideas that you can use. It's fun to see how our styles change (or don't change) from year to year, isn't it?
---