How To Make Cafe Curtains Without Sewing
HOW TO MAKE CAFE CURTAINS WITHOUT SEWING, LINEN STYLE HALF CURTAINS WITH PINCH PLEATS!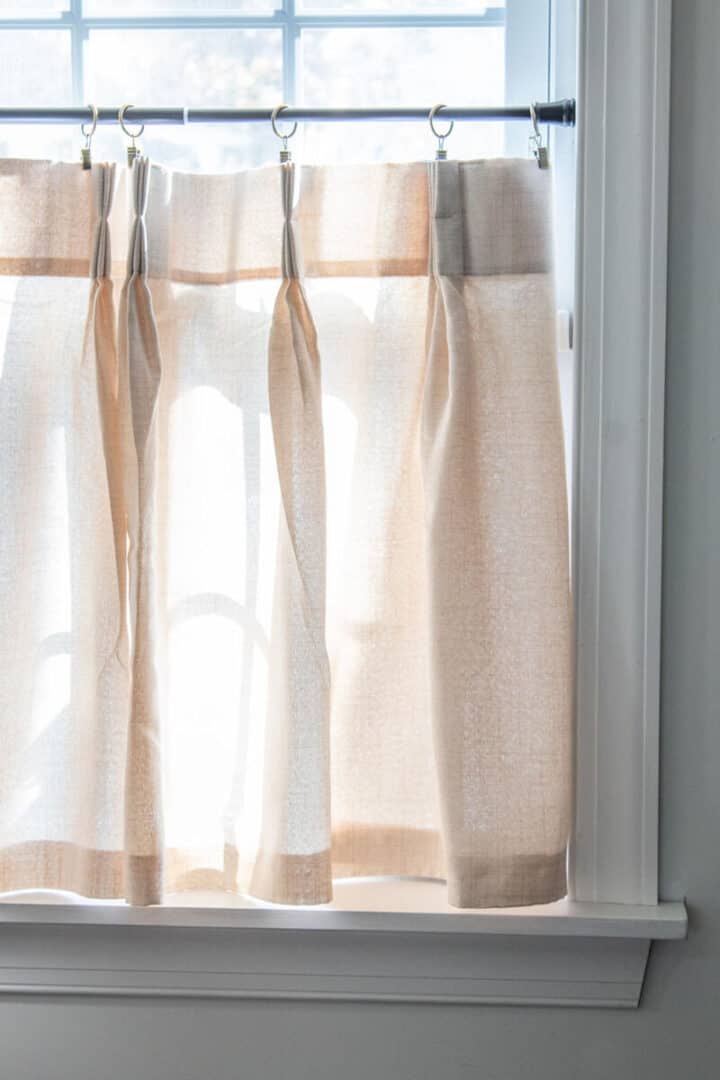 You guys! I've been working on redecorating my small breakfast nook and I really wanted cafe curtains for the windows. Not only that, I specifically wanted linen cafe curtains with pinch pleats similar to the beautiful cafe curtains on my bathroom window.
I had gotten the bathroom curtain on Etsy, so I reached back out to that seller first. Shockingly, the price for the larger windows was around $250. While that seller does beautiful work, I could not spend that much on curtains.
After searching endlessly online, I could not find anything similar. Fortunately, my best ideas usually come when I really want something I can't afford. So I figured out a way to DIY no-sew cafe curtains with pinch pleats!
In one Google search, I noticed a set of pinch pleat drapes from Wayfair that were linen. They were far less expensive for full drapes ($42 on sale for two panels) than they would have been for the custom cafe curtains. With a lack of sewing skills, I knew I couldn't make pinch pleats myself, but I had hemmed no-sew curtains before.
My thought was to buy the full drapes and hem them to the size of the window. Then I'd get my pinch pleats without sewing!
What You'll Need to make cafe curtains with pinch pleats
Scissors
Tape Measure/Ruler
Pencil
Prepping to Make half curtains
The easiest way I've found to prep for hemming curtains is to hang them first. You should also iron them first for best accuracy but I didn't because mine weren't so wrinkled that it would matter much.
Once hung, I marked the curtains where I wanted them to end on the windowsill. But before I did that I made sure the tension rod was level so they wouldn't be uneven.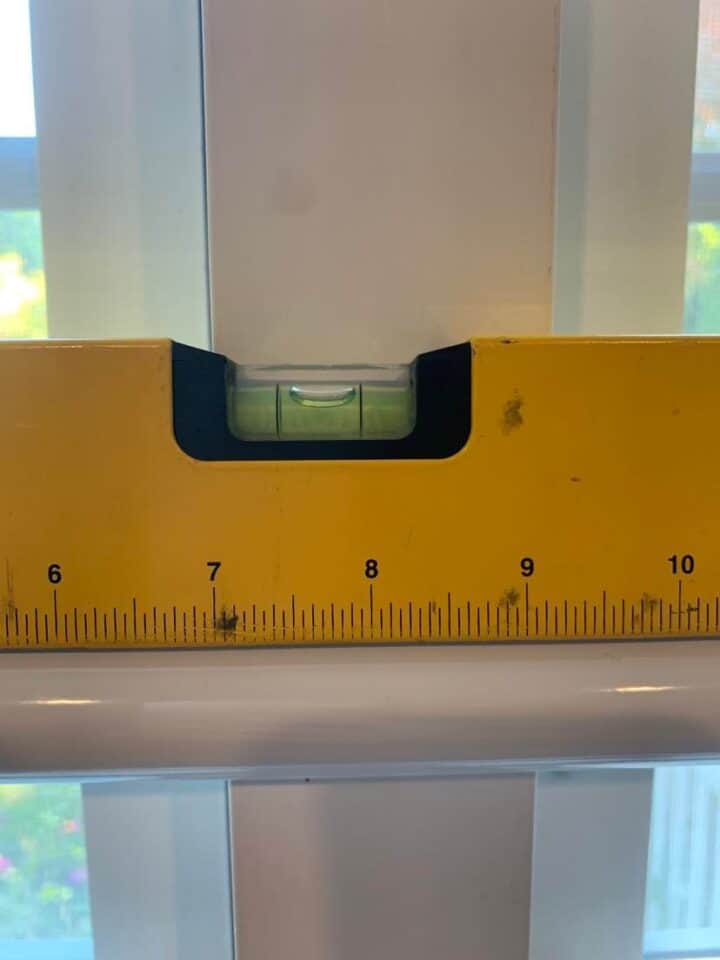 For my cafe curtains, I wanted them to skim the windowsill. I used a paperclip to mark each end because it was easy to get on there nice and straight.
Next, I went across the bottom of the curtain and marked it with safety pins across. Before I took the curtains back down, I cut off the bulk at the bottom. Don't worry about this being straight, it's going to get cut again.
As for the leftover, I had a lot. I put this into my basket of fabric scraps because I'm sure I'll eventually have a project where it will come in handy.
Making the no-sew curtain hem
First, I used a tape measure to find the length from the top of the curtain to the spot I wanted it to end (marked by the paper clip). My length was 26″.
Flip the curtain face down onto your work area. Using a pencil, I marked the back of the curtains at the 26″ mark all the way across. I also marked them at the 28″ length to account for my hem.
To make this easier, I literally used a level and drew a straight line with a pencil across the back bottom of the fabric at both marks.
Now cut the curtain straight across at the longer length.
From here, I brought my curtains to my ironing board, again laying them face down. I folded the bottom up so that the fold was at the 26″ mark where I wanted them to end. Run a hot iron over the fold to get a nice crease.
Open the curtains back up and place your hemming tape where you want your curtain to end. Be sure to get a piece right along the edge as well.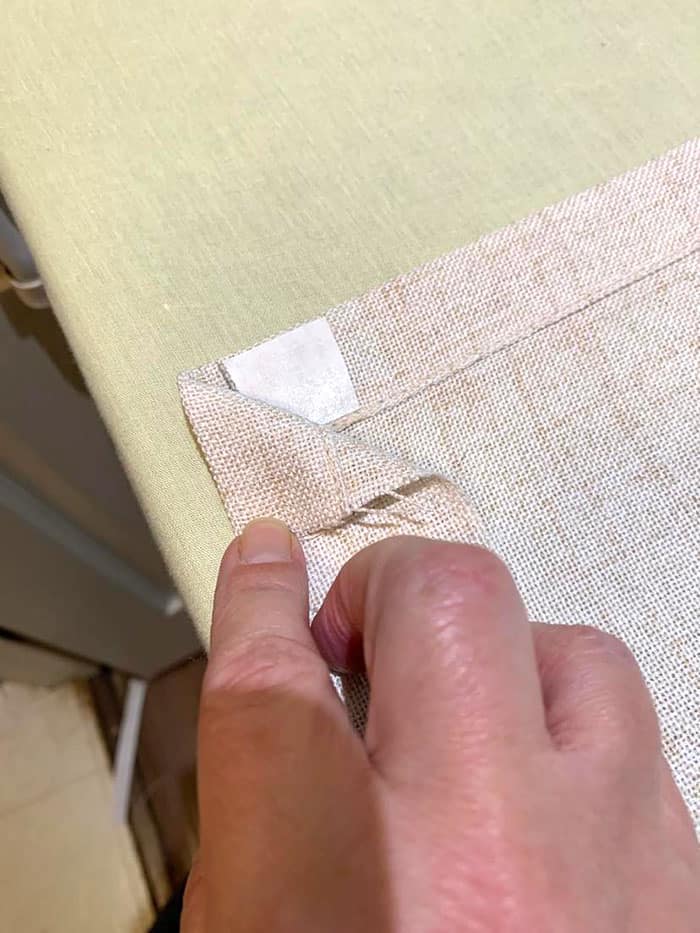 I used ultra-hold HeatnBond and it worked very well on this fabric. You simply run a hot iron over the tape you placed on your fabric first. Then you remove the paper from the tape and fold your curtain back up over it and iron again to seal. It only takes a few seconds for it to adhere.
That's it! It really is easy, it just takes a little time to do. I did two panels in about 2 hours.
Hanging The Curtains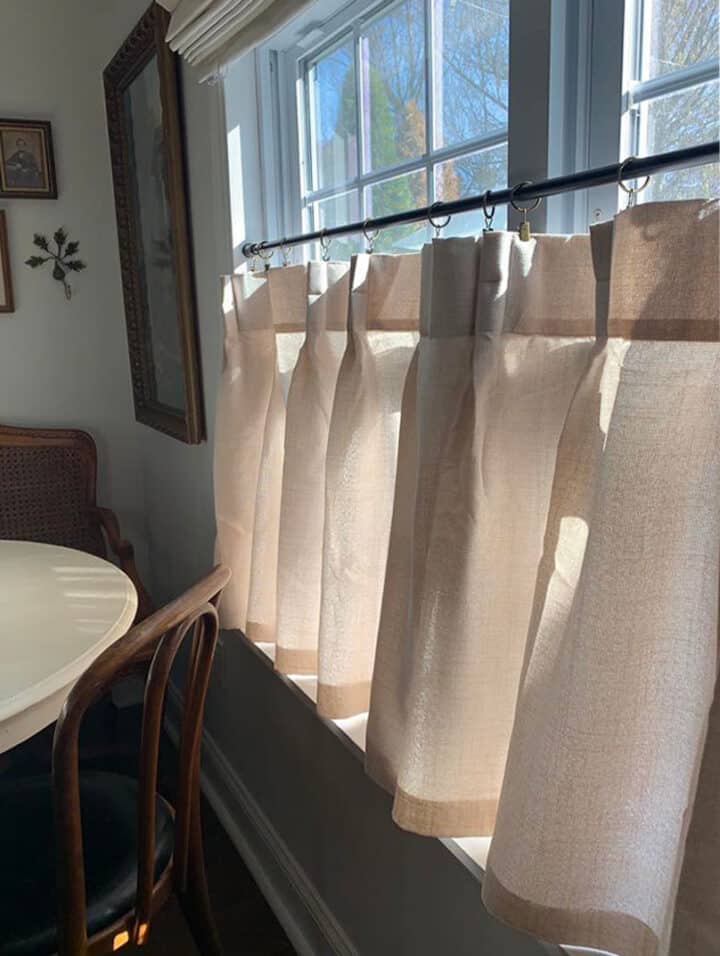 To hang the cafe curtains, you'll need a tension rod and curtain clip hooks. I had a good bit of trouble finding the right tension rod for this. All the rods I found that were the right width were too fat in diameter and looked more like shower rods which I didn't like.
After buying and returning a few, I finally found this tension rod that was just right. Of course, you'll want to make sure the round clips fit your curtain rod, which was another problem I had with the first rod. These curtain clips fit my tension rod just right.
If you have a lot of windows to do, here is another idea for hanging cafe curtains that would save money on buying the rods.
These panels were a little too wide for this window and I didn't want to attempt cutting them vertically. This was an easy fix. At the end of the curtains, I folded them back a few inches and secured them with the curtain clips. It really isn't noticeable at all.
Accounting for mistakes
With this method, I was pretty confident it would all be straight. However, when using a tension rod and curtain clips it's easy enough to adjust the curtain height when hung to make them look straighter!
You really can't go wrong!
Hanging Blinds With Cafe Curtains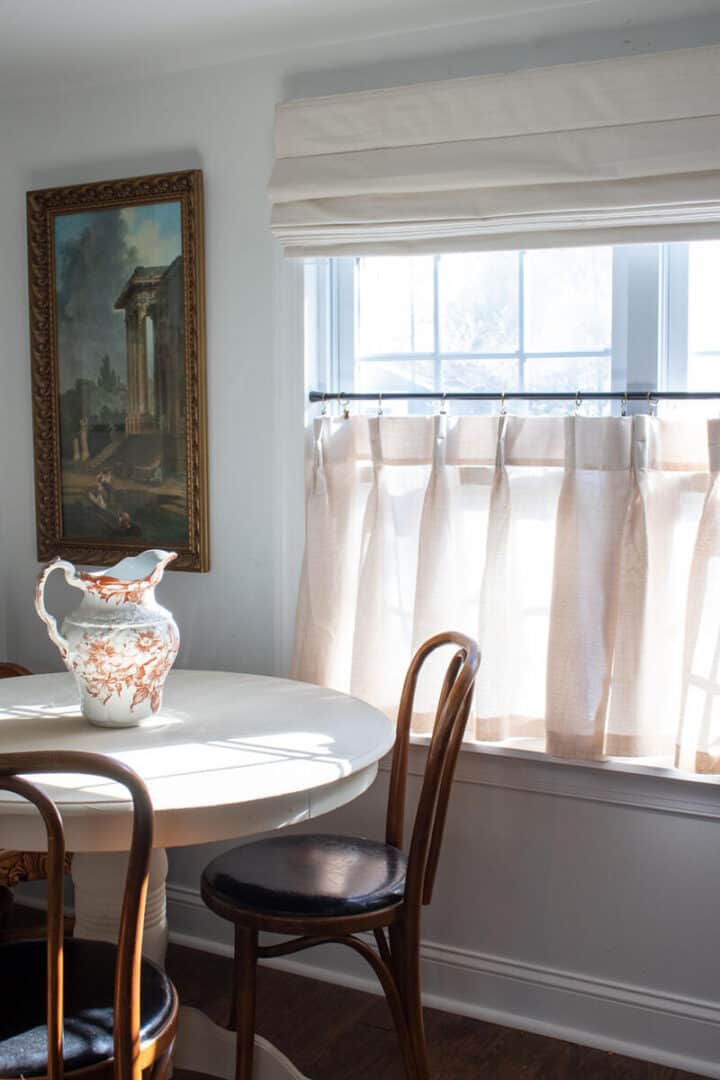 The only issue with cafe curtains is privacy. Obviously, they leave some of the windows exposed. For that reason, I need to still have blinds with mine. I already had these really beautiful Roman Shades (plain style, in the color Wilmington Natural) hanging here. While I think it looks good as is, I believe it would look better if I change them.
Instead, I'm planning to change them out to something more minimal. My bathroom window upstairs has a cellular shade that almost disappears when fully open and I like that look with the cafe curtains. Plus, I have an idea that I want to try above this window which I can't do with these blinds. I'll post more about that when I get it finished. (Update: see the breakfast nook progress here).
Stay tuned!
---