DIY Bathroom Decorating Ideas
I've recently been working on a few changes in our upstairs bathroom and thought I'd share some of my DIY bathroom decorating ideas today. A combination of simple changes made quite a big difference in this room.
My decorating lately has been unplanned. I've only been buying things I really love (mostly vintage) even when I'm not sure exactly what I'll do with them. Eventually, after gathering enough fun finds, I've found it's enough to put together and redecorate with, such as in this bathroom.
Last time I made simple changes in my bathroom I landed on an all-white design with brass accents. I still loved that but was craving a hint more color to break up all the white. Here's what it looked like before.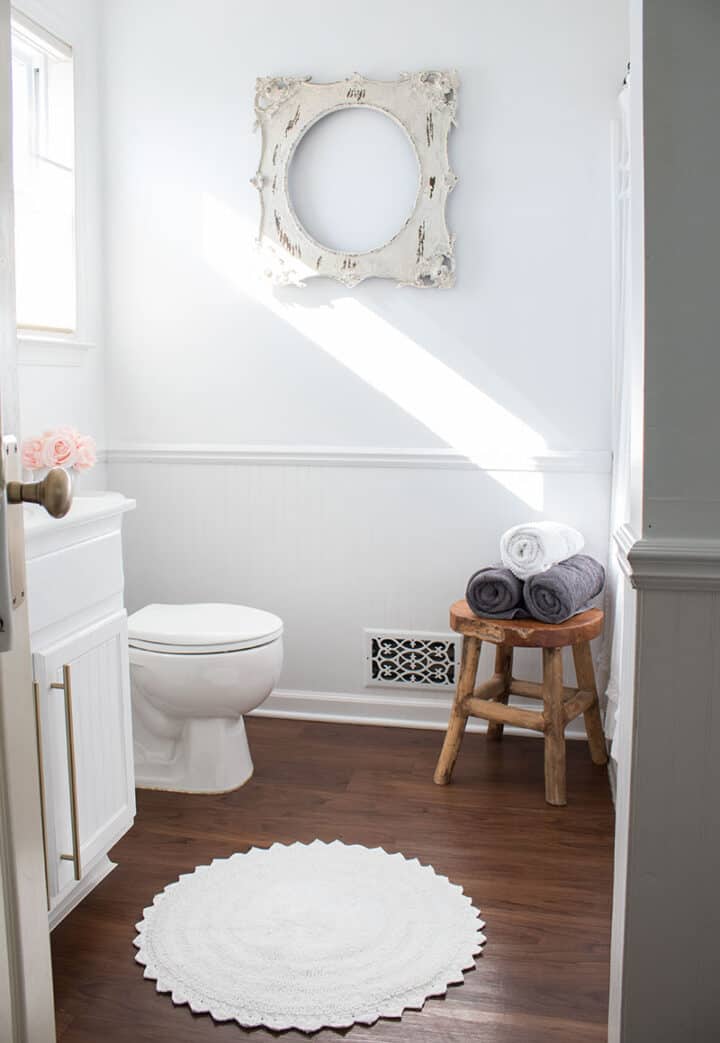 Pretty, but I was getting bored. Our bathroom is an L-shape and has three doors in it. The hall door, a closet, and our laundry room door. I wanted to accent the beadboard, trim, and doors with paint so I started there.
The color I used on all the trim and doors is Off White by Behr. It's a really pretty hint of color without being too beige or too gray. I love it so much I may take this color scheme downstairs next. The picture really doesn't do it justice, so I'll share a video at the end of the post as well.
Bathroom paint colors
The color is a little lighter in person than it appears in these photos. The white part of the wall is just primer. I bought a color called Polar White from Behr (it goes nicely with the Off White) to finish painting but haven't gotten around to it yet.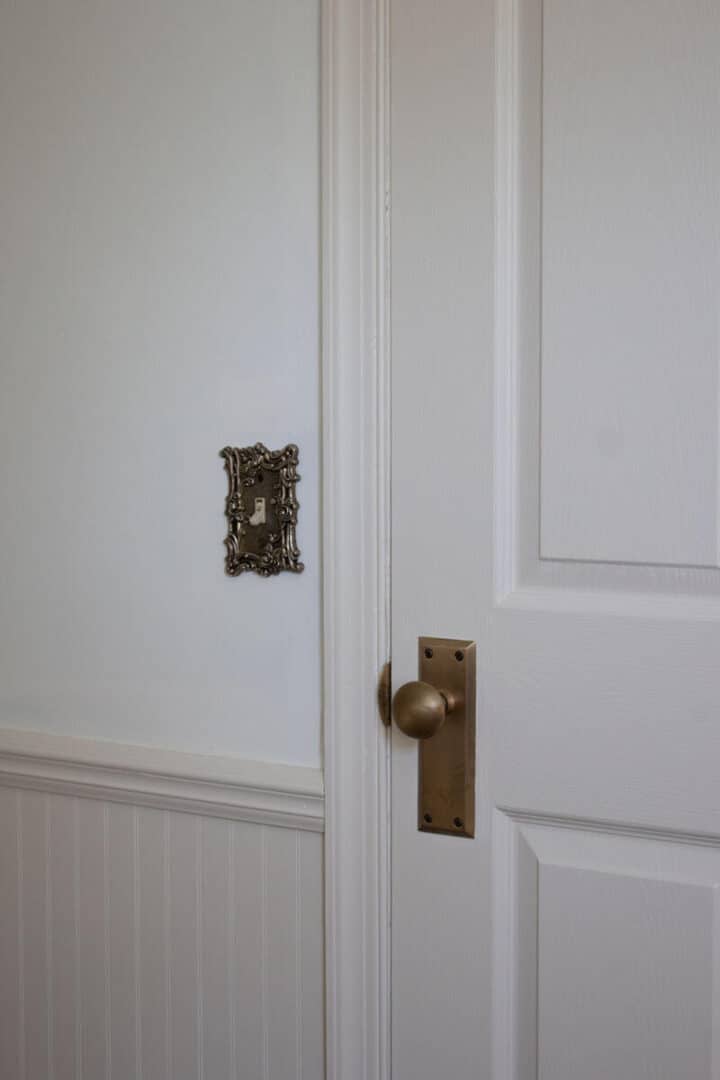 The next thing I did was to change up the bathroom window. I found the most adorable little window at the flea market this year. It was near the end of the day and I was down to my last $20 which I had planned to buy breakfast with on the way home.
But when I saw this little window I couldn't pass it up! I'm so glad I did, it was worth skipping breakfast for.
Bathroom Window Idea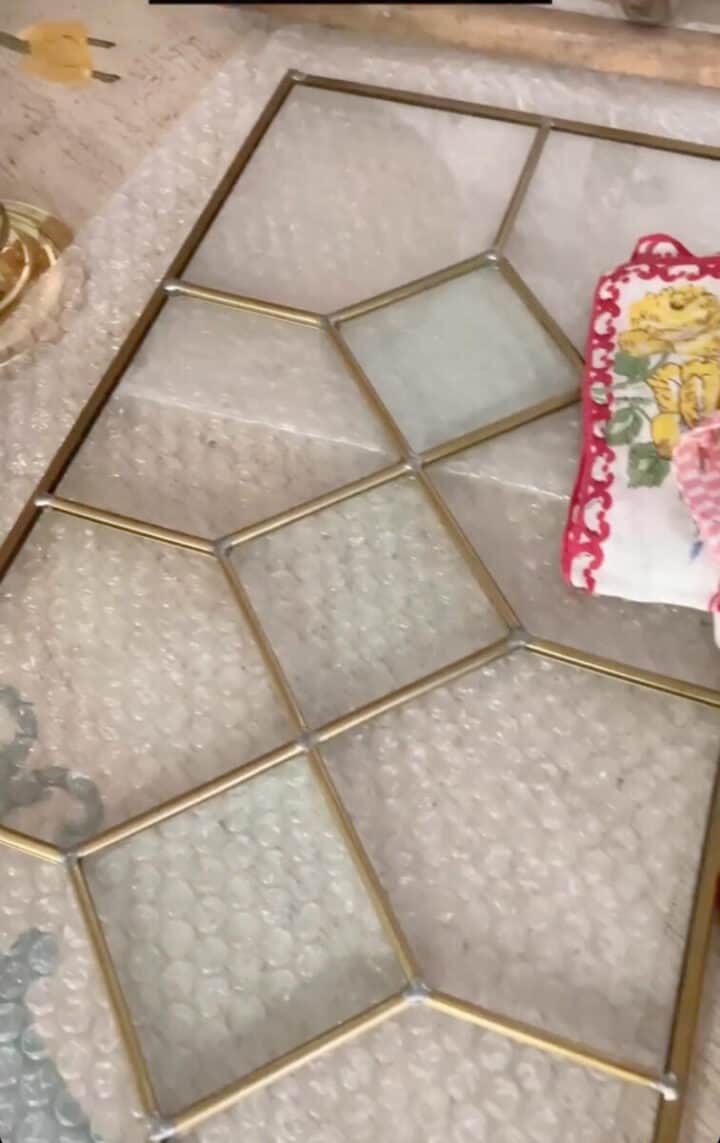 My first thought was to use it over a doorway as a pretend transom but when I held it up over my bathroom window it was a perfect fit.
I hung it up using screw eyes and these little beaded keychains. The beaded chains were easy to cut with scissors to get them to the right length. I also rubbed antique gold Rub 'N Buff over the beads and screws in case any of it was visible.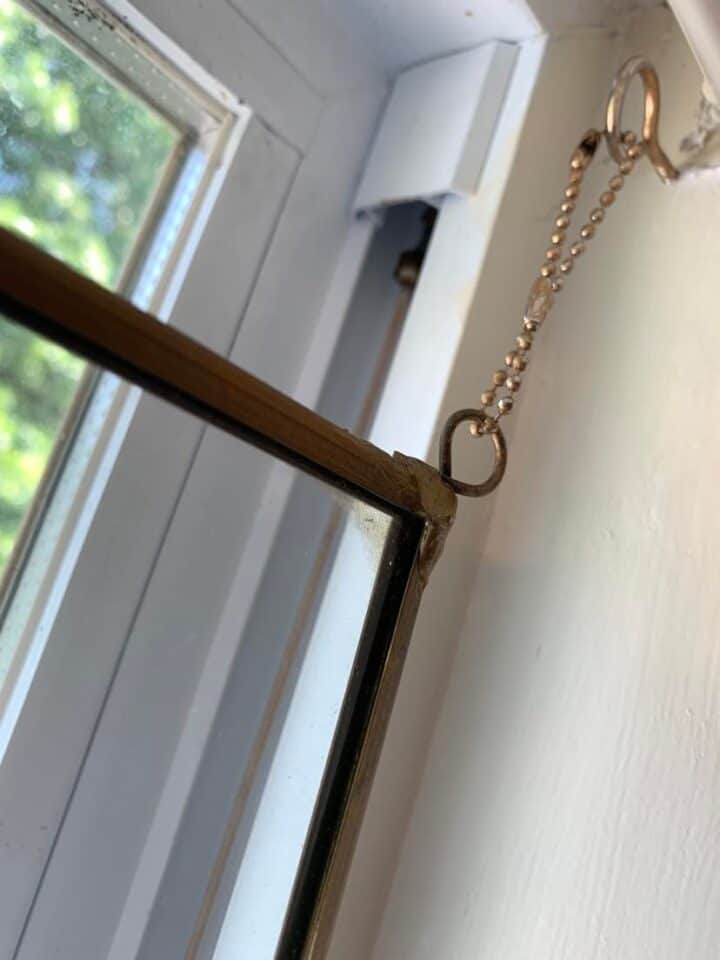 Next, I ordered a really beautiful pinch pleat cafe curtain for the bottom half of the window. It's from Etsy and the shop is currently closed for vacation but when they reopen I'll add a link here. They have tons of sizes and will also make custom sizes if needed.
The curtain clips are from the same shop. I bought those as well so the scale would be just right with the curtain.
It's so hard to get a good photo of the window and of this room in general, but here's a cell phone pic to give you a better idea.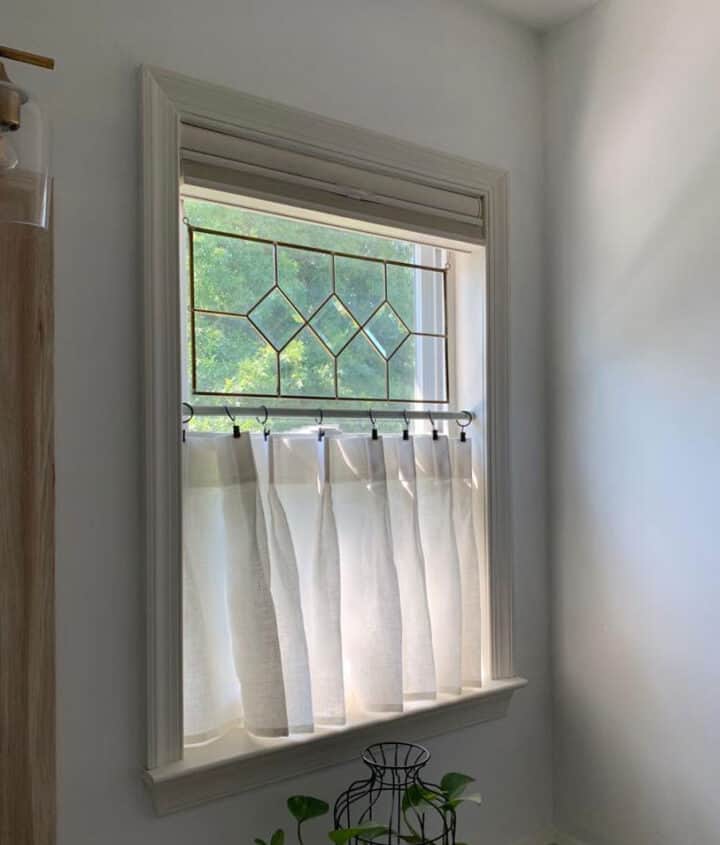 I could not be happier with this little window now. Every time I walk in there it's a fun little surprise.
Vintage Art
Next, I changed up the wall art. I really liked this print of a woman playing the harp that I recently added to my vintage art shop. I had it printed for a small frame but loved it so much that I reprinted it larger for the main wall. The frame was another flea market find I've been waiting to use.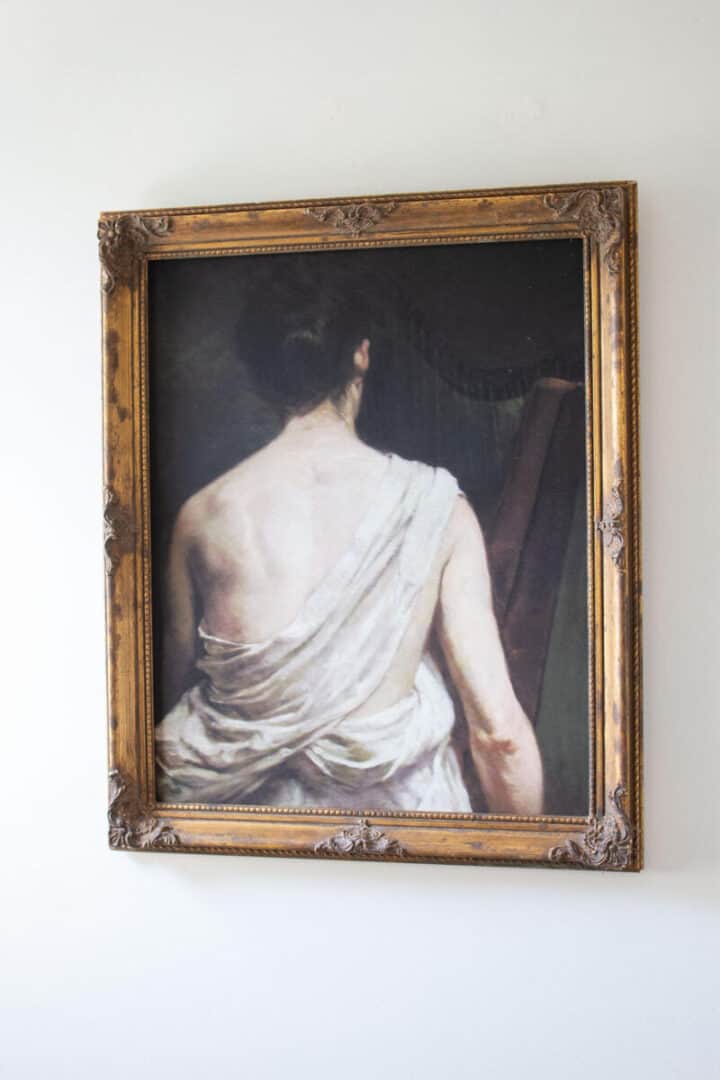 Here's a pulled-back shot you can see it all together.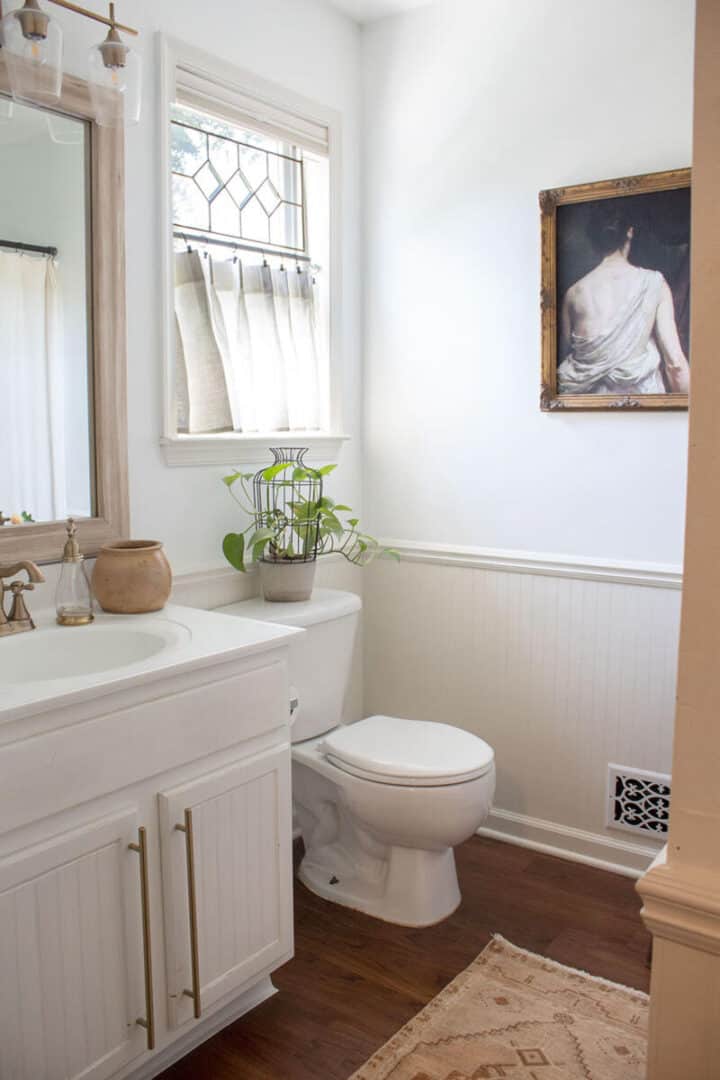 I also printed two floral prints (floral sketch and French flowers) for the small wall next to the sink. Those two frames were found on marketplace so I had the art printed to fit those. I'm going to write a post soon on how to get your art printed in odd sizes to fit vintage frames that aren't standard sizes.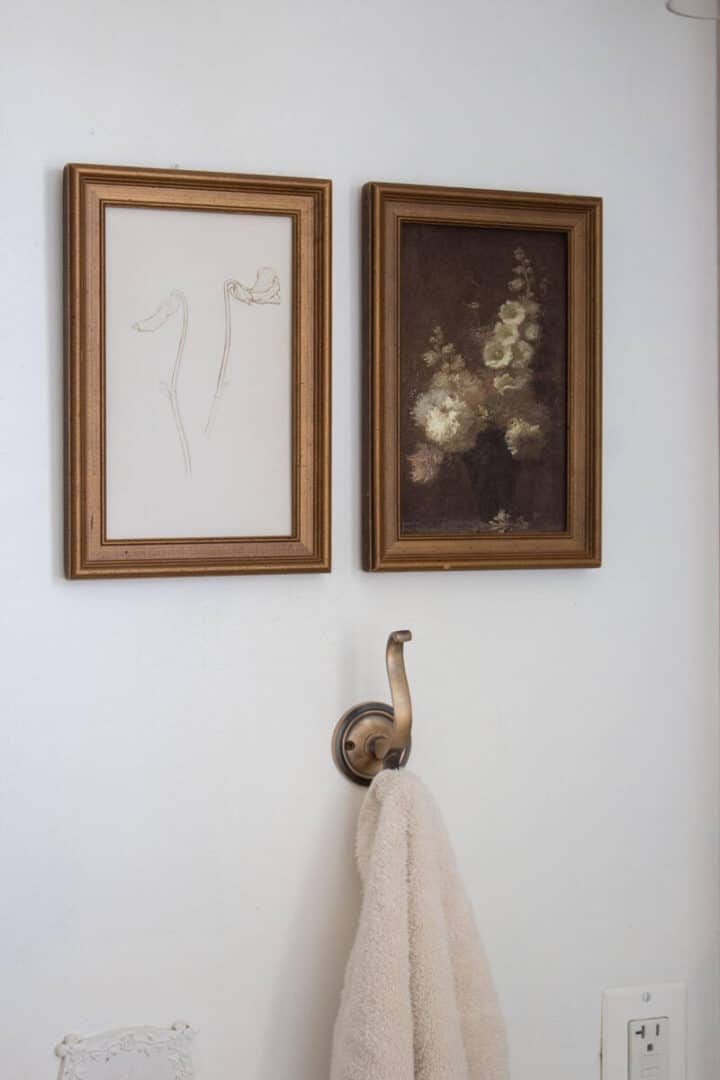 Painted Sink
Remember when I painted the sink with sink paint a few years ago? Well, it had started to wear in spots as well as showing a few stains from my daughter dyeing her hair. I wanted to repaint it but they no longer made the paint I originally used.
That turned out to be a great thing because what I used instead was much easier, better, and had almost no fumes. It's called RTG Shower and Tub paint. I simply applied it with a foam craft brush and that was it!
Even though that needed touch-up that is a DIY bathroom decorating idea I don't regret. The white sink is so much better than the previous almond color it was!
Lastly, I added a new vintage stool I found (for a steal on marketplace!) and a mini Turkish rug. I love the primitive style of this stool.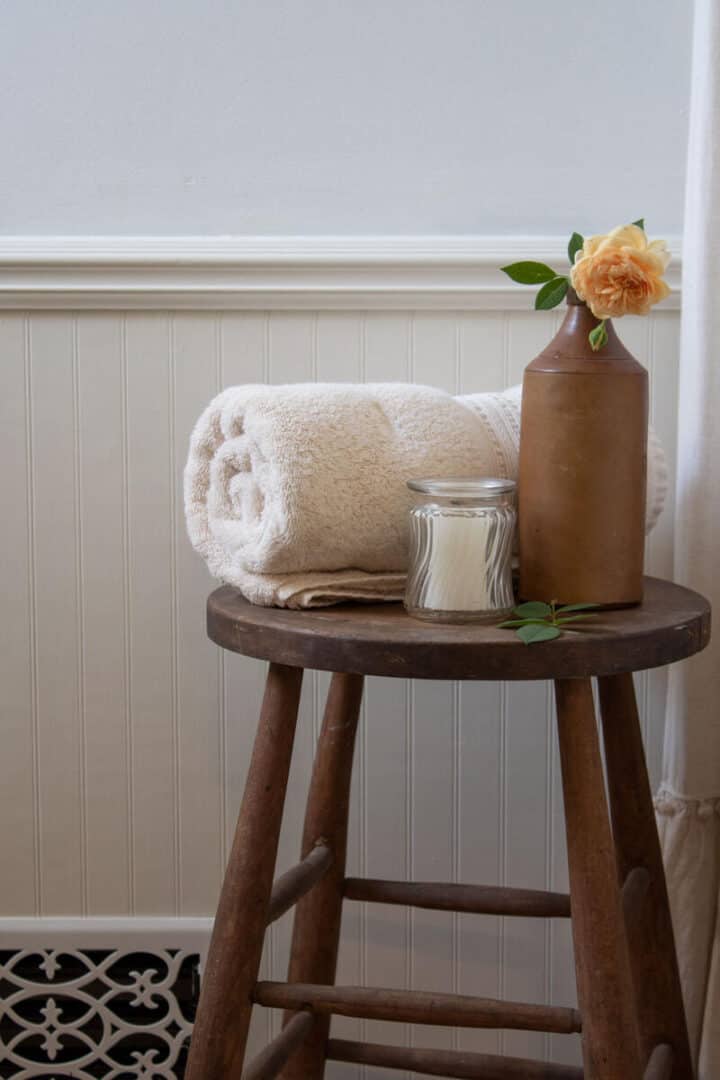 A flower from the garden and a small candle give it a little spa-like feel.
As I mentioned, these photos really don't do the room justice at all. So I put together this short video so you can better appreciate the overall look.
Do you have any DIY bathroom decorating ideas to share? Leave them in the comments!