How To Make Curtains Without Sewing
Have you ever wondered how to make curtains without sewing? I've done it several times now and I love it because it gives me so much more fabric options!
supplies for no-sew curtains:
Fabric (6 yards for two curtain panels)
Iron
Ruler or Tape Measure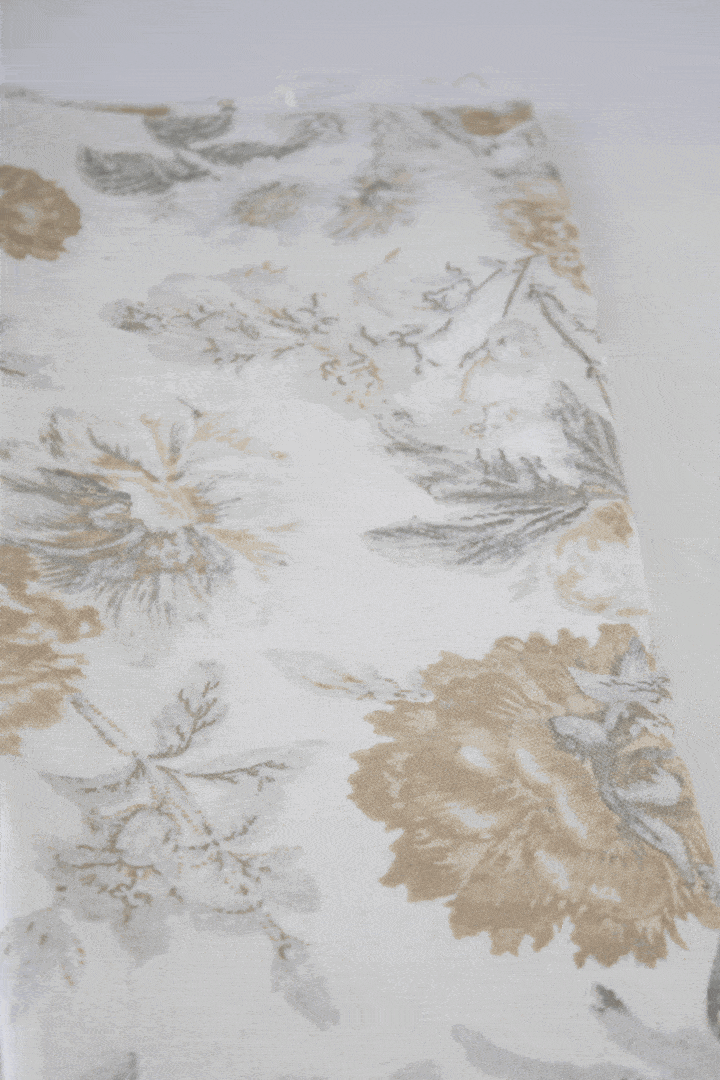 For months, I've been searching for curtains to hang in my living room. I really wanted something with a pattern, preferably floral. We had striped curtains hanging in here for a bit, but I'm really not into stripes.
I was really having difficulty finding anything I liked at all, especially in a pattern I liked at a price that wasn't outrageous.
Finally, I started looking at fabrics to make them myself. I had made my own no-sew curtains before and it's not difficult.
The color combination in this fabric caught my eye so I ordered a sample. I really liked it in person so I ordered 6 yards of fabric to make two curtain panels. This particular fabric is 54″ wide (which I think is standard).
That amount is enough to cover my double living room windows and still allow some gathering.
calculating curtain length the easy way!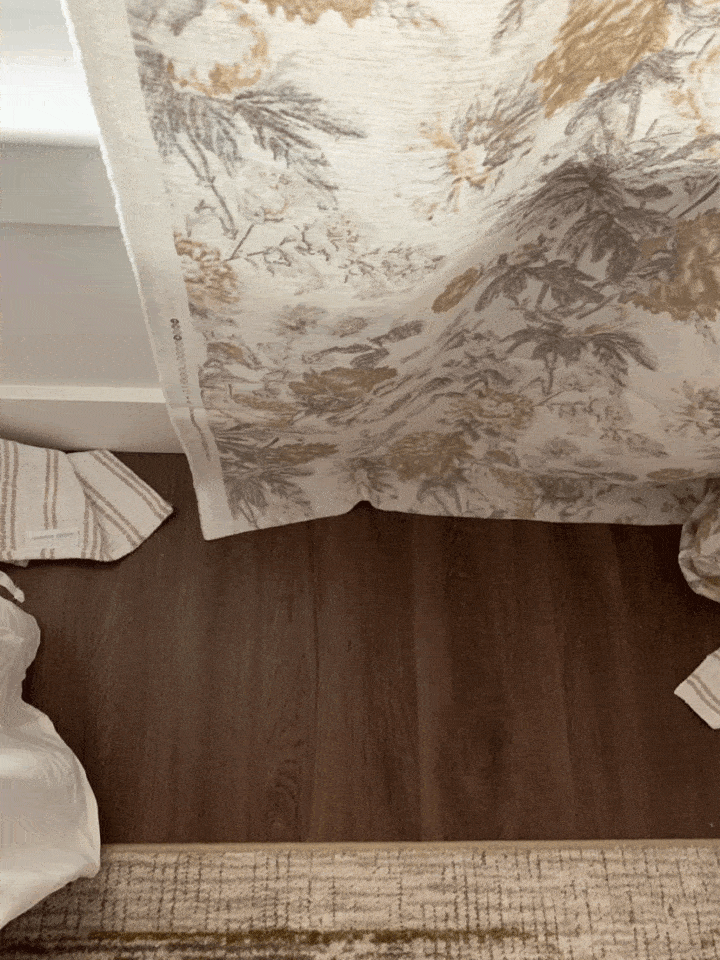 The first thing I did with my fabric was to open it up and hang it from my curtain clips. Then I marked them about 2-3 inches below where I wanted them to end.
I didn't have any pins so I literally just used a clip to mark the end. Then I cut the fabric. This was a rough cut because I'll go back and hem this part last.
how to make curtains without sewing
If, like me, you don't know your way around a sewing machine, Heat n Bond is your new best friend!
It comes in a bunch of different sizes. I like the wider tape but I ran out and ended up using the thinner tape. With the thinner tape, I used two rows of it instead of one to be sure the fabric was secure.
Also, some Heat n Bond have paper backing and some don't. Read the directions on the package so you know which type you have, it slightly alters the way you iron it.
To make my curtains, first I hemmed the top. I cut a little notch out of the corner first so that corner won't be too bulky when I go back to hem the sides.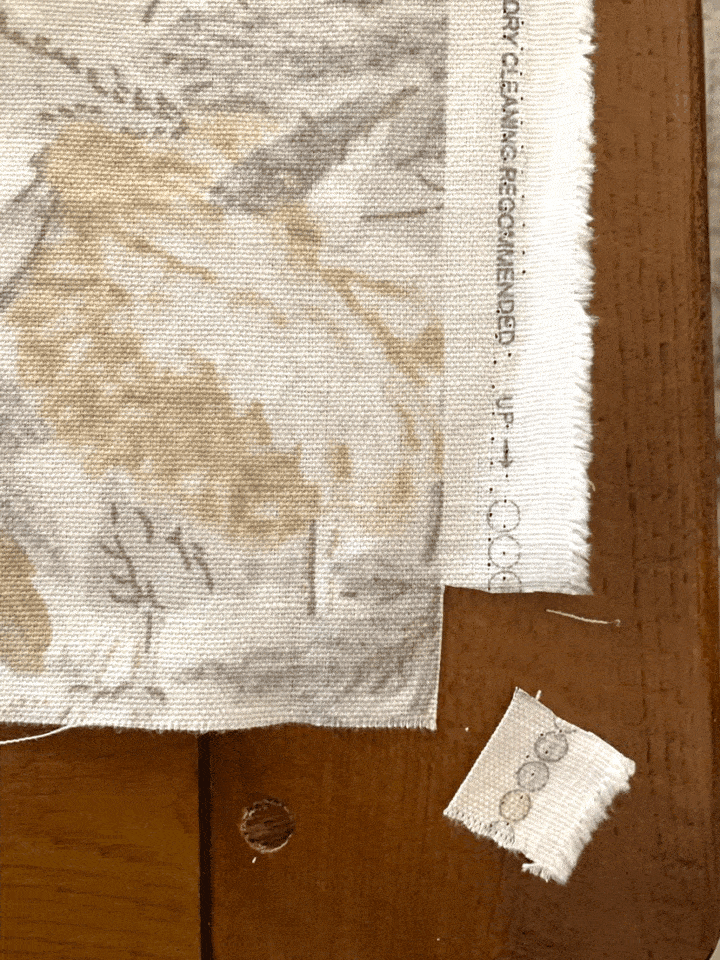 Before I used the bonding material, I folded the fabric where I wanted the top hem. Then, I went over it with an iron to create the crease. This was my guide for placing the bonding.
Here I used the wider Heat n Bond with paper backing. To use this, you apply it to the area where you want to hem. Fold the fabric over the bonding and iron it. This will adhere the bonding to the fabric.
Next, remove the paper backing, fold the fabric over again, and iron a second time. Now your fabric will be bonded together.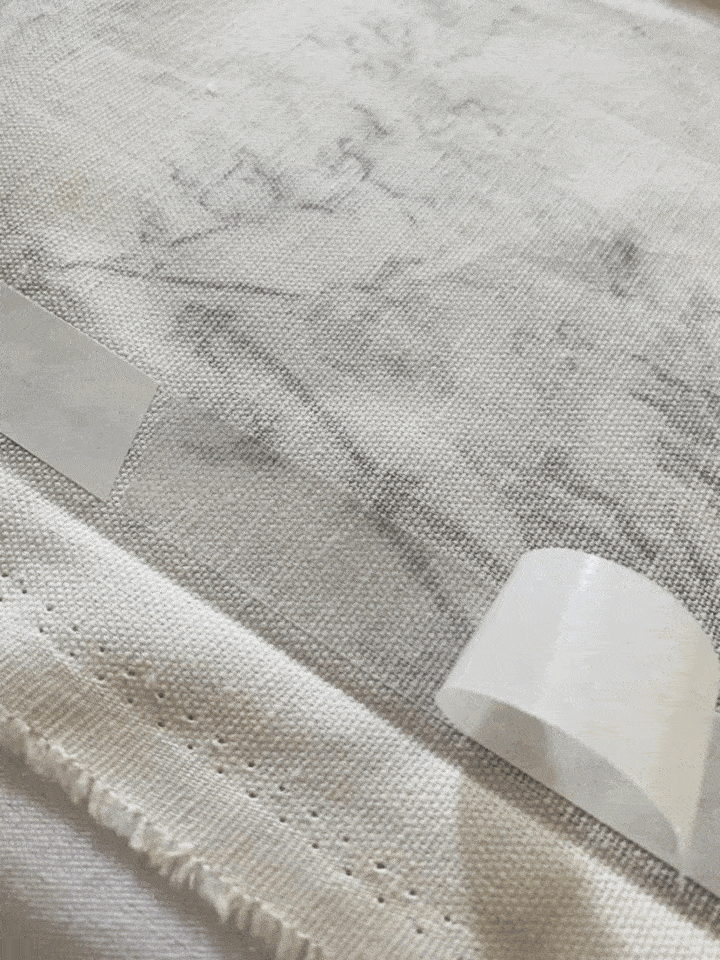 After I did the top hem, I went back and did each of the sides the same way. It's that easy.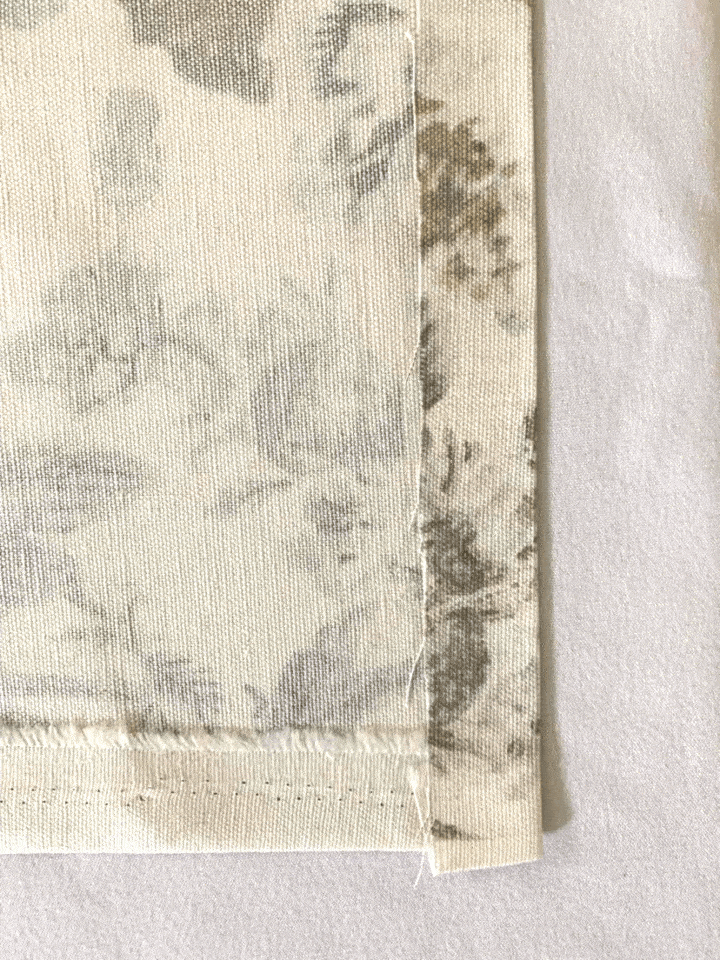 how to hem curtains without sewing
Once I had the top and sides finished, I hung my fabric again using the curtain clips to check my length.
I marked the bottom exactly where I wanted the fabric to hit the floor. You can simply use a pin, a clip, or whatever you have handy to mark that spot on your fabric.
Then I removed the curtains and hemmed the bottom with the Heat n Bond exactly as I did the top and sides.
Using the curtain clips to hang no-sew curtains makes this so easy. You don't have to worry about a rod pocket. Also, if your hem is slightly off anywhere you can adjust the fabric from the top and no one will ever know!
is it cheaper to sew my own curtains?
Is it cheaper to sew your own curtains? Maybe.
It depends on your fabric. Obviously, you can splurge and buy a high-quality fabric or you can save money and buy something less expensive. You can even make curtains out of sheets if you like. But those will be more sheer. I usually prefer a heavier-weight fabric for curtains.
Here are the finished curtains in my living room. A pop of pattern is just what this room needed and I love the color with my bamboo blinds.
Recently, I covered my two wingback chairs with white slipcovers. They are really looking shabby so until I can get something else in here I opted to cover them up.
And here is a cool little vintage vase I found a while ago. I had these yellow flowers left over from one of my Trader Joe's arrangements. They live forever without any water! I thought they were a fun pop of color with the floral curtains.
Fabric For DIY Curtains
Here are a few of the pretty fabrics I found while looking.

---
YOU MAY ALSO LIKE:
---