Small Breakfast Nook Updates
I started putting together this post on my small breakfast nook before Christmas and never got around to sharing it. Since then, I've made a few more minor (but super cute) changes, so you may notice some differences in these photos.
It took me forever to find the right bench for this spot. Finding the right style and size wasn't easy but after a year I finally lucked out with this gorgeous vintage caned bench. I found it on marketplace for only $50! The seller had it outside on her covered porch (she clearly didn't love it) and told me it was her grandfather's.
That was a total score! I bought a cushion and covered it with this pretty floral fabric. You may remember I used it on a cane back chair a while back.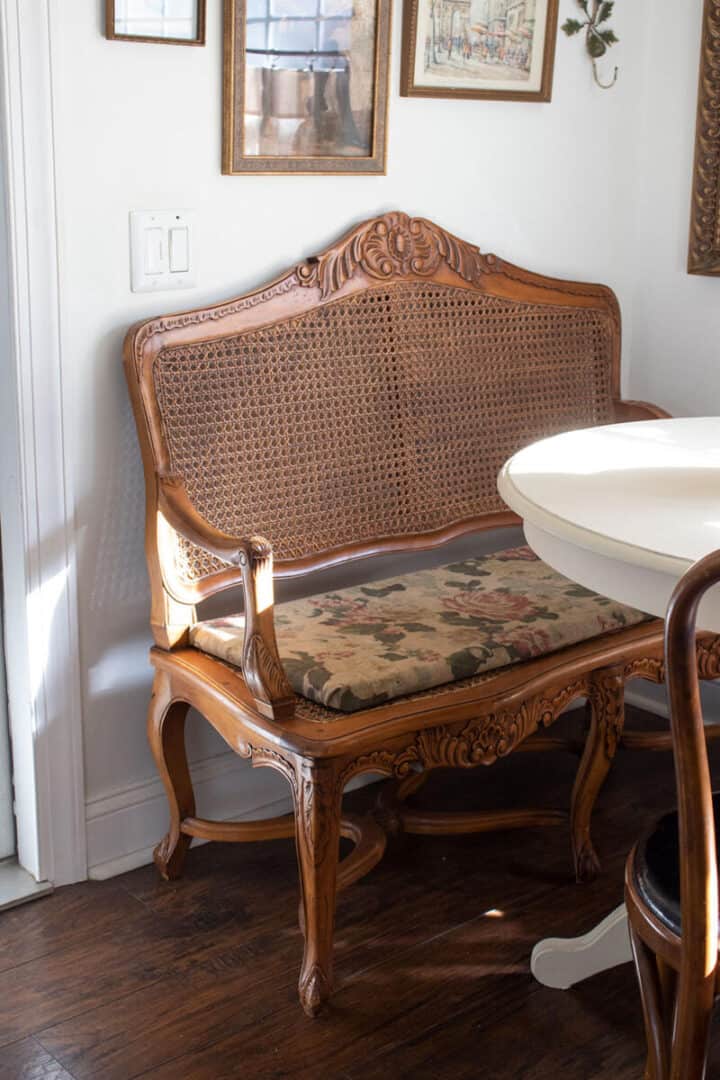 Next up was a little gallery wall with vintage prints.
I used a mix of frames, some are new and some are vintage. I may switch some of them out because I have a bit too much brown going on in the room right now. It's still a work in progress.
The banjo player art print is one of my favorites, as is the one right next to it.
The long vertical art was a vintage find, it fits that spot so well. Another total score at only $15.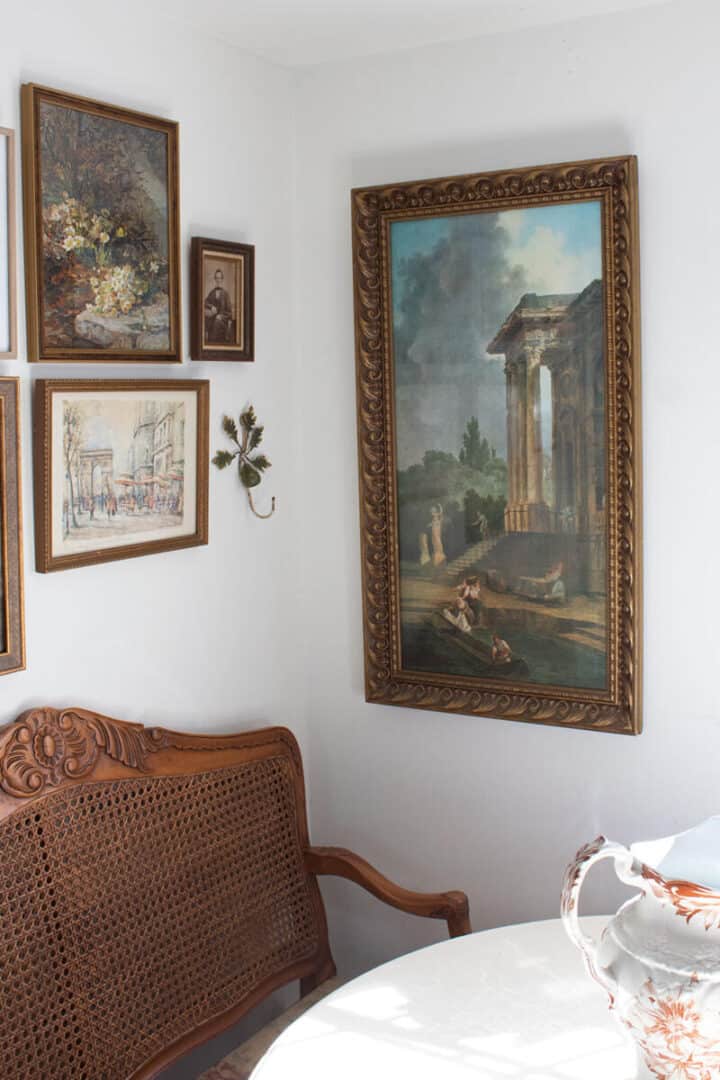 I used to have long curtains on the windows, but I took those down and made my own cafe curtains instead. The plan, even then, was to eventually hang a collection of mini baskets above the window.
I had to change out the blinds in order to do that, which is what held me up. I'm going to share a separate blog post about that. But isn't this adorable?
The other side of the room has this pretty hutch I bought last year at the store where I now have my own antique shop. I sold the gray vintage hutch I used to have in here in favor of this one.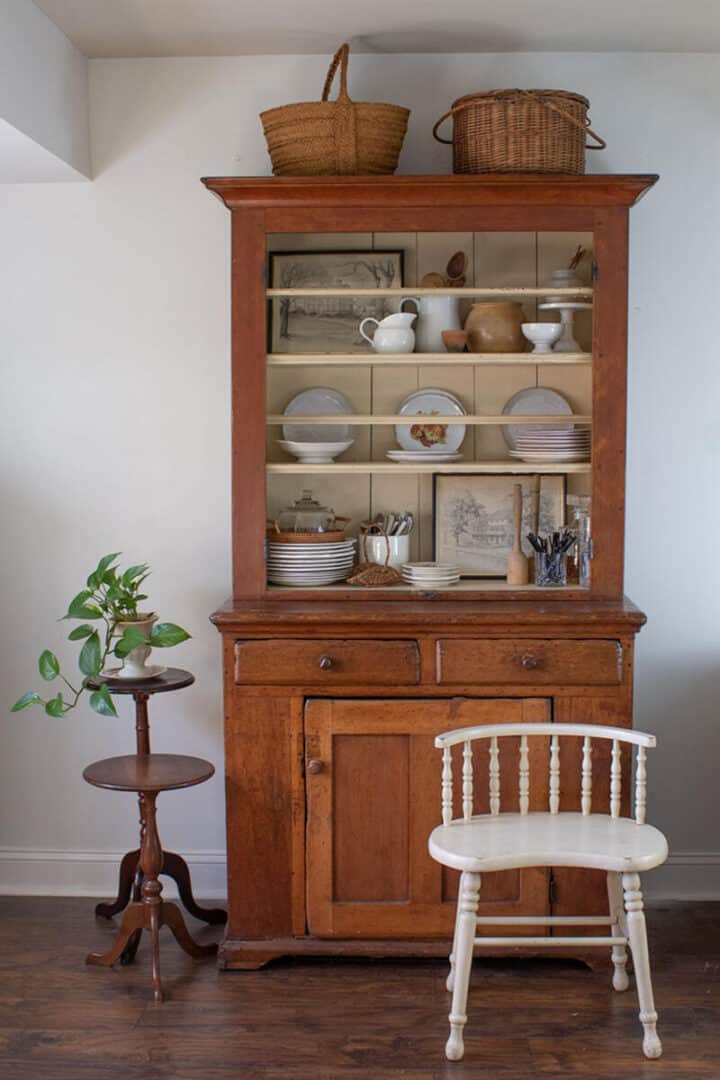 This one is primitive which is my favorite style of antiques. The top half has doors but I took them off to display the open shelving.
The corner next to the hutch is an ever-changing spot. I had my Christmas tree here and now it's a landing spot for furniture and decor before I bring it to the shop. Everything you see there will be going to the shop.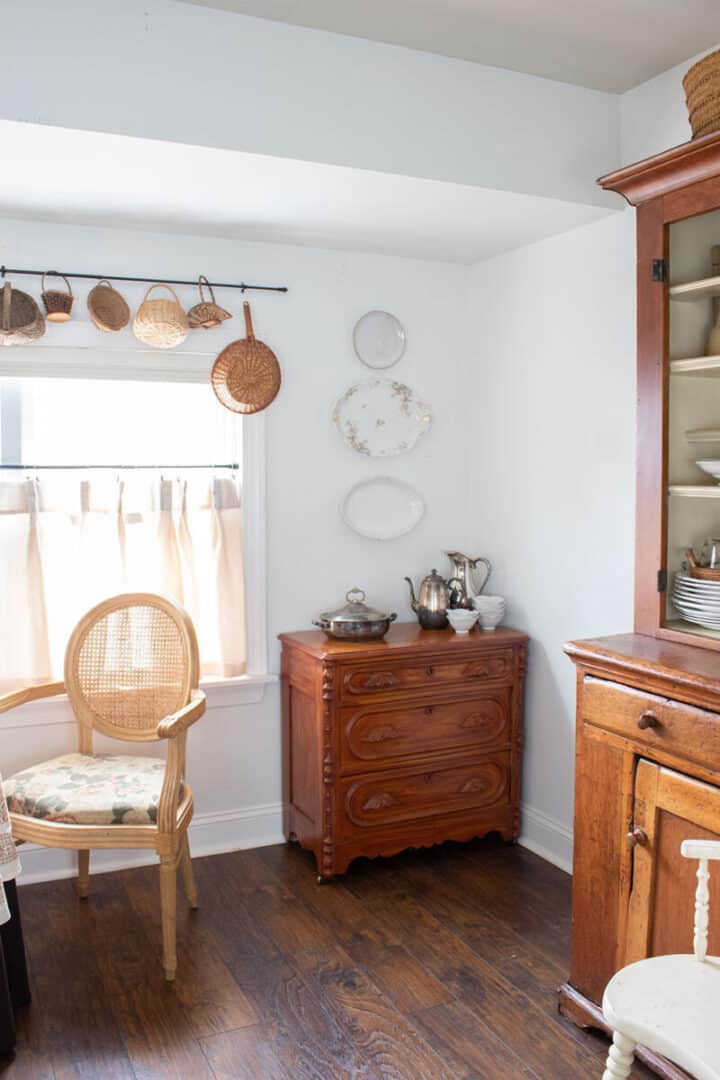 Because I'm not crazy about the round table I've been trying out different looks with tablecloths. They help to soften the view and I like the added pattern. I couldn't find a patterned one long enough to skim the floor (not one that was affordable, anyway) so I layered two tablecloths instead to get the look.
The long tablecloth is 90″ long and comes in a ton of colors. The patterned tablecloth is 69″ long and comes in a variety of patterns. For reference, the table is approximately 38″ in diameter.
I call this space our small breakfast nook, but it's really just a corner of our family room (which used to be our one-car garage!). Our kitchen is small, so I really needed a little extra space. The area will mostly be used as a home office spot but when we have company over it comes in handy for extra seating.
Below, you can see the blinds I had on the window before I changed them. These are really beautiful Roman Shades from Zebra blinds.
Because I liked them so much I was on the fence about changing them but ultimately they looked better with panel curtains. Plus, I really wanted to hang those mini baskets for extra detail in our small breakfast nook!
More on all that soon!
---