Natural Christmas Tree Decorating
My Christmas tree is done, you guys! No one is happier about that than my family because I go a little crazy when it comes to decorating it. As I mentioned last week, I'm really into simple Christmas tree ideas because I love a natural Christmas tree.
The tree itself is the most important part. If you have a beautiful, full tree it doesn't matter all that much how you decorate it. We don't get real trees anymore for a few reasons, so this year I finally treated myself to the artificial tree I've wanted for years.
It was a splurge and honestly totally worth it. It's a 7.5-foot Frasier Grand Fir. I wanted the 7-foot but it sold out early so I went a little taller.
For decorations this year, my first idea was to use this red and white vintage quilt as my tree skirt. With that, I had planned to do all red and white decorations on the tree but when I started that way, I didn't love how it looked.
The red on the quilt is perfectly faded from age and the red ornaments just didn't look good with it.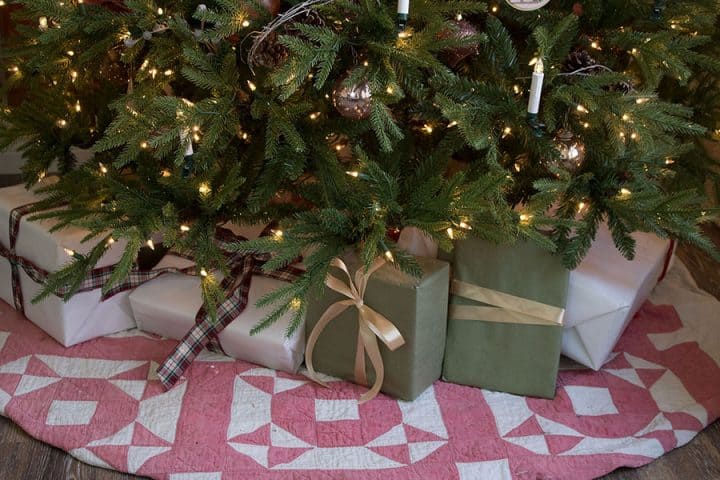 Instead, I went with more subtle pink and copper/rust-colored ornaments I found at Home Goods. I also used several gold and brown ornaments I've had for years.
In keeping with my natural Christmas tree theme, I used some dark pink dried flowers, the floral ornaments I made, and lots of pine cones.
I found the reindeer garland on Etsy, isn't that cute? I thought the tree needed just a little something extra with all the natural elements.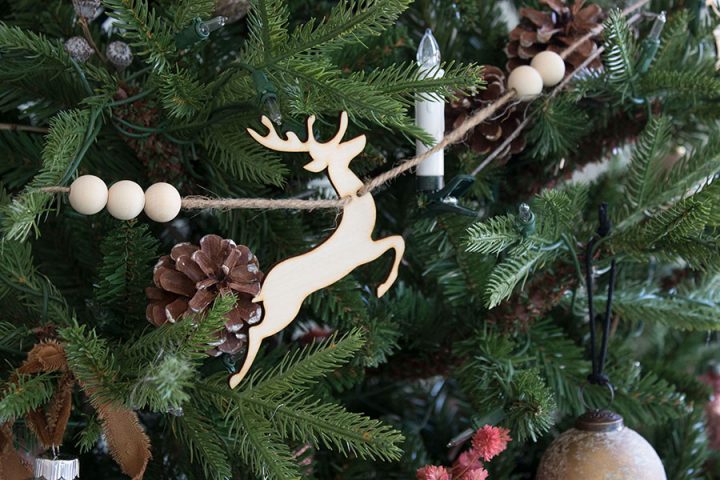 Because my daughter moved out over the summer, I had lots of open space in her room so I decided to put the tree in there. It's sort of our Christmas room for now. It was nice to have a little space to decorate around it and not just have it shoved in a corner.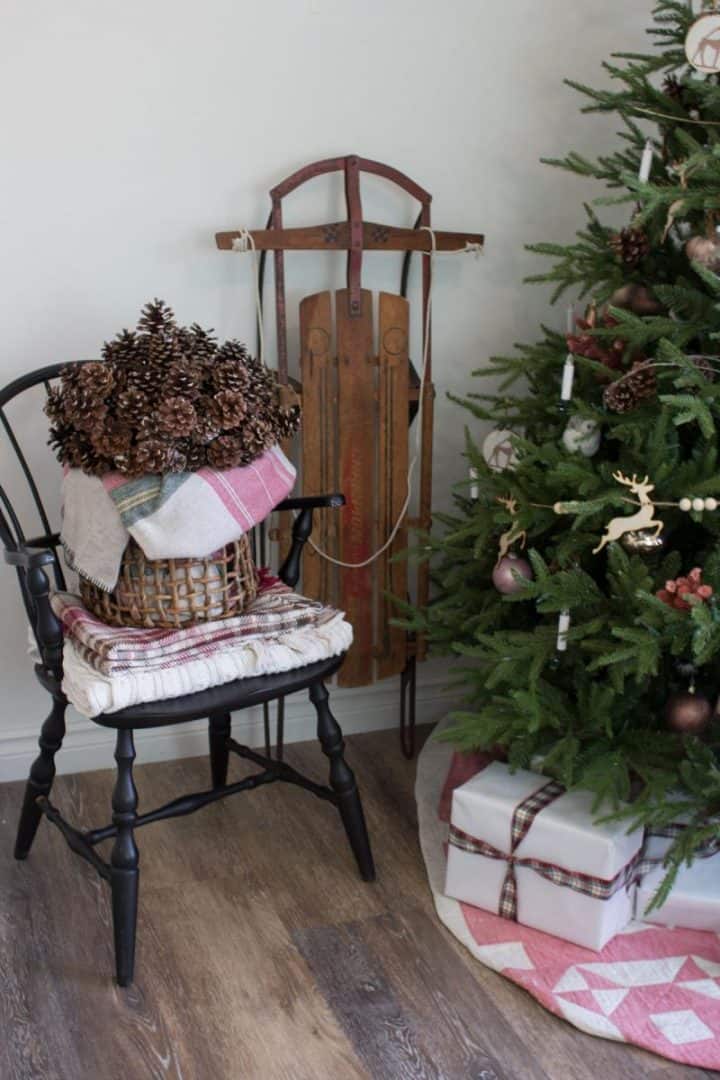 I made a ton of pinecone picks for the tree, more than I ended up needing. Rather than store them away, for now, I put them in a basket as a decorative element.
Pine cones are a great natural element that also adds texture!
Later, I will likely use a bunch of them in planters outside. I haven't decorated the porch for Christmas since 2019, but I may do something out there this year. The vintage sled ties in perfectly with the vintage quilt.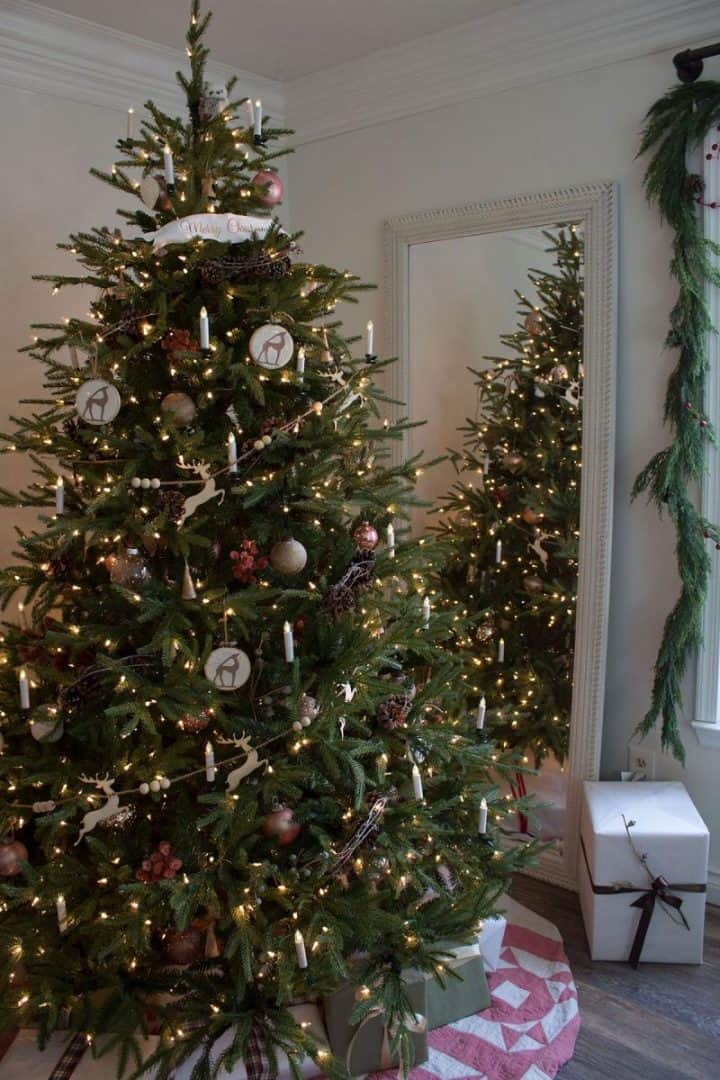 Another bonus of putting the tree in my daughter's room is this mirror. It wouldn't fit in the truck when she was moving, so it stayed. I love how it reflects the tree lights.
You may have noticed I didn't use a tree topper. I did buy one at the flea market this year but because I went with the taller tree it wouldn't fit. It was a finial that would've gone well with the other vintage elements but I do like it without one just as much.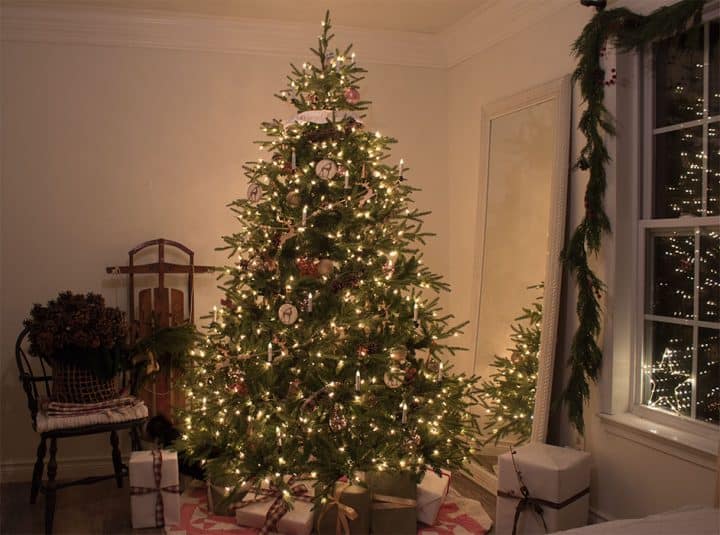 At night, the whole room glows.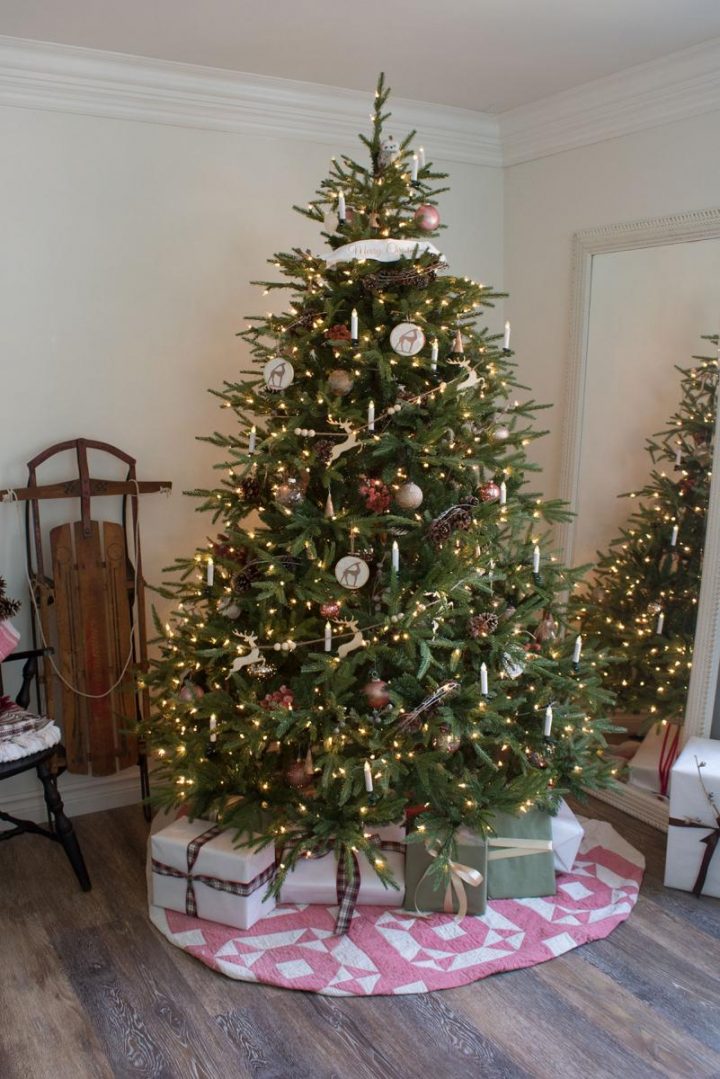 You can also see I used my deer ornaments on the tree and lots of battery-operated candles. They come with a remote, and you can make them bright or dim or even flicker like a real candle.
The candles are part of the vintage theme. My grandmother told me when she was a child, they used real candles on their Christmas trees! Those are in honor of her.
Over the pinecones, I used bits of grapevine just for that little something extra. I did that on my woodland themed Christmas tree from last year and loved how that looked.
My niece came over with her baby who enjoyed the tree. She's so small next to it! I love this photo of her, it looks like she's waiting for Santa.
I'm sharing my natural Christmas tree this year along with several other bloggers, hosted by Stephanie of Casa Watkins Living. Please visit for tons more Christmas inspiration!
---