DIY Christmas Tree Fillers
SIMPLE AND CREATIVE DIY CHRISTMAS TREE FILLERS THAT WILL FILL IN ANY GAPS IN YOUR CHRISTMAS TREE BRANCHES!
Whether you use an artificial Christmas tree or a real tree, sometimes it will have bare spots that can't be filled with ornaments. For that reason, I thought I'd share some ideas for DIY Christmas tree fillers.
Christmas tree fillers can be almost anything you can think of. From DIY garlands to strings of popcorn to handmade paper stars. Whatever your Christmas tree theme, there's an idea here for you.
Your imagination is the limit!
IDEAS For DIY Christmas Tree Fillers
Before we look at lots of beautiful examples of DIY Christmas tree fillers, here's a quick list of ideas to get you started.
Pine picks
Ribbon
Christmas tree garlands
Dried flowers such as Hydrangeas
Paper Stars
Bunches of Magnolia leaves
Tree Branches
Red or white Poinsettias
DIY Garland
If you google DIY Christmas garland, you will find endless ideas from A to Z. So many of which would be amazing tree fillers. Here are some of my favorites.
Grapevine Garland
I love the idea of wrapping grapevine around the tree. It brings in a natural element that I always gravitate towards.
I've done this before on my trees, but not to the extent shown above. I may have to revisit this idea again this year.
crocheted garland
This crocheted gingerbread garland stopped me right in my tracks!
Isn't it beautiful? This website also had white crocheted Christmas trees in a garland form. They're so beautiful it makes me want to learn to crochet.
DIY Paper stars
When it comes to DIY garland, it doesn't get easier than paper stars. You can customize the size, color, and pattern so easily to make it fit your Christmas color scheme. Or keep it neutral like below to use every year.
DIY Tree picks
Making tree picks is another super easy way to fill your tree. If you can glue it onto a dowel or a stick, you can make it a pick!
Pinecone picks
A few years ago I made a bunch of picks using pine cones to use on my tree. The picks are a simple way to fill even larger trees and I like the natural look of these.
In the years since I've used these again and again. They're really great for use in outdoor winter planters too! And you can continue to use these even after the holiday season is over.
For smaller trees, you can use smaller pine cones. I've linked my easy tutorial on how to make those above!
Another idea I came across this year is dried seed pods. A friend gave me some and I really love these. You can buy these individually for decorating or as picks.
Like the pinecone picks, both are great for decorating the tree or for use in planters.
Ribbon picks
Next to natural elements, using ribbon is another favorite decorating option for filling in a tree. These DIY picks using loops of ribbon are so festive!
Christmas tree spray picks
Another idea is to use or make a Christmas tree spray. A spray is basically a pick with more volume as shown below.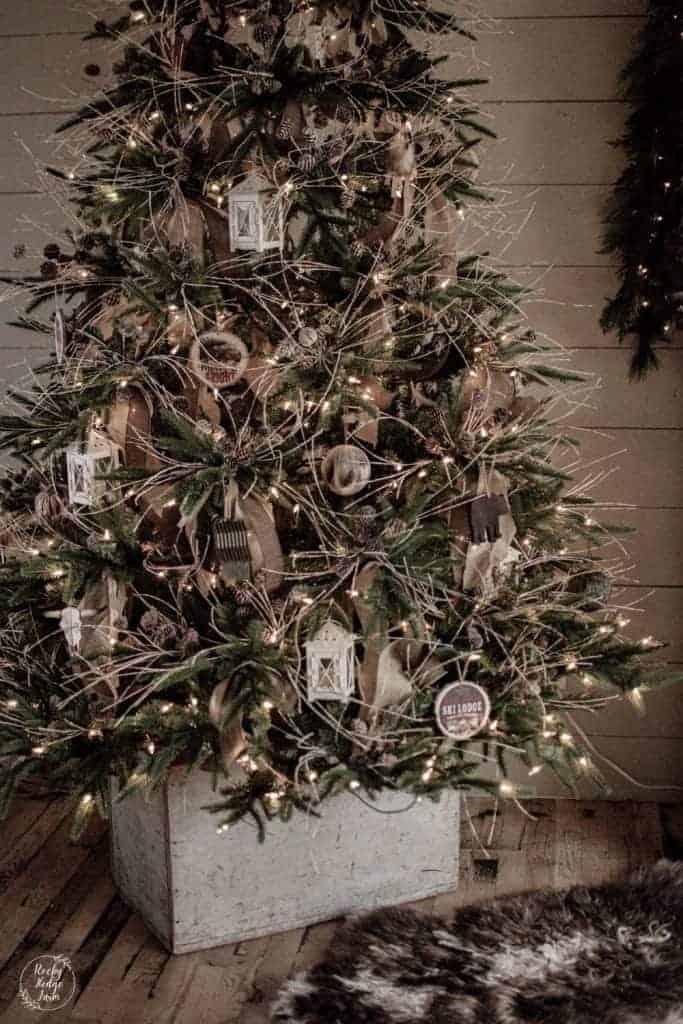 Also, consider simple red berry picks – classic and effective!
FLorals
Florals, especially dried florals are not only a stunning way to decorate your Christmas tree, but also perfect for filling in gaps.
Not only will they add visual appeal, but they'll also bring in different textures.
Any decorating idea that brings the garden inside is for me!
dried hydrangeas
Last year, I saw lots of trees decorated with dried hydrangeas. If you grow them, you know they're usually abundant. Saving them for your tree is a great way to fill large gaps!
Not to mention it's beautiful and cost-effective!
dried roses
If you have a garden full of roses, you might want to try this idea. Dry them out and save them for your tree! This is such a beautiful idea!
eucalyptus and magnolia
A couple of years ago I decorated my entire tree with natural elements for a woodsy look. Not a single ornament was put on this tree. It was one of my favorites to date.
To fill it in, I used a few magnolia garlands, dried eucalyptus pods, pinecone picks, and grapevine.
The magnolia garland was faux (I'm bringing that back this year) and the dried eucalyptus or Bell Gum pods have lasted forever. After the holidays that year, I arranged the pods in a vase and still have that displayed in my house. I just love those.
I bought my magnolia garland at Michael's store, but I believe they have them at Hobby Lobby as well.
baby's breath
Baby's breath can last a very long time out of water which makes it a great choice for decorating any time of year. It always has the sweetest scent.
The white flowers would really stand out against the green of a tree. You can use the baby's breath in big bunches or just a delicate amount here and there.
One other idea for adding florals is to fill clear ornaments with dried flowers.
Food
There are all sorts of foods that are great to use for holiday decorating. Such as popcorn, cranberries, cinnamon sticks, and dried citrus slices.
You can use them as tree fillers but they're also a great way to decorate a small tree.
dried orange slices
Dried orange slices are great because they're cheap, easy to make, and add natural color to the tree. Which is why this is such a popular option.
cranberries and popcorn
Back in the olden days, before ornaments, people used food to decorate their trees. For example, popcorn and cranberries.
I love the combination of using the two together as shown below.
Gingerbread
Forever classic and cozy, nothing says Christmas like gingerbread! Not only that, but it's easy to make your own gingerbread ornaments.
You can make them as small or as large as you want. Hang them individually or string them together to make a garland.
You can use a non-edible gingerbread recipe for ornaments that will last longer than the edible recipes.
Rosemary
I tend to love the most simple Christmas decorations especially when they involve any type of greenery or plants. These sweet little wreaths made of rosemary definitely fit that profile. These would also make really pretty napkin rings.
One more idea is to use candy canes or peppermints to create ornaments or garlands. This garland made from walnuts is also clever!
Large Fillers
There's no shortage of ideas out there for large tree fillers. Here are a few that caught my eye.
DIY paper stars
You can also fill your tree with larger ornaments. These are easy enough to make using tissue paper or craft paper.
These paper stars are a pretty example! You could even use one at the top of the tree.
use a scarf
A very creative and unique idea is to use a scarf to fill in your tree. The plaid scarf with fringe shown below is ideal for Christmas. Very clever!
Christmas tree Ribbon
Ribbon is one of the absolute best ways to fill gaps in your Christmas tree! It comes in every shape, size, and color you can imagine and can be hung on the tree in so many different ways!
Another idea from the tree above is the tree topper made from pheasant feathers. You can group those together as tree fillers as well. They're very trendy lately!
Additionally, you can use a ribbon to make a banner. You can even customize it to say whatever you like.
Tinsel
Go old-fashioned by using tinsel or a full garland. Tinsel is back in a big way. That trend started last year and is still going strong.
Tree branches
Or you can simply add tree branches! I have done this in the past. You can cut them from trees in your yard. Any kind of evergreen tree will work. Bonus points if you have a holly tree!
If you don't have any trees you can ask where they sell Christmas trees. They'll usually give them for free because they have such an abundance.
If you don't have access to real branches, you can find faux branches at most stores that sell florals.
They're perfect to fill in unsightly gaps or skinny branches and it doesn't cost anything.
As you can see there are lots of different ways to fill in bare spots for an abundant, full tree in your living room!
I hope you found some great ideas to use as Christmas tree decorations besides ornaments! You'll be surprised what a huge difference a little bit of filler will make!
Which is your favorite?
---
MORE CHRISTMAS DECORATING IDEAS