Woodland Themed Christmas Tree
I don't usually do a themed Christmas tree, but a few months ago I had the idea of a woodland themed Christmas tree and I've been picturing it in my mind ever since.
Today's post is part of the Mohawk Home Annual Holiday Blog Tour, which I was honored to be asked to participate in! It was the perfect opportunity to try something different on my Christmas tree.
Woodland Themed Christmas Tree Decorations
I imagined all-natural decorations on a real tree, but I ended up going with my faux tree from last year instead. However, to get the natural look I craved, I used a mix of faux and fresh decorations. Including pine cones, dried eucalyptus, fresh magnolia leaves, and real tree cuttings. First, I started with the magnolia leaves.
Preserved Magnolia Leaves
I had bought these beautiful fresh magnolia leaves about a month ago with the intention to use them on the woodland themed Christmas tree. I tried to preserve some of them with Modge Podge but they didn't hold up! In fact, the leaves that I left alone in a vase of water ended up drying better than those.
I also found this beautiful magnolia garland that was perfect, so I used a couple of those as well. That green velvet tree skirt is new this year and it's a stunner! The hunter green color compliments my living room area rug so well.
The rug is a vintage, distressed style from Mohawk Home and it's even prettier in person than it looks in photos. The warm color tones of this area rug work much better with my overall decor here than my previous area rug did. I also opted to get the rug pad for underneath with this one, which I'm glad a did. Having the rug pad as opposed to not having one is a difference like night and day.
DIY Christmas Tree Picks
In addition to the magnolia leaves, I used lots and lots of pine cones. They're budget-friendly and really add to the natural theme. To attach them to the tree, I turned them into tree picks! I actually hot glued them to wooden dowels that I spray painted green to create tree picks. Then I just inserted them into the tree branches. Simple!
More Natural and Woodland Themed Christmas Tree Decorations
For more natural tree elements, I used cute little dried eucalyptus buds I had bought last year (from Terrain) that I stuck into the branches as well. Those mixed with these preserved Bell Gum really add to the natural look.
As I mentioned, I had really wanted a real noble fir tree this year but it was easier for me to use the fake one. What I did instead was buy a couple of bundles of real noble fir branches and add them to this tree. I also bought really pretty gold ribbon to match the brown/gold of the magnolia leaves and weaved that through the branches.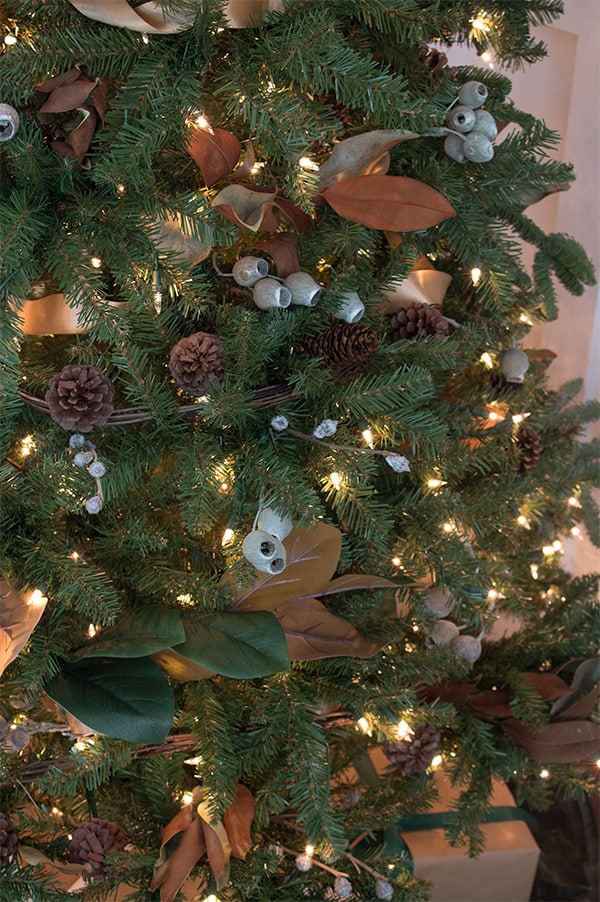 Wooden Star Tree Topper
I only used one single ornament on the entire tree this year. This nativity wooden star and it made the perfect tree topper to my woodland themed Christmas tree, don't you think?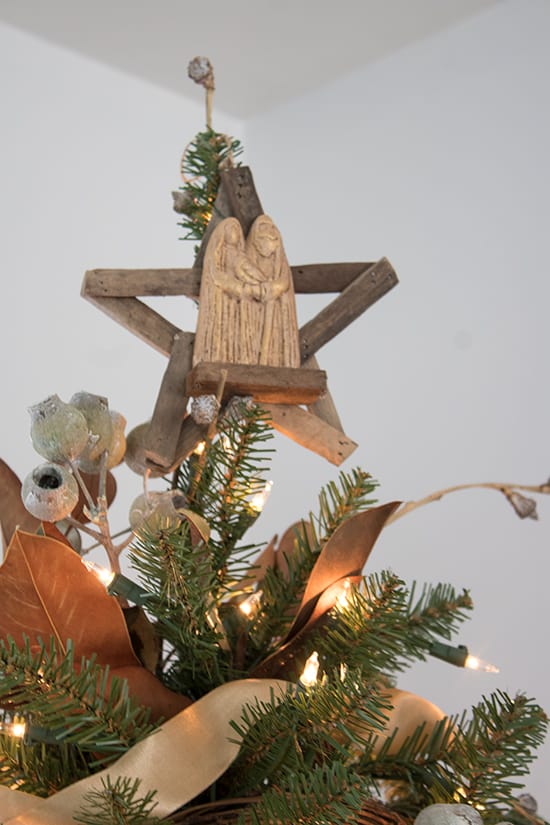 Green and Gold Christmas Tree
I wasn't sure the green, gold, and brown would make a festive setting for Christmas but I'm happy I gave it a try. I do love how it came together. You can read more about the mantel decor and fresh greenery here.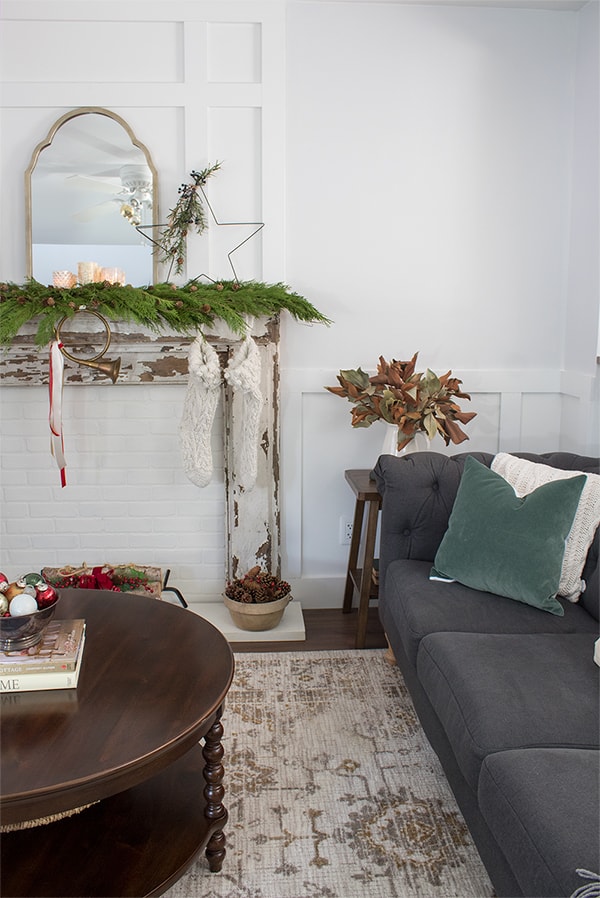 Even my daughter's cat, Donny, matches this year. He was another reason we didn't get a real tree. He's very much into everything!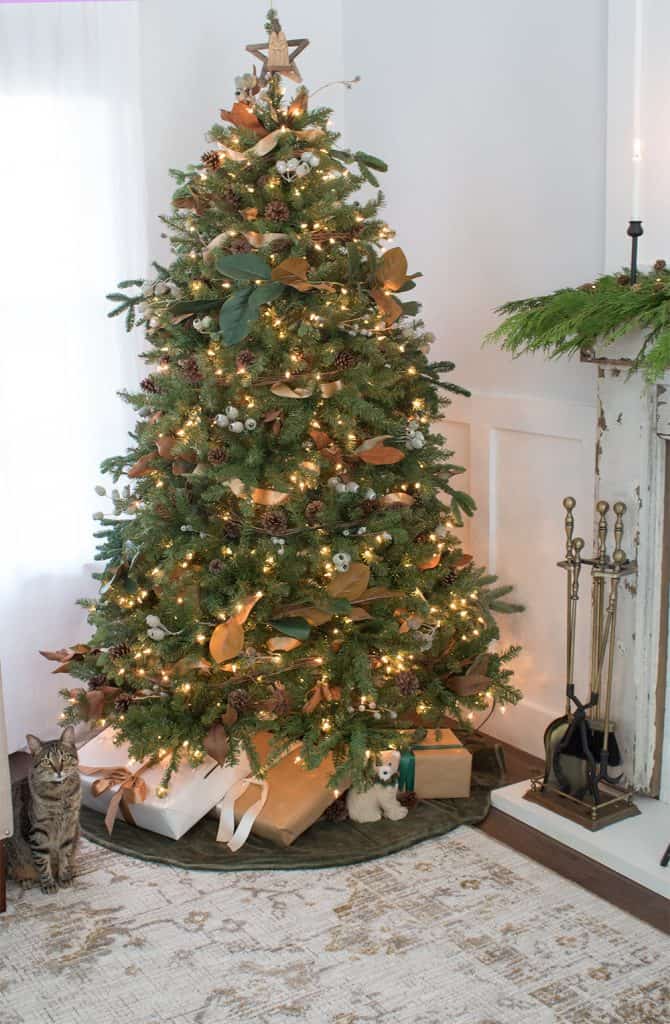 Fortunately Donny's been behaving and the tree is still standing!
---
See something you like? Shop the look below:

---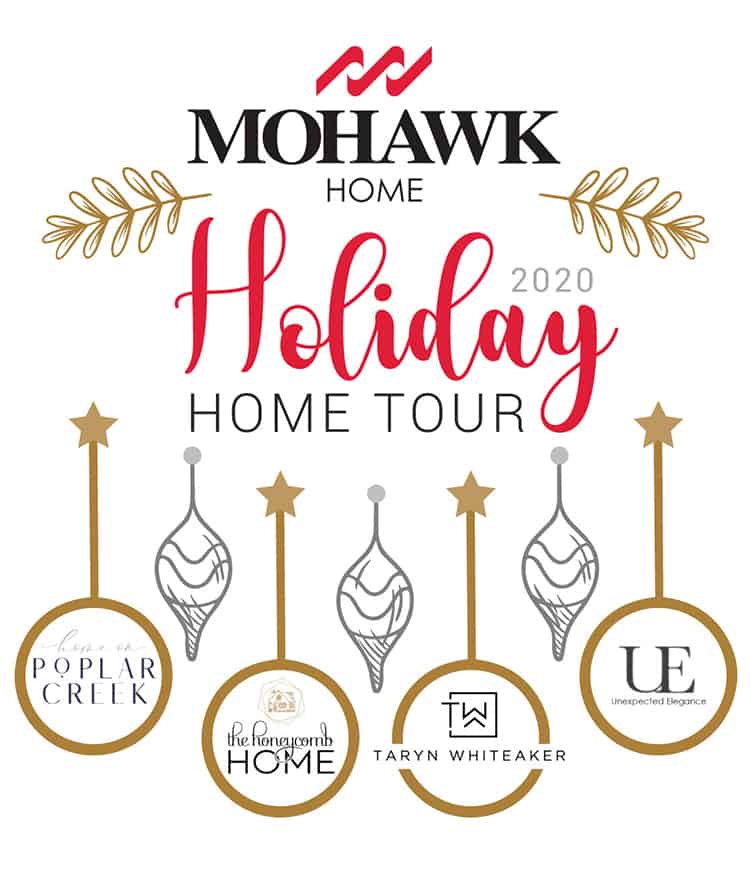 Want to see even more inspiration from the Mohawk Home Holiday Blog Tour? Check out these links below!
Poplar Creek – Kid's Playroom for The Holidays
Taryn Whiteaker – Winter Wonderland Bedroom
Unexpected Elegance – Last Minute Christmas Tips
---
Looking for more Christmas decorating inspiration? Check out our Simply Christmas magazine, it's free!