Christmas Door Decorations – DIY Boxwood Swag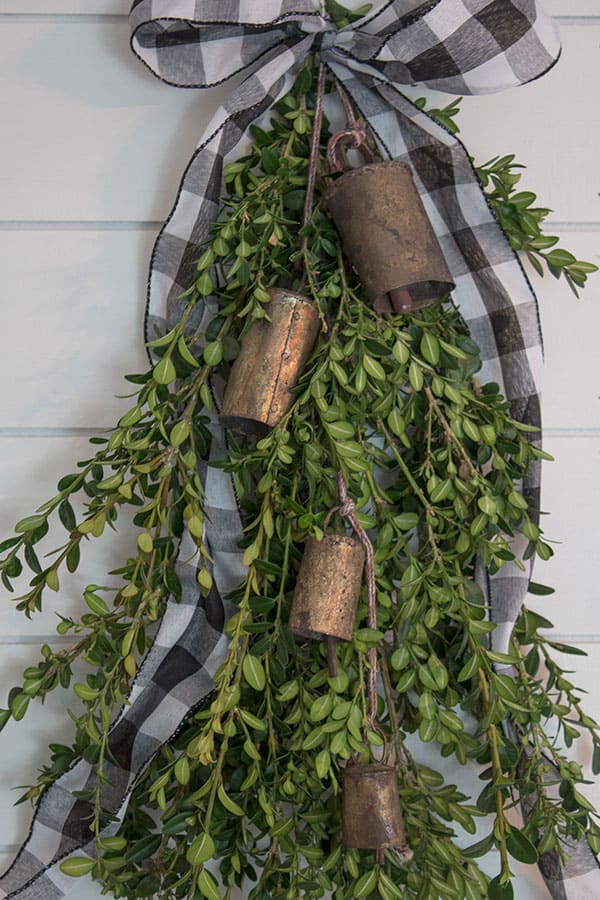 Usually, my Christmas Door Decorations are one of the last things I think about decorating, I go all out in the house first. This year I am doing things differently. I plan to keep the decorations to a minimum, mostly because I'm going on vacation right during the busy holiday season. As I mentioned on Monday, I bought these vintage bells from eBay and was going to either make a wreath or a swag with them. In the end, the swag idea won out.
This project is in collaboration with some of my blogging friends. If you're stopping by from my friend Deb at Seeking Lavender Lane, welcome! Isn't her deer pillow just the cutest?
This was super simple and aside from the bells, I made it using things I already had around the house. Even the boxwood, which I cut from a shrub outside. I'm sure most of you don't have vintage bells lying around (if you do we should totally be BFFs), but you could easily substitute ornaments in place of the bells.
What you will need: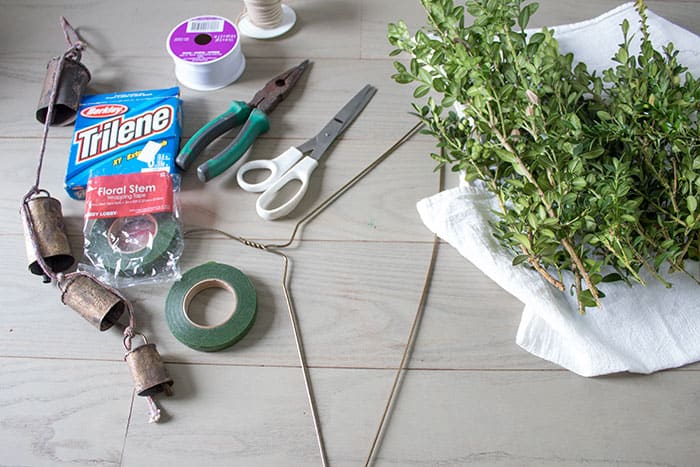 Boxwood Clippings (or greenery of choice)
Wire Hanger
Vintage Bells (or other decorations such as ornaments)
Ribbon (I used this buffalo check ribbon)
First, start with a wire hanger. Bend it until it resembles the shape in photo 1 below. If you noticed in the supplies needed photo above, the hanger wasn't white. I did not paint it. The first hanger broke, so I grabbed another one. Then begin attaching your boxwood (or greenery of choice) onto the hanger using floral stem tape.
Keep adding greenery until the swag looks full enough. I started out using the floral tape but switched halfway through to the fishing line, I found that was easier to use once the swag became fuller.
Once it looked full enough, I hung it on my wall to get an idea of where I wanted the bells to hang. When I was happy with the placement, I attached those to the hanger using the fishing line. Fishing line is the MVP of craft projects around here.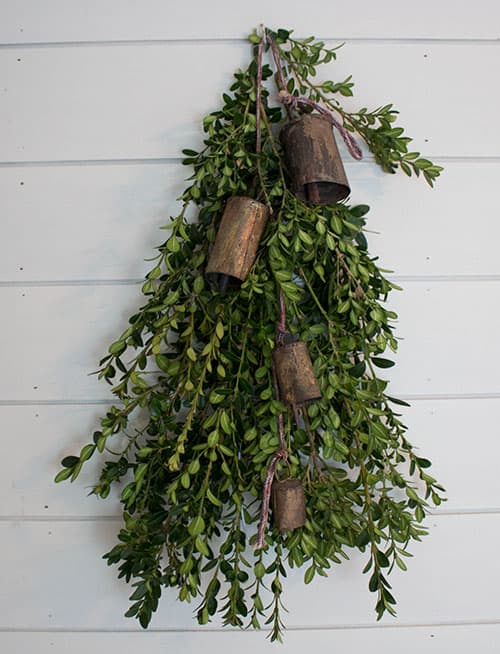 For the last step, I added this buffalo check ribbon. I picked it up a few weeks ago when I convinced myself I'm going to do all the Christmas things way ahead of time this year and bought many rolls of Christmas ribbon. Of course, I haven't done any of the Christmas things since then, but the ribbon did come in handy when I was motivated for this project.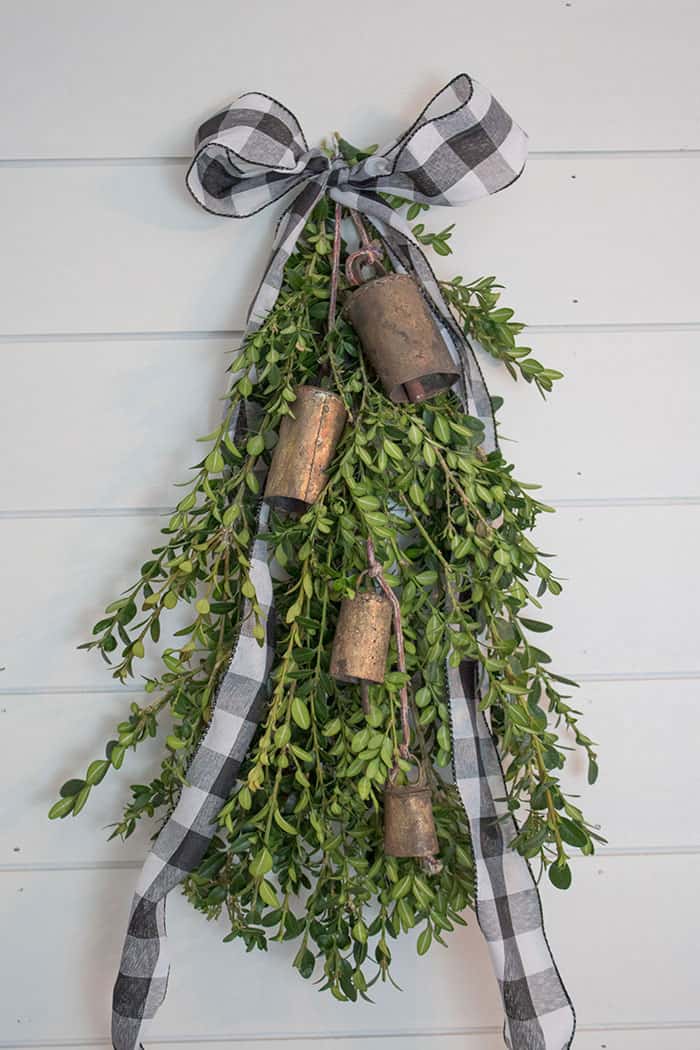 Finally, after the ribbon is in place, I tweaked the greenery. I trimmed a little here and added a sprig there until it looked about right. The wire hanger is what you will use to hang this wreath up. I also added a loop of fishing line through my hanger because the only way I can hang things on my front door is by hanging it on the peephole with fishing line. (You can see my Christmas door decorations from last year here.)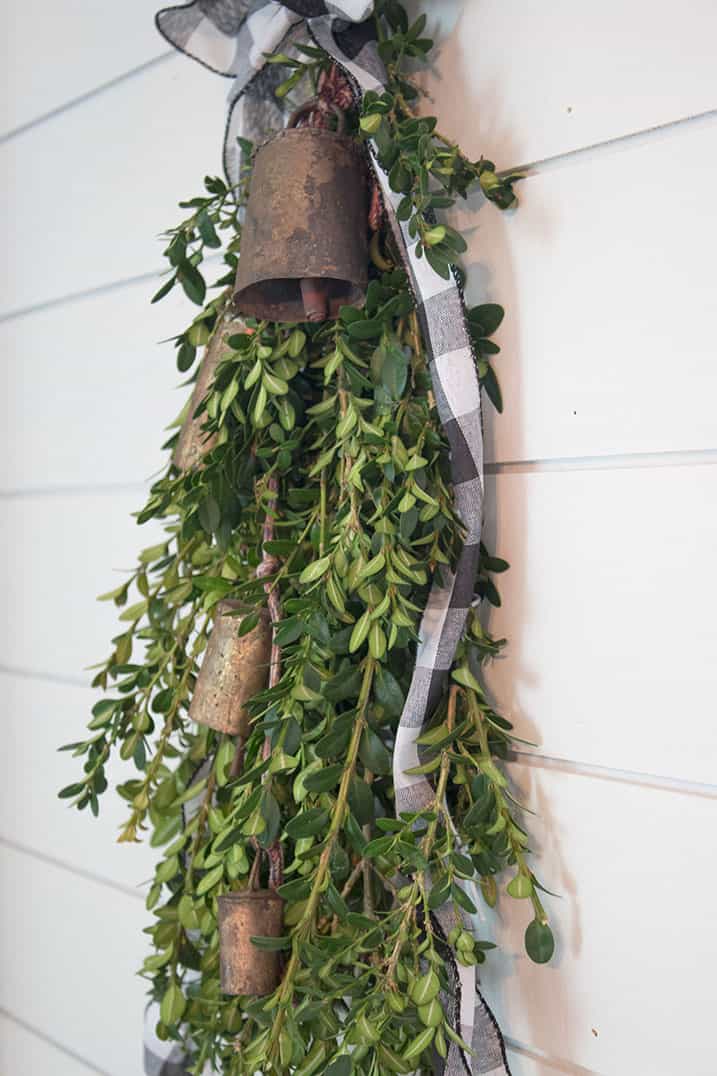 I wasn't kidding when I said this was super simple.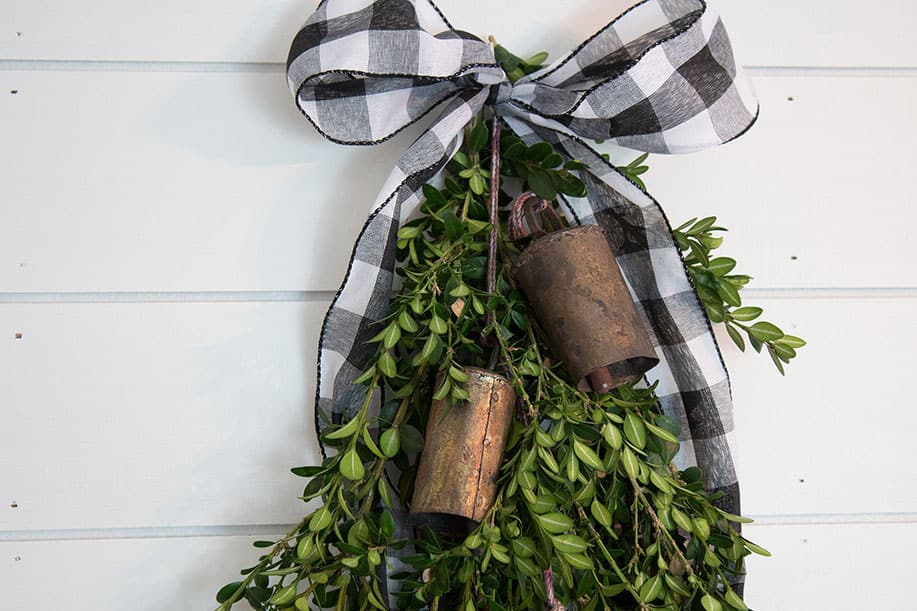 Now at least from the outside people will think I'm on top of my Christmas game this year!
---
YOU MAY ALSO LIKE:
---
Next up in our collaborative blog hop is Kendra from Joy In Our Home.  You can see all of the creative projects below. Thanks to Kelly from The Tattered Pew for hosting!

Wednesday

Aratari At Home // The Tattered Pew // My 100 Year Old Home

Crisp Collective // Bless This Nest // Adored House
Thursday

Seeking Lavender Lane // The Honeycomb Home // Joy In Our Home

She Gave It A Go // Grace In My Space // Little Nest of Four
---