Merry Christmas Banner DIY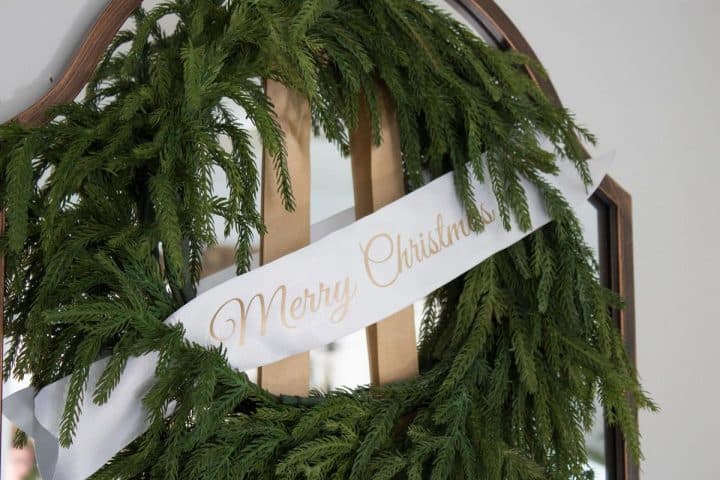 Hey you guys. Is everyone officially in holiday mode now?! Today I wanted to share a quick and easy Merry Christmas banner DIY with you.
I had purchased a Christmas tree banner for the Christmas showhouse I decorated back in 2019. I've wanted one ever since but have not been able to find another anywhere. Even a Google search didn't turn up any results for this! That's what gave me the idea to make my own.
Supplies for Merry Christmas Banner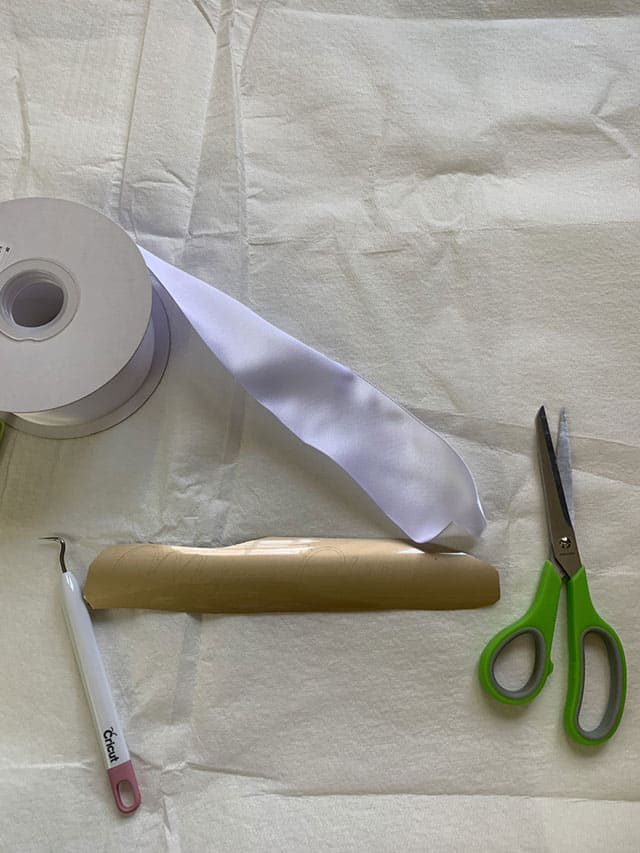 Printing the lettering
For this project, I used iron-on vinyl for my Cricut machine. I'm not going to walk you through printing the letters with the Cricut machine because I recently shared a how-to post on that. If you forgot or missed it, refer to these deer ornaments with more detailed instructions.
Honestly, I don't use my Cricut machine all that often but when I get an idea I'm so glad I have one.
Once you have your lettering printed out on the vinyl, simply remove it from the backing.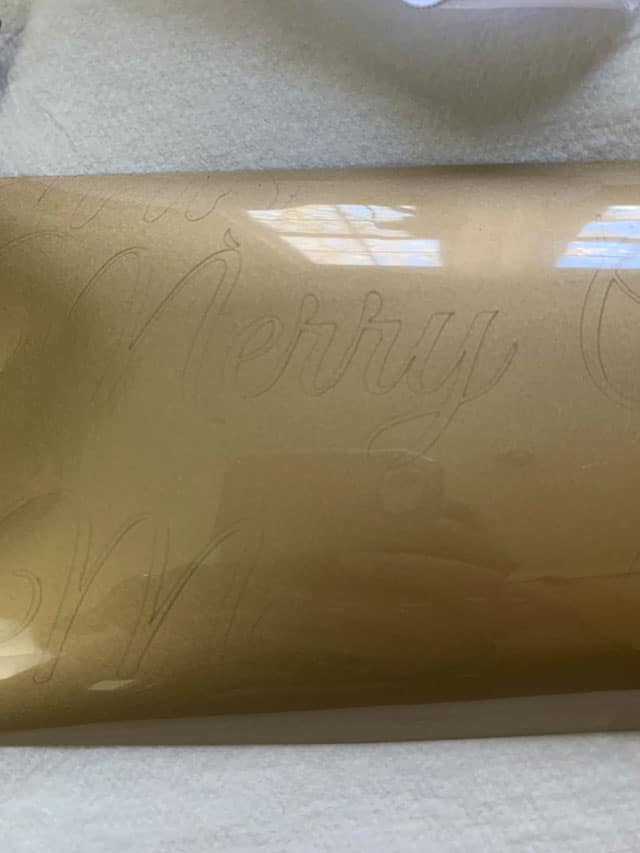 Iron Onto Wired Ribbon
You'll be left with the lettering on a clear sticky background. As you can see it's backward here. You need to print it that way so it's correct when you're ready to iron it onto your fabric.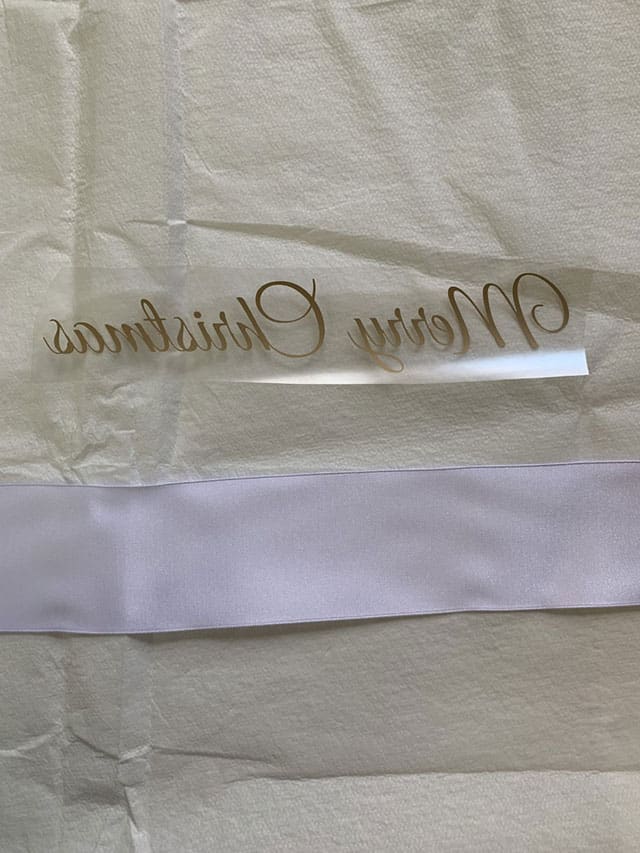 Center it on your ribbon and iron it until it adheres to the ribbon. You can iron directly over that clear film. I used a 2.5″ wide satin wired ribbon. I was concerned the iron would burn the satin but it didn't. My iron does not have a setting for satin so I used one of the lowest settings to be safe.
After it cools, pull the clear backing off slowly to be sure the letters are all attached to the ribbon.
Creating the Banner Effect
To give the ribbon a banner effect, fold the ribbon in half and cut each end on a diagonal.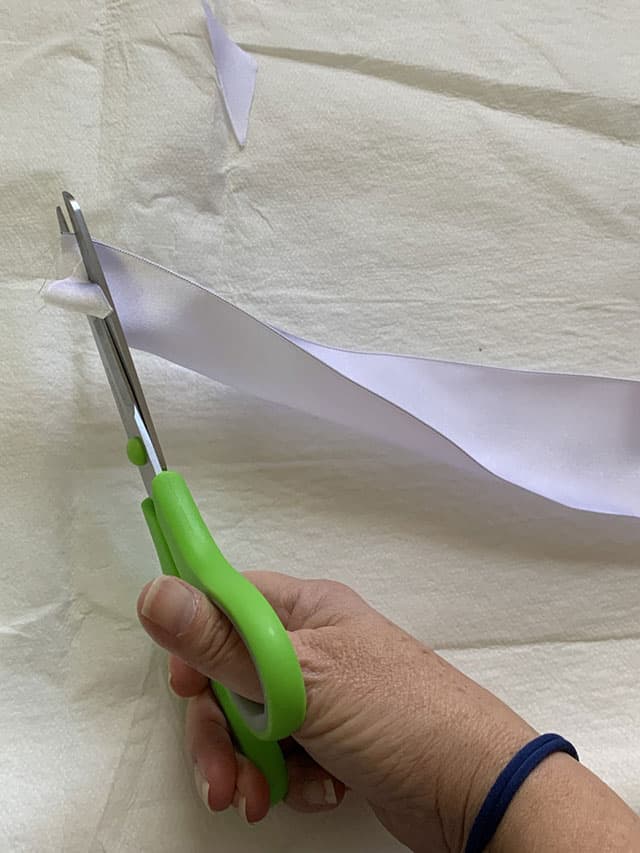 That's it. It's really a very easy little project!
I used it across my favorite faux wreath. But there are so many options for this idea.
Fun ways To Decorate With Your Christmas Banner
For example, you can use them on your tree as I did with the Christmas house. Another thought I had was to make the banner much longer so that it wraps around the tree, like garland, spacing out "Merry Christmas" in between.
Another idea is to iron the letters onto the ribbon vertically and make two ribbons, one for Merry and one for Christmas. Hang those on a wreath or anywhere else!
Here is my little entry decorated for Christmas this year.
In addition to the wreath and the banner, my other favorite accent here is the deer sitting on a stack of vintage books.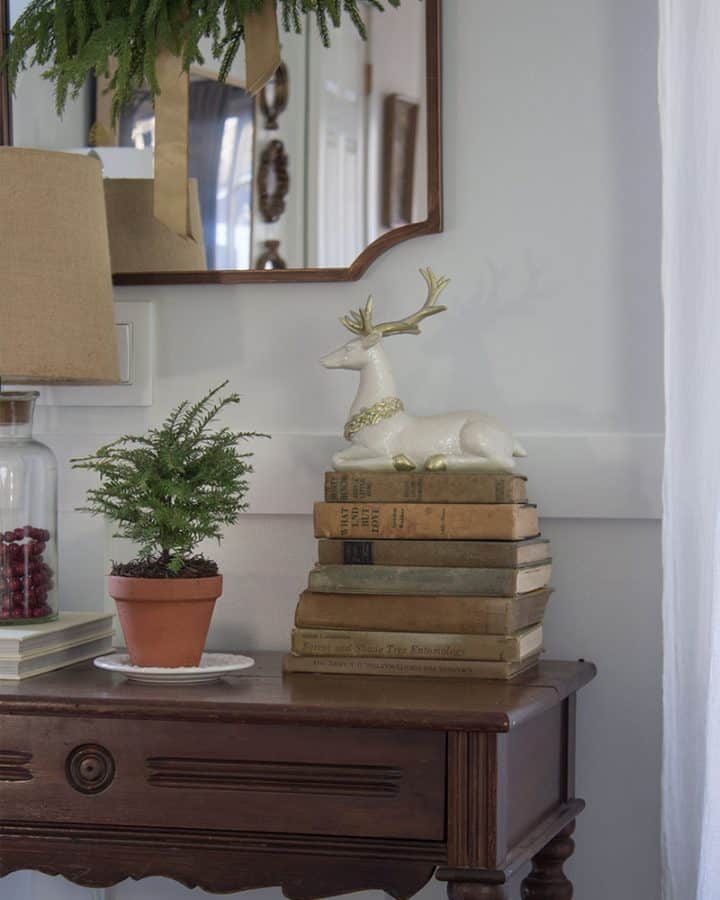 Isn't that fun? What are some of your favorite decorations this year?
I put together a quick video of this one to help give you a better visual.
---