Christmas Mantel Garland 2021 (Giveaway)
You guys! It's time for our annual Christmas mantel garland giveaway with Lynch Creek Farm! I look so forward to getting this beautiful Port Orford garland every year and it never disappoints!
I always use it on my mantel with enough left over to sprinkle in other areas of the house.
You may remember I swapped out my old mantel for a wood mantel earlier this year so I was excited to decorate this new one for Christmas.
A few months ago I saw that small deer statue on Facebook marketplace. I scooped that right up knowing it would be so cute for Christmas decorating.
That statue inspired me to make deer ornaments for my natural-style Christmas tree. The lamp next to it is a vintage find from the flea market.
Next were the stockings. I had the white knitted stockings from a few years ago but I needed two more to pair with them. The white ones were from an antique store so finding an exact match was impossible.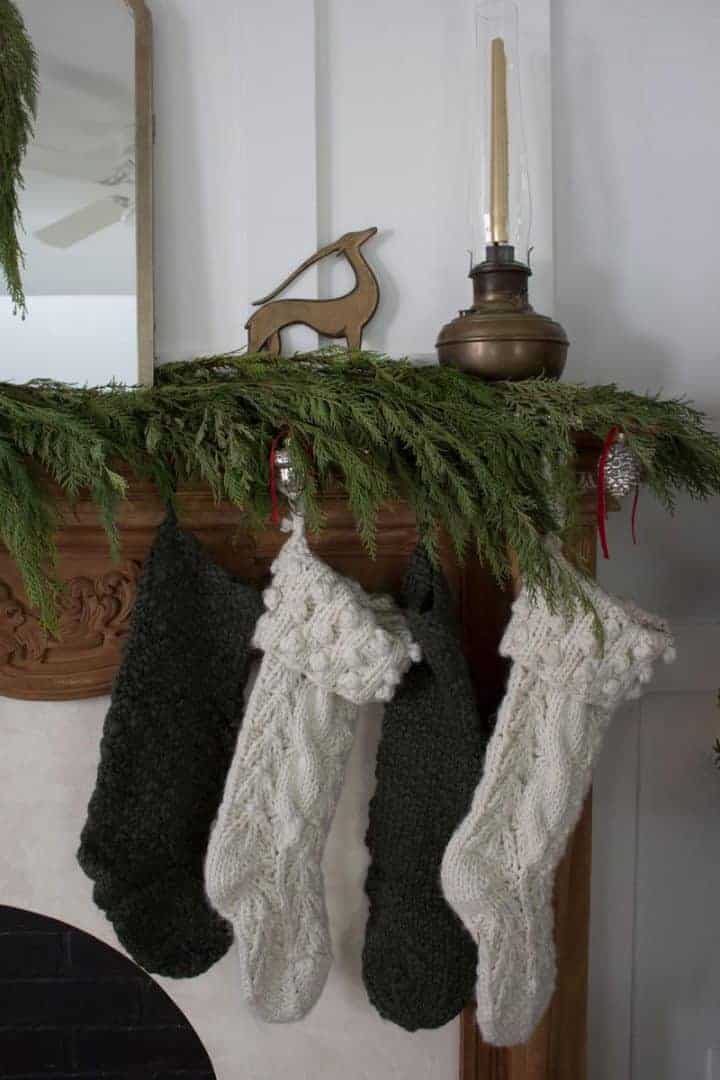 This year I spotted these dark green knit stockings and knew they'd be perfect paired with the white. I love the contrast between the two. I don't see those stocking on the website anymore, but these are very similar in a lighter, sage green.
Of course, it's the mantel garland that really completes the picture here. It's so pretty it really almost doesn't matter what else you pair it with. That Port Orford garland is my favorite because I love the way it drapes.
One of the finishing touches was these extra tall candlesticks I found while out shopping. Initially, I wasn't planning to use them on the mantel. But because this mantel is much more narrow than my old one my options are a bit more limited.
That worked out for the best because I love how these look. The dark candles are actually a deep olive green though they look black in certain lighting. I put them in my tallest candleholders to make it more dramatic. The brown extra tall candles are a great shade that I'll use all year.
I added a few ornaments to the garland this year as well. I had intended to use gold bells that I have but they were a little too big for the mantel. The pinecones are so lightweight they worked better.
How To Hang Garland with no nail holes or command hooks
One quick tip for you: to secure the garland hanging down the side of the mantel I used a clamp. I didn't want to make a hole in the wall or mantel. And command hooks sometimes fall down. The clamp was perfect, my cats could literally swing from this and it would not come down!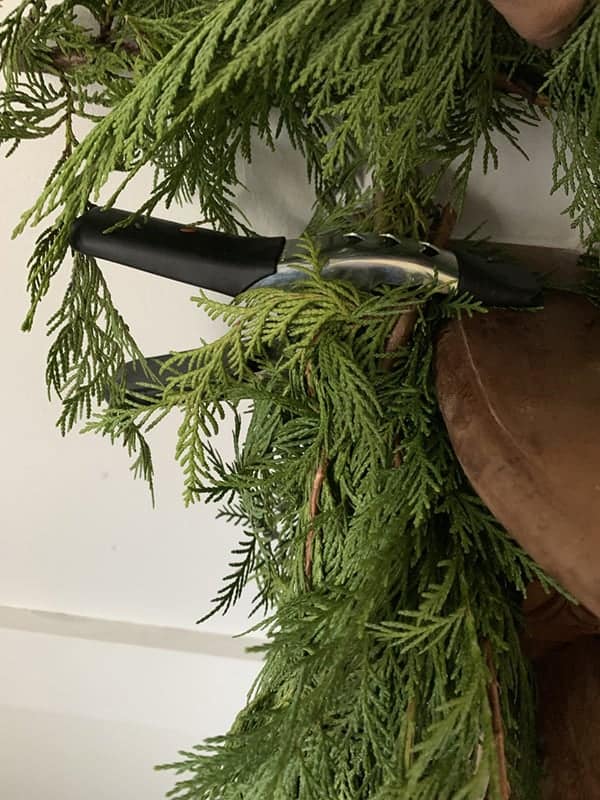 I've also used these clamps to hang garland around my front door as well as to hang string lights outside. They are very useful!
Garland giveaway!
Now for the giveaway! Lynch Creek Farms has offered to give one of you your own Cedar garland (*see giveaway note below)! To enter, please click over to my Instagram account. Good Luck!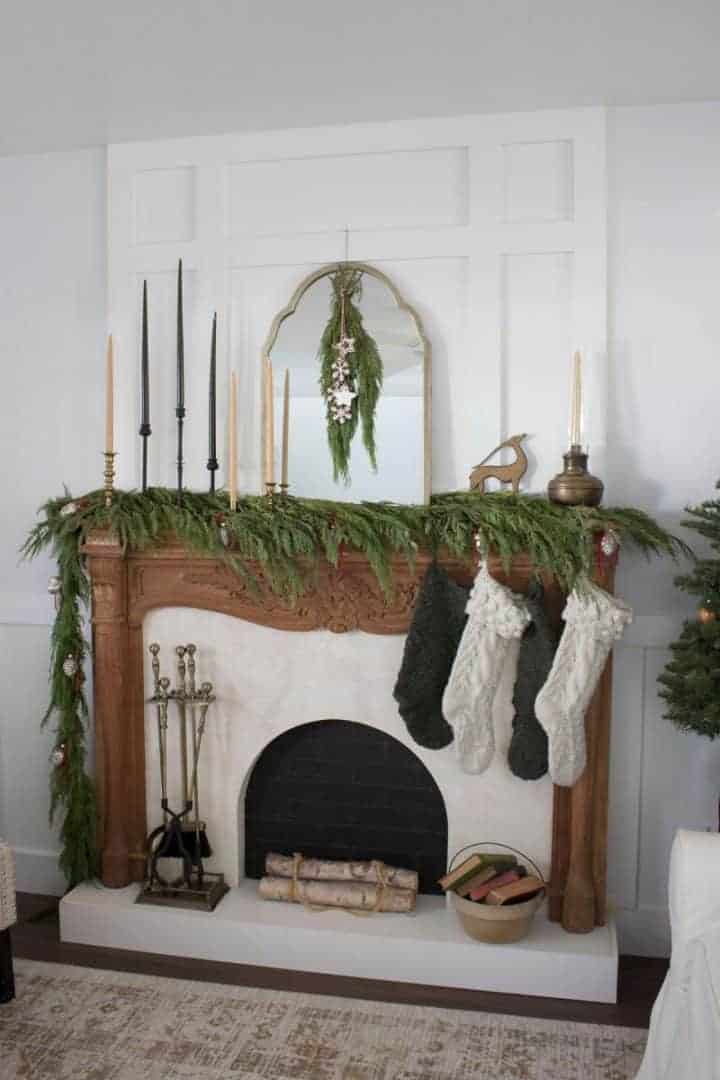 You may have noticed a Christmas tree off to the side here. I'm going to share more on that later as well as the swag on the mirror which I made.
Here are a few facts about Lynch Creek Farm I found interesting. They're a family-owned business started in 1980 and located here in the USA. They are dedicated to producing sustainable products, no tree is ever cut down to create their beautiful evergreen wreaths, centerpieces, and garlands. Check out their FAQ page for more information.
*Giveaway Note: Due to products selling out quickly this year, Lynch Creek Farm cannot guarantee that the garland will still be available. If it should sell out, the winner will receive a Premium Red wreath instead.