Christmas House Lights – Showhouse Tour
Holiday decorating ideas from a local Christmas Showhouse Tour. Find inspiration from the exterior Christmas house lights as well as the interior Christmas lighting!
For the last several months, I've been working on a side project. A local community was planning a Christmas House Walk fundraiser. There were 10 houses on this walk and I was paired with one of the homeowners to help him decorate his home for the walk.
Each of the ten homes was assigned a particular country as its theme. My house was assigned to Norway. Norway to me is associated with Scandinavian decorating. lots of Christmas house lights and gnomes.
Simple greenery and white lights, in abundance, was the main focus of my plan.
The exterior Christmas house lights were my biggest concern. When I think Christmas house tours, I think exterior Christmas lights so I really wanted that to be amazing. And fortunately, it was! Here is a view of the exterior.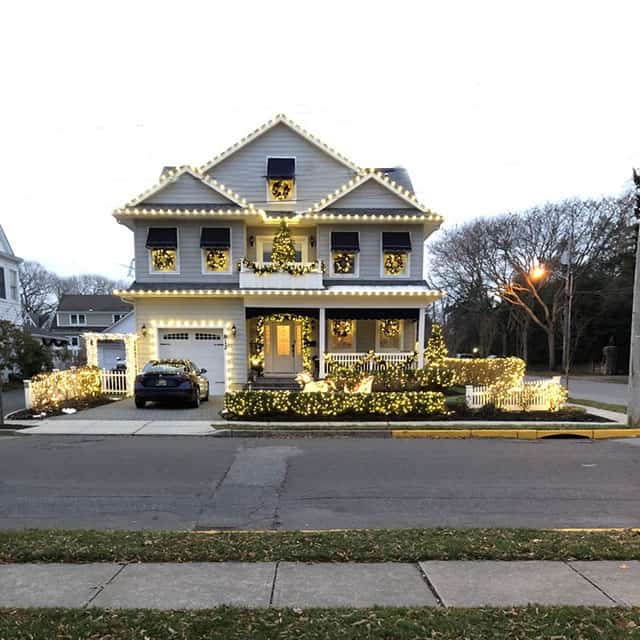 This was clearly not a DIY project. My homeowner took all of my suggestions and hired a professional lighting company to install the lights. The tree on the balcony is my favorite feature.
The homeowner also happens to have a beautifully landscaped yard, so I asked for that to also be highlighted in lights.
Another idea I had to take it up a notch was to line the driveway with flameless candles. The driveway is a beautiful stone, with pretty curves on one side, another feature I felt should be highlighted. I didn't want to chance using real candles in case of rain or wind.
We also used flameless candles lining the walk in the backyard leading back out to the street which meant I needed a minimum of 55 candles if we were to space them apart. I shopped for these candles till I dropped, these aren't cheap when you need that many. I ended up going with this set of 9* to keep it cost-effective.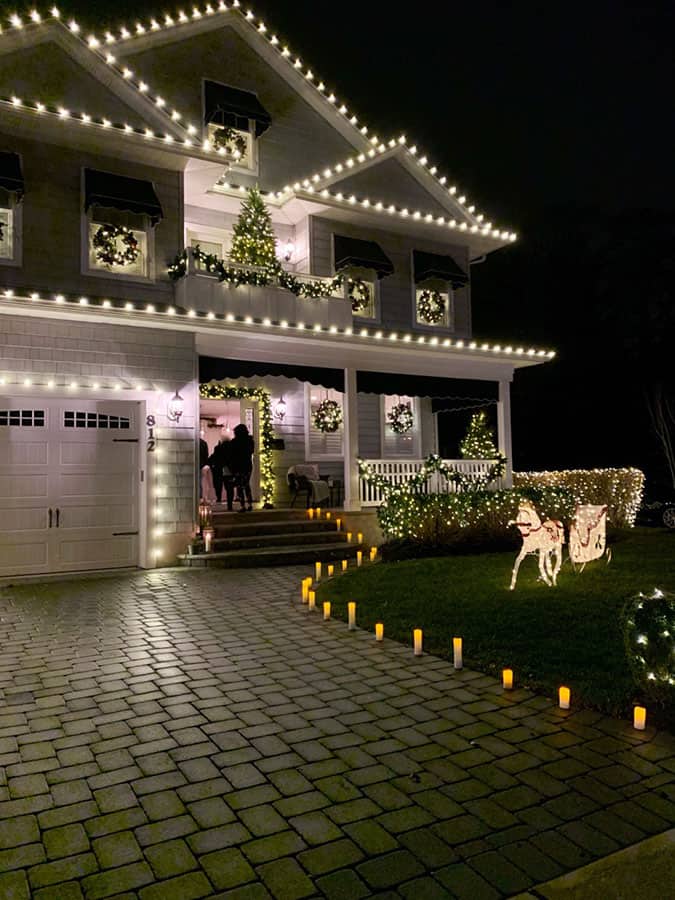 When you walk in you have an entryway that opens right up to the living room. For the interior, I really wanted to keep with the minimalist Scandinavian vibe which was tough because we also wanted it to be fabulous for the house tours.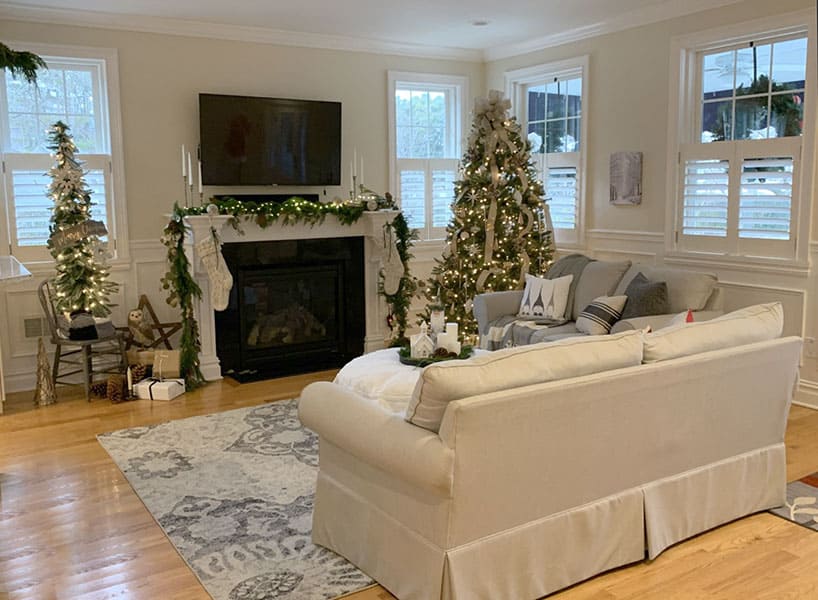 We added a fresh eucalyptus and cedar garland to the mantel that a local florist made for us. It couldn't be prettier. I loved how it was abundant enough to pool onto the floors.
Both trees are artificial. The larger, more traditional tree was something the homeowner already had. I got the smaller one to balance it out and to add a Scandinavian touch as well.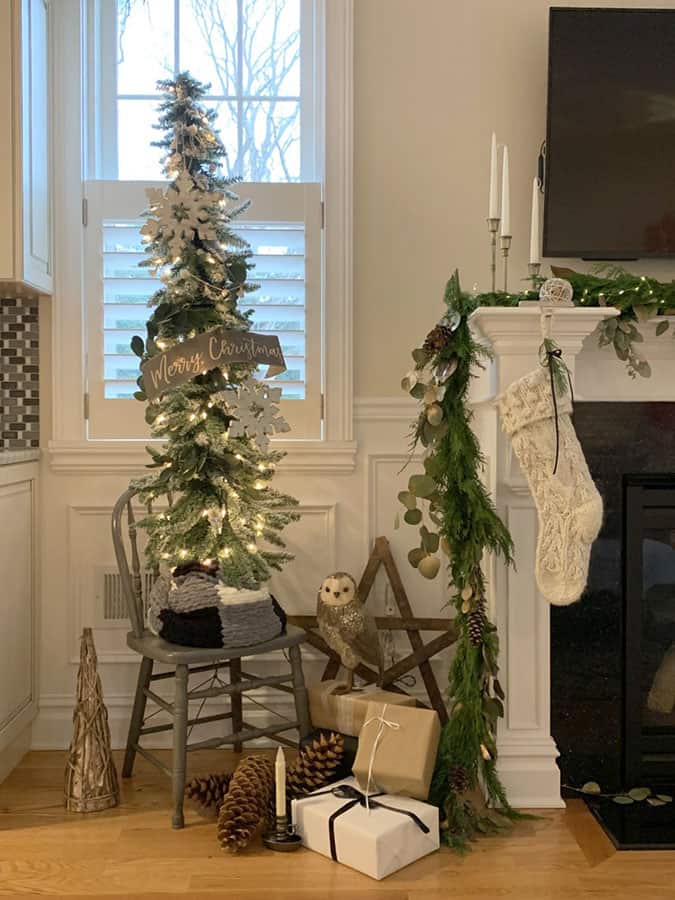 My color theme from the start was to be white and green with gold and minimal black accents. We used this plaid blanket to wrap the bottom of the little tree rather than a traditional tree skirt. We placed it on a vintage chair to give it height which helps balance the other side.
The stockings were a last-minute purchase because I finally found just the right sweater stocking for the mantel. I added a sprig of cedar with a bit of black ribbon for extra detail on those.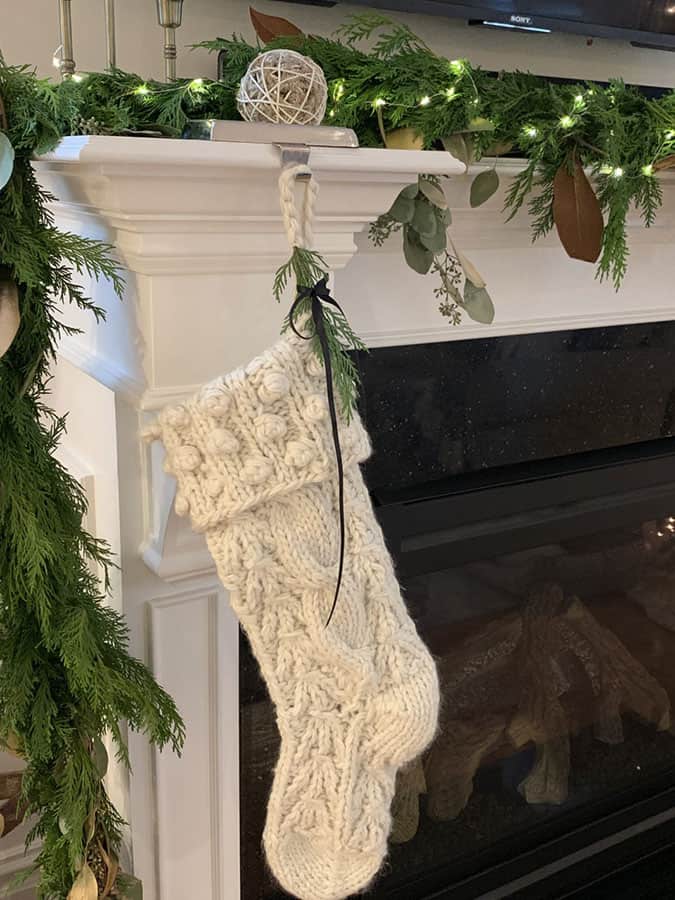 For the top of the mantel, I wanted to keep it super simple with the garland as the highlight and simple taper candles in pretty gold candle holders.
If you've ever had a problem with taper candles staying straight in their holders, you should try these candles with these candle holders. They fit snug in these holders and stayed straight with no problem.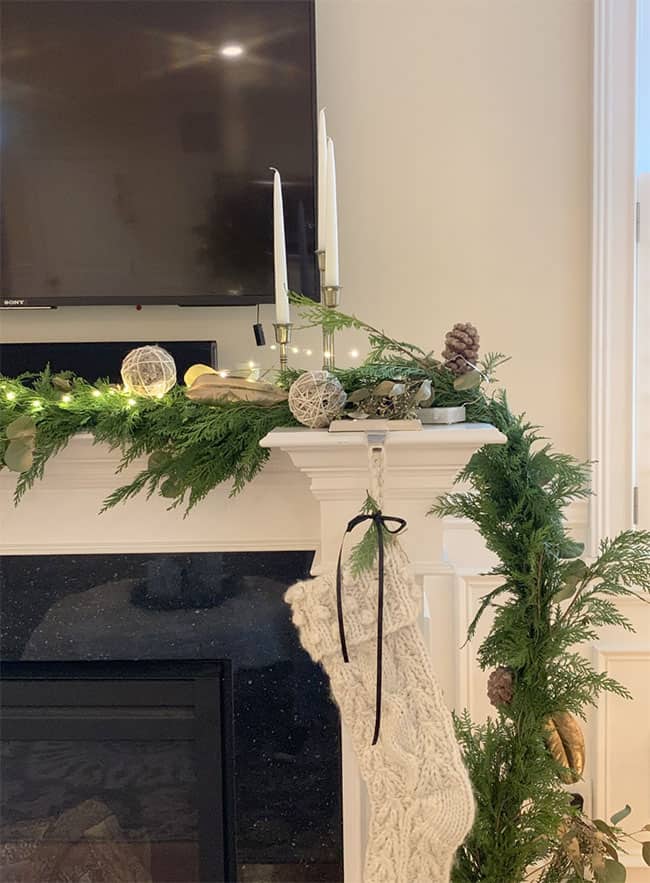 On the mantel, I used simple stocking holders that could be hidden under the fresh garland. I also bought those stocking holders for myself this year to be hidden under the cedar garland on the mantel in my living room but ended up moving them to my family room.
On the coffee table (which is an ottoman) I styled a round black tray with candles, a white church, and a Santa gnome guy. Trays are such a versatile decorating accessory, this can be used again and again throughout the year.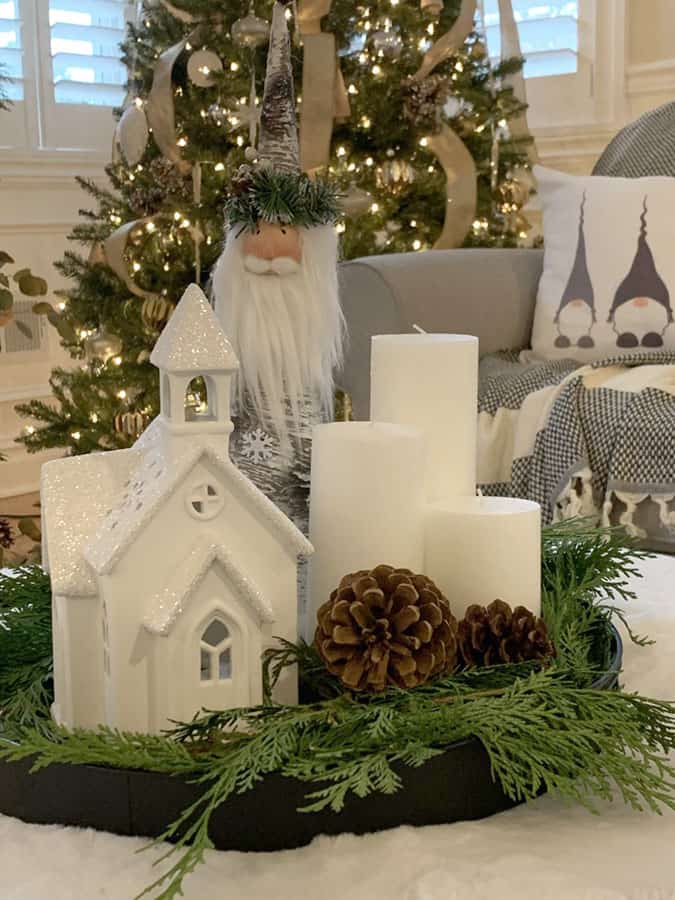 Of course, we had to incorporate gnomes where possible in keeping with the Norway theme. I found this adorable gnome pillow in just the right colors for this project. The black and white blanket is something that can be used all year.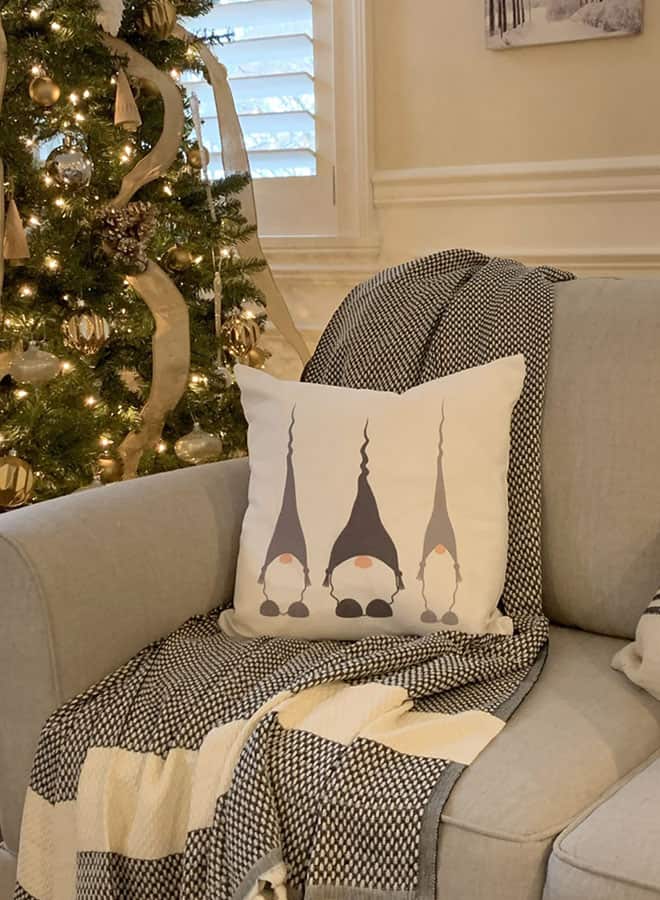 Opposite the mantel is the entry table.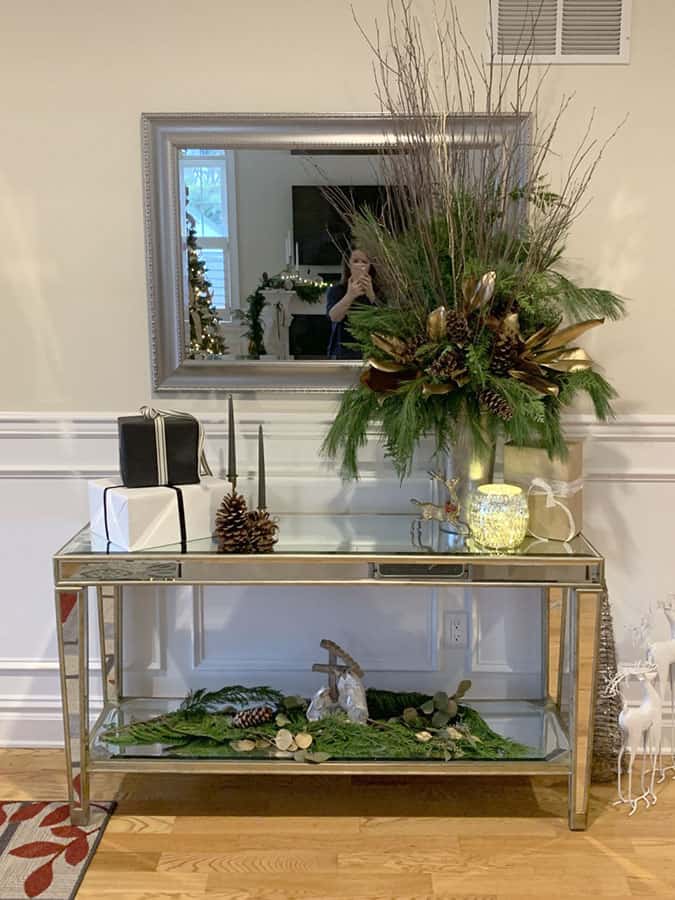 For the entry table, we used a bit of the leftover mantel garland on the bottom with the nativity statue. The large floral arrangement on the top was made by the same local florist. I accented that with more candleholders with gray pillars, gifts, and this pretty candle holder. I used glimmer strings inside the candle holder to give off more light.
This house has an open concept floor plan with the kitchen being in the center so I added Christmas accents in there as well.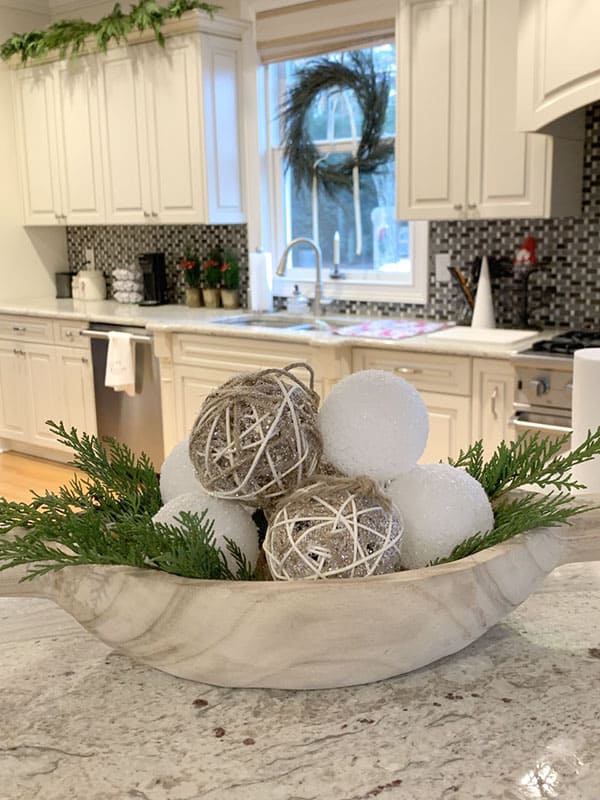 I didn't take many pictures of the kitchen but you can see I added a mix of simple ornaments in a wooden dough bowl. We also added cedar garland on top of the cabinets, a wreath in the window and mini trees on the counter. The cypress wreath in the kitchen window is fake, but it looks very realistic.
And what Christmas house would be complete without some gingerbread houses? These gingerbread houses aren't real, which means they can be reused every year. I found the gingerbread houses here, but the glass heritage jars were very tough to find in three sizes. Finding all three at one store was impossible.
I ended up buying the one-gallon jar here, the two-gallon here and the half-gallon here. Adding sugar to the bottom of the jars gives a snowy effect.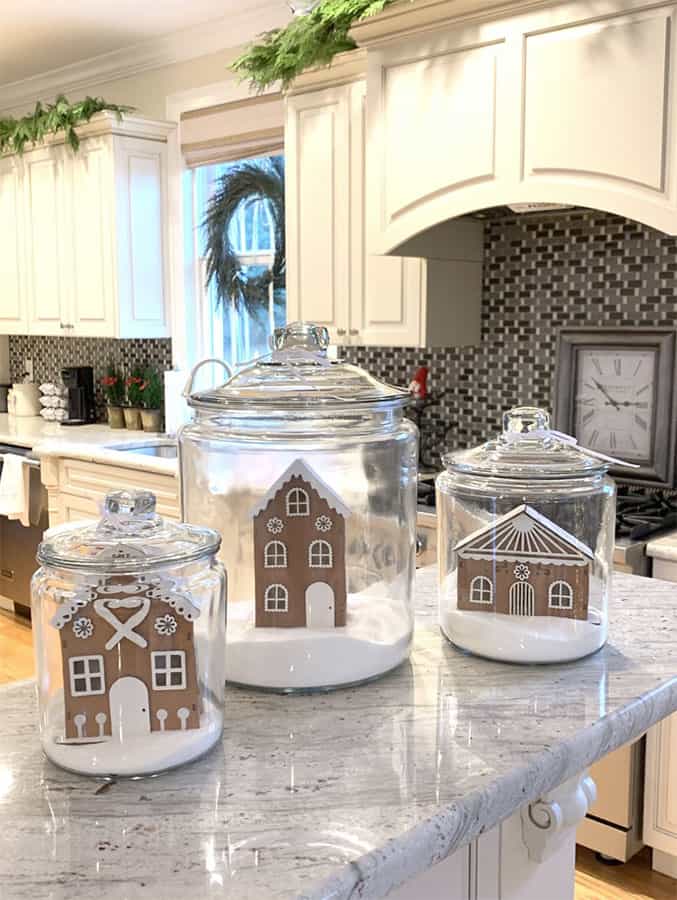 Another of my favorite accents is the staircase. I've always wanted to do this in my house but we have carpeted stairs which ruins the effect. A row of simple pillar candles, pretty votive holders (those are also versatile enough to use year-round) and pinecones line each step.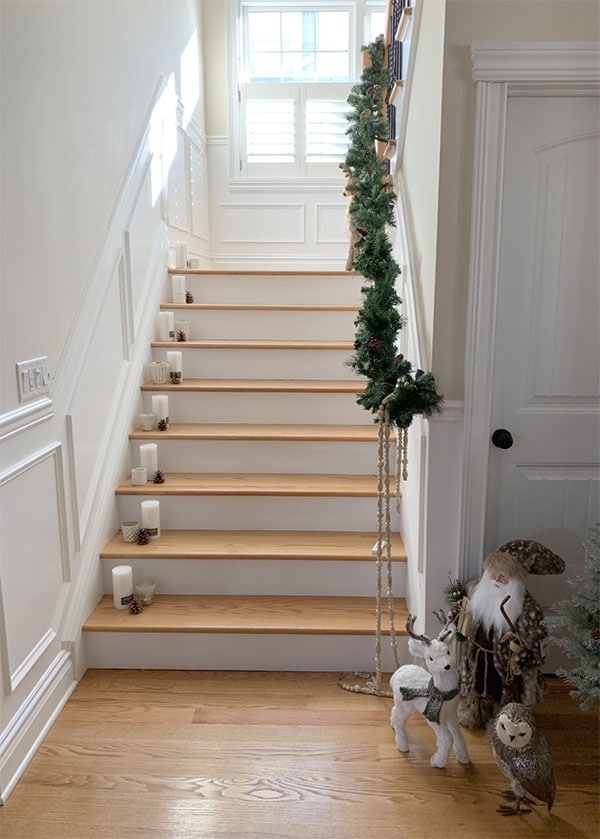 The homeowner added lighted garland to the railing and a cute deer peeking out at the top.
The wood bead garland hanging from the banister will be used to rope off the upstairs from the 800 people who will be walking through for the tour.
I found this small white pine tree at a grocery store of all places. It was so pretty I bought one for my own porch as well. The color was perfect for our Scandinavian theme so I placed that in a small basket lined with sheepskin and added mini pinecone lights. A wintry Santa and a little white deer add to our Norweigan scene.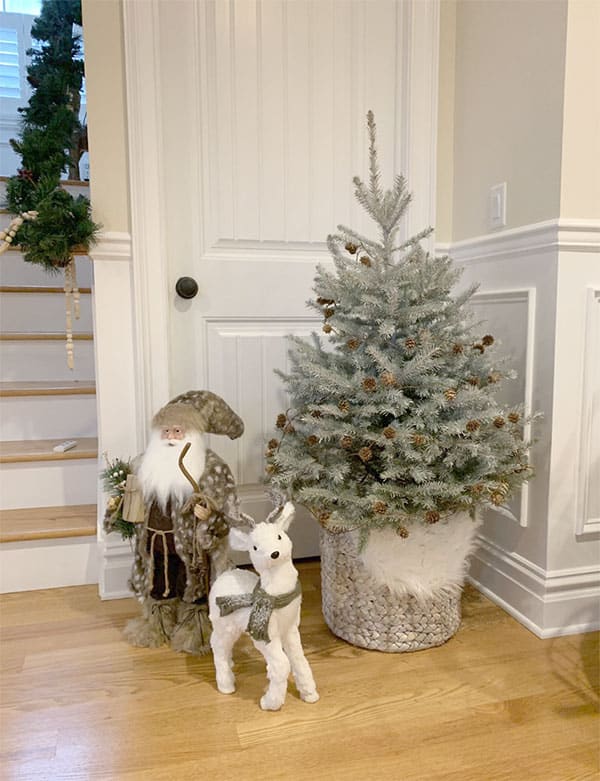 When you walk in the front door of this house and look straight ahead, you see two french doors leading to the backyard. We highlighted those with more garland and two gorgeous eucalyptus wreaths. I was a little disappointed with how quickly those wreaths dried out especially for the price.
I used this black and white striped ribbon on all the indoor wreaths and as accents all around.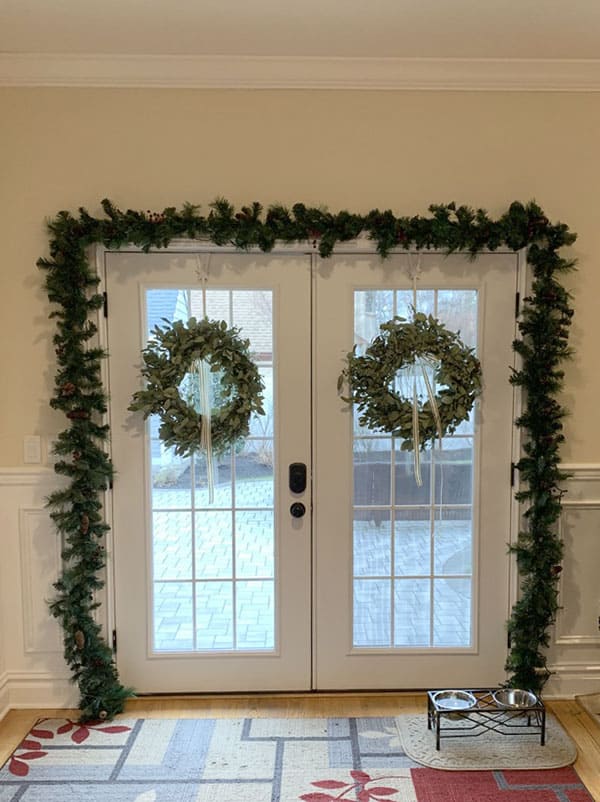 And in the backyard, we lined the cute shed with lights to match the house. If you look close you'll see Santa peeking out the door here. In the windows, we used these flameless window candles. Sometimes those types of window candles can really give off a yellow glow, but I was happy with the white light of these.
In the window boxes, we added glimmer strings, I was not happy with the blue light of those. I must have picked them up in cool white, rather than the pure white.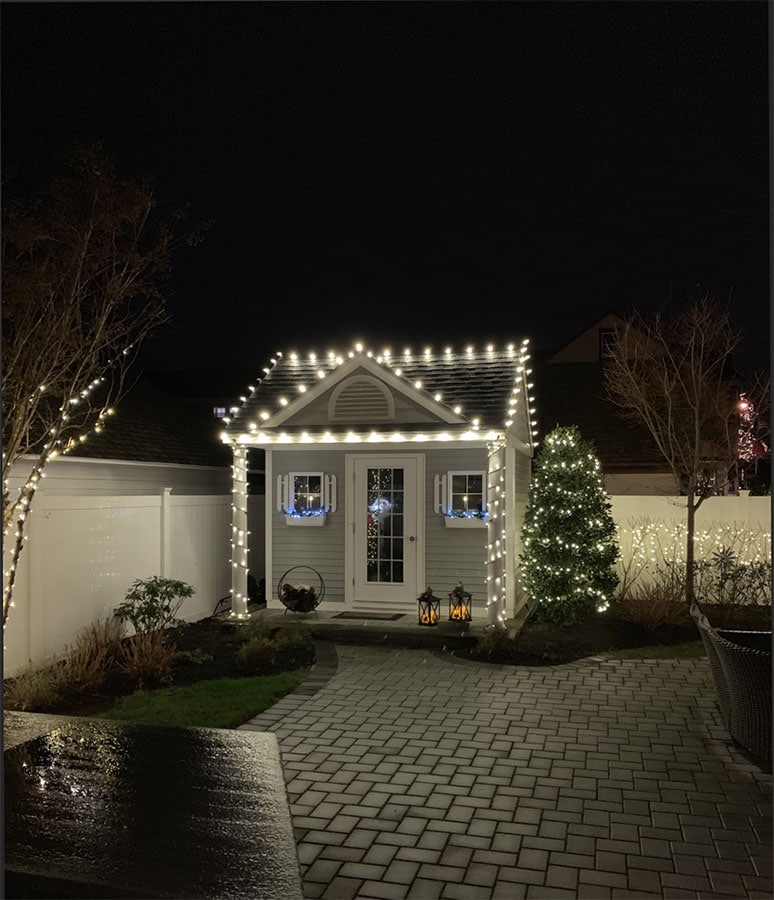 Again, I wanted to highlight the beautiful landscaping that continues throughout the backyard. Even the outdoor fireplace has lights. People were lined up during the tour to have their photo taken next to the outdoor fireplace.
I hope you enjoyed this tour!
I took a few videos a few days before the event as I was preparing the house to share in my Instagram stories. I'll link them below, but keep in mind the house was in progress at this point so you may see some boxes and things not put away yet!
Want more holiday inspiration? Check out our Simply Christmas magazine. It's free!
If you're looking for more ways to use lights in your decor, check out 8 ideas for decorating with Christmas lights here!
*This post may contain affiliate links, you can read my full disclosure here.