Using a Carpet Steamer to Get Your Home Ready for the Holidays
One thing I like to do before the holidays is to give my house a deep cleaning. I tend to do more of this in the fall when I know we'll be hibernating soon rather than in the Spring. One way I like to deep clean is with my carpet steamer.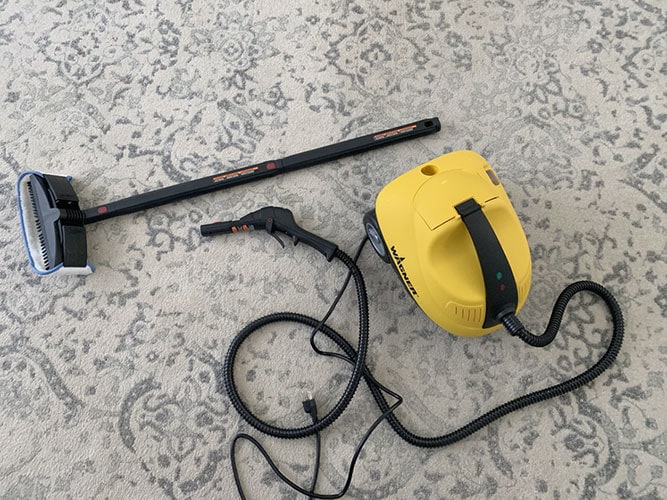 I recently got a new carpet steamer. Bulky, heavy steamers are too cumbersome and I didn't want anything too large due to lack of storage in my house. I picked this on-demand power steamer from Wagner Spray Tech for that reason and for its ease of use.
In my living room, I have a neutral area rug with a lot of white in it. Considering everyone enters the house through this room it may not have been the best idea but this rug is so pretty that I'm willing to do some extra cleaning.
To give it a thorough cleaning, I first moved the furniture off the rug. Setting up this carpet steamer couldn't be easier. First, you fill the container with water. I used distilled water because sometimes tap water can stain due to minerals. I learned that the hard way, but fortunately I found a way to remove water stains from upholstery and it involves distilled water.
You simply open the hatch and pour the water in using the included funnel. Next, you attach the handle to which accessory you are using which in this case was the large cleaning brush.
For carpets and upholstery, you also attach the cleaning towel to the brush.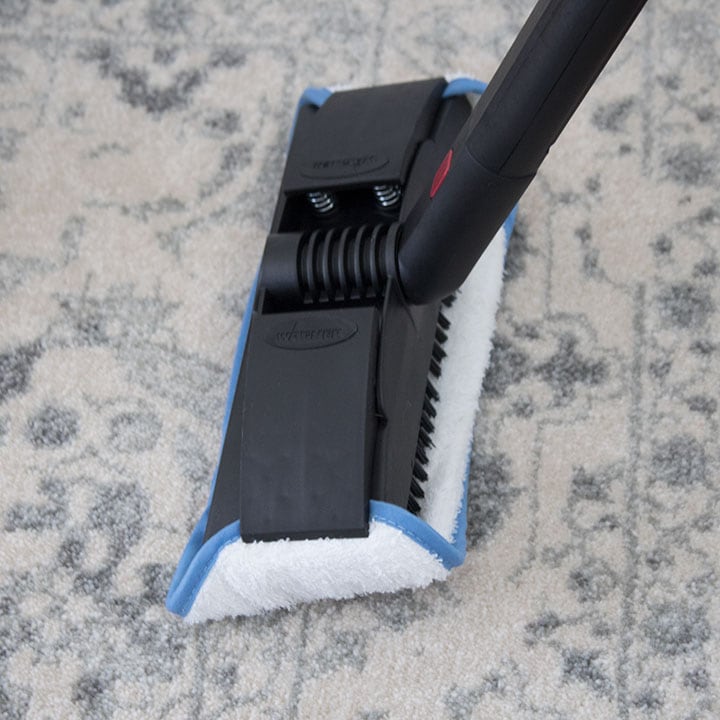 Then you power up the steamer and wait for the indicator lights to show green only. That means it's ready.
One important thing to note here!
When using this on carpets or upholstery you should try it in an inconspicuous area and wait 24 hours to be sure there isn't any damage. I did this with my carpet before steaming the whole thing.
I wasn't sure exactly how long I should hold this steamer in one spot without damaging. However, I did accidentally leave it in one spot longer than I meant to and I noticed that not only did it not damage the carpet, but it got that area much whiter.
So moving forward, I went over the carpet slowly using high steam. I began in one corner and worked my way across the room.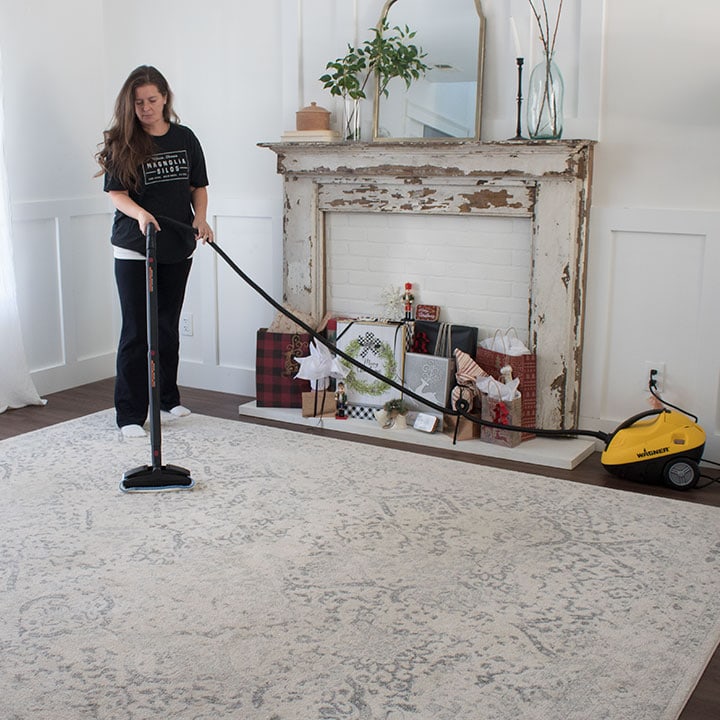 Once I finished steaming the carpet, I didn't want to stop. Steam cleaning is oddly satisfying. So I moved my furniture back and steamed my chairs as well.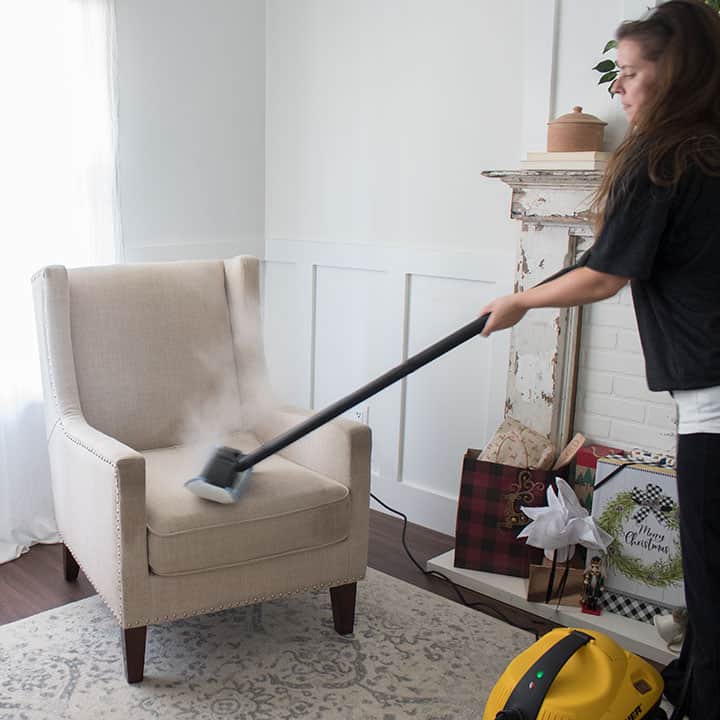 You can see here I didn't hold back with the steam. These chairs had a few small stains and some discoloration on the armrest and the steamer really blasted that out.
When I was finished, I shut the machine off and let it cool for about 30 minutes before I put it away. Always read the manufacturer's directions when using electrical items.
I'm so happy with the results of this steam cleaner. I should also mention it comes with several different attachments and has other uses as well. You can clean bathrooms, windows and even remove wallpaper to name a few.
I put my Christmas tree up a few days after cleaning and even if no one else can see the difference, I can actually feel how clean it is now.
Considering the size, ease of use and price, this carpet steamer is a great choice if you're in the market for one.
Now I can sit back and enjoy the holidays. Well, as soon as I finish Christmas shopping that is!
PLEASE PIN: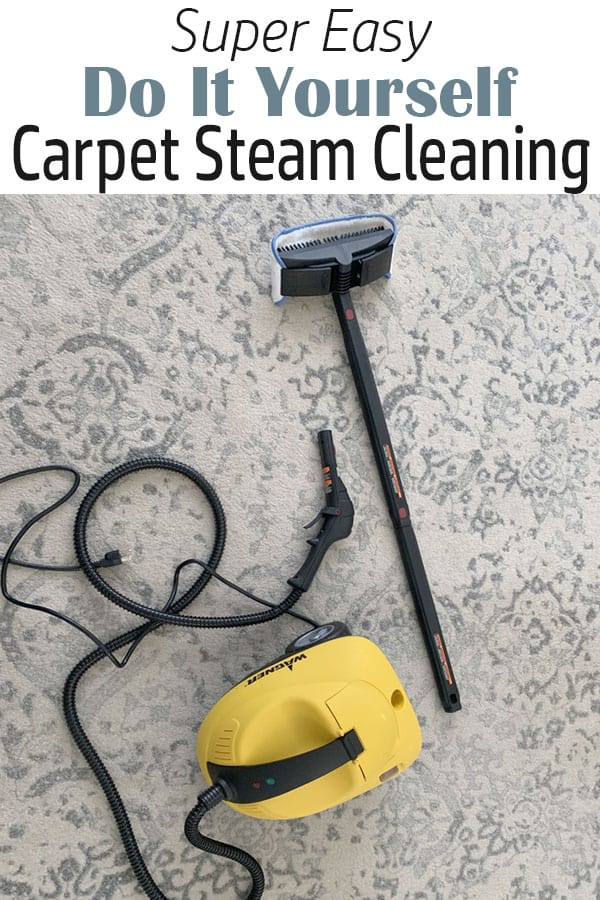 This post was in partnership with Wagner Spray Tech and may contain affiliate links. All opinions are my own. You can read my full disclosure here.