Home Style Christmas Tree Decorating Ideas
If you're ready for some Christmas tree decorating ideas, or Christmas decorating ideas, in general, you've come to the right place!
Today I'm teaming up with a bunch of other bloggers as part of My Home Style Blog Hop hosted by my friend Stephanie from Casa Watkins Living. The great thing about this hop is, everyone involved has their own unique style so there's sure to be plenty of inspiration for everyone.
If you've arrived here from Lovely, Etc., welcome!
We were each asked to describe our style in 3 words. I would say my style can be described as cozy, country, and cottage. Cozy because my house is small and country cottage because rustic, farmhouse, shabby chic and all of those styles that I love can fall under Country Living style. I wanted my Christmas tree decorations to reflect that.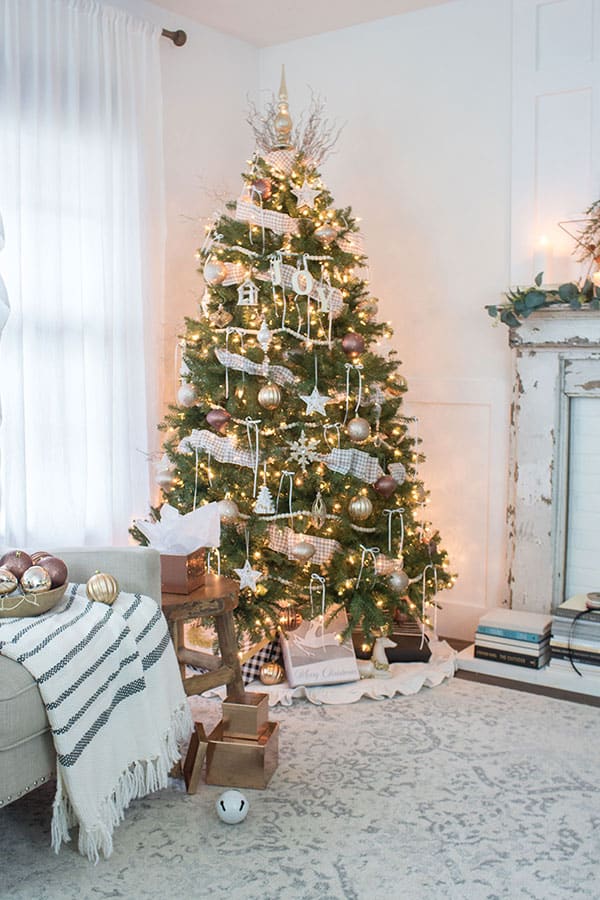 Christmas Tree Ribbon
First I started with the ribbon this year. This black and white plaid ribbon caught my eye right away. I found it locally, but you can find a very similar one here. Usually, I use a thinner ribbon and I found this wider style is a little bit harder to work with.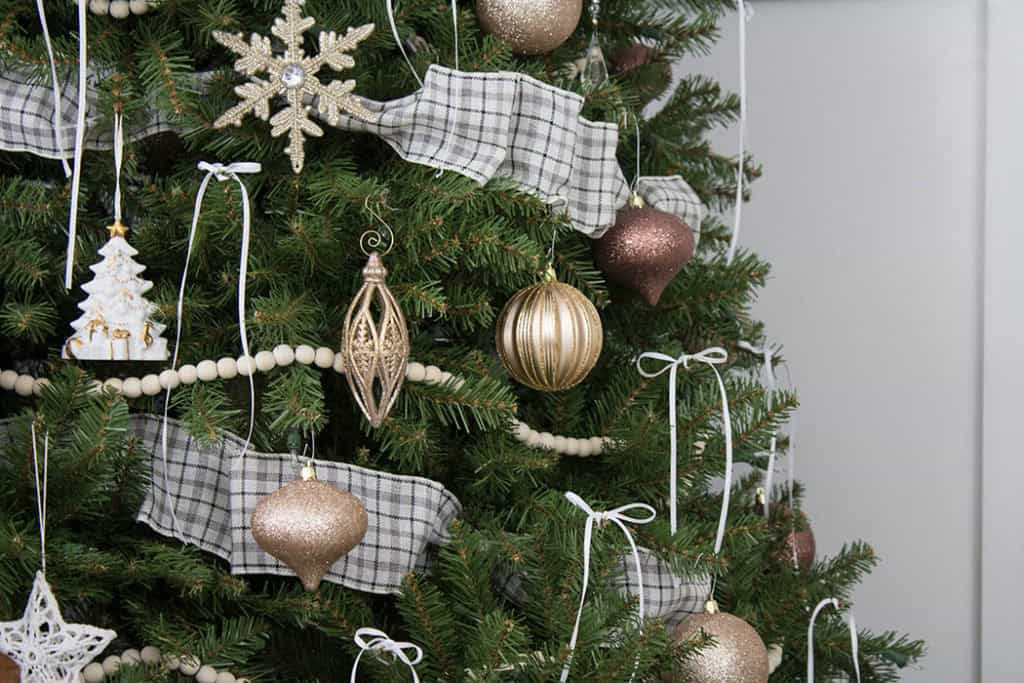 First I simply wrapped it around the tree. But then I thought it would look better tucked in a bit. After doing that my daughter came home and said she thought it looked too choppy. So I untucked.
Then my husband came home and said it looked like toilet paper wrapped around the tree. Ugh! So I tucked it again, fiddled with it forever and finally got it looking pretty. It became quite the joke over here!
Christmas Garland
In between the ribbon, I added unfinished wood beads for a change this year. I have this bead garland in gold, cranberry and now the wood. Clearly, my taste doesn't change too much from year to year.
Christmas Ornaments
The day right after the ribbon fiasco, I went to my favorite flea market and scored big time with a bunch of vintage Christmas ornaments. It was exactly what I was hoping to find that day, which rarely happens at flea markets.
The gold snowflake and the gold oblong ornament below that are two of the vintage ornaments that I found.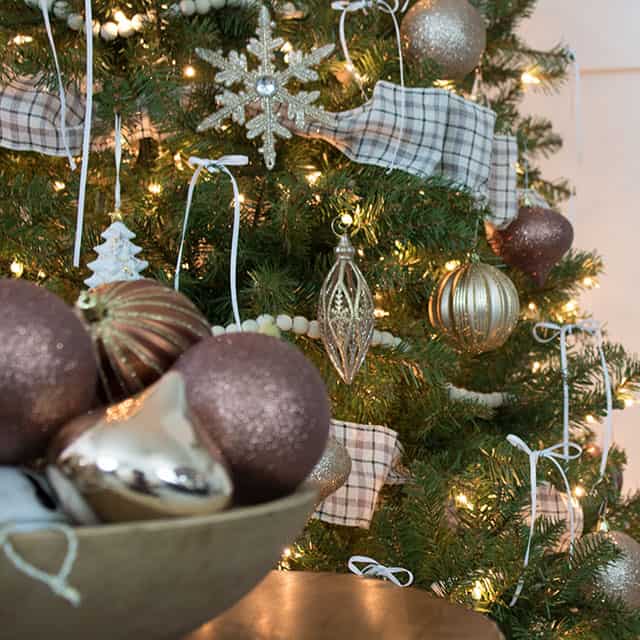 And here are two more that I also found at the flea market.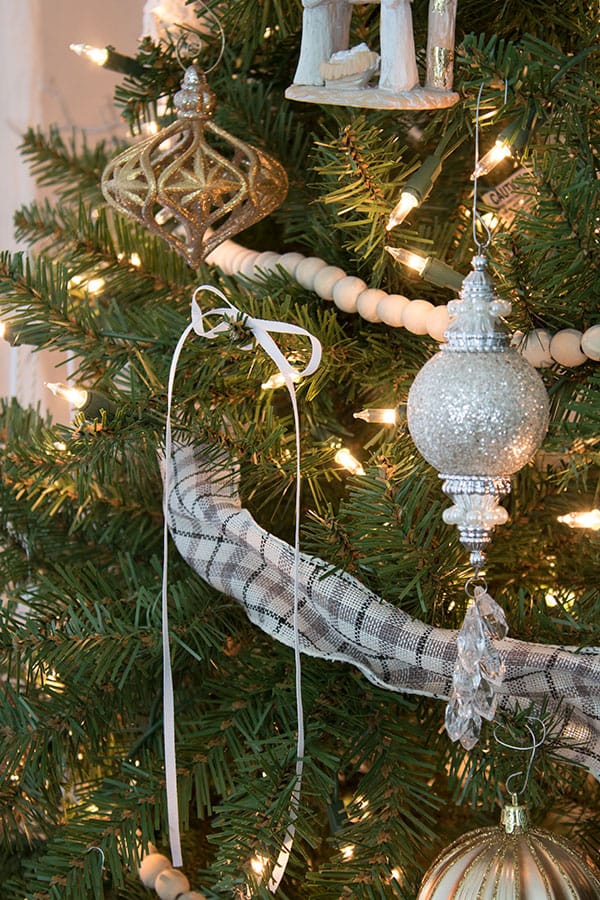 All of my gold and brown Christmas ball ornaments were purchased as a set a few years ago. That was money well spent because I never get tired of these. They're a great base for layering on other ornaments. Here's a nice set that would make also make for pretty fillers.
DIY Ornaments
You didn't think I could share my Christmas decorating ideas without a little DIY, did you?
The JOY ornaments were a quick and easy little DIY. I bought the wood letters at Michaels store, brushed on some glittery white paint and hung them with thin 1/8″ white ribbon. I liked the white ribbon so much, I added more of it by tieing little white bows all around the tree. It sort of gives the same effect as tinsel, which my mother always used on our trees growing up.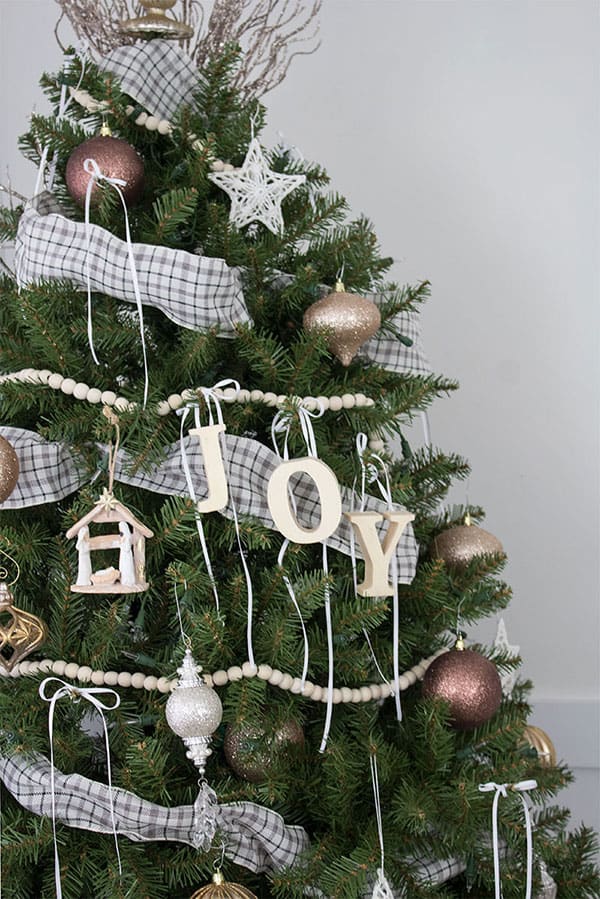 Christmas Tree Skirt
I also replaced my tree skirt this year. I had seen this one online and loved the ruffled trim. But when I went to the store to buy it, I noticed it had a bit of a metallic sheen which wasn't depicted online. I almost didn't buy it, but I'm so glad I did because when it's under the tree the sheen is so pretty. And I just love that ruffled trim.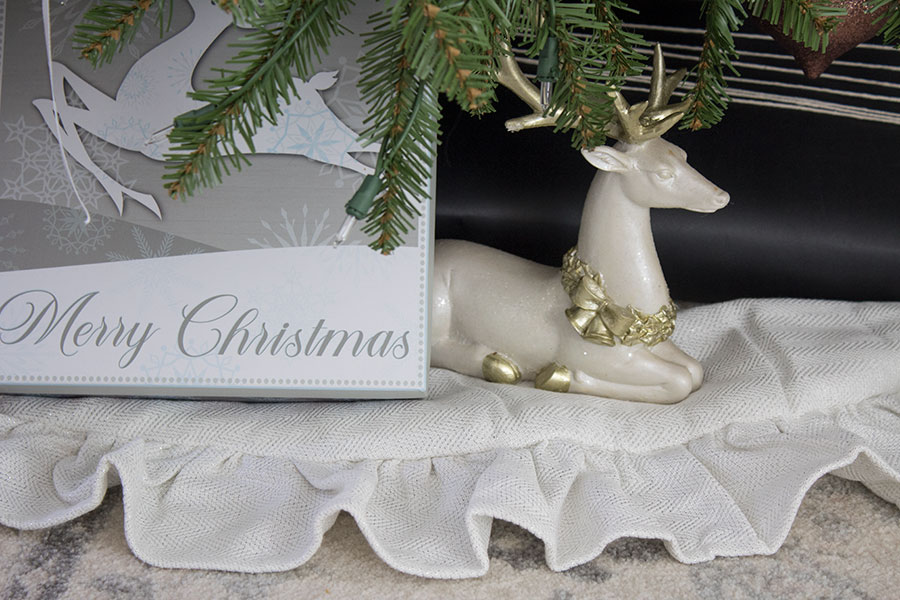 A few years ago I had bought one of those tree collars to use instead of a skirt but once I got it home I didn't really like it. I am sticking with traditional tree skirts.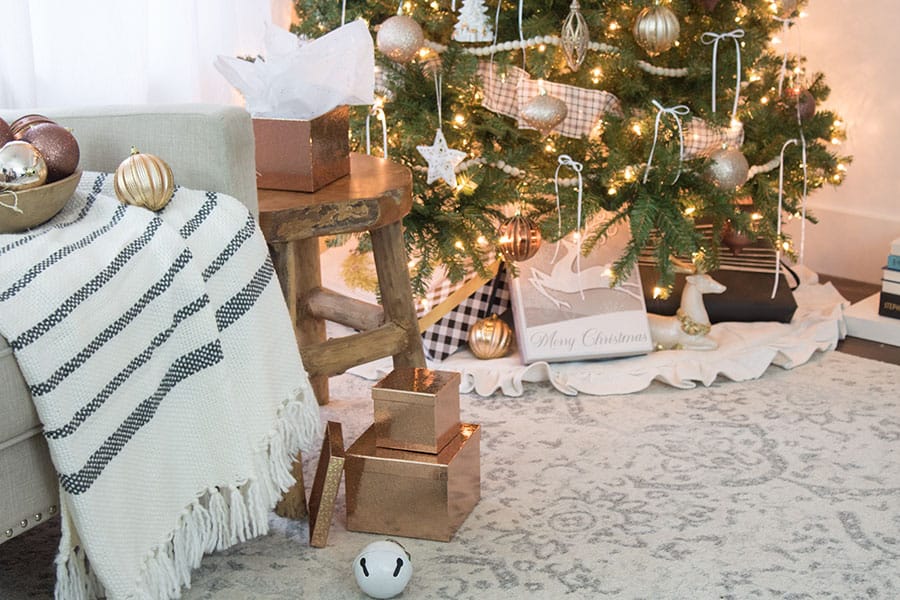 Christmas Tree Topper
And here is the tree topper I mentioned on Monday. I had seen these finial tree toppers online and planned to buy one but I found one in Michaels store for less money (and I had a coupon). This one actually wasn't meant to be a tree topper but it had an opening in the bottom so that I was able to use it as such.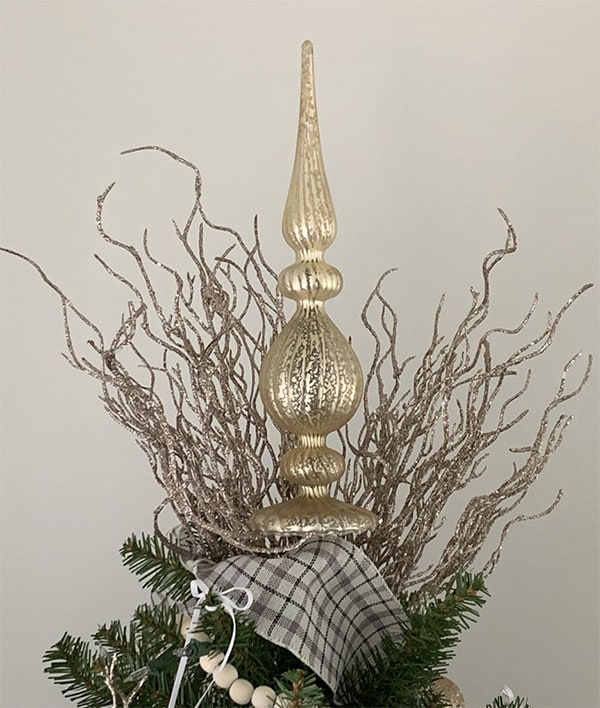 I had added the glittery branches as the tree topper first, but I felt it needed something else. It worked out because they help to keep the finial topper in place.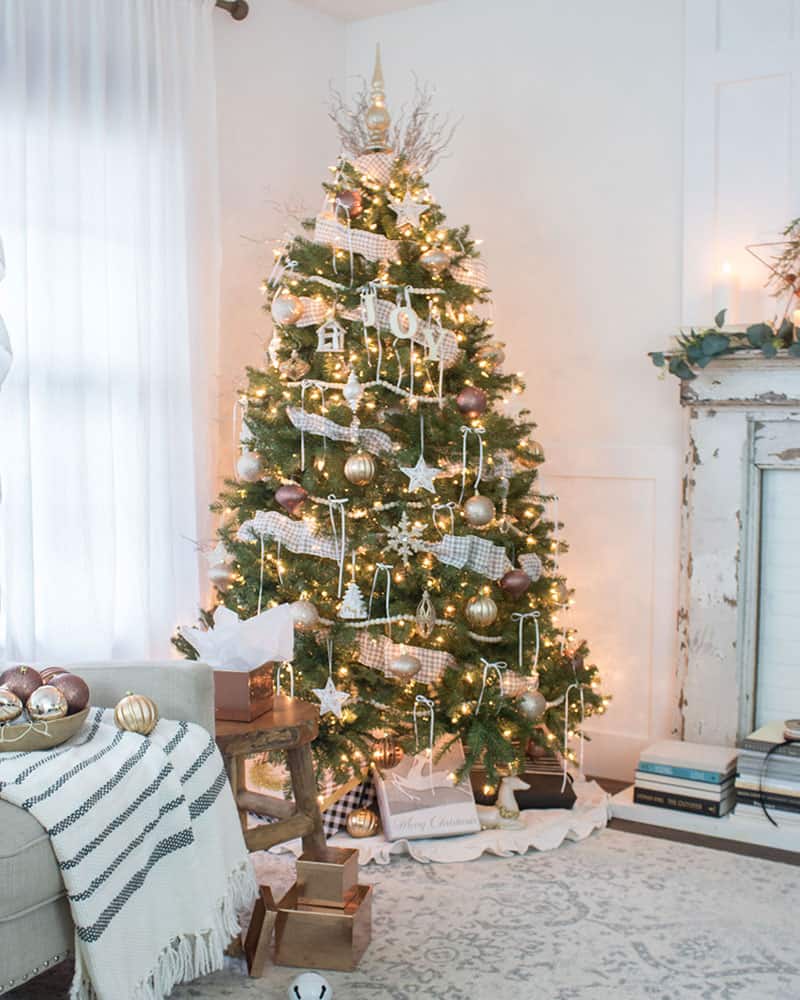 I hope you've found some Christmas tree decorating ideas you can use for your own tree this year. And if you haven't grabbed your copy of our Simply Christmas magazine, be sure to check that out. It's free!
Next up on the My Home Style Blog Hop is My Sweet Savannah. Enjoy!
PLEASE PIN: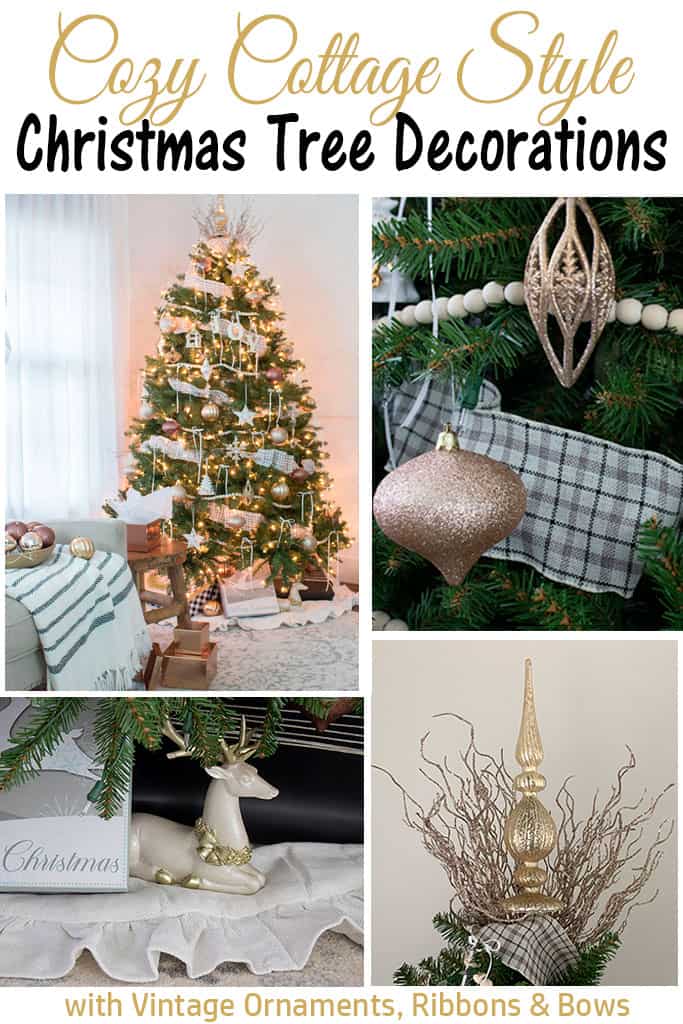 This post may contain affiliate links, you can read my full disclosure here.
Visit the bloggers below for even more Christmas tree decorating ideas!