Removing Water Stains From Upholstery
Over the last 7 or 8 years in which we've been slowing making over our house, I have switched out most of our dark color upholstered furniture in favor of light upholstery.
Now if you live with kids or pets, or husbands (lol) this can be a risk. Messes are gonna happen.
And happened they have over here. Thanks mostly to my cats with sensitive stomachs, my upholstery has had its share of accidents.
Unfortunately, when I attempted to clean one such accident on the upholstered ottoman in my living room I ended up making the damage worse. After dabbing it with water, not only did it not remove the original stain, but left a big round water stain. I was horrified.
As it turns out you can't use regular water on light upholstery. Tap water has minerals in it that stain. Oops. After asking around and internet searching I found something I thought might work on removing water stains. At this point, I really didn't have anything to lose.
First I used vinegar. I applied the vinegar to a paper towel and blotted the entire area well. I waited for about 5-10 minutes and then repeated the same process. But for the second round, I used distilled water. After it dried, I was surprised to see the stain had lightened a lot.
It wasn't gone (the stain had been there at least a week at this point) so I repeated the process. It further lightened. This was after two treatments with the vinegar and distilled water. You can still see it although it's very faint.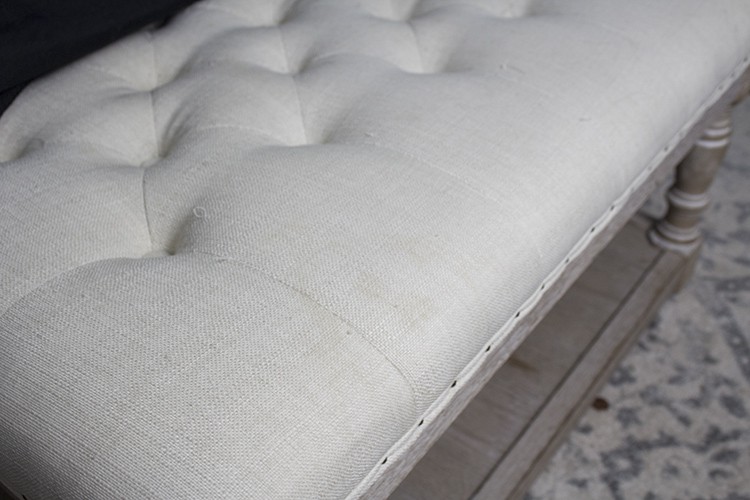 The third time was a charm. It's now cleaned up, you would only be able to tell if you knew it was there and was looking very closely for it.
I was concerned about trying the vinegar due to the smell, but it dissipates pretty quickly. Now I'll keep the distilled water and vinegar on hand at all times so if (when) this happens again I'll be able to take care of it right away.
Do you have any problem-solving cleaning hacks? I'd love to hear about it in the comments!