Cleaning Vinyl Plank Flooring
If you're considering whether resilient flooring (aka vinyl flooring) is right for you, this post should help you decide. After having vinyl flooring for about 5 years now, I wanted to share how they've held up. I get asked often about cleaning vinyl plank flooring so I'll also show you how I clean mine.
While hardwood floors are obviously the gold standard in flooring, there is a strong case for using resilient instead! We chose resilient throughout our entire house.
One reason for that was because it's much more affordable. Second, we were about to install the vinyl flooring ourselves saving additional thousands of dollars. Hardwood floors were really cost-prohibitive for us at the time and vinyl plank came in so many options that look shockingly like the real thing.
When we installed them I really didn't know how durable they would be. Now, many years later I can tell you that they hold up amazingly well!
Removing scratches from vinyl floors
I was reminded just how durable my vinyl plank flooring is recently when I bought new (vintage) chairs for my kitchen. I didn't think to put those little floor pads under the legs right away and it scratched my floor up pretty badly.
To fix the scratches, I sprayed some cleaner (Windex) on a paper towel and buffed it out. I kid you not, it took about 30 seconds and it totally works.
Isn't that nuts? I will say if you get a very deep scratch from moving heavy furniture it will not come out.
Unless you're really dragging something heavy across your floors that shouldn't be an issue. When I move furniture I use floor sliders. Not only do they make the furniture slide easy but it protects the floor as well. (They have them for carpeted floors as well.)
cleaning vinyl plank flooring – easiest way
To clean my floors, I go back and forth between two different tools. I really like my steam mop best. It cleans well but I also like that it disinfects. You don't need any chemical cleaners with this. It works with distilled water, which I add to the tank.
Steam mops are not an option on hardwood floors. From what I understand, it can potentially ruin wood floors.
When I don't feel like plugging the steam mop in, I will reach for my Swiffer. Just the regular wet Swiffer pads. They're so quick and easy and they work well. I don't use them all the time because I heard once they aren't safe for pets. Not sure if that's true or not.
waterproof vinyl floors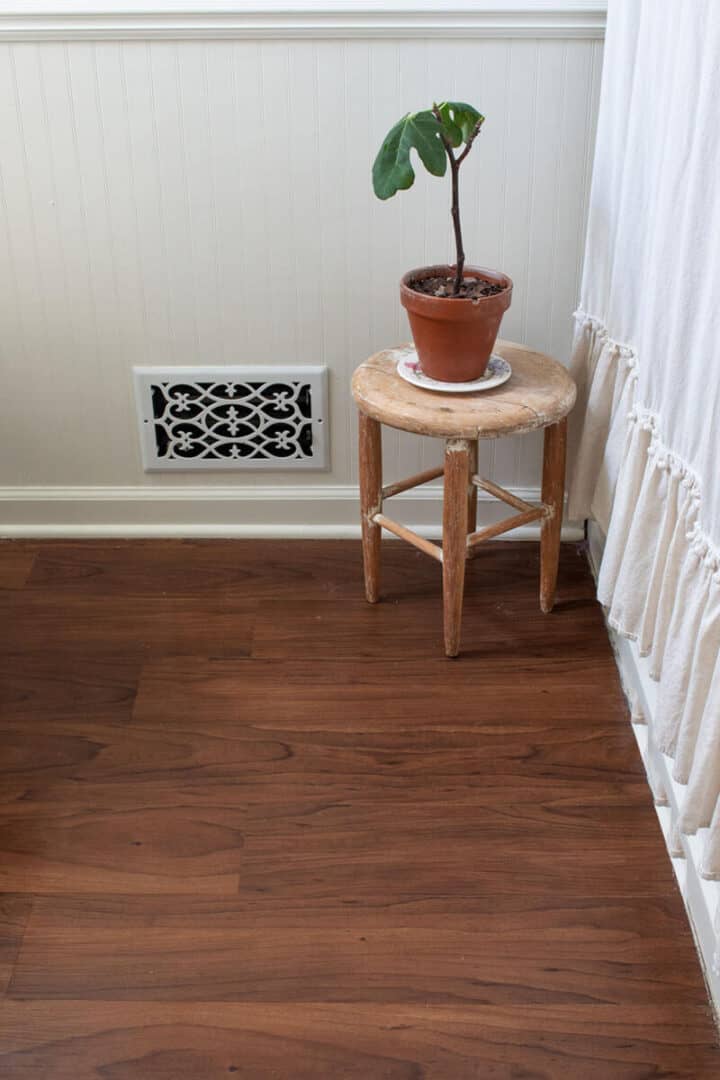 The first room in our house that we changed the floors in was our bathroom several years ago. These floors are actually vinyl (like linoleum, not planks) and they're waterproof. I have never once regretted this choice in our bathroom. I love the look of wood in here and they're basically indestructible.
It's been so long I don't remember the exact brand we chose here but I believe we bought them at the Home Depot.
Resilient Flooring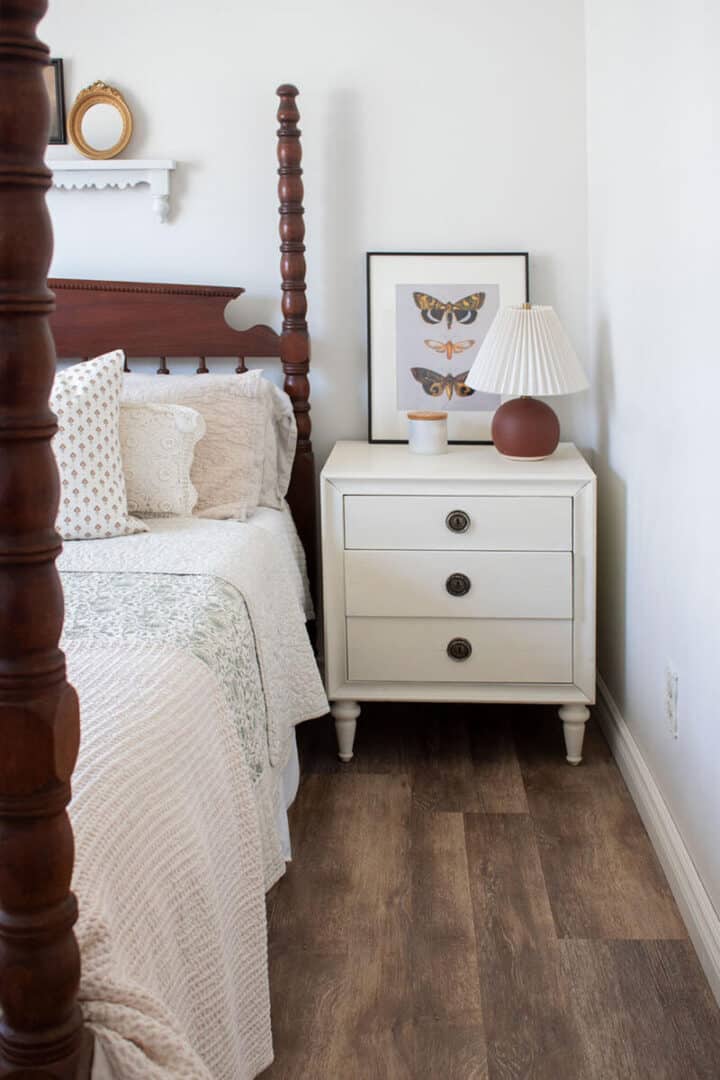 The rest of the house is vinyl planks (aka resilient flooring). They are easy enough to install yourself because they snap and lock together. My husband chose this floor in our daughter's room. He liked the variated look of the wood.
Durability of vinyl flooring
As I mentioned, real hardwoods are the gold standard in design. They say hardwood floors will raise the value of your house. While that is true, it doesn't make a tremendous difference in an appraisal, and in some cases using real hardwood might over-improve your house depending on your location and other factors.
Another big factor for me in choosing Resilient is that they are eco-friendly. Climate change is happening and I try to do my part wherever I can to keep things green.
Lastly, I find resilient flooring definitely gives us a little more peace of mind with kids and pets (and husbands). Now I don't have to worry much when this little hoodlum makes a mess. 😉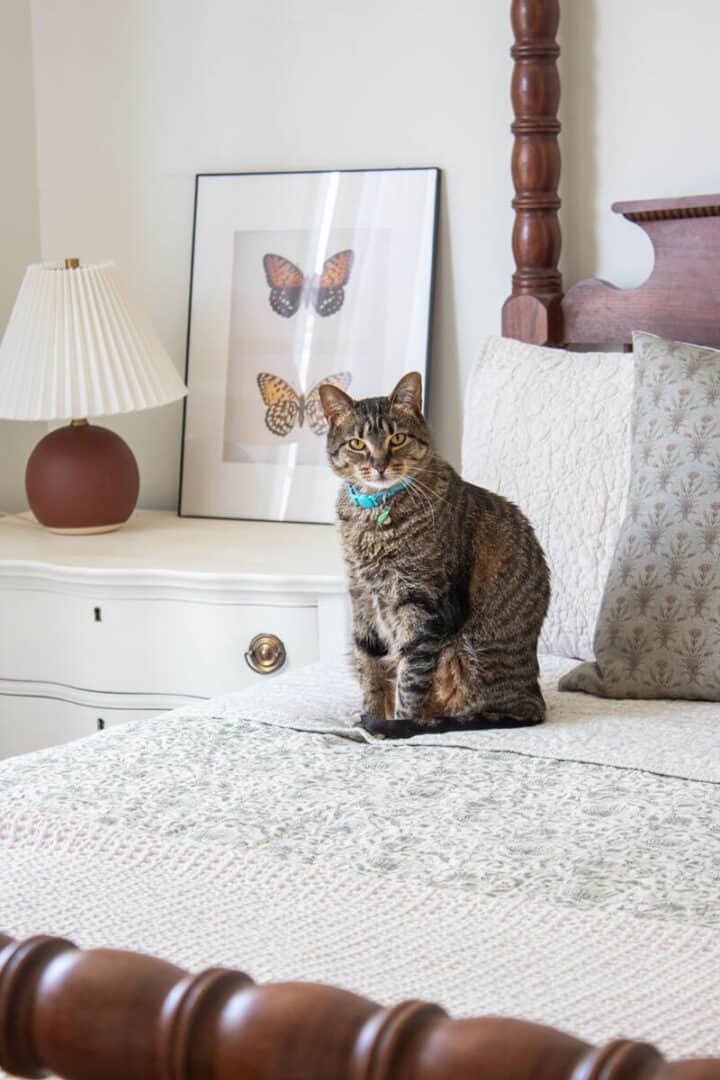 For us, choosing vinyl plank flooring was the right decision. They've held up extremely well and are easy to clean. They call them resilient floors for a reason.
You can find resilient flooring locally at any flooring store. You can also visit: BeautifullyResponsible.com to learn more!
This post has been sponsored by Beautifully Responsible® Resilient Flooring but all opinions are entirely my own.
---