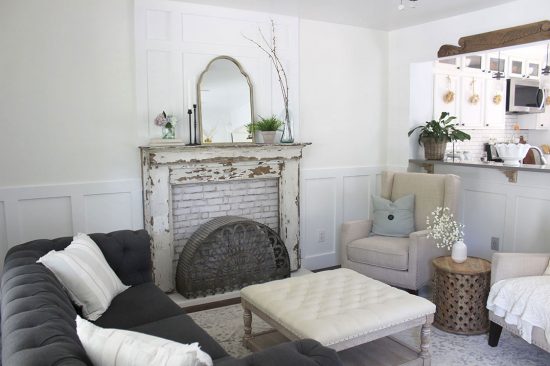 You know that feeling you get when you cross things off your to-do list? Multiply that by 1,000 and that's how I'm feeling over here since finishing up our living room makeover. Though there are a few minor details that I still need to get to, the major work is done and I'm finally ready to show it to you today. As I mentioned Monday, we replaced the all the flooring downstairs and installed the board and batten*.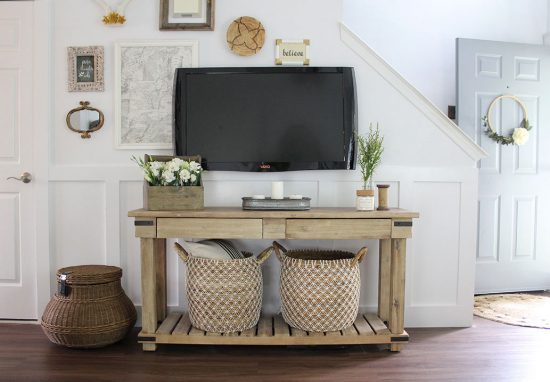 Those two things had been on my to-do list for so long that crossing them off called for a happy dance! Now that the floors match in our little entry, living room, and kitchen, it feels much more cohesive.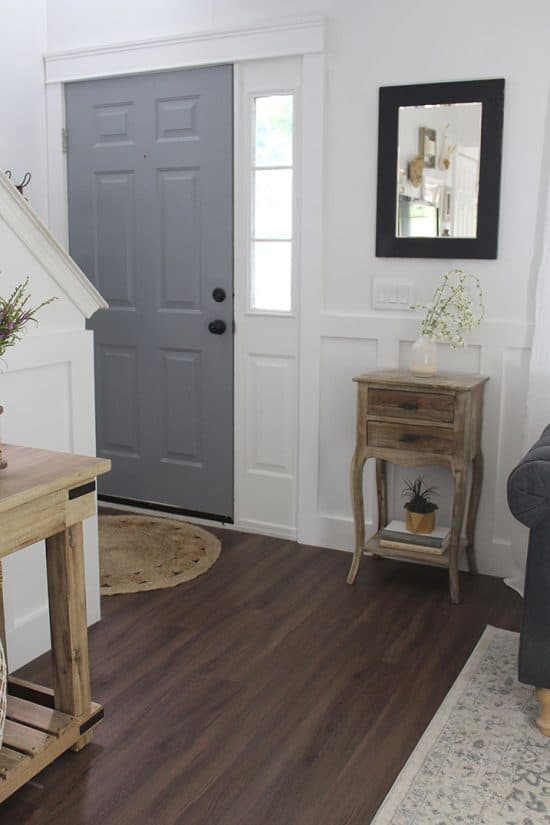 The new area rug is like a breath of fresh air in this space, I don't think I'll ever get tired of this one.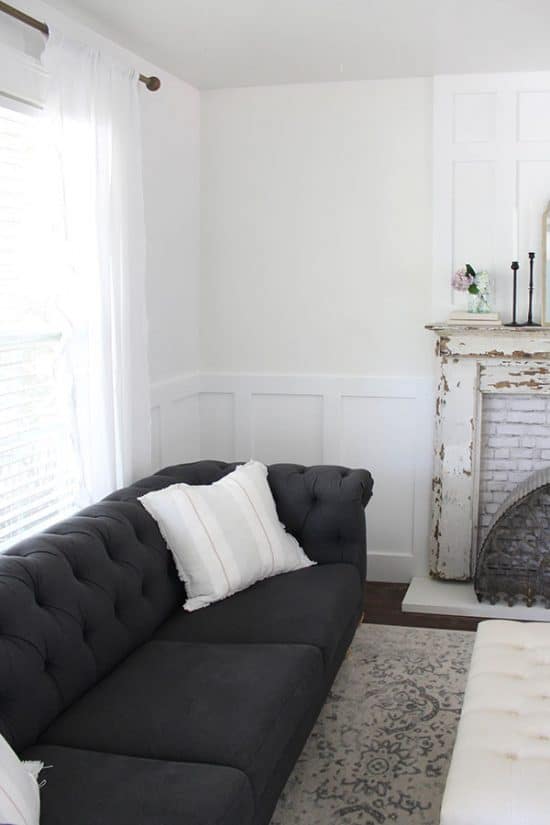 I picked up a few new accents, like this pillow and inexpensive curtains from Home Goods. I am still in need of some lamps in here but I'm not in a rush for those, I'm waiting until I see something that feels just right.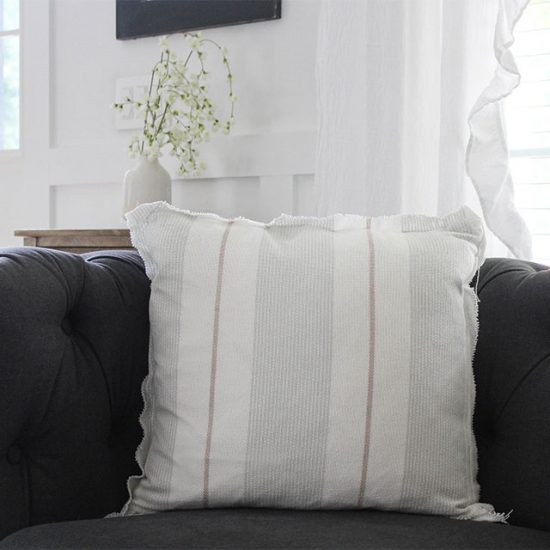 Adding the board and batten moldings from Metrie over our vintage fireplace was what I was most excited about and really made this more of a focal point of the room. I also switched out the old mirror for this arched mirror. I think the scale works better with the new moldings.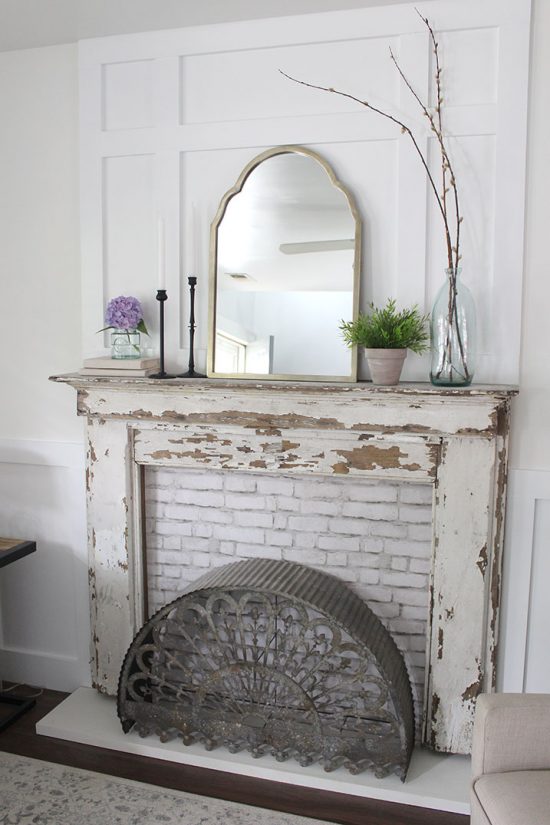 I picked up this little jar last month and it's been getting a workout, it's perfect for small floral displays and hydrangea clippings from the yard.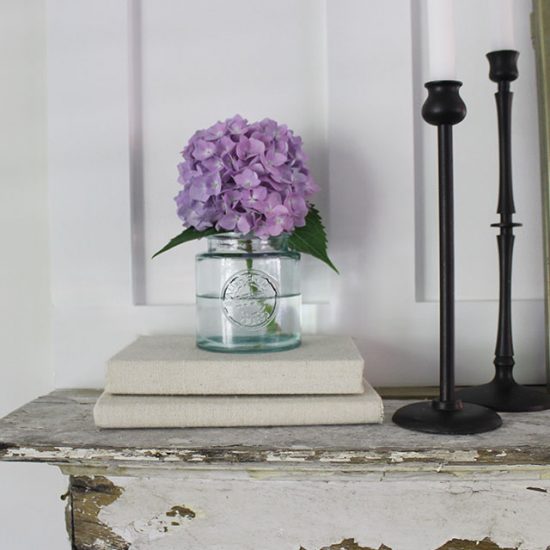 Remember the end tables I was using as a coffee table?
I replaced those with an upholstered ottoman. Not only does it fill the space better, but it's so much more comfortable in here to have somewhere to put our feet up at night. I am still using the end tables, as actual end tables (imagine that) now. The metal filigree inside the mantel is actually designed for wall decor, but I love how it looks in here.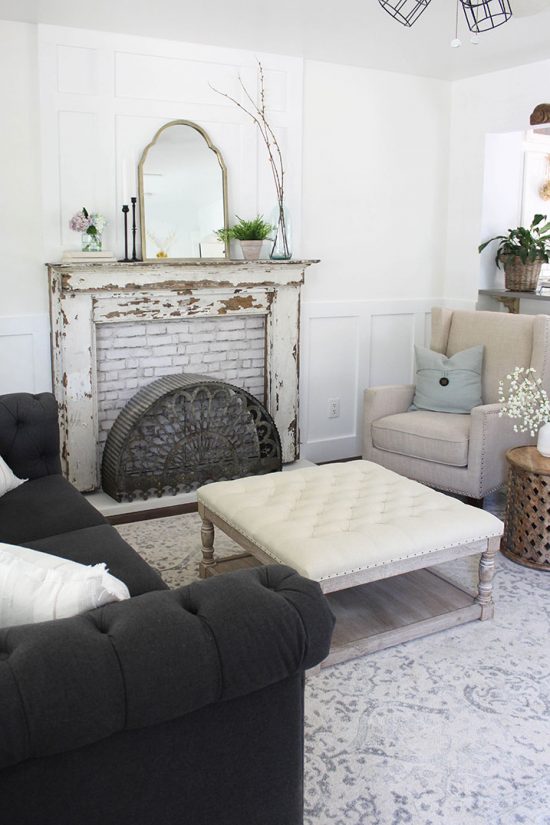 As I mentioned on Monday, this project took months and it was nice to get things cleaned up and back to normal again. Now that about two weeks have gone by since then, I think I'm reenergized and ready to tackle the next project. I may have to wait another week or two before I let my husband know that. 😉
See something you like? Shop the look below!

*This post may contain affiliate links, you can read my full disclosure here. Linking up with BNOTP.