Painting Chairs With Spindles The Easy Way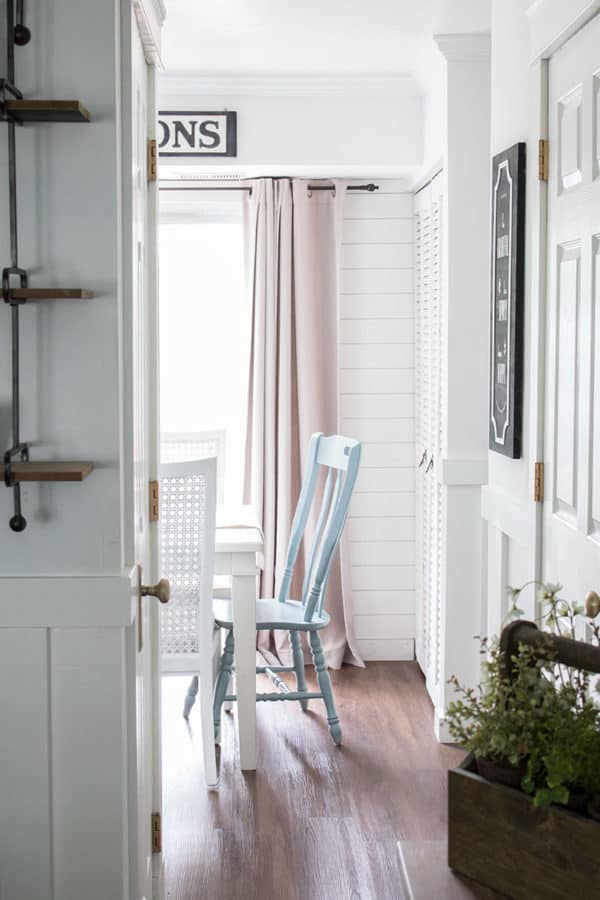 So today's post about painting chairs is more of a maintenance post than a new DIY, but there were a few things about this that I thought could be helpful to you.
Furniture makeovers are something I clearly love to do. If you have a good quality piece, it's better to update than replace. The very old kitchen chairs that I had painted back when we redid the kitchen had started to chip in some spots. Because they're much sturdier than my other dining chairs, I opted to repaint them.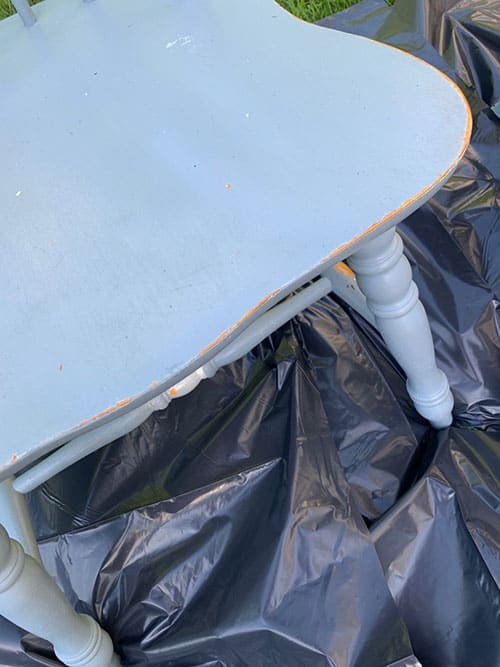 The first time I painted these chairs, I did it by hand. And let me tell you it WAS NOT FUN. I'm not exaggerating when I say that it was like a "kill-me-now" project. SO tedious and it took days! First I had to prime all four of them, then I had to do it all again with paint.
But that was before I had a paint sprayer*. My sprayer is one of those things that now that I have one, I don't know how I got by without it. So this time around I brought my chairs outside and set up shop in the backyard with my Flexio 5000 sprayer. I only had to paint two this time, because I replaced the side chairs with vintage chairs about a year ago.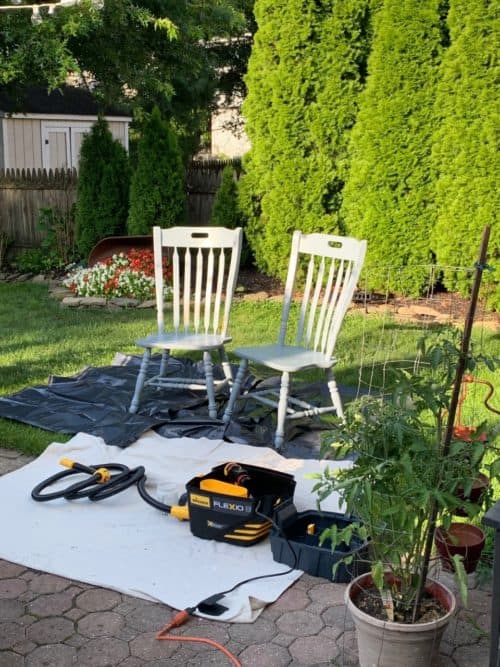 I started by turning them upside so I could get underneath first. When I did this, I noticed how many spots I missed the first time around when I painted them by hand.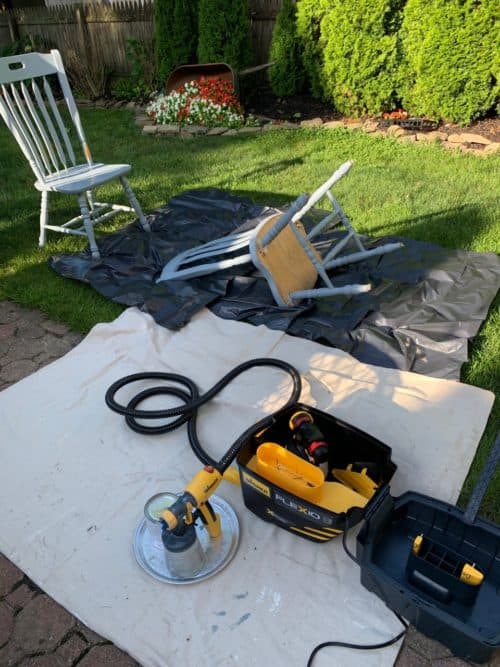 I still liked the blue-gray color I originally chose, but I wanted to go just a hair bit lighter. I ended up buying a color called Benjamin Moore Waters Edge. Very pretty and the color difference is almost indecipherable from the original color which was called Evening Eclipse from Valspar. The Water's Edge (shown on the right) is a tad brighter.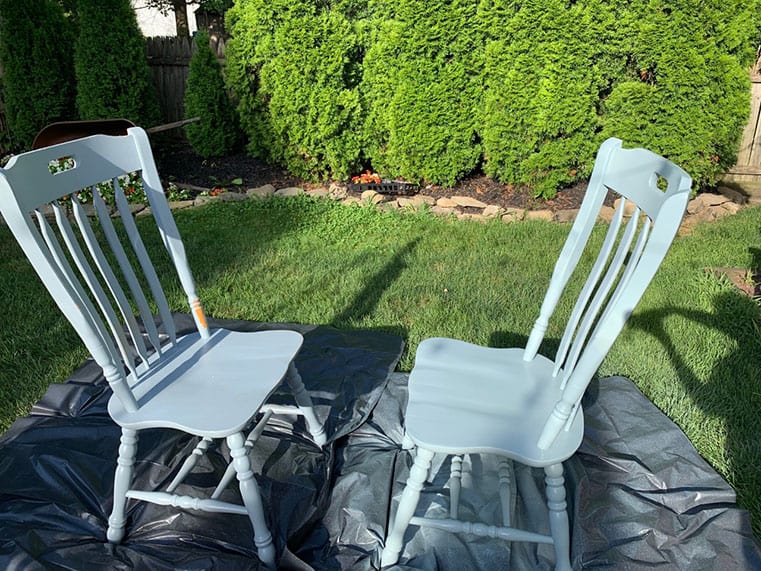 Do you know how long it took to repaint these two chairs with the sprayer? About 10 minutes!
Because the colors ended up being so similar, there's no dramatic before and after pictures with this project. But I do love the color so I'm not mad about it.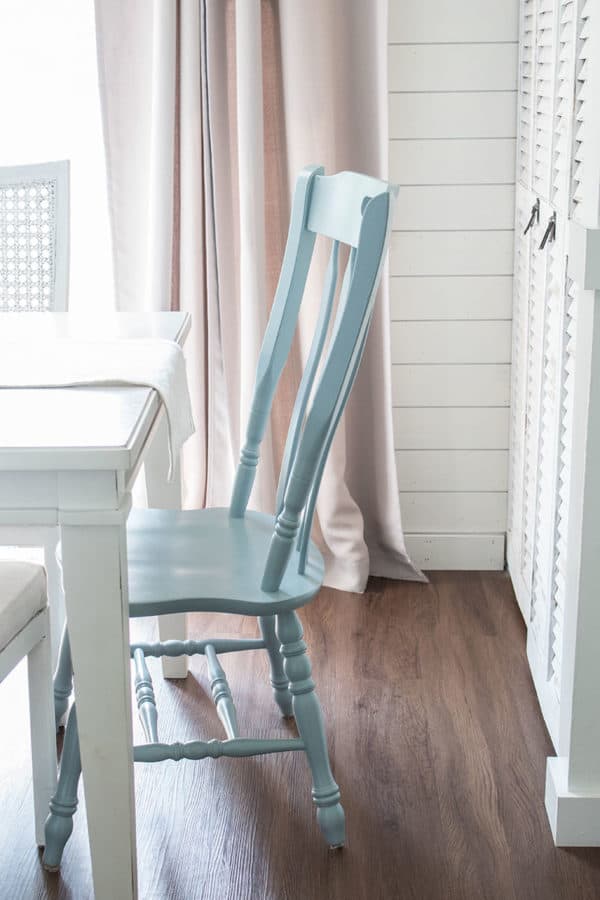 They bring a nice pop of color to my otherwise neutral kitchen.
It's amazing what having the right tool for the job can do! Painting chairs doesn't have to take days!
You can see more DIY projects from this kitchen below:
Please Pin: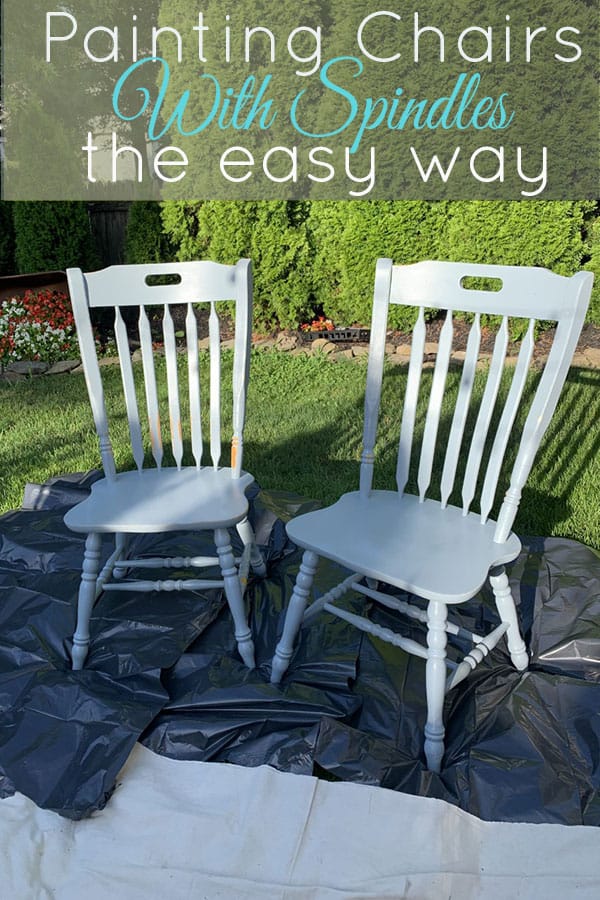 *This post was in partnership with Wagner Spray Tech, all opinions are my own. You can read my full disclosure here.