Found: The Perfect Neutral Area Rug
 This post is in partnership with World Market, a brand that I love. All opinions are 100% my own.
I'm back from my little blogging break! I took two weeks off to recharge and catch up on some ongoing projects around here. I painted all of the trim and doors downstairs (some of which hadn't even been painted since my kitchen makeover!) I also spent a ton of time putting things back in order after finally completing our board and batten project, which I will share soon. I also spent some time shopping around for a new area rug for my living room.
Area rugs are a great way to add color and interest to a space. That is exactly what I was going for when I gave my living room a light makeover last year. That makeover was done using mostly decor only, this time around I wanted to go back and fix the larger details. We really needed new floors and moldings. Now that this project is finally nearing the finish line, I realized that I'm tired of the pink accents in the area rug from last year and it's time to go more neutral and classic. An area rug is a large element of a room, so finding the perfect neutral was important this time. I don't want to have to change it in another year and a half.
After searching online for hours and hours I have finally found the perfect neutral solution. (How did we ever shop before the internet? It would've taken months to research rugs without it!)  It's called the Ivory Oliver area rug * and it's from Cost Plus World Market. I couldn't love it more!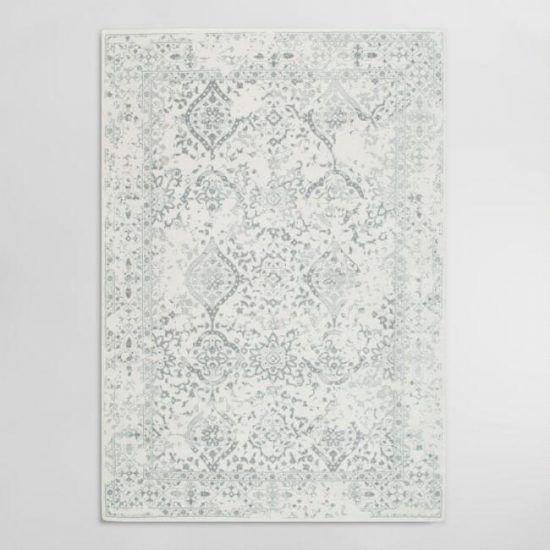 It has a subtle blend of my favorite neutrals;  blue, white and gray. I love how it's faded in some areas for a slightly vintage look.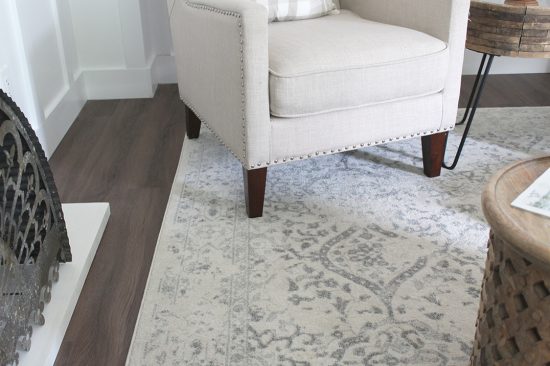 I will admit that I am concerned about keeping it clean with the white background. Since I've gotten it a few weeks ago it's as if it has a big bulls-eye on it. My dog had an accident in the house (which he never does) on day three of having it here. I will spare you the details, but it was more than your typical accident. Fortunately, after tons of scrubbing, it was as good as new. If you are wondering, this is what I use for carpet stains, nothing else comes close.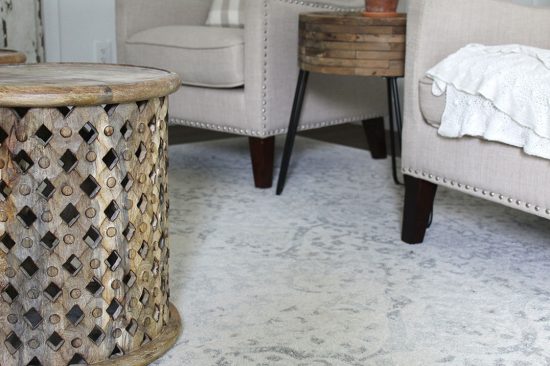 Make sure when buying a rug for your space that you go large enough. You might have to spend a little more but you don't want it to look like a postage stamp in the room. I used an 8 X 10 for my living room. Bigger is better in this case.
Here are a few more of my favorite neutral rugs. Use the arrows to scroll through them and click any picture for more details.

And of course, this little guy is forgiven.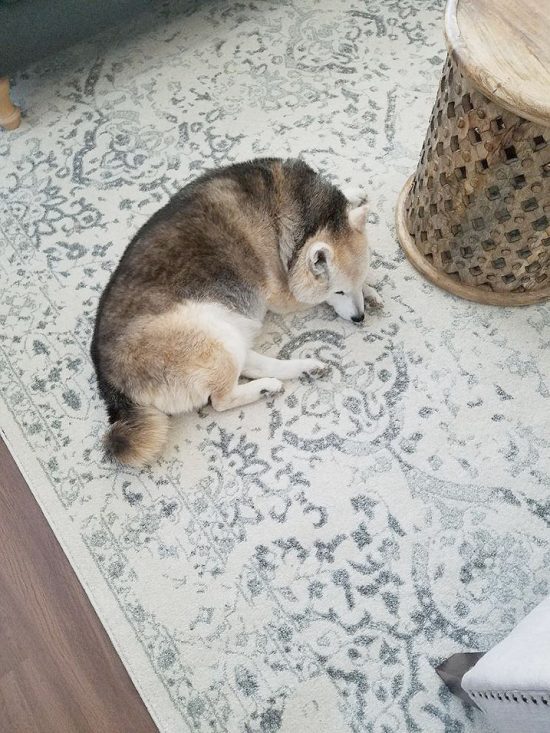 *This post may contain affiliate links, you can read my full disclosure here.