How To Decorate A Small Living Room For Christmas
LEARN HOW TO DECORATE A SMALL LIVING ROOM FOR CHRISTMAS WITH SIMPLE IDEAS THAT ARE INEXPENSIVE AND EASY, BUT ALSO INCREDIBLY BEAUTIFUL!
Decorating small spaces for the holiday season can be a challenge, especially when introducing a large tree indoors! But over the years, I've managed to find ways to make it work.
For those of you with small spaces, I thought I'd share a few tips on how to decorate a small living room for Christmas.
Christmas trees in small living rooms
Regardless of how small your space is, there are a number of ways to fit a beautiful Christmas tree.
Even in a small space, you can have a full-size, gorgeous Christmas tree. Although I love real trees, I've found it to be best to have an artificial tree because it's easier to control the exact size.
Full Size Tree In Small Living Room
With an artificial tree, you can also keep some branches folded in so you can push it in closer to the wall. Every inch matters in small spaces!
With the tree above, I added a few real branches of a Frasier Fir tree to make it look a little more realistic and to give the Christmas tree scent.
As you can see, it's every bit as beautiful as a real tree!
Even with a small-sized tree like the one above, I still have to remove a piece of furniture to fit it in our living room. I remove a side chair and put it in a bedroom while our tree is up. It's worth it to me to have a full-sized tree.
small tree in living room
However, if you don't want to go with a full tree, a mini tree can be just as beautiful! One year I opted to have a small tree in my living room instead.
What was nice about this was that I used a real tree. A real mini tree is much easier to manage in a small space. I didn't have to move any furniture for this one. I simply placed it on a side table and wrapped the base with a plaid scarf.
This is a great option if you don't have the space to store a large tree for the rest of the year.
Put the tree in another room
Who says the tree has to be in the living room? Not all of us have large spaces with a roaring fireplace to display a tree.
In that case, maybe you have a larger dining room or porch that would fit a tree better.
You can enjoy the tree in whichever room it's in! There are endless choices when it comes to tree sizes. See where one would best fit your space and go from there.
If you buy a full-size tree for your small space, I highly recommend pre-lit. You don't have to worry about having enough room to circle the tree a dozen times to string lights onto it.
easy Christmas accents with big impact
Even without a tree in your room, you can create a big impact with the simplest of accents! Sometimes, less is more this time of year!
decorating with branches
Whatever the holiday or season, decorating with branches is my favorite go-to when it comes to decor. Mostly because I love adding natural elements wherever I can. But also because they're cheap (or free) and because a little really does make a large impact!
You can also use pinecones scattered across a side table or coffee table.
Use Candlelight
Nothing – and I mean nothing – brings the ambiance like candlelight does! Even with the most minimal of Christmas decorations, adding several candles to the room can make it look magical.
Even a small grouping of items with a single candle, as above, creates a beautiful vignette. That one was on my kitchen table but could easily be used on a coffee table as well.
Here is another simple setting I put together on my coffee table one year ago. Again I used everyday items such as candles and books but I added a small, live mini Christmas tree. This one was so simple and still one of my favorites.
If you aren't a fan of real candles, the flameless type works just as well for ambiance. One year, I even made my own floating candles to use in a Christmas centerpiece.
decorate with fresh greenery and garland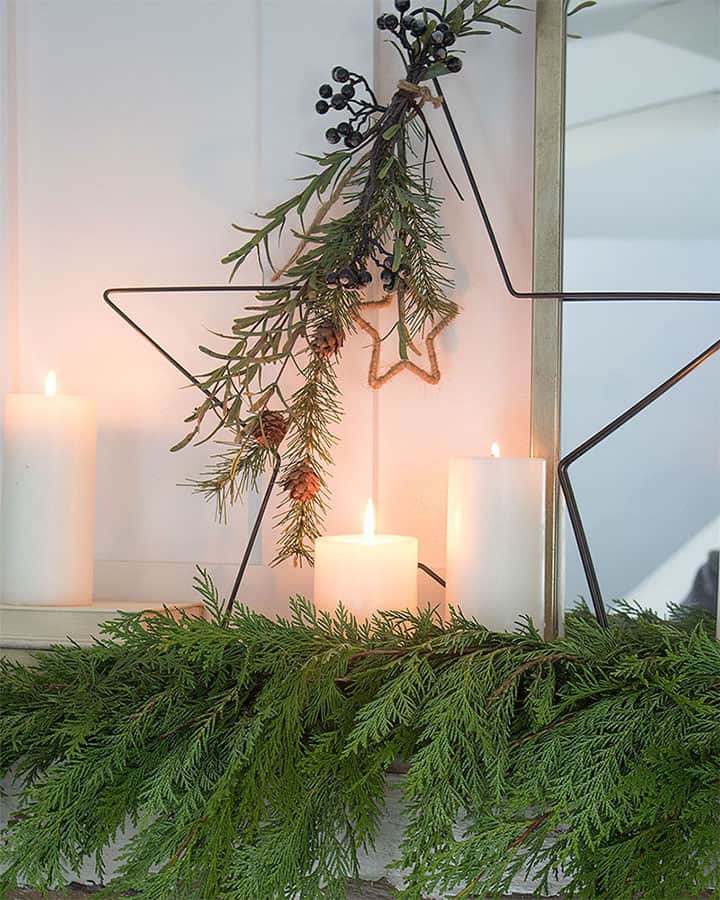 Whatever size space you have, fresh greenery (or faux garland if you don't love the mess) is your best friend. Nothing adds life, color, and texture to a room like greenery!
It doesn't need to be a giant garland. Even just a few snips of greenery added here and there make a significant impact.
Create a focal point
I like to create a focal point with my Christmas decor just as I would when decorating a room normally. You don't need a mantel to do so either!
Christmas Mantel Decor
We don't have a real fireplace, but I created a faux one with this wood mantel. If you don't have a mantel, you can use a shelf or a console table. You can also make your Christmas tree the focal point.
use a wreath
Hanging a beautiful wreath over a mirror or a piece of art on the walls can also create a pretty focal point in a room.
go vertical
In a small space, using vertical space is key. Rather than covering every available surface in holiday decor, hang a few things strategically to bring in the Christmas spirit.
Our front door opens right into our living room, so I created a makeshift entry space with a small side table.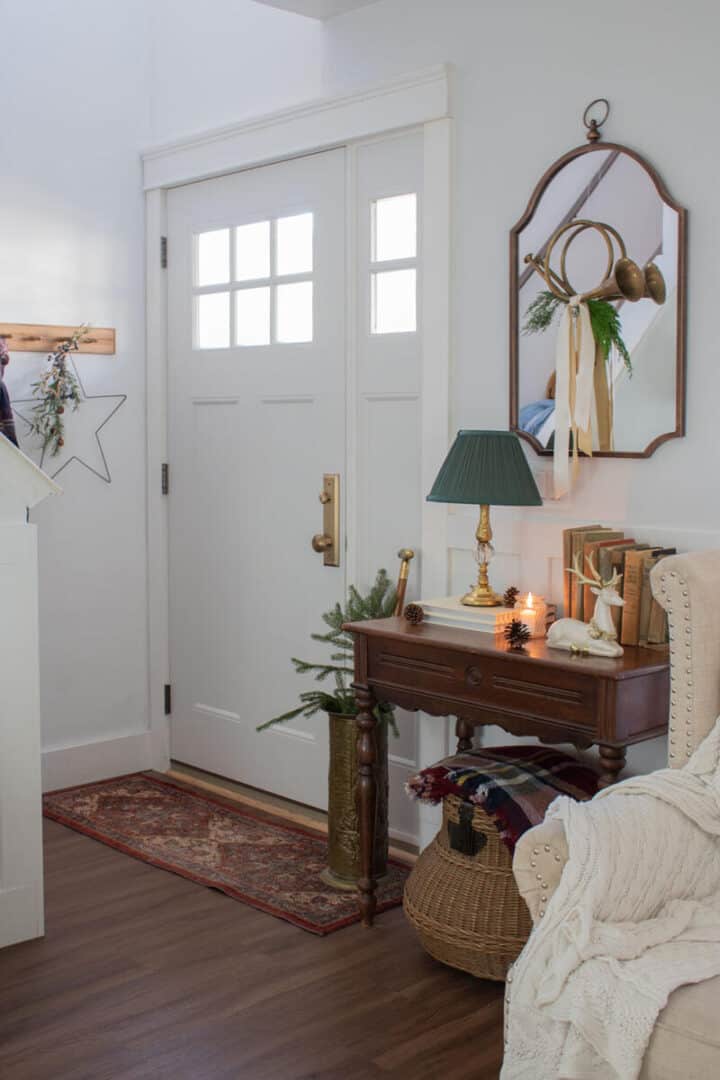 Using only what was already there, I added Christmas decorations. Such as fresh greens in the umbrella stand, and a Christmas horn hung over the mirror. Other years, I've also had a wreath over the mirror.
Also, consider using Christmas lights on walls or around doors and windows. That is an easy way to make it really beautiful.
Hanging Christmas wreaths on your windows is another space-saving idea to add holiday cheer. Windows are the perfect place to add accents without taking up any space.
Another idea is to change out your normal decor, such as small area rugs, to something more festive. Last year I replaced my normal entry rug with one that has shades of red to match my Christmas color scheme.
These are all simple ideas to make your room festive without taking up any extra floor space.
Everyday items DOUBLE as decor
Everyday items can often double as decor.
Using everyday items as decor is something I not only use at Christmastime but all year long. It is very helpful when living in a small space.
To do that for the holidays, I will often use gifts as decor. Wrap them beautifully and keep them in sight. This is a money saver too.
I always buy plain colored wrapping paper. This way, I can use it all year long and dress it up with seasonal ribbon. Nothing gets wasted.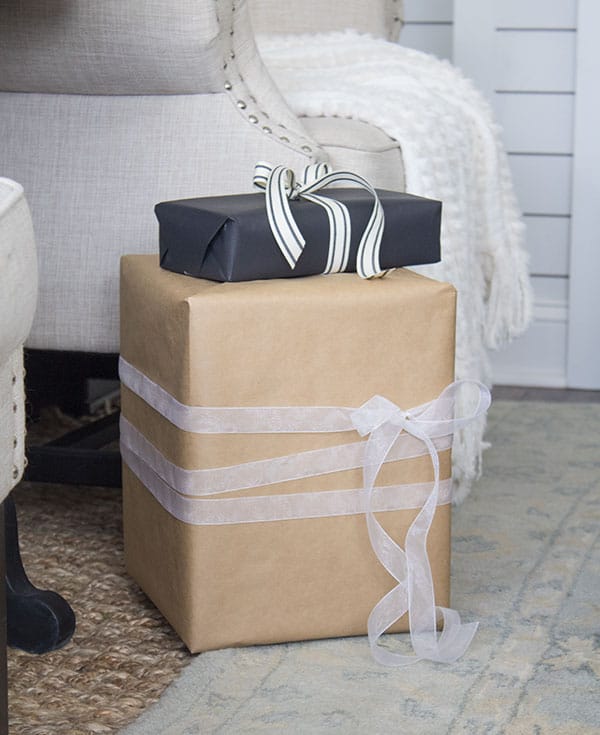 Or simply stack your books on a table with a small Christmas detail such as a deer on top.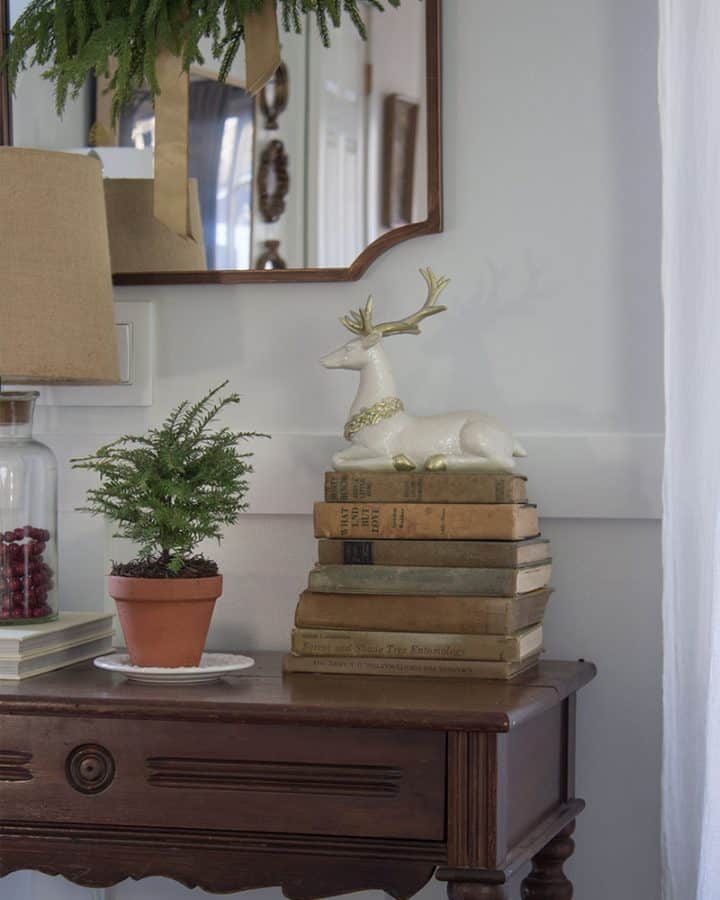 How to decorate a small living room for Christmas
Here are a few more quick and easy ideas for decorating a small living room for Christmas.
Grab a container from your garden or a bowl from your kitchen and fill it with ornaments. Use a small mirror as a candle tray. You can even just tie simple ribbons from chandeliers or wall sconces for a simple but festive accent.
I always try to make the most of my small living room space without going overboard or making it too cluttered.
use Christmas items as decor
Need a few more ideas on how to decorate a small living room for Christmas? Using Christmas items as decor is a great way to save space, time, and money!
Make a wreath out of Christmas cards.
Hang Christmas cards on the wall in the shape of a tree.
String your favorite ornaments together to make a Christmas garland. Hang it over a window with command hooks.
Change out the covers on your everyday throw pillows to something more seasonal. Pillow covers are small and easy to store away.
Fill a bowl with ornaments and string lights.
Scatter pinecones over a table.
You really don't need a ton of decor to create Christmas cheer this holiday season. Whether you live in a small apartment or have the tiniest of living rooms, it can become a winter wonderland with a few well-thought-out accents!
Wishing you all a happy Christmas season!
---
YOU MAY ALSO LIKE: