Hi guys. How are your holidays coming together? I've been working on my kitchen area with table settings and pretty accents.
Fun Fact: I've never lived in a house that's had a dedicated dining room. Not that I really miss having one. The only time I wish I did was when I host a holiday – which is usually only Christmas.
So I set my kitchen table for Christmas dining. But it's the Christmas centerpiece that is my favorite here.
This antique and weathered little baking tin was the inspiration here. I found it at the flea market and the guy wanted over $20 which I thought was way too much. But I knew it was perfect for Christmas flowers.
After some bartering and got him down enough to buy it.
Rusty, weathered old vessels with fresh flowers are my favorite. The combination is just so pretty. So I put an amaryllis bulb in here. I thought the amaryllis was going to produce one flower, but this one bulb produced four with one more on the way. That was a nice surprise.
It took about 3-4 weeks to bloom. I am going to get more and start them the week of Christmas to help brighten the house in January. These bulbs can be saved and reused again next year.
I used a mason jar with water inside the baking tin because I didn't think the tin would hold water. Then I added a few more greens to fill it out. I forget if those are juniper or cypress evergreens.
And can we talk about those brass candleholders? They are vintage and I could not love them more. I ordered them online and they were bigger than I expected. However, the larger size makes them even more beautiful.
Next to the Christmas centerpiece, I placed a few oversized green velvet pinecone ornaments. I only have 2 of those because they were NOT cheap but I LOVE them. I couldn't find the green ones online but here they are in brown velvet.
The dinner plates are my favorite base set of white dishes and the small salad plates are vintage dishes made in England. I love those for fall or Christmas tablescapes.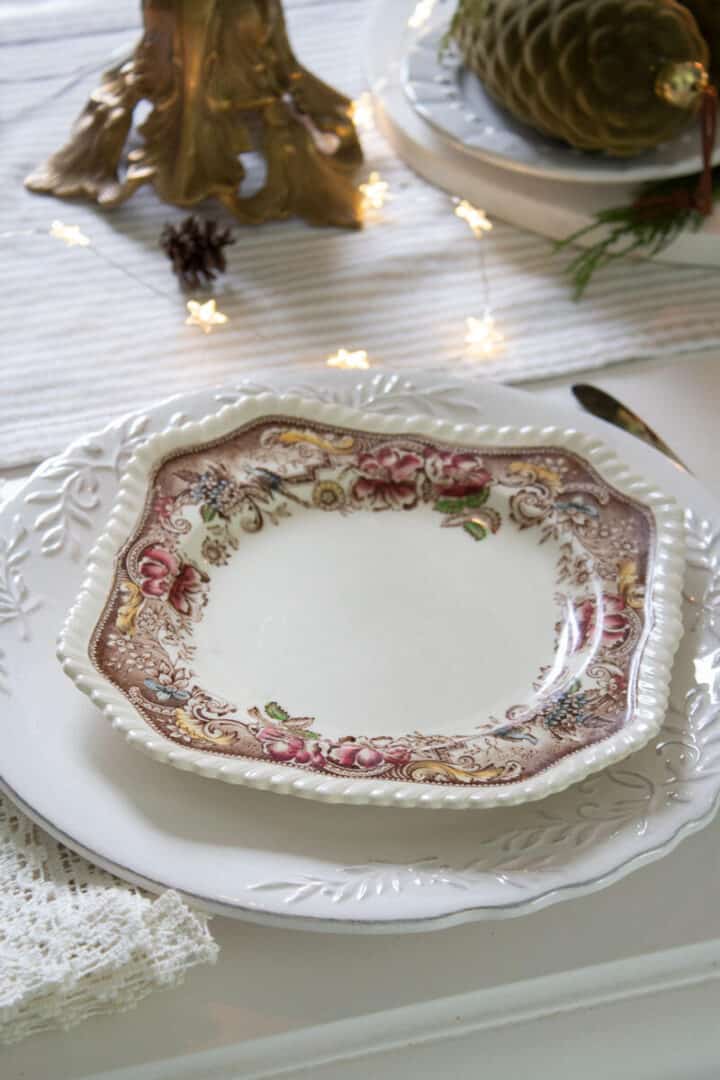 I only have four of the English dishes so I mixed and matched those with other vintage salad plates I had. There's something about using mismatched dishes that I really like.
The only other details are votive candles and one set of string lights.
This was obviously very simple to put together, especially the Christmas centerpiece. But I love how it turned out and it feels very classic.
Even if your flower bulb doesn't bloom in time, the bulbs look pretty on their own. I made a Christmas centerpiece with a large bulb that wasn't blooming a few years ago on my vintage Christmas table.
I'm linking below to some of my favorite Amaryllis bulbs. The giant variety from Terrain is my favorite but the one I used in this centerpiece was a regular bulb from either The Home Depot or the Christmas Tree Shop. Both of those stores carry them for around $10-12 for one bulb.
Keep in mind, these make a great gift idea too.

---
I have another display containing a mix of amaryllis and pine branches in my house as well. This idea could easily be used as a centerpiece on your table as well. You'll need pitchers or watering cans in varying sizes to create this one.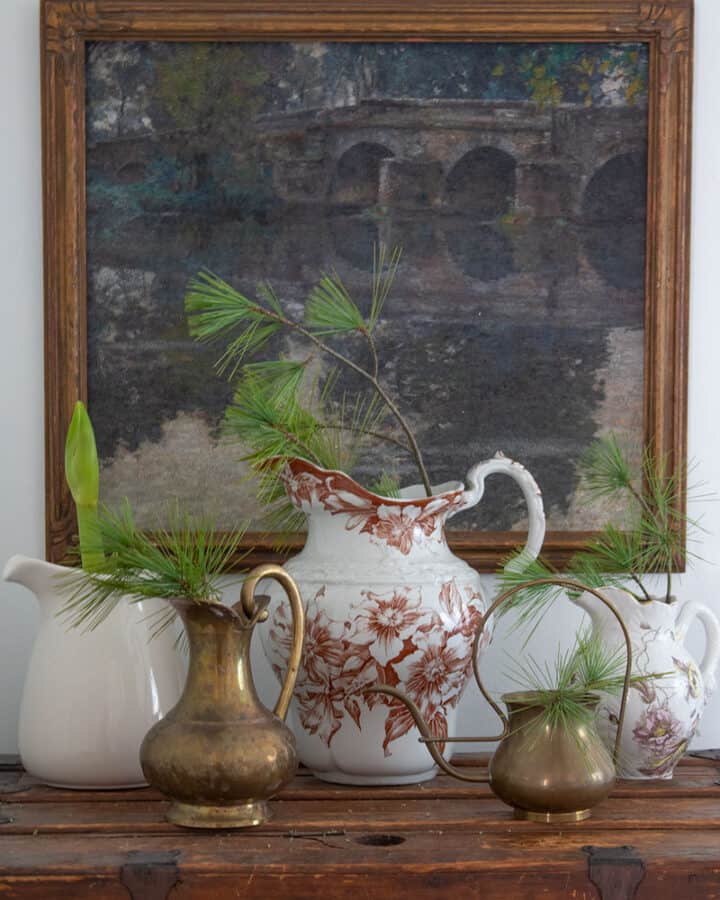 Mixing the Amaryllis bulbs with branches is a way to keep the cost down on this. The branches were free! You could also use a mix of Paperwhite bulbs.
I hope you found something you can use here! Happy holidays & Merry Christmas!
---