Last week I showed you my Christmas mantel ideas but I didn't show you the rest of my Christmas living room. The mantel is the star so I kept the rest of the room minimal but festive.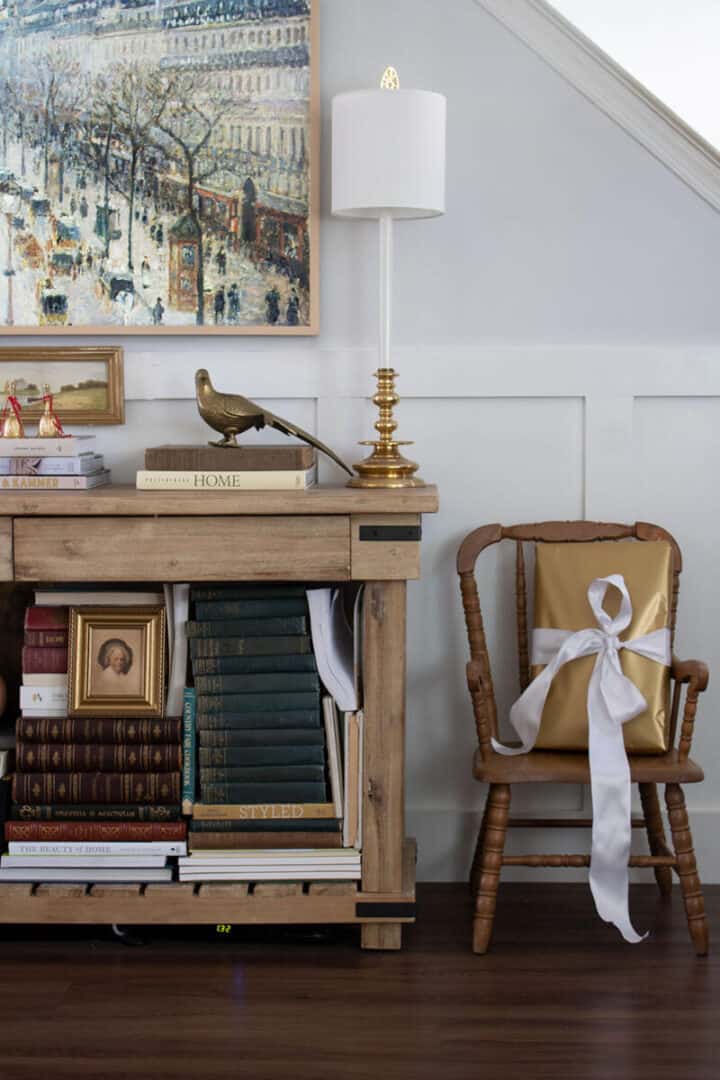 My living room is small so I really didn't want to put the tree in here this year. When we do, we lose seating which I will need for Christmas this year.
The only addition to the TV area is tiny brass bells.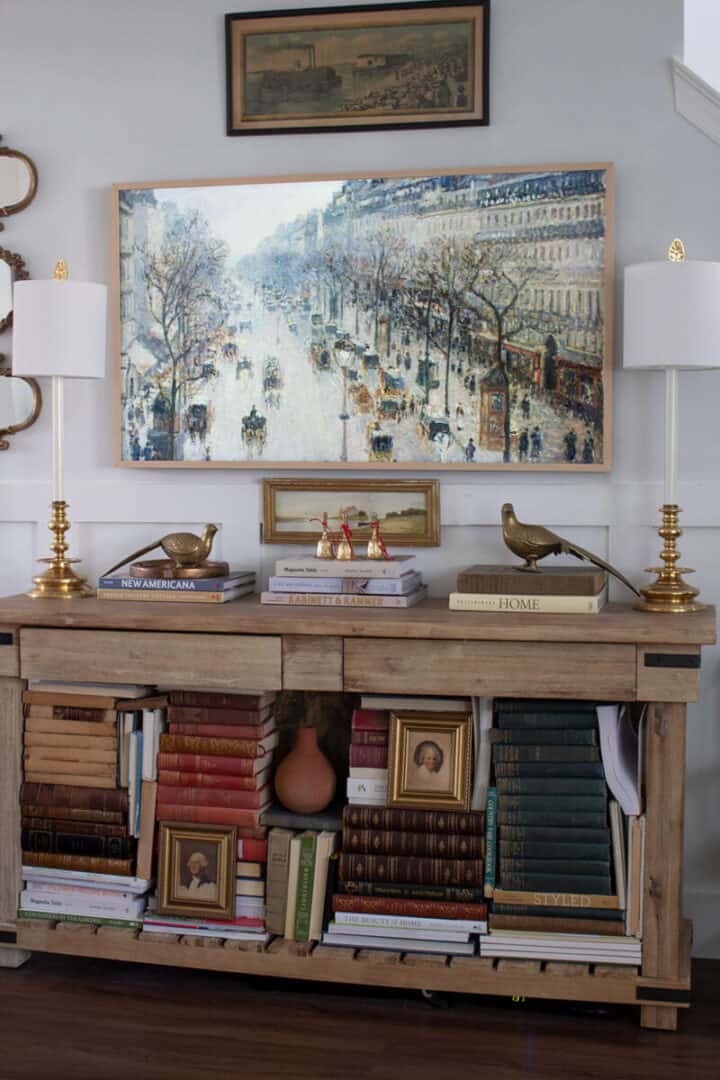 The TV area has enough going on so just a small accent here was enough.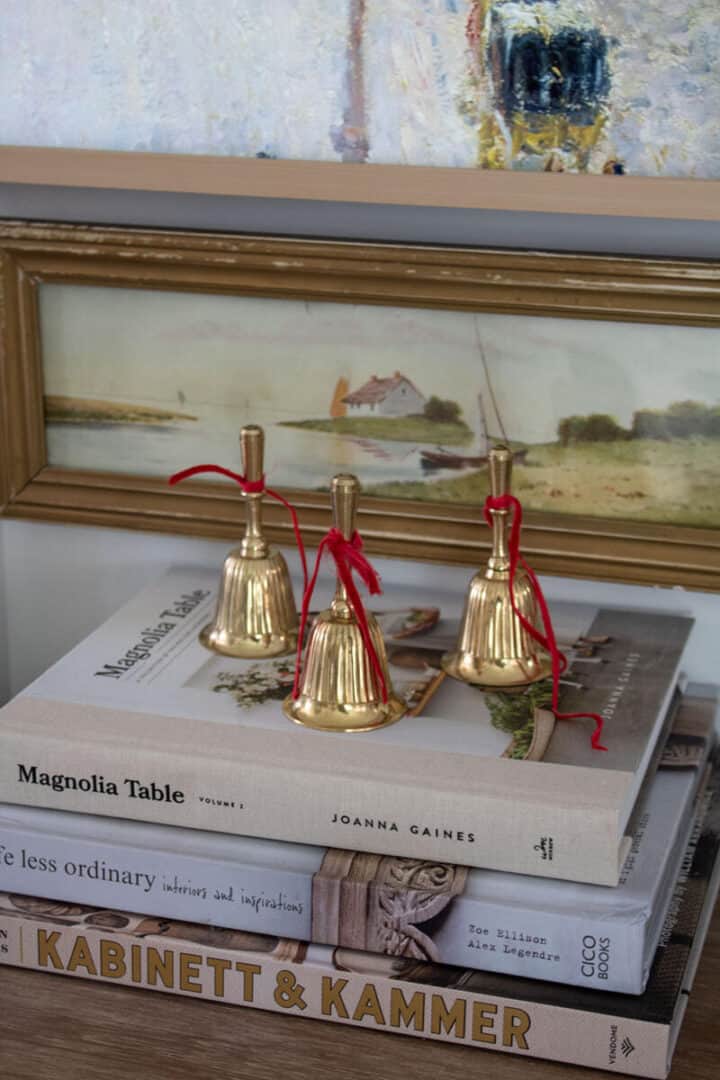 How adorable is that little vintage chair, though? I found that while thrifting and picked it up for when my niece comes over with her baby.
For the entry area, I hung a brass horn on the mirror. I embellished that a bit with a sprig of greenery and ribbon.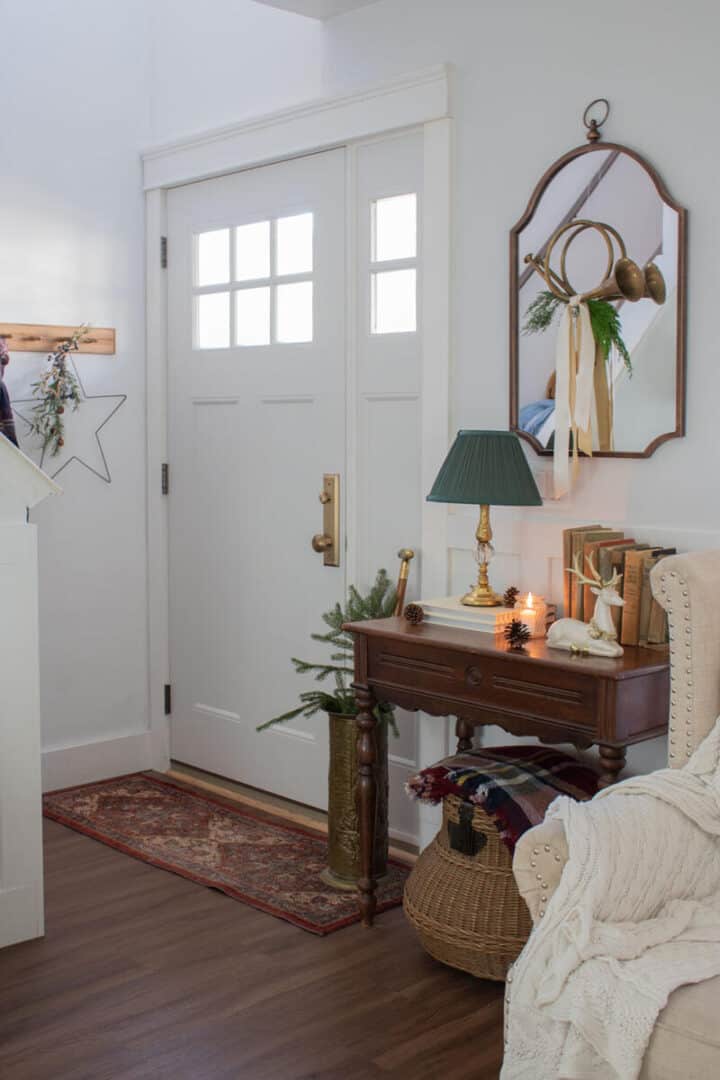 That white deer statue I've had for years and it makes an appearance every year. He's a favorite.
The lamp is vintage. That was a super fun find. I was picking up something I found on Facebook marketplace and the woman had this lamp out when I got there. I was more excited about this than what I initially went to pick up!
This pottery is a vinegar jug from the 1800s and one of my favorite thrifted finds to date.
In the jug, I placed a branch from a pine tree. I had my husband drive me around the block to cut branches off a tree to use for decorating, they're perfect in this jug. He's used to my craziness now so he didn't even think twice about it.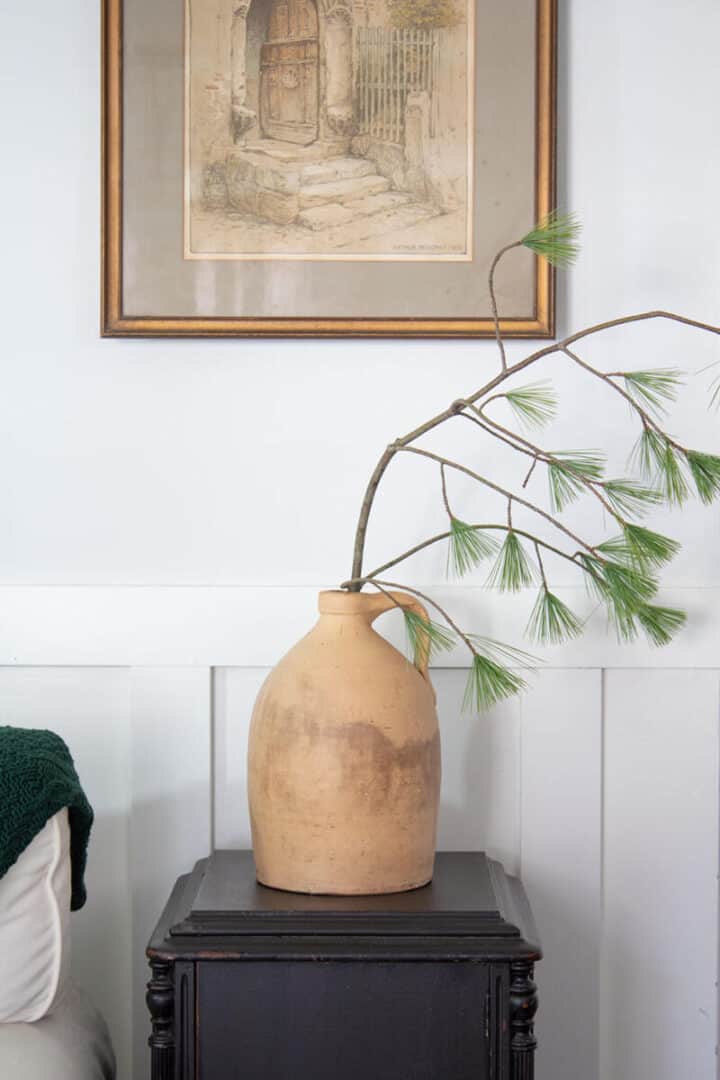 Branches are great way to add a touch of holiday without taking up much space.
Because our Christmas tree will not be in our living room this year, I put this small artificial tree in a planter instead. I kept it super simple with just a strand velvet ribbon.
I like to use lots of pretty ribbons on my gifts so they double as Christmas decor. My kids know to save all the ribbons on their gifts each year, so I can reuse them. Especially this velvet ribbon, it isn't cheap. But it's worth the money.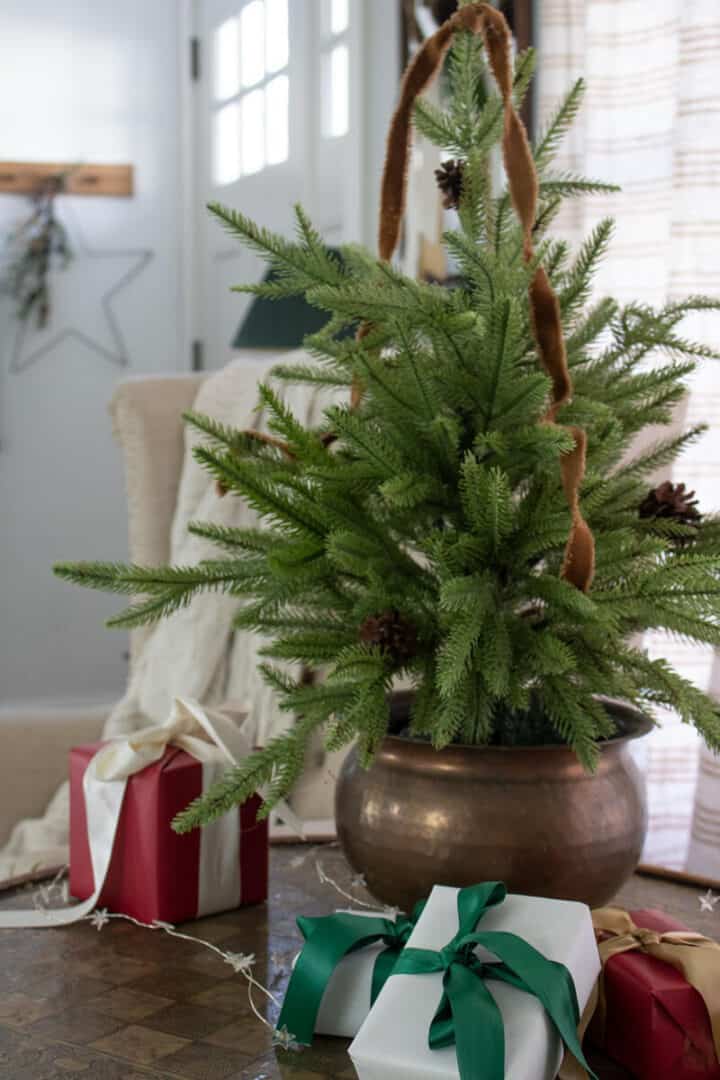 For the coffee table, I kept that very simple as well. I put white candles on top of a small vintage mirror and covered the bottom with fake moss.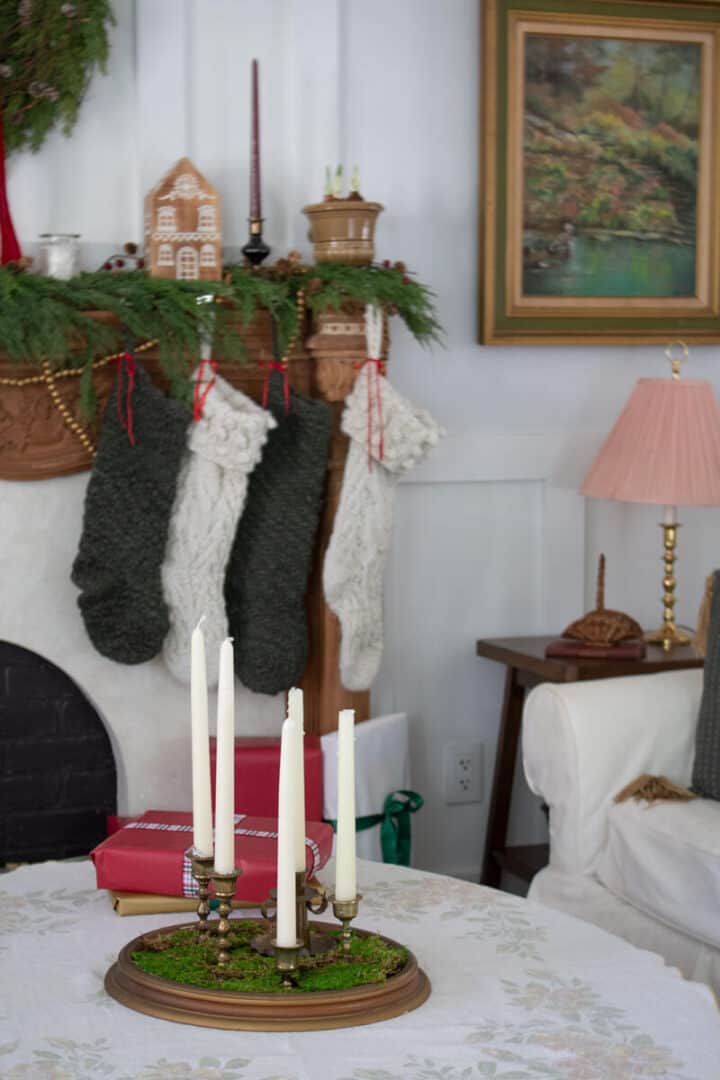 My living room is in need of a few updates, such as painting and finding a new coffee table that fits better. I have a DIY idea for the coffee table that I'm looking forward to working on. These updates are high on my to-do list for January.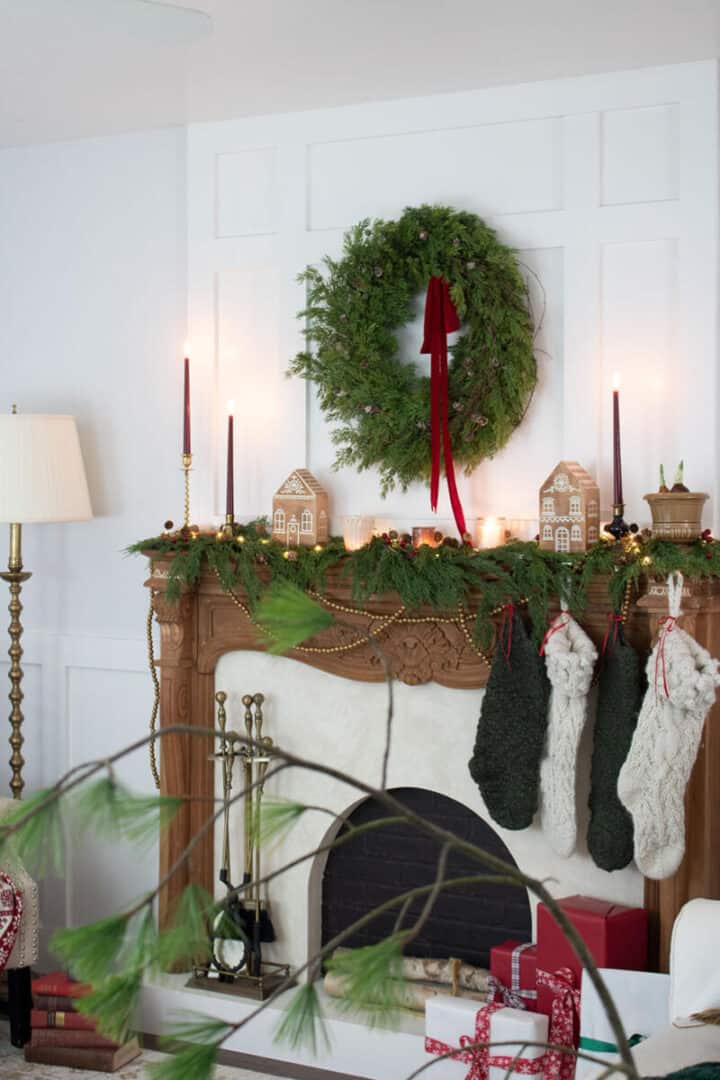 You can shop for similar items shown in this post below.

---
I'm still working on my porch and my Christmas tree but I'm very close to being done. I look forward to finishing it all up so I can sit back and enjoy it for a few weeks.
---
YOU MIGHT ALSO LIKE: