Vintage Christmas Decor and Tree
OUR VINTAGE CHRISTMAS DECOR AND TREE THIS YEAR IS A MIX OF PRIMITIVE AND RETRO WITH JUST A LITTLE MODERN MIXED IN!
You guys, I'm a little bit of a crazy person when it comes to putting up my Christmas tree.
Ask my kids.
I start thinking about my tree many months in advance. Over the summer, I bought this amazing old primitive hutch. Looking at it in my dining nook, I kept picturing my Christmas tree right next to it.
You probably know by now I love decorating with vintage Christmas finds. Initially, I planned to go very vintage on the tree with tinsel, vintage mercury glass ornaments, and large bulbed lights.
But when I started adding some of those to my tree I didn't love it. I really prefer the look of a natural Christmas tree with fewer ornaments.
Another issue I ran into was the soffit you see above the tree below. The gorgeous artificial tree I bought last year was too tall to fit here. I struggled with the decision of whether to put the tree in my living room so I could use that or buy a real one this year for this spot.
Obviously, I went with the real one. A gorgeous Frasier Fir from a local garden center (but wow did prices go up since I last had a real tree!).
I found these gorgeous vintage knitted stockings and hung them on the hutch. Imagine the time and effort that went into making these! I made my own no-sew Christmas stockings one year and even that wasn't easy. And I only paid $10 for all 3, a very lucky find!
I kept the tree minimal. There's a mix of vintage mercury glass ornaments, dried fruit, and simple velvet ribbons. I did use the lights with larger bulbs for a more old-world look but I could not bring myself to use the colored lights.
Under the tree, I used a vintage quilt rather than a tree skirt. I gave my tree skirt and my artificial tree to my daughter to borrow this year. She has very tall ceilings so that tree will look amazing in her apartment.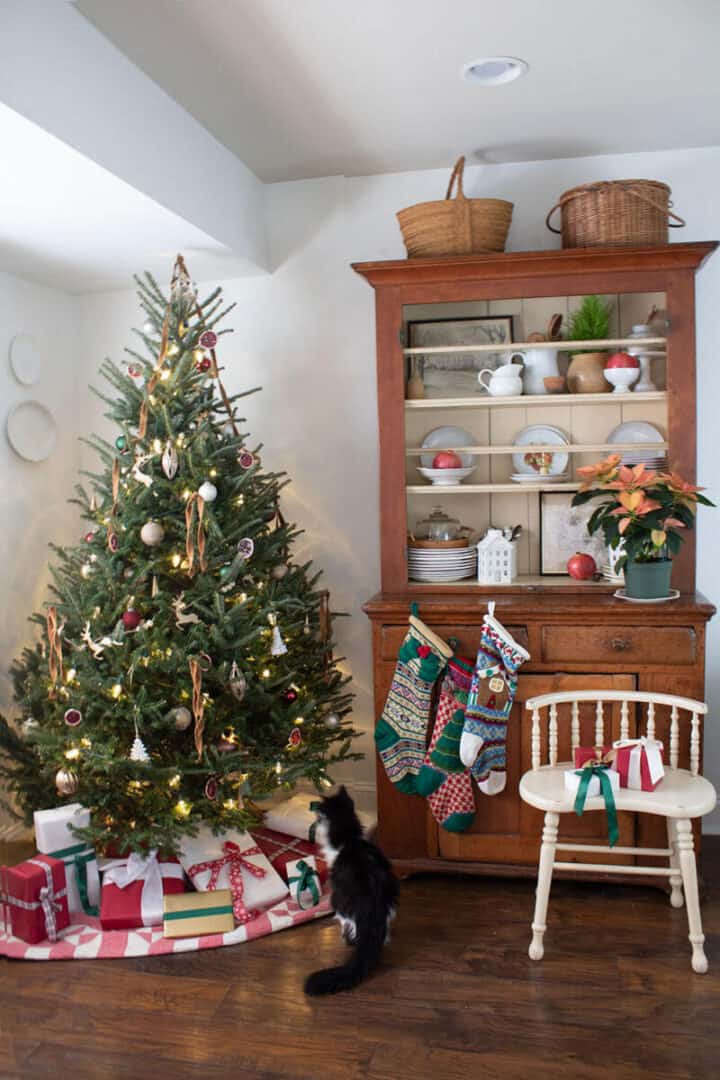 On the primitive hutch, I added a small green tree, a pretty poinsettia, and a few pomegranates. These give it a pop of festive color.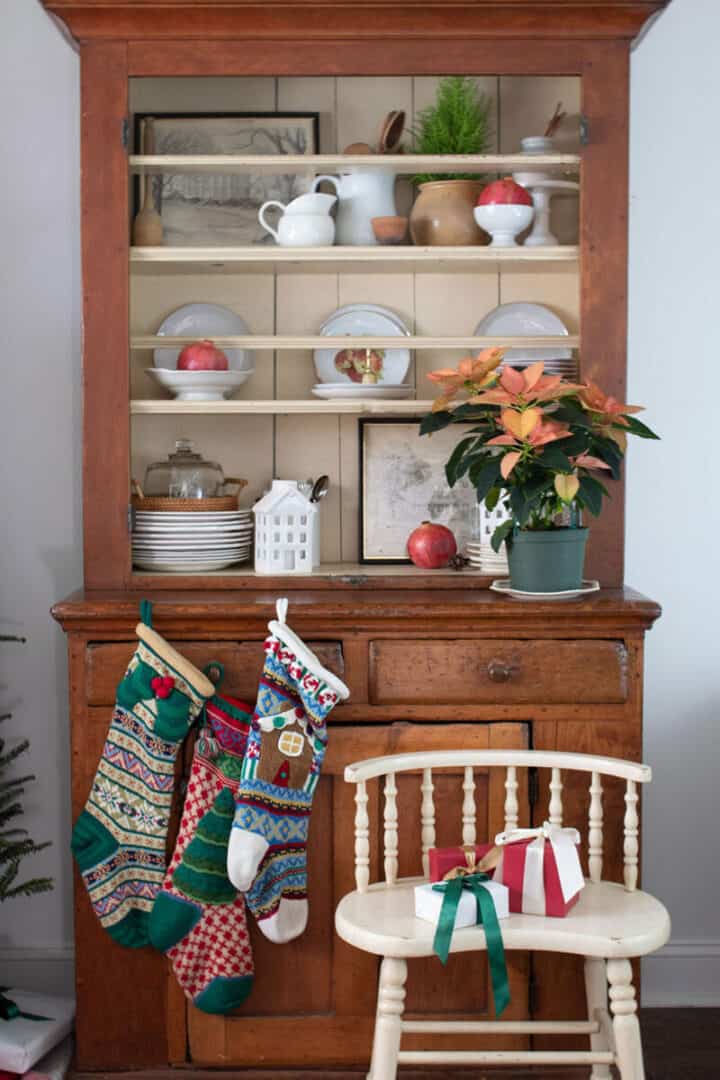 The poinsettia is a unique color with faded red and orange leaves. I found this recently at Terrain (my favorite store) and it was just what I needed for this spot.
Because our house is small having the Christmas tree in the living room is challenging. It requires us to remove one of the chairs which leaves us less seating. We host Christmas and my daughter and her boyfriend will be here for the week so I didn't want to do that.
In the end, it worked out well. I love how the vintage Christmas decor looks in our dining nook. Don't feel like you have to have your tree in the same spot every year. Experiment!
If you also have a small space, consider a small, easy Christmas tree. That's one reason Christmas decorating is so fun, there are lots of different ways to display a tree!
---
---
YOU MIGHT ALSO LIKE: