Easy No-Sew Christmas Stockings: Not!
If you're looking for a happy little post on how easy it is to make your own no-sew Christmas stocking,  then you've come to the wrong blog post. I did make my own, and I'll show you how, but it wasn't pretty.
My Christmas stocking story is long. It all started last year after we converted our garage to a family room. We built out the wall to include a fireplace and a mantle. It was the first time in my life I've ever lived in a house with an actual mantle. I had visions of hanging my Christmas stockings up there with cheer. Then Christmas finally rolled around and although we searched through our millions of Christmas decorations, I couldn't find our stockings. The ones that my girls have had since birth.
So I decided to sew my own. Now at this point, all of my interactions with my sewing machine had ended with a long string of curse words and not a stitch sewed. Not very merry. In my delusions, I thought this time would be different. It wasn't. The machine was packed away, needle jammed, never to be seen again. No stockings were hung last year.
Fast forward to this year. I had the perfect fabric for Christmas stockings just sitting in my closet (find similar fabric here*). A no-sew alternative idea formed.
So last week, I gathered all my supplies. I had picked up 2 stockings at an after Christmas clearance sale last year, so I used one of those to make my template. I traced it onto posterboard and carefully cut it out.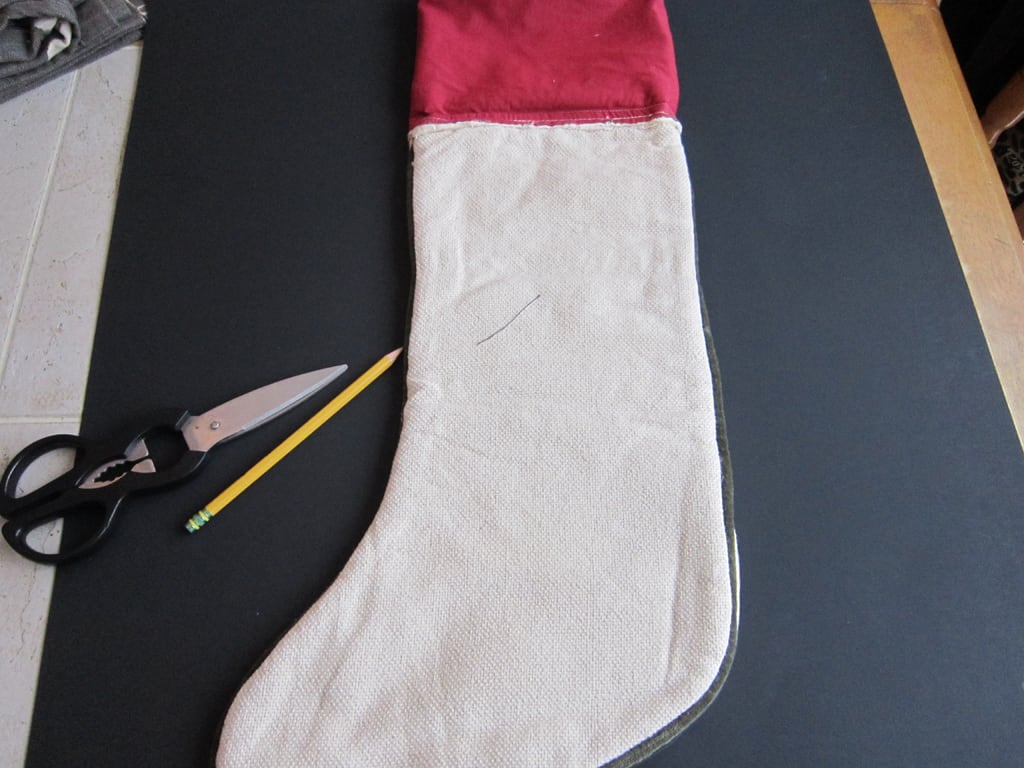 It looked pretty good, so I traced another.
Then I realized they were both facing the same way, so one side would be inside out.
Luckily I had enough fabric for this mistake, so I went on to the third one. And I did it the same way again. Maybe I'm not as smart as I think I am. Finally, by the fourth one, I got it right.
Once I got two facing the correct way, I lined them up. I folded around the edges to create a hem. I ironed the folded edges first, then used my fabric glue to hold it in place.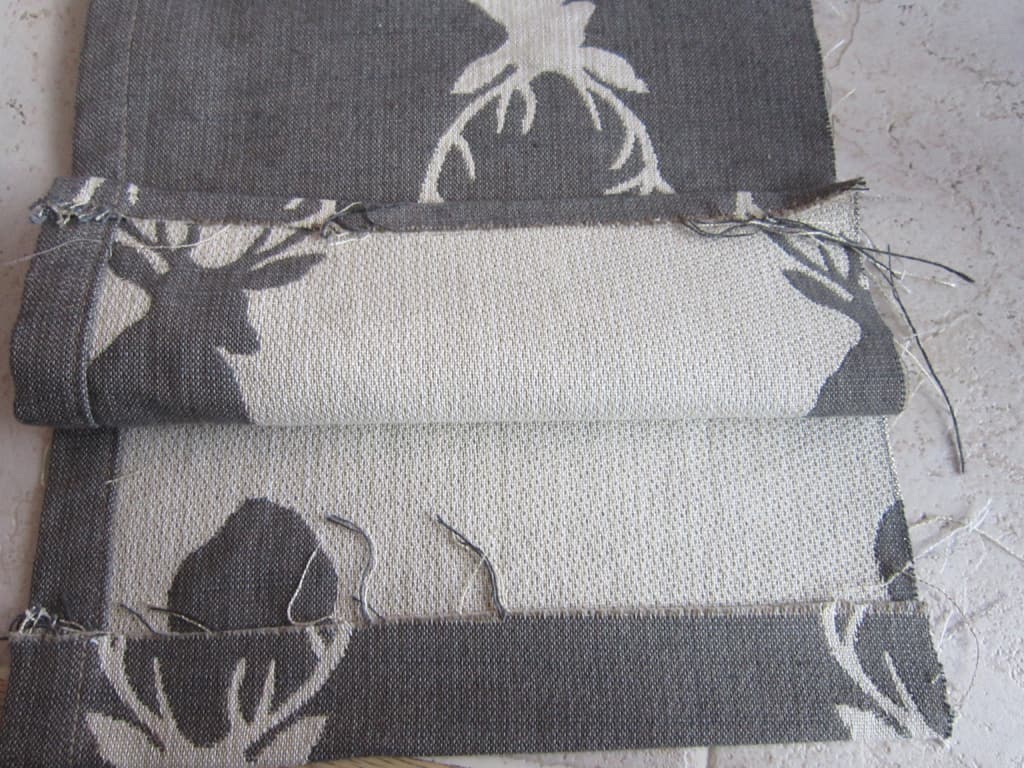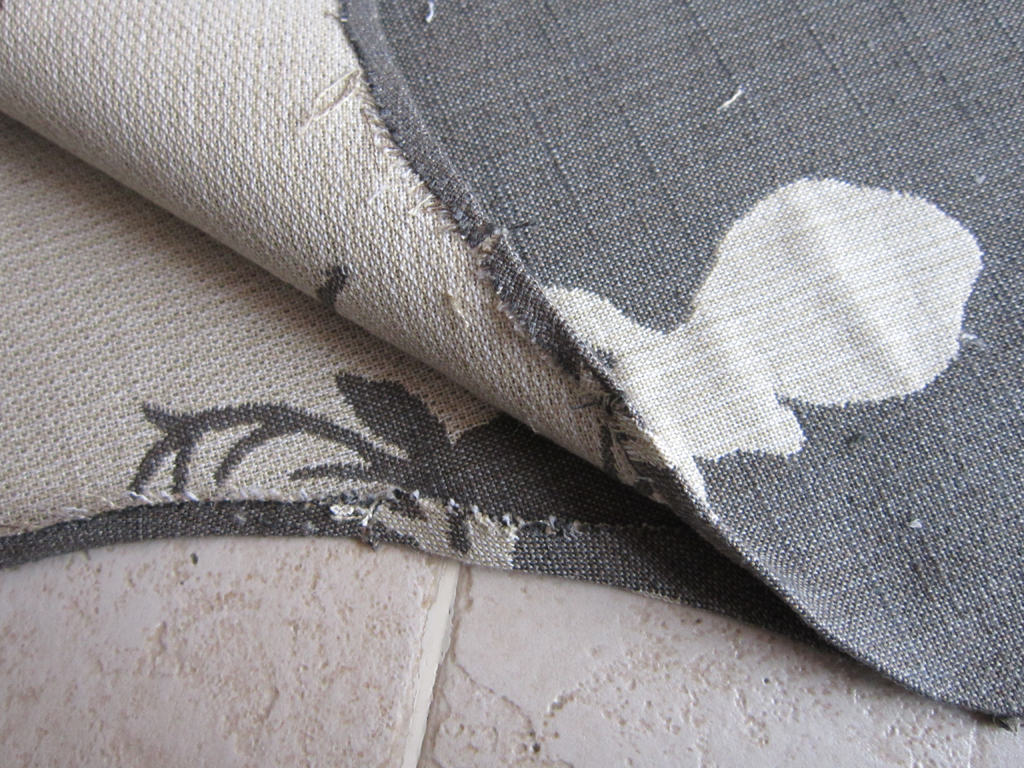 Around the rounded toe area, I had to make little cuts in order to get them to fold nicely without creases.
This Aleene's fabric fusion I used worked really well.
All the folding and glueing was tedious and I started to think maybe learning how to actually use the sewing machine might really be easier. Once the two pieces were even in size, I used the fabric glue to glue the pieces together. Try not to glue the stockings to the kitchen table. And leave the top left corner unglued because this is where you will put in your hanger. I forgot to take a picture of that step. I used ribbon, folded it over and glued it in there.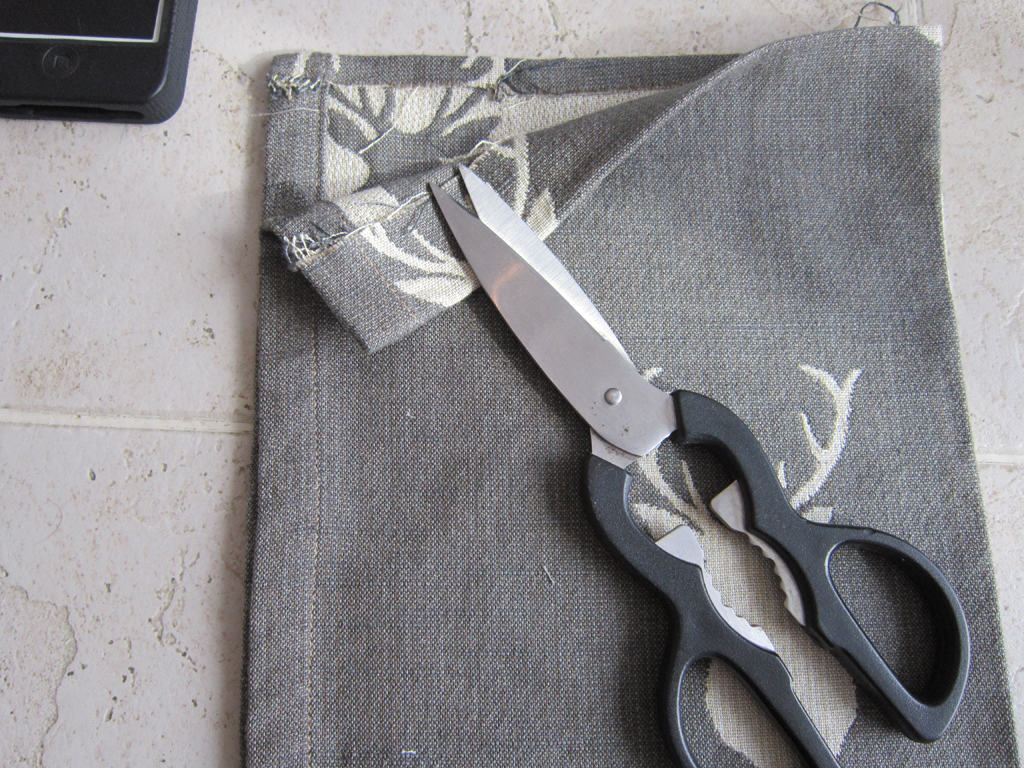 At this point I was moving right along, so I added some ruffled trim to the top in lieu of making a cuff.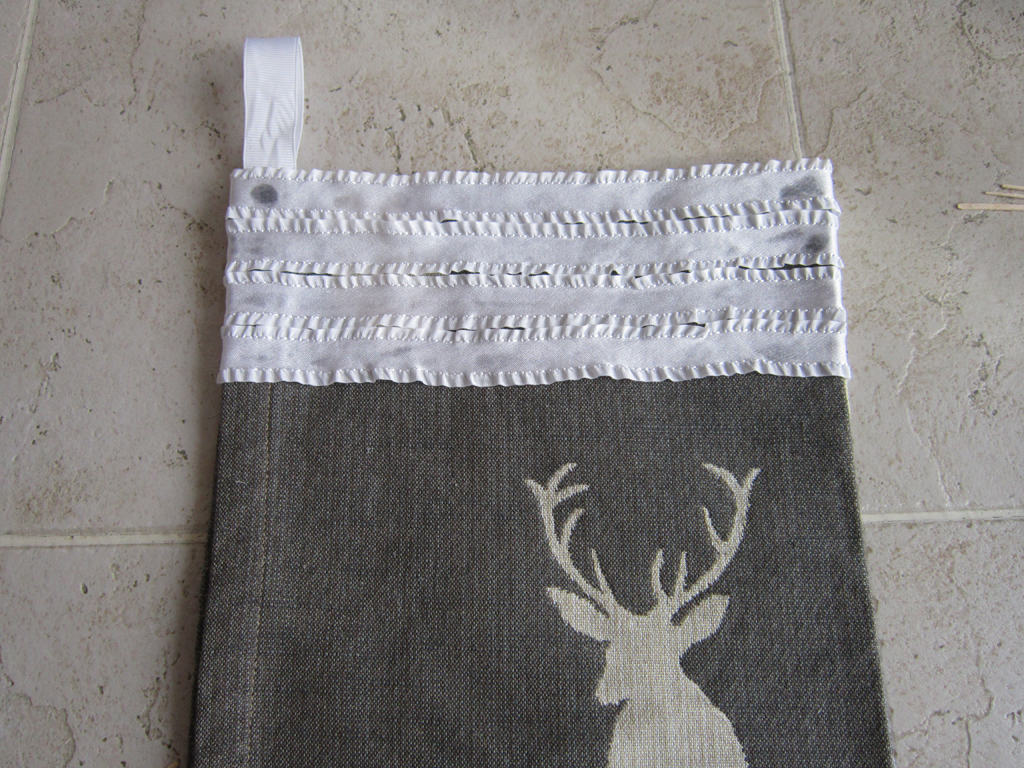 It was getting later in the day now, but I decided I could get the second one finished too. I was about half way through that one when the phone rang. School nurse, my daughter was sick and needed to be picked up. To paint the picture for you:  My house was trashed from gathering supplies to make these stockings, my fingers were glued together,  my yoga pants were covered in dog fur and I'm pretty sure my unbrushed hair had donut crumbs in it. Great.
So two hours later I get back (school is 20 minutes away, stopped for gas, lunch, post office, bank, etc while i was out) and I show my daughter the first finished stocking. She looked for a minute and said why is the top so small? Ugh! So I added another layer of ruffles over the first to beef it up. Here it is with two layers of ruffles, those buttons have yet to be added. And that was about my 20th diet Pepsi of the day.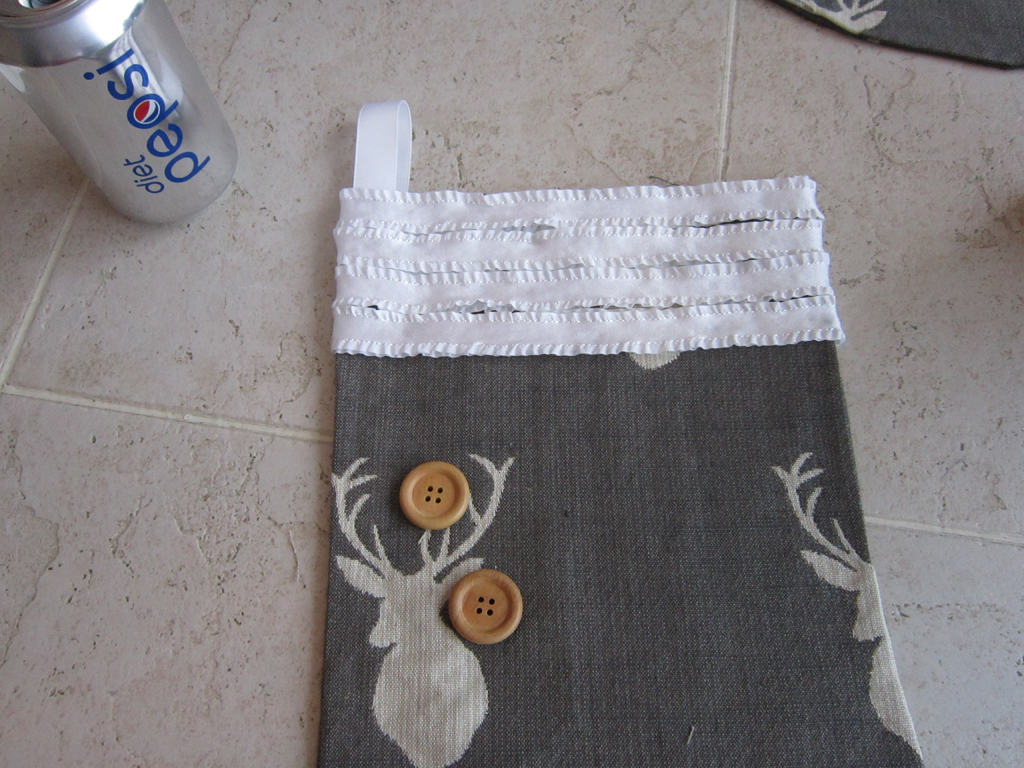 Much better, my daughter says. I hand-sewed the buttons on. Finally I was done.
When my husband came home, I proudly presented him with my stocking expecting him to say "Wow, you made that? Good job!". Instead, after examination, he broke out into fits of laughter and nearly choked on his dinner. "Why is the heel square?" is what he actually said.
Here is a shot of them with the square heels.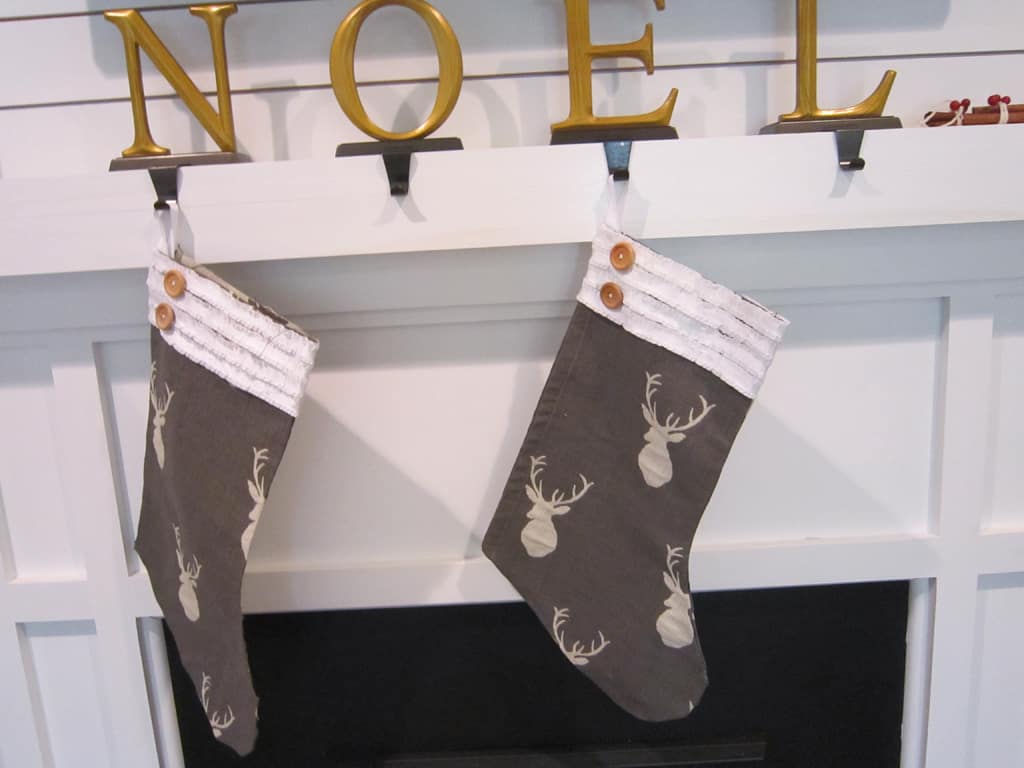 I really considered just leaving them this way because I was really over the idea of making my own stockings at this point. But I knew it would drive me crazy if I didn't. So to fix this I used a protractor to trace a curved line around the heel, cut it out & reglued that section.
Here it is finally complete.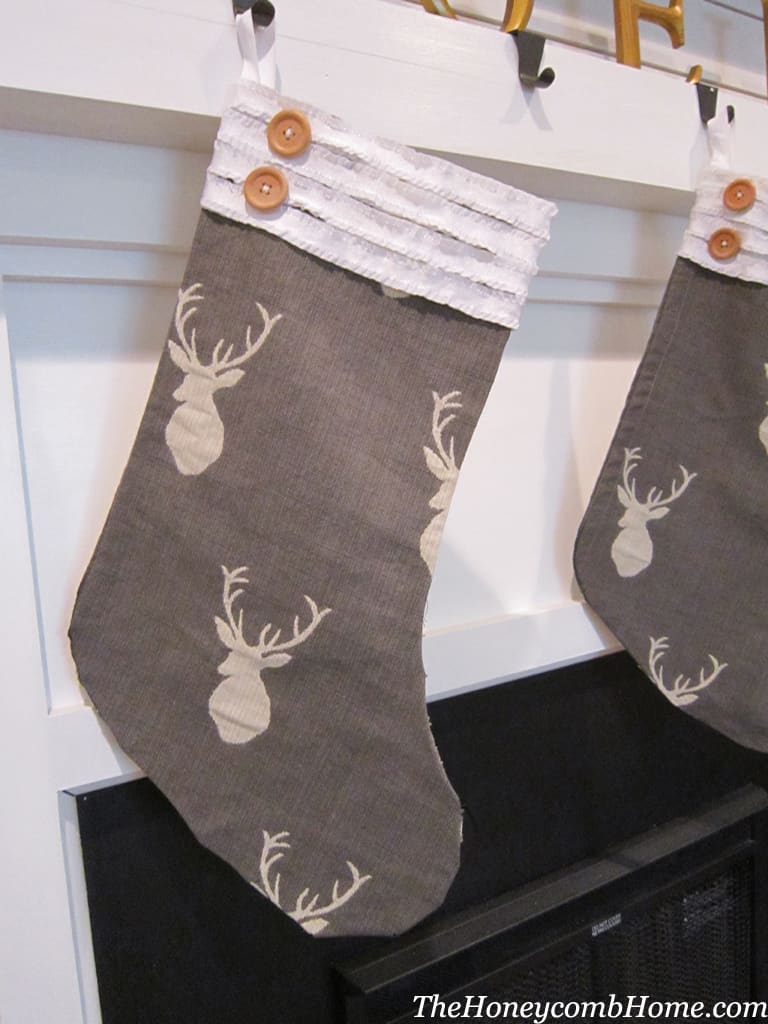 They're really not perfect but I love them anyway. My original plan was to make four. The next two were going to be white, maybe sweater material, with the leftover deer fabric for the cuffs. Maybe next year. 🙂
*This post contains affiliate links, read my full disclosure here.