Fall Front Porch Decorating 2023
I am sure most of us are thinking all things Christmas at this point, but I couldn't let fall pass without sharing my fall front porch decorating.
My small front porch is bursting with fall colors right now so I had to snap a few photos.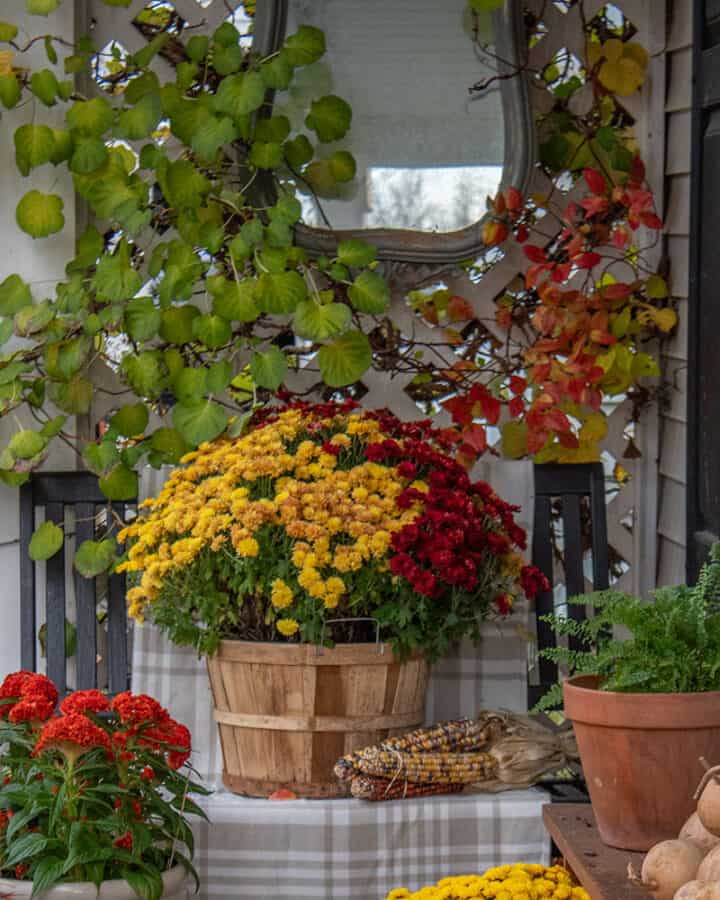 We have a dwarf Japanese maple tree right next to the front porch that turns brilliant red this time of year. There is also a climbing hydrangea growing on the trellis that turns pretty shades of yellow in the fall.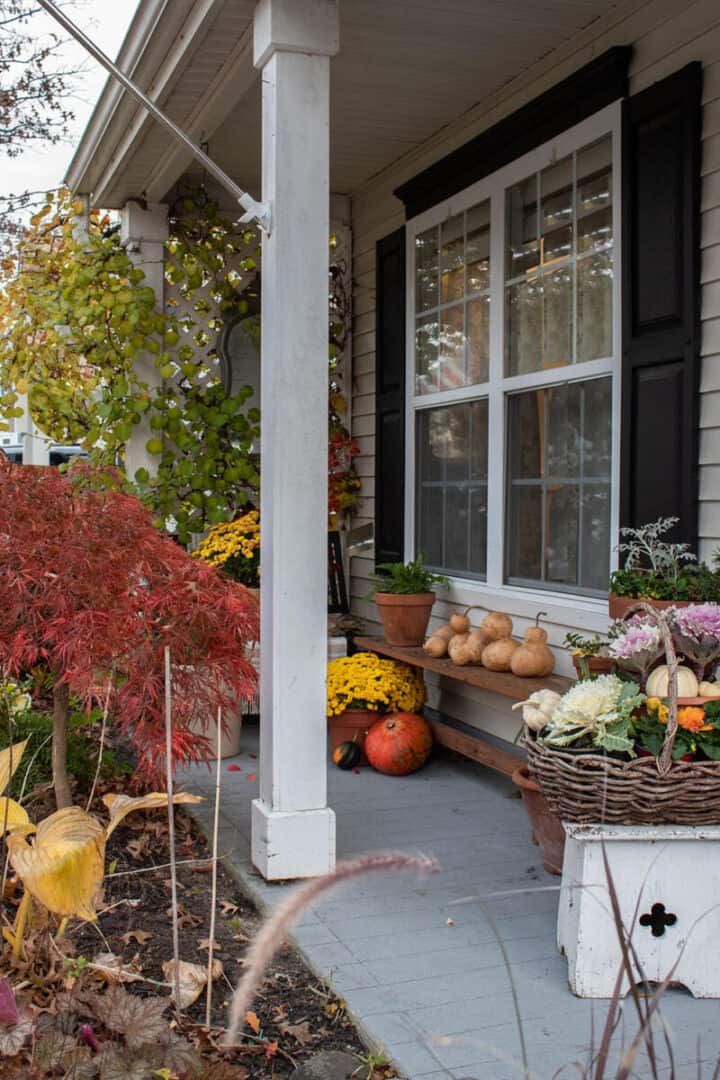 I wanted to compliment those colors with fall front porch decorating as well as bring in some orange tones.
A few weeks ago I had switched out the chair on my porch in favor of this long wooden brown bench. I had brought it to a vintage sale I was selling at and it didn't sell. Which I wasn't sad about because I do love the bench.
Since it was in my truck, I decided to try it on the porch for a while.
I used all the basic fall elements out here such as mums, dried gourds, and pumpkins. All are easy to find and easy on the budget.
Along with those I also had cabbage plants, my ferns that are still thriving from summer, pansies, and a bit of Indian corn for accent.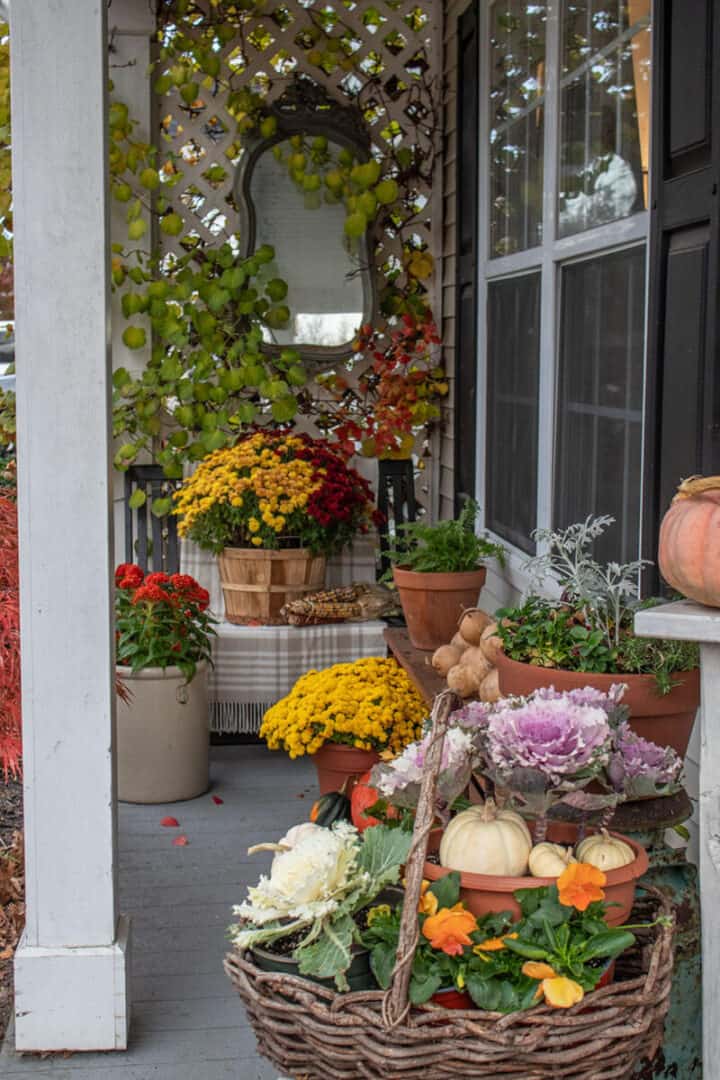 All this fall color makes me happy every time I walk out the door.
It won't be long until the colors fade and the leaves fall off so I wanted to appreciate this as long as I can.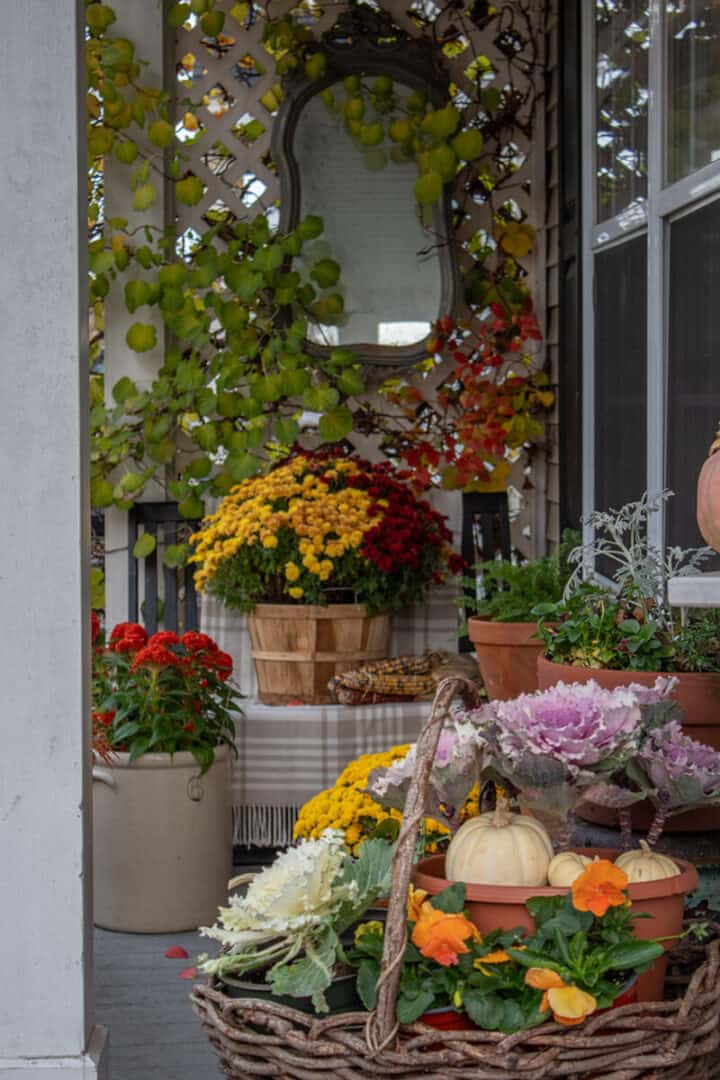 While I do, the Christmas wheels are spinning in my head on what I'll do out here next. One option I'm considering is a full-size Christmas tree outside, right in front of the lattice with the mirror.
Our front porch is small but I do get so much enjoyment from it. It's one of my favorite spots to decorate and switch out seasonally. Partly because I love mixing rustic elements with flowers.
Combining those two things together always makes a perfect pairing!
---
More Ideas…