Easy Cream Cheese Cookies Recipe
This year, I wanted to add a new cookie to my Christmas cookie assortment. I've been experimenting with cream cheese cookies and I came up with one that definitely made the list!
The idea of a cream cheese cookie came to me after I bought some from an Italian deli recently. The cookies were delicious but expensive! I figured I could recreate these myself.
I read tons of different cookie recipes that contained cream cheese and put one together that I thought would work best.
And it's really easy using mostly ingredients you likely already have!
I have discovered that my favorite cookie recipes are usually the ones that don't have too many ingredients. Simple is often best.
You can make this cookie recipe with or without icing. I tried it both ways and I like it with the icing, but without is almost equally as delicious.
ingredients for cream cheese cookies
Cream Cheese
Butter
Vanilla Extract
Sugar
Cake Flour (can use regular flour instead)
Egg
Baking Powder
As you can see, the ingredients for the cookies are basic items. I did buy cake flour specifically for this recipe but you can substitute regular all-purpose flour instead. I've read that cake flour helps them to puff up more which is why I tried it.
First, start with room-temperature butter and cream cheese and mix them well with an electric mixer.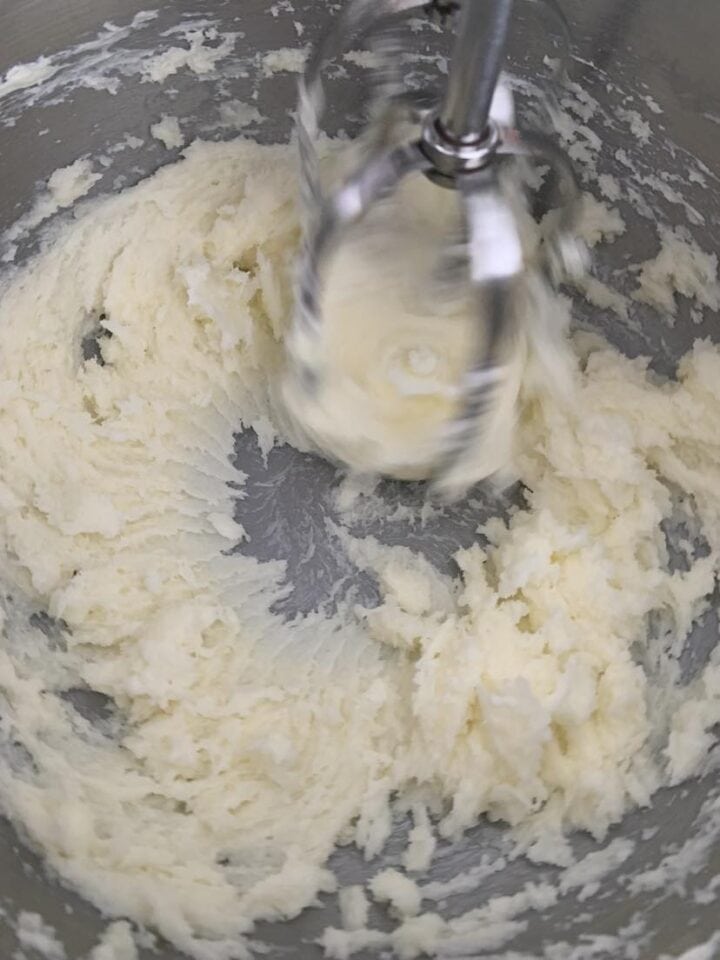 Once those are blended, mix in the rest of the ingredients. After the dough is mixed, it has to sit in the refrigerator for an hour, so plan ahead for that.
When you take them out and are about to roll them, use flour on your hands because they are sticky. I used an ungreased non-stick cookie sheet. You can also line it first with parchment paper.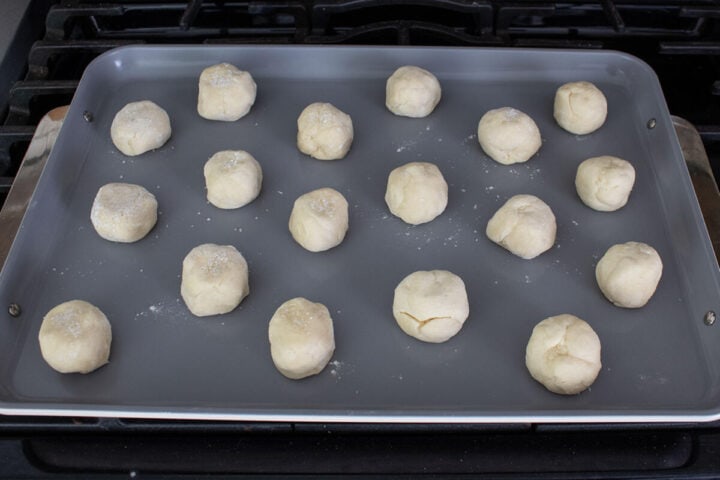 I also wanted to try edible cake glitter on these since they will be for Christmas. On half of my cookies, I rolled it into the dough. I wasn't sure at this point if I wanted to use icing or not so I only did half.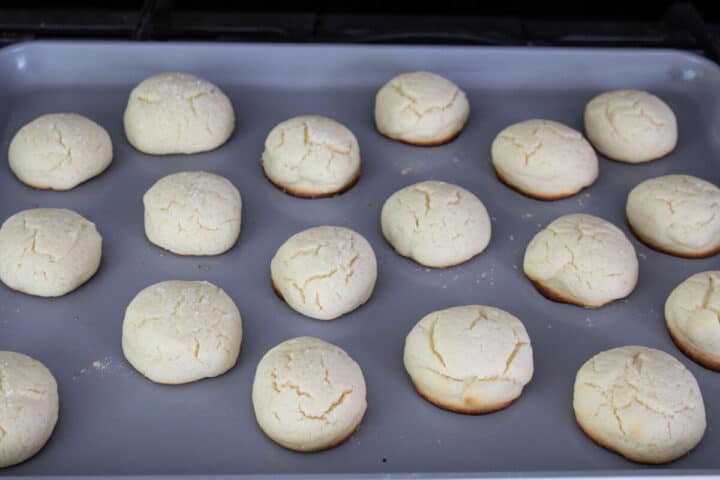 These bake up fast – in about 10 minutes. You have to watch the bottoms when baking because they brown fast. You can see some of mine look pretty brown on the bottom edges. Fortunately, they did not taste burnt at all.
Optional Cookie Icing
Next, I drizzled icing on about half of them to do a taste test both with and without it. The icing is simply confectioner's sugar, vanilla extract, and milk. It took me all of 3 minutes to whip that up in a bowl.
I will include the icing recipe along with the cookie recipe below.
After drizzling the icing over the cookies, I immediately sprinkled edible glitter over the icing before it firmed up.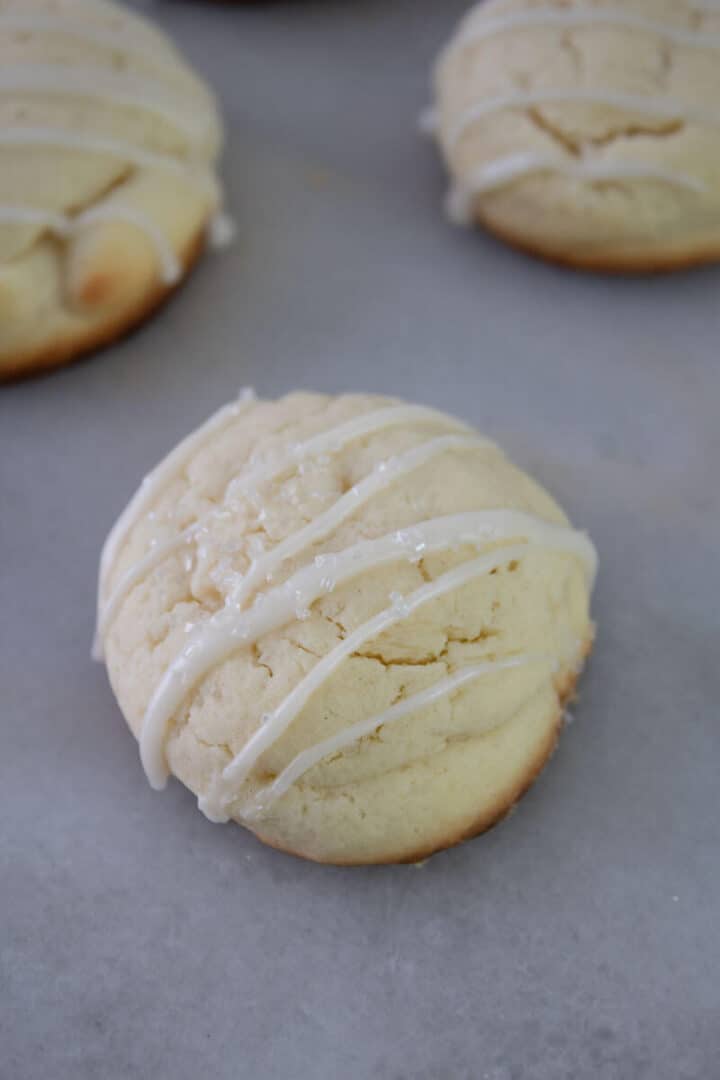 The frosting and cake glitter make these look extra special for Christmas.
Here is how the other half looked that didn't have icing. For those, I rolled the dough in edible glitter and sprinkled a pinch more over them after baking.
Also pretty!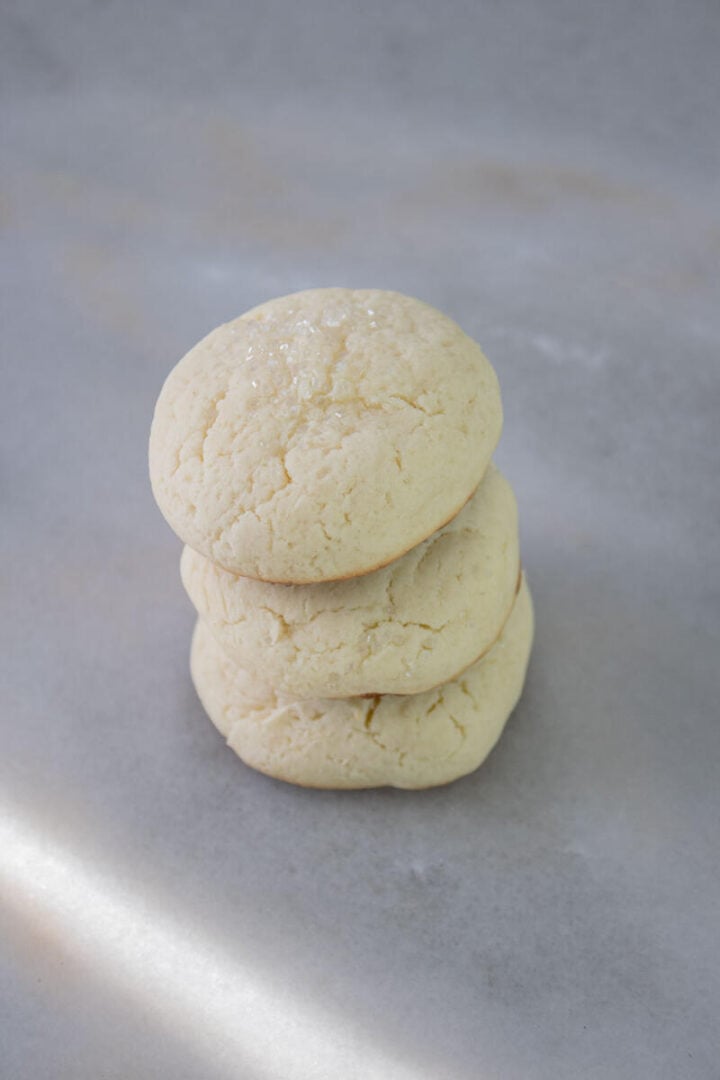 Ingredient substitutes
Additionally, this recipe would taste delicious with a teaspoon of lemon juice added to the dough. For springtime, I would make these without glitter and icing. Instead, I would add the lemon juice for a lighter version.
One more option is to add a teaspoon of almond extract for a heavier taste. That would go well with Thanksgiving.
Another variation I considered is to add cocoa powder in place of some of the cake flour for a chocolate version. Alternatively, you can melt a few ounces of baking chocolate and mix it into the dough.
When I make these again, I plan to try a chocolate version.
You definitely have lots of options to tweak and customize these cream cheese cookies to your liking!
This recipe made 18 cookies for me. However, I do roll my cookies out large. If you make yours smaller you could likely get up to two dozen cookies from this recipe.
Printable Cream Cheese Cookie Recipe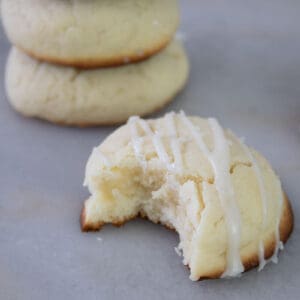 Easy Cream Cheese Cookies Recipe
Easy and delicious cream cheese cookie recipe using simple ingredients that's easy to customize to your liking! Dress them up with icing for the holidays or keep them lighter for Spring time!
Ingredients
1/2

cup

butter

room temperature

4

ounces

cream cheese

room temperature

1

cup

granulated sugar

1

teaspoon

vanilla extract

1/2

teaspoon

baking powder

1 3/4

cups

cake flour

can substitiue all purpose flour

1

egg

room temperature
Instructions
Use an electric mixer to beat the cream cheese and butter together until well blended.

Add sugar, egg, vanilla extract and baking powder until blended.

Add the flour, a little at a time until well blended.

Place the dough in the refrigerator for one hour.

Preheat oven to 375 degrees.

Using floured hands, roll your dough into balls and place on ungreased baking sheet. You can line the sheet with parchment paper if you don't have a non-stick cookie sheet.

Bake for approximately 10 minutes. The bottom edges will brown first so keep an eye on that.
Notes
If your dough is too dry, you can add several more drops of vanilla extract as needed.  You can also add 1 teaspoon of lemon juice if preferred.
To make a simple icing for these cookies mix the following ingredients together in a bowl and drizzle over the cookies with a spoon:
1 Cup Powdered Sugar
1/2 Teaspoon Vanilla
1-2 Tablespoons Milk
Enjoy!
---
YOU MAY ALSO LIKE: