How To Customize A Builder Grade House
Builder grade homes often come with very generic finishes. I've learned from working in real estate that the builders make a large portion of their profits on upgrading those finishes! They count on buyers who want their new homes completely finished to their liking.
However, making those upgrades yourself after moving in will save you thousands! That is what my husband and I did. Granted, it took us a while to do all of these projects ourselves but we love DIY so we didn't mind!
How To Make a Builder Grade Home Look Custom
If you're looking to customize your builder grade home, the possibilities are endless! You're likely starting with a clean slate, which puts you ahead of the game. There won't be any expensive surprises along the way.
Replace Flooring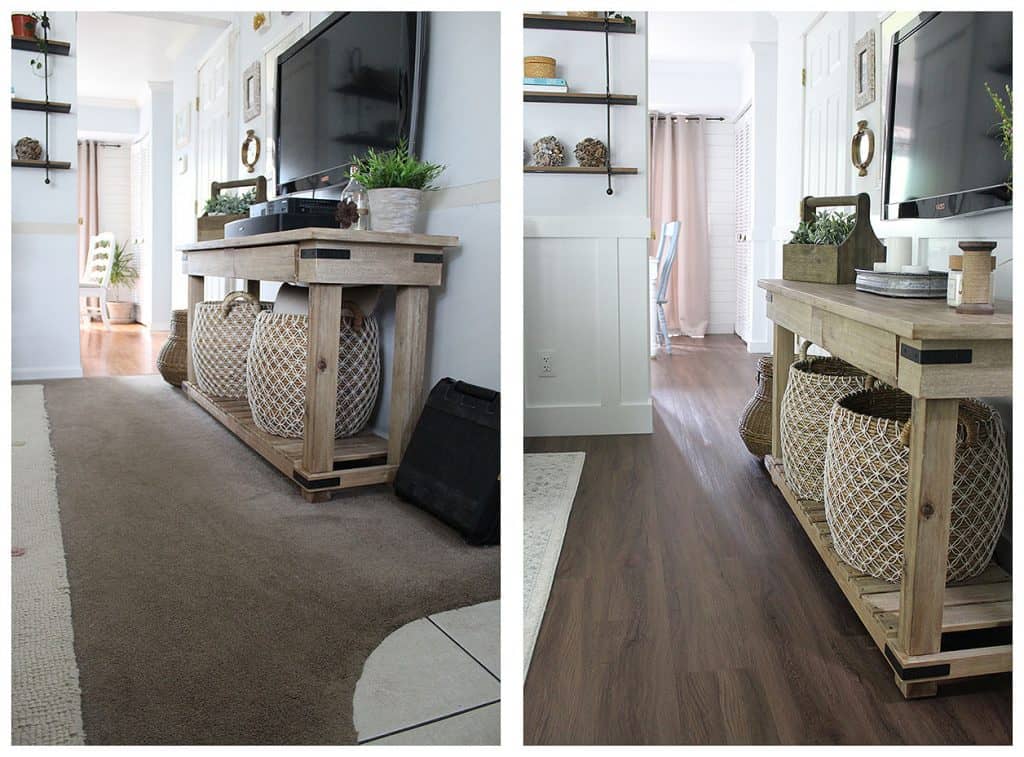 Update builder-grade carpets or linoleum floors yourself. Installing vinyl plank flooring is a relatively easy and affordable DIY project! If you're concerned about resale value, opt for real hardwood floors instead. Vinyl won't hurt the resale value, but hardwood will definitely add to it.
Add Custom Molding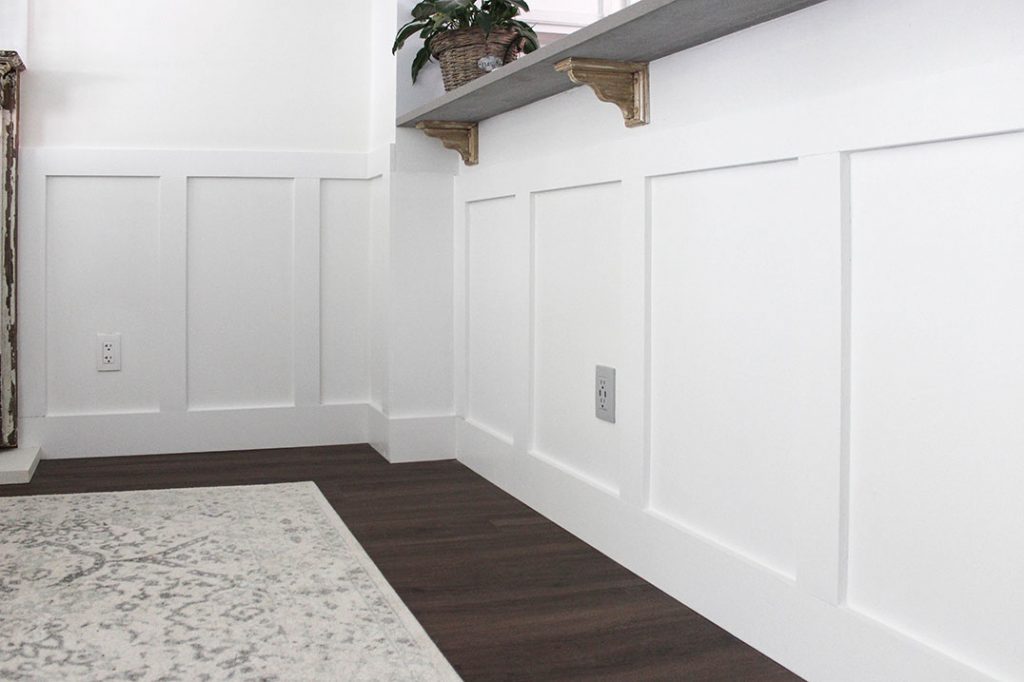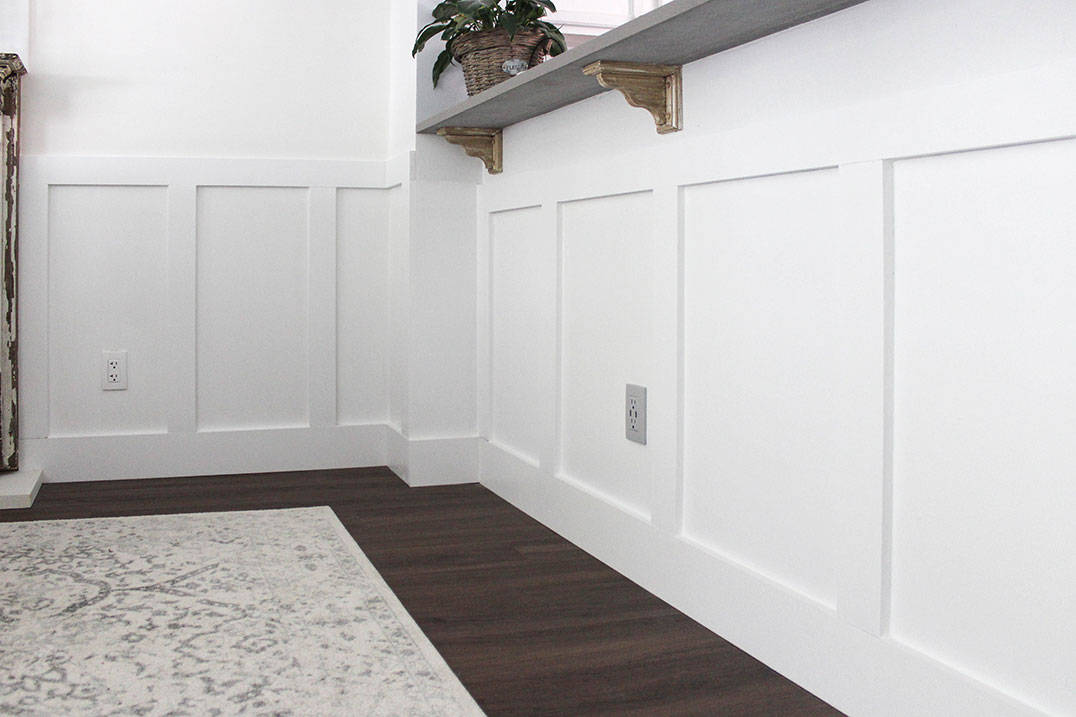 Nothing makes a house look more custom and refined than decorative or detailed moldings. Custom molding will add architectural detail which is often lacking in builder-grade models. Whether you install board and batten, shiplap, beadboard, or any type of wainscoting, it will add character and value to your home.
Beef Up Builder Grade Baseboards
Wimpy baseboards do nothing for a room. Install baseboards that are at least 5 inches tall to take the room to the next level.
Alternatively, there's a simple trick you can use to make them taller without replacing them. Add a strip of thin molding about an inch or two above the existing baseboard. Paint the thin strip and everything below it white to make it appear as one piece!
Update Builder Grade Kitchen Cabinets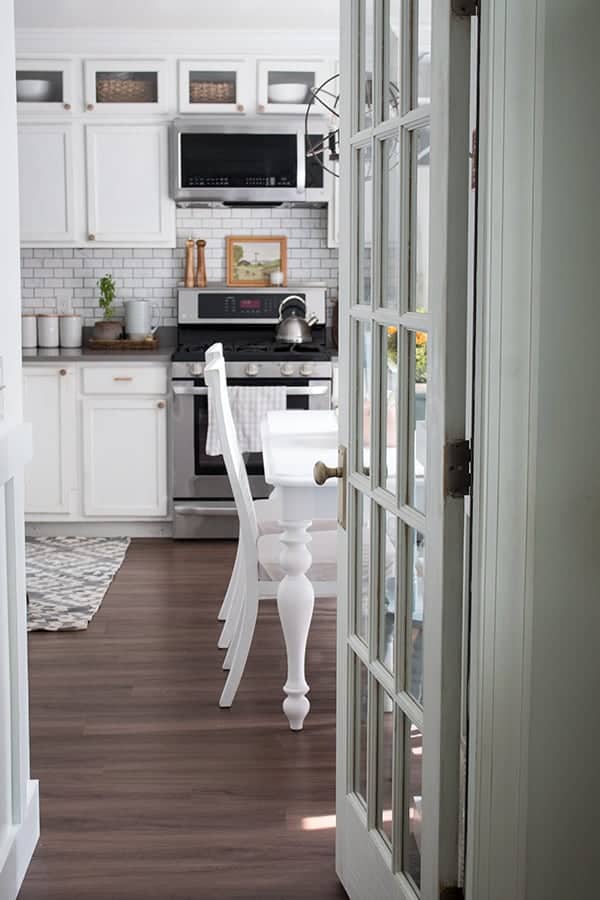 Often builder grade kitchen cabinets have a space between the top of the cabinets and the ceiling. That never looks nice and often ends up cluttered with stuff that collects dust.
A great way to customize this area, and provide additional storage space is to extend kitchen cabinets to the ceiling. You can see an example of this in our before and after kitchen makeover.
Frame Builder Grade Mirrors
Those big mirrors that come in most builder grade bathrooms are functional but definitely not pretty. Framing the bathroom mirror was a simple DIY project (I did it myself) and made a huge impact in the space!
Change Out Closet Doors
Most builder grade homes come with the most basic (inexpensive) interior doors. Our bedroom closet doors were the dreaded bifold variety. In our daughter's room, we swapped those out for a beautiful barn door. You can read more on how to build a sliding barn door for less here.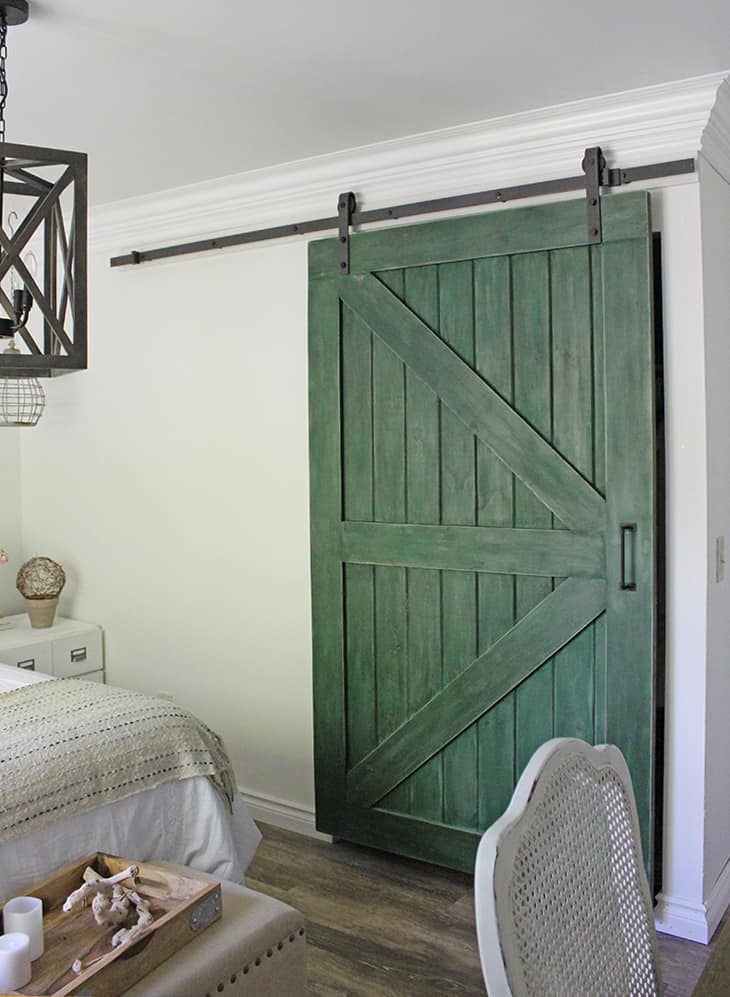 In addition, we changed out the bifold closet doors in our older daughter's room. You can read more on that mirrored closet door makeover here. Another idea is to give them a new look with paint. Painted trim can give the entire room a lift!
Paint Bathroom Vanity
Give your bathroom a refreshing new look by painting the vanity. Changing out the cabinet hardware as well as the towel bar and fixtures will also give your bathroom a boost.
Change Vent Return Covers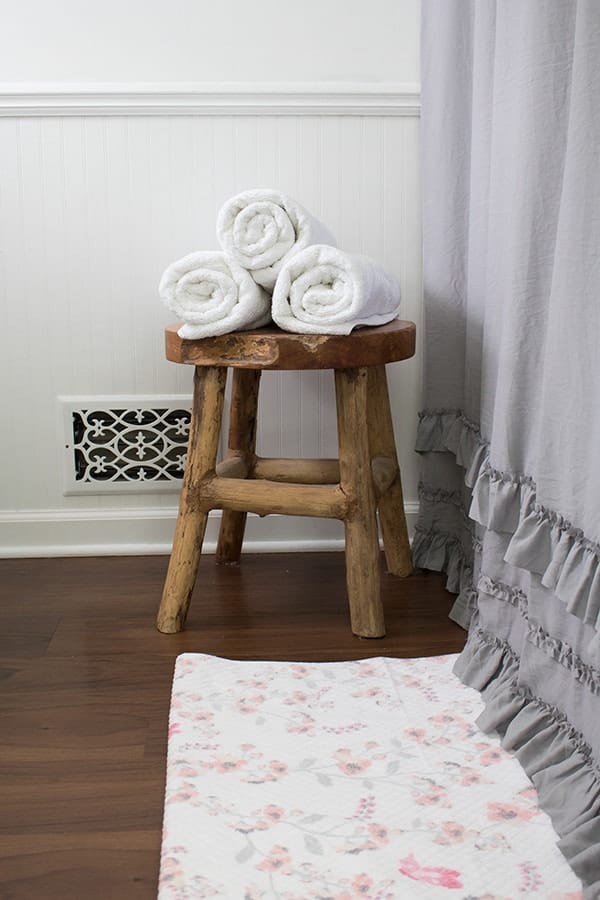 Changing out the vent return covers is a small and inexpensive way to get a custom look instantly. This will make a surprising difference in the room!
Upgrade Light Fixtures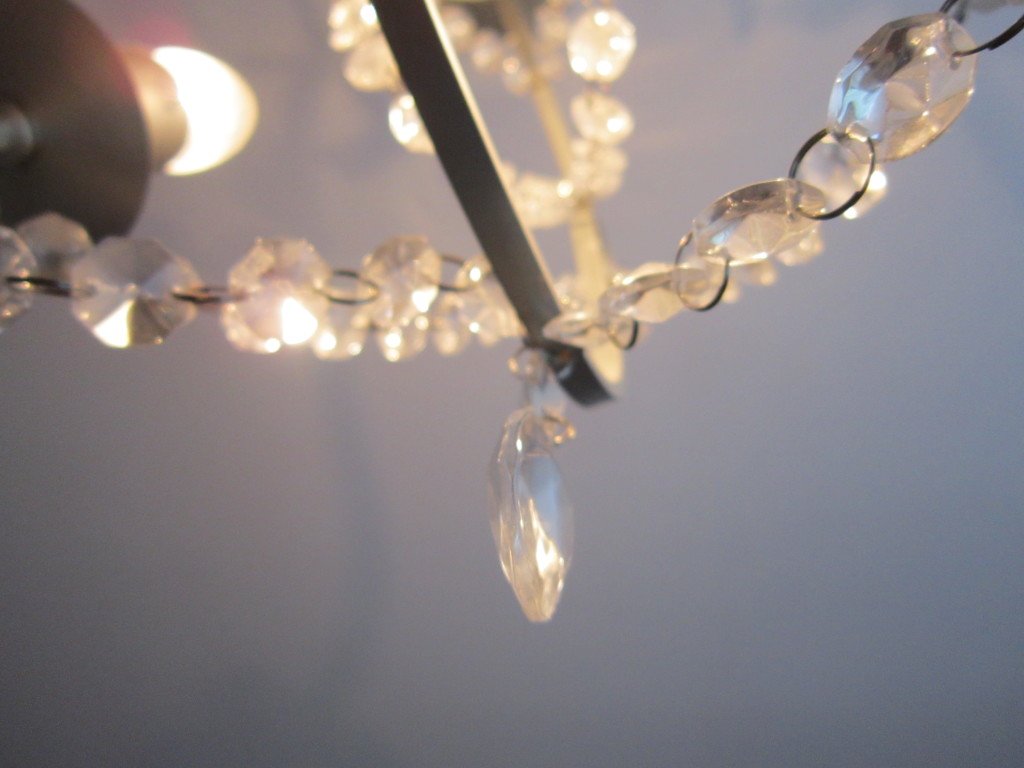 Changing the light fixture alone can instantly change the entire look of a room.
Builder grade homes come with the most basic light fixtures out there. Changing these out is probably something you shouldn't do yourself if you aren't familiar with electrical. However, it would likely be more inexpensive to hire an electrician than to upgrade it during the building process.
Add Architectural Details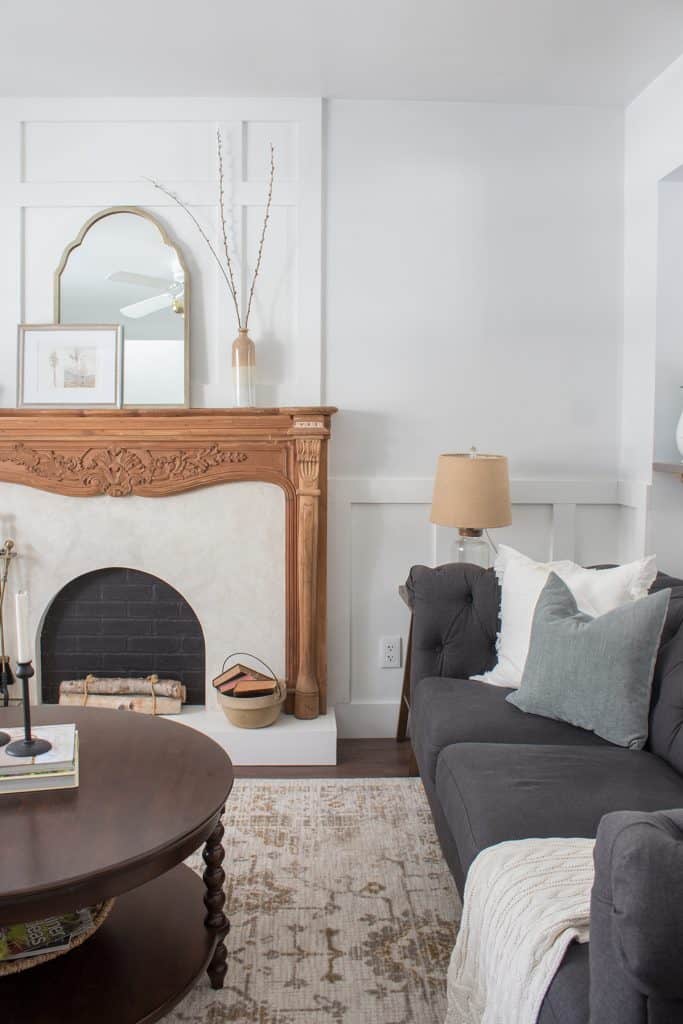 Installing custom molding and taller baseboards as mentioned will help to add architectural details to your plain builder-grade house. The possibilities are virtually endless. Install a fireplace mantel, change out windows, or install salvaged pieces with history, for example.
Update Garage Doors
It's amazing what a difference this can make to your curb appeal. If you don't have the budget for replacing the garage doors, check out this budget-friendly garage door makeover!
Above all, take your time when upgrading your new home. Find your style and go with it. For me, it's adding vintage pieces, for you it may be modern or traditional or something totally unique to you!
Looking to customize your outdoor spaces? Here are 12 ways to take your backyard to the next level.