How to Easily Frame a Mirror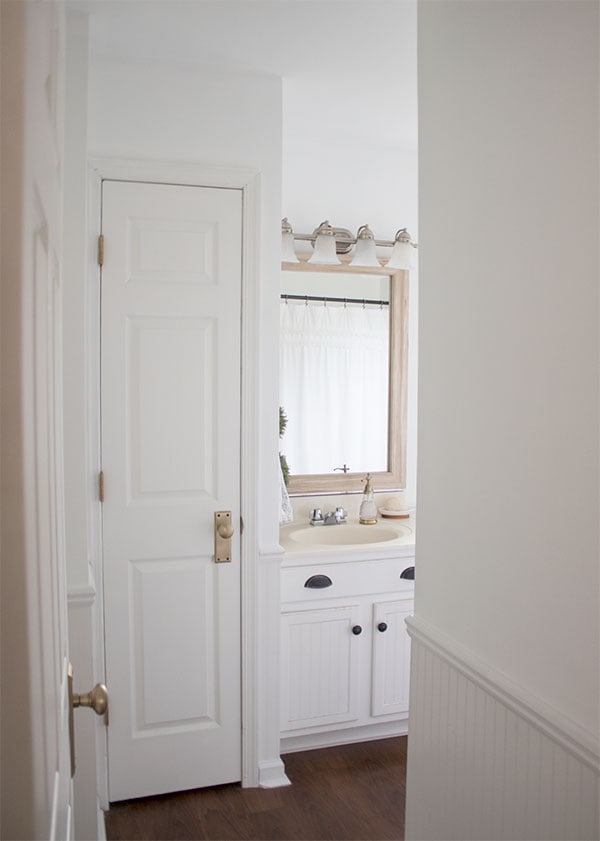 I must start today with a disclaimer; my bathroom isn't perfect. But rather than waiting to show you what I've been working on in here until it is picture perfect, I thought I'd show you as I go on this one, starting with how to easily frame a mirror.
So this is what my bathroom looked like about a month ago. The walls had been blue for years, and I was really getting tired of it so I painted them white. I used Behr Premium Plus Ultra in Ultra Pure White*. A rep from Behr recommended this as a super durable choice for a bathroom. I also bought a beautiful shade of green paint called Vine Leaf from Behr with the intent of repainting the vanity that color. The entire vanity area is what is in dire need of updating.
Then I changed the doorknobs and that was a total game changer. I absolutely love the antique brass with the white so now I'm reconsidering going with a green vanity. I definitely plan to change the hardware, faucet and light fixture all to antique brass for a pop of color which will probably look pretty without the green vanity.
While still debating on that, I ordered this beautiful mirror frame from Mirror Mate. They offer a large variety of colors and styles to choose from. First I ordered several samples and ultimately I picked the Cherokee Montauk Sand. The finish on this one is just beautiful.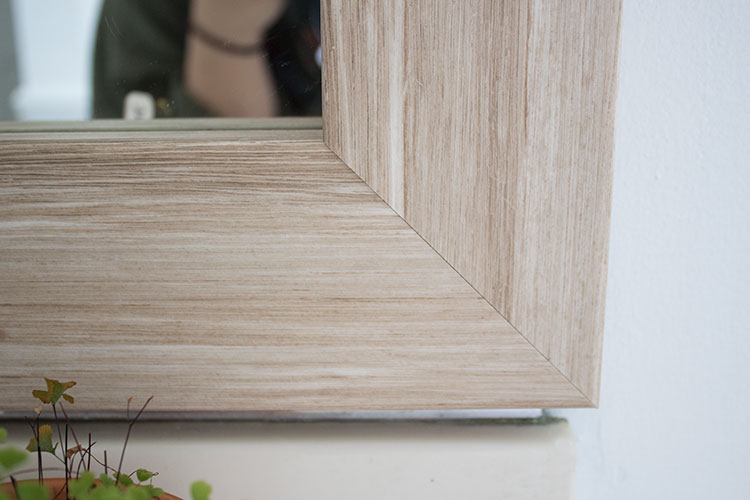 How it works with Mirror Mate is, you measure your existing mirror according to their easy instructions. I watched this how-to video on the site which made it super easy to understand. I then submitted my measurements and choice of frame. They ship the mirror frame to you in four pieces. I really expected assembly to be a bit difficult but it wasn't at all. On the day I was ready to install it, I watched the short how-to install video and got to work.
The process of assembling and installing this mirror frame is so simple that I didn't even think to take photos because it went so fast. In fact, the video recommends that two people install it together and I was able to do it by myself without any problem. I did have to remove the light covers and bulbs on the fixture above it to install but that was the extent of what I had to do prior.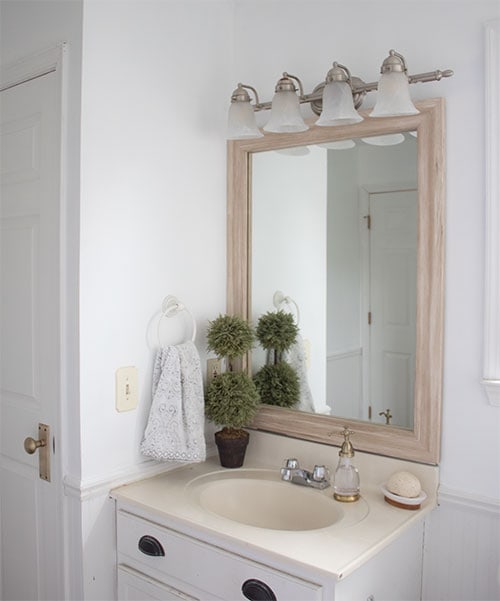 I really like how the wood tone compliments the new doorknobs. As I mentioned, the vanity needs updating as well as the light fixture but that's going to be on hold until after the holidays. In the meantime, I dressed it up a bit with new accessories from Home Goods. That soap smells amazing by the way. It's called oatmeal soap by Scottish Fine Soaps in case you're wondering.
One other thought I had was potentially painting the beadboard in this bathroom green rather than the vanity. The jury is out on that too.
In the meantime, I am happy with the improvement in here so far. Here is another before shot.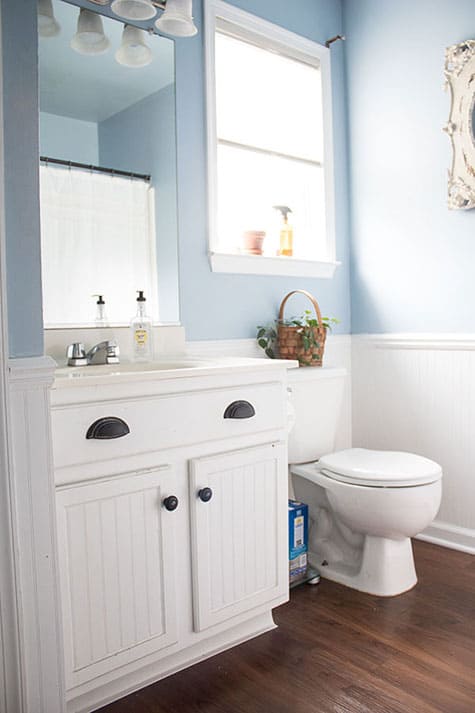 The white paint and the mirror frame made a huge difference.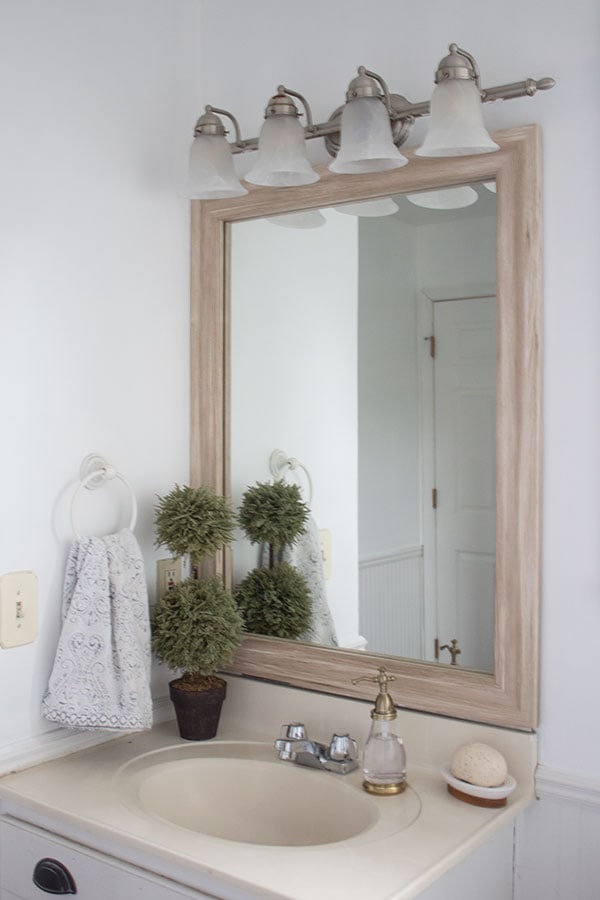 If you're looking to frame a mirror in your home I would say using Mirror Mate is the easiest way to do it!
UPDATE:  You can see the finished bathroom here!!
*This post was in partnership with Mirror Mate, all opinions are my own. You can read my full disclosure here.