White Bathroom with Brass Accents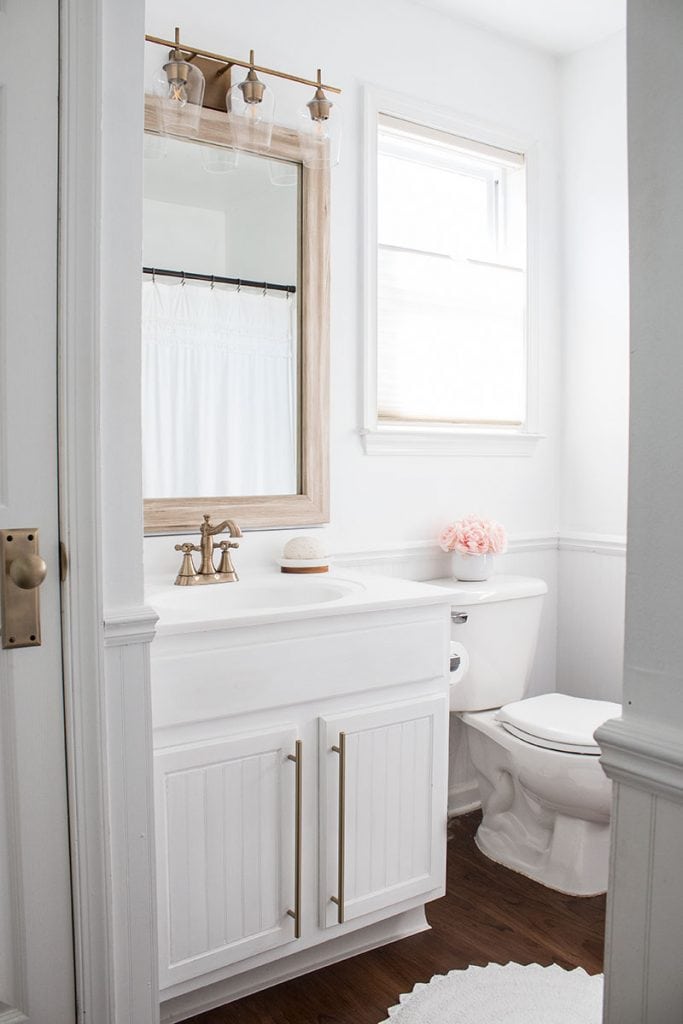 I finally completed one of the five projects I've started over here in the last few months! We've made a few updates to our bathroom. This was not a remodel, more of a refresh. It was painted blue for so long I was really tired of looking at it. This time around I wanted a white bathroom with brass accents.
Around this time last year, I had gotten a catalog from Pottery Barn with a photo of an all-white bathroom on the cover. I loved it so much it became the inspiration for my bathroom. Though this bathroom could benefit from a bigger remodel, we decided to hold off on that for now. We have been talking about moving and I even went as far to put an offer in on a house in December. Unfortunately, there was a bidding war on that house so we didn't get it.
If we will really move or not I'm not sure, it really depends if the right house comes along at the right price. Until we decide for sure, I don't want to make any major changes here. That being said, finding the right house around here with NJ real estate prices and taxes being among the nation's highest, it could take a long time.
Back to the bathroom, we had changed all the doorknobs in the house last year. Honestly, this is one of the best changes we ever made, I still can't get over what a big impact they made. Those are what really got me started on refreshing this bathroom. When one thing looks that nice, you really want everything around it to measure up.
After changing the doorknobs,  I by repainted the bathroom all white. I had debating painting the vanity green after seeing a beautiful shade of green called Vine Leaf at a Behr event last year, but I thought it was best to stick to my original plan and I'm glad I did. It's so easy to get off track when there's so much beautiful inspiration all around.
A few months ago I framed the existing builder grade mirror with this light wood frame. That also made a huge difference on its own. When my daughter came home from school for the holidays she thought I had replaced the mirror completely.
One thing that really bothered me in this bathroom (as well as in my half bath) was the color of the sink. It was an off-white color that looks yellowish next to white. When I framed the mirror I decided it was time to do something about that.
Not wanting to replace the entire vanity right now, for the reasons mentioned above, I decided to paint it. I was definitely nervous about trying this project but I really couldn't live with the color of that sink throwing everything else in the room off. I will do a separate post on how I painted it soon. (Update: you can see how I painted the sink here)!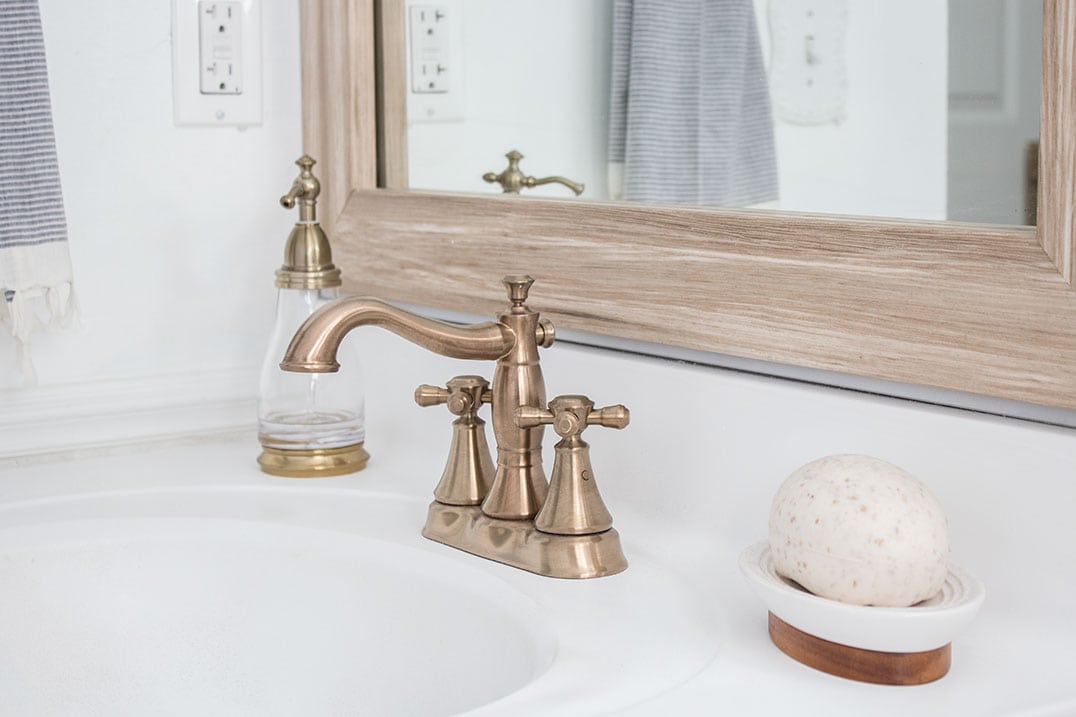 Up until last month, we still had the really ugly, really outdated builder grade faucet in here. My husband replaced that with this antiqued gold one. He is really good at all things DIY, but plumbing is his absolute least favorite project so I was thankful to have this finally done.
The existing light fixture was pretty outdated too. I kept seeing this 4- light vanity in warm brass pop up when I was online and loved it. After doing some research I found it was available at several different retailers. Wayfair had the best price on it by far, that is where I ended up ordering mine from.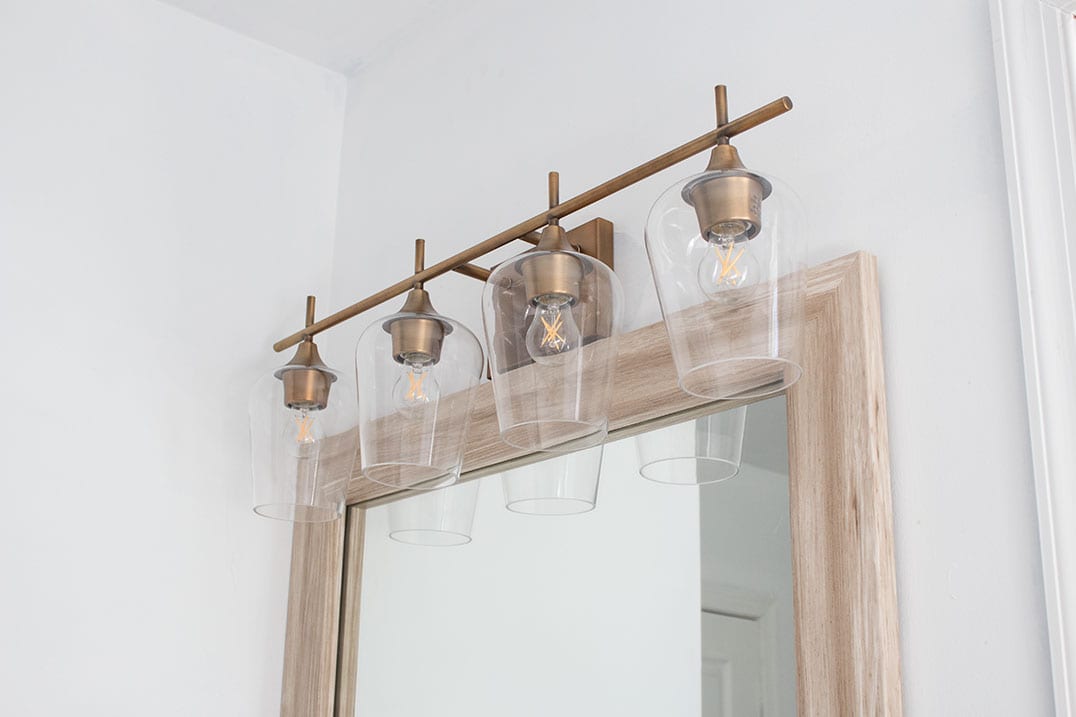 I also changed out the handles on the cabinet doors to continue the antiqued brass accents. Mixed metals are a good look in a room too, but for this small space, I thought it would be best to keep everything cohesive. I used the same pulls as I used on this armoire makeover last year.
And since we are finally starting to feel a hint of spring air around here I wanted to add a floral accent to contrast a bit with the all-white bathroom as well. Since I finally killed my cute little maidenhair fern plant, I added this pretty pink floral arrangement instead. The roses and peonies are the perfect shade of pale pink.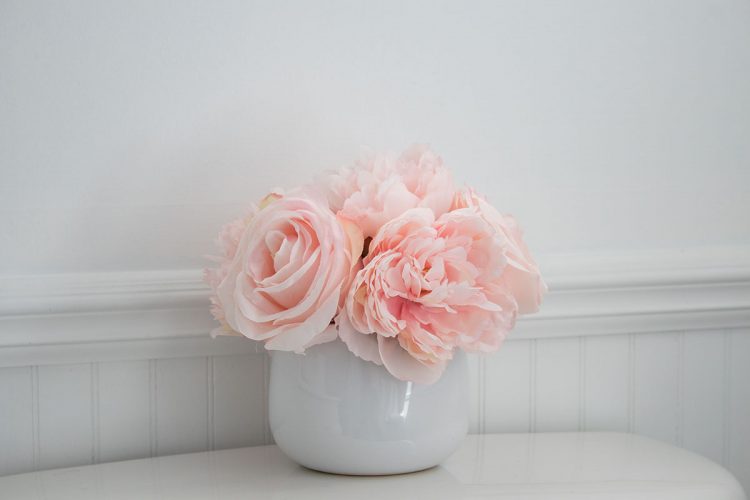 A new bath mat and hand towel complete the room for now. Both of my bathrooms are really hard to photograph. The downstairs one is so tiny and doesn't have any windows. This one is also small, as well as being L-shaped. Here is the other side of the room as best as I could capture it.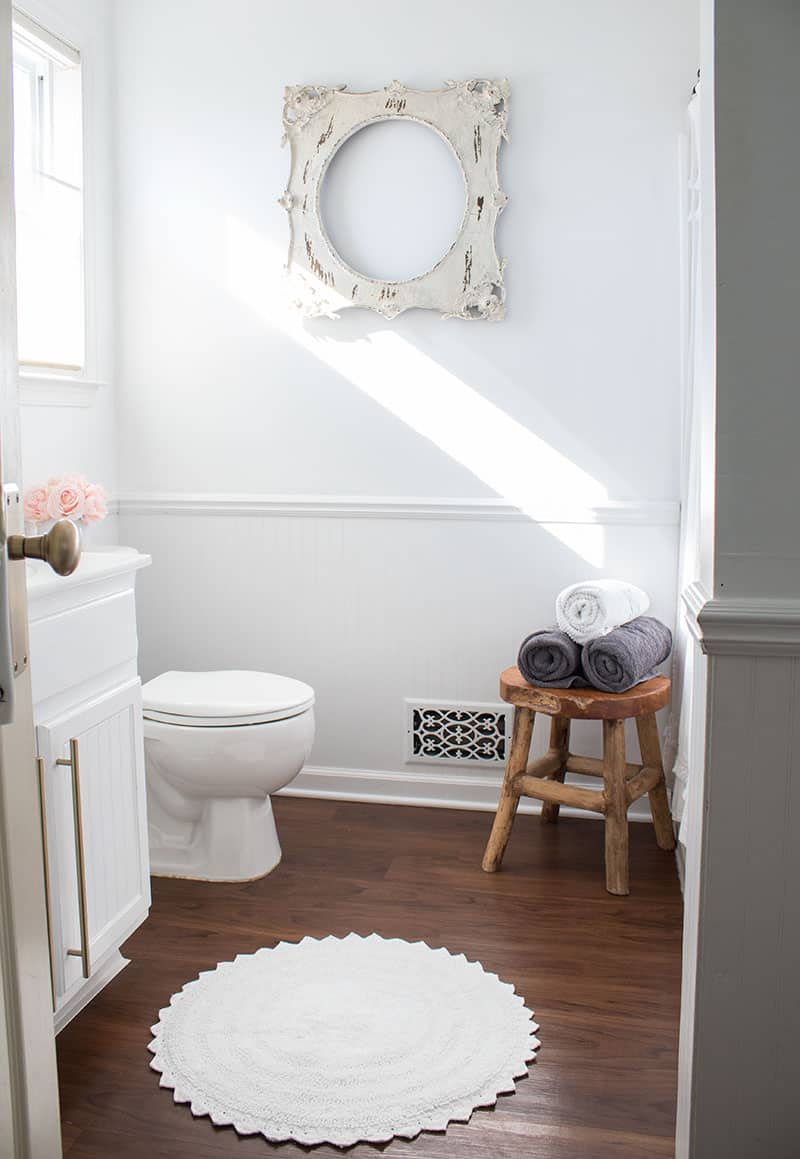 Another small change with big impact was changing out the heating vent cover in here. I did that years ago, I wish I could find more of those registers but I haven't seen any like that since.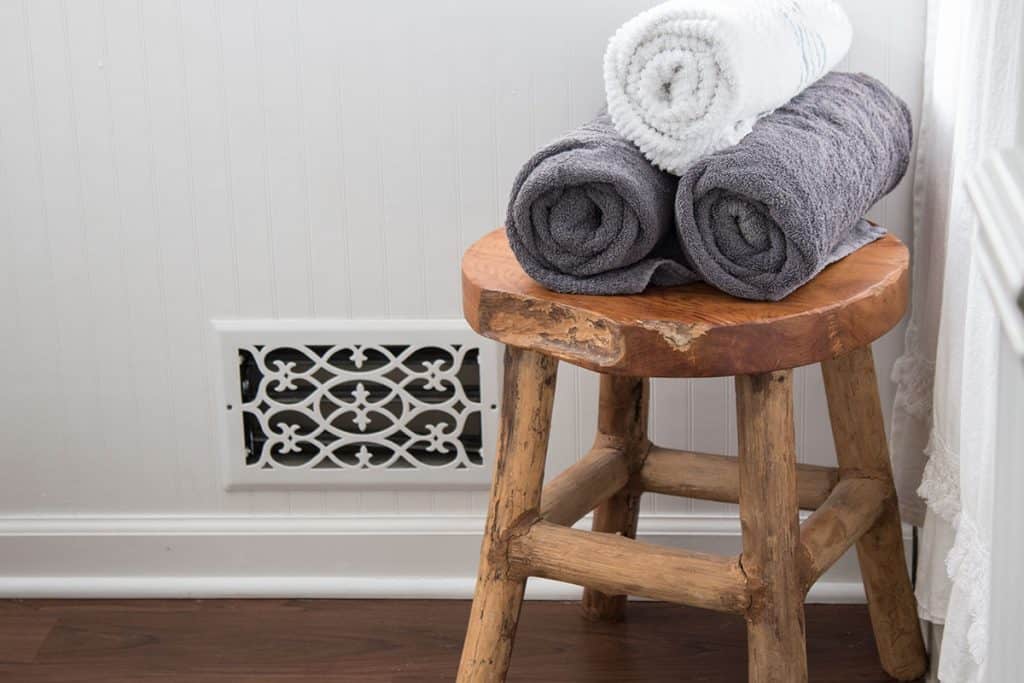 Even without any major changes like ripping out the vanity or tiling the tub area, this looks like a new space.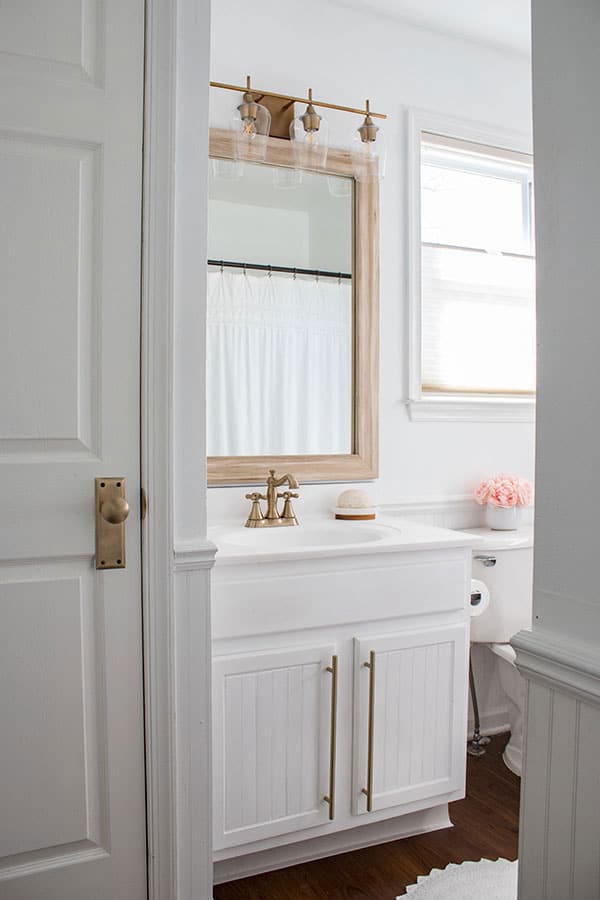 I wasn't sure how I would like an all-white bathroom in reality, but I am really happy with it!

Learn more about how being a loyal Wayfair shopper can save you money here!
This post was sponsored by Wayfair, all opinions are my own. You can read my full disclosure here.