Half Bath Under Stairs Refresh
SIMPLE & BUDGET-FRIENDLY DECORATING IDEAS FROM OUR TINY HALF BATH UNDER STAIRS
A few weeks ago I posted a how-to on installing wallpaper for beginners. It was my first attempt and though it's not 100% perfect I am really happy with it overall.
Right now, bold wallpaper and paint are trending pretty big on Instagram. I thought of going that route in this tiny half bath which is located under our stairs, but it really isn't me. I like lighter and brighter with rustic accents so I try to stick to that. When I do, I'm happier longer with the results.
I had really wanted a peel and stick wallpaper but when searching I kept coming back to this floral design. Of course, that wasn't a peel and stick but I went for it because I could not find anything I liked better.
Once I finished the wallpaper and changed out the tile stickers, I made a few other minor changes to give the bathroom a new look.
Many of the accents are flea market finds as usual around here. Nothing makes me happier in design than something soft and pretty (the wallpaper) paired with something aged (the shelf below).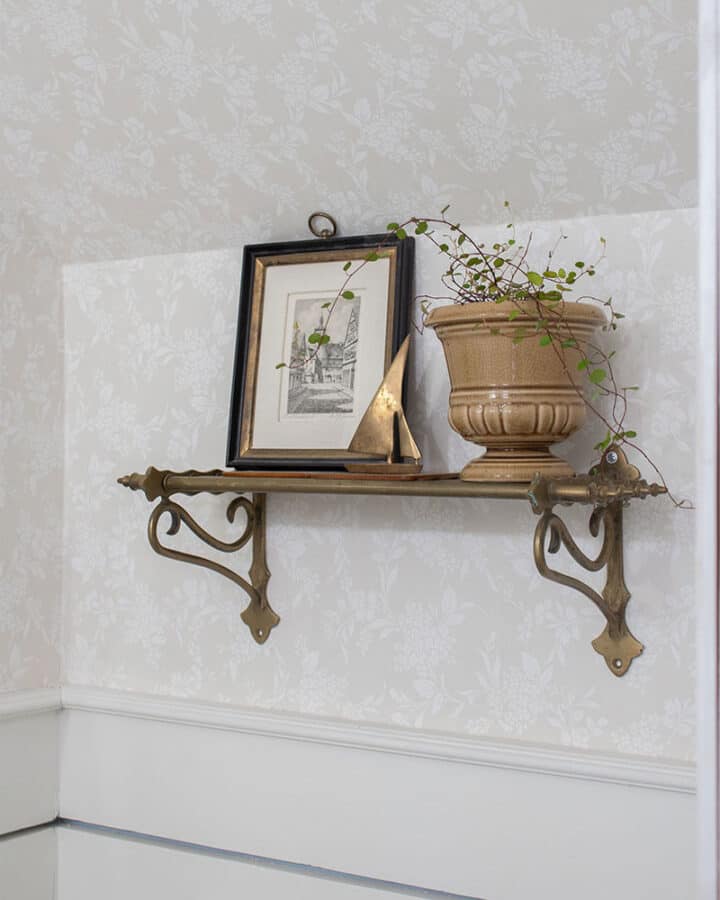 The shelf is the prettiest aged brass and I found that at the flea market along with everything on it with the exception of the plant and pot. You might remember I updated the frames with paint.
If you have a half bath under stairs, you know getting light in there is difficult. Because the bathroom is tiny and windowless it's nearly impossible to get a good picture of it. But here is my best attempt at the vanity side.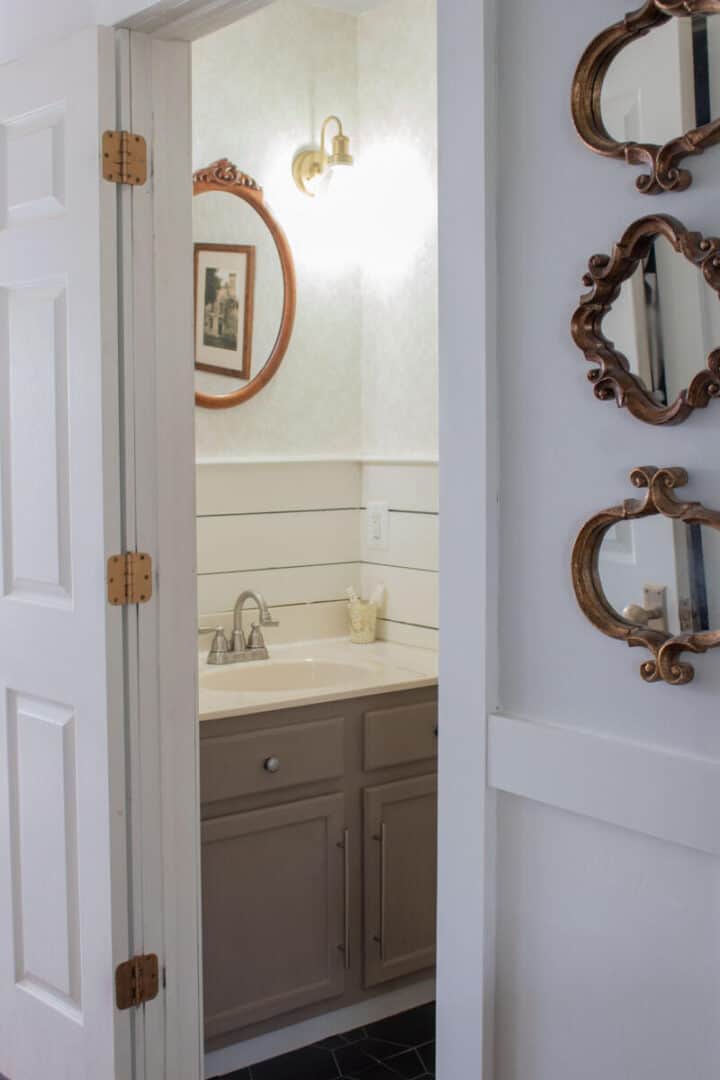 The mirror is vintage, the wood tone contrasts really beautifully with the subtle wallpaper.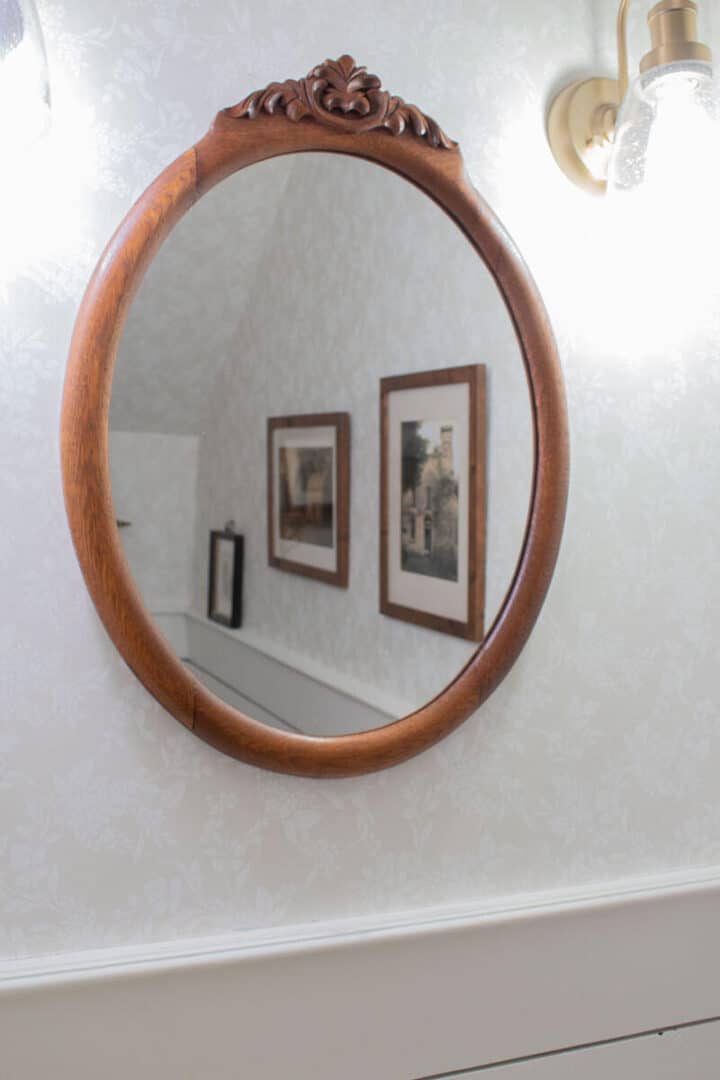 Here you can see the detail on the old mirror better. I had envisioned a more Federal style mirror initially but I came across this one first. I bought it as a temporary fix until I found another but the scale and color are perfect so it will likely stay.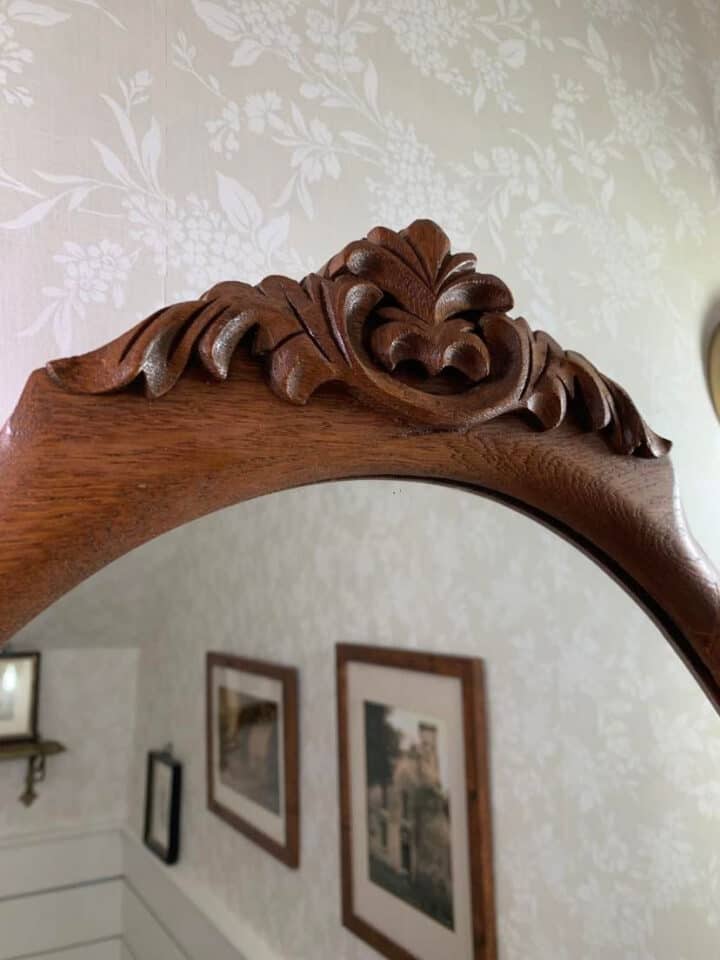 With this bathroom refresh, I was trying to get rid of all the gray tones I had previously added. While I love a monochromatic color scheme, I usually prefer it in linen shades.
I'd love a new vanity in here eventually but for now, I painted it. The color is Cocoa from the Annie Sloan chalk paint line.
The original sconces that were here had been installed by my husband when I refreshed this room as part of the $100-room makeover. They were good for the budget at the time. Honestly, I was never happy with them.
So I finally had them switched out. That was an ordeal because the first set I bought I had found on Facebook marketplace (for a big discount). I paid an electrician to put them in and after he left they began flickering like a strobe light!
Long story short, I then had to buy a different set of sconces, shown below, that were more expensive and have them changed out again! Lesson learned, don't buy cheap lighting. Go for classic light fixtures that stand the test of time. It ended up costing me more in installation costs than if I just started out with a good set of sconces.
Here's a look at the other side of the bathroom. I love the slanted wall in here. That is due to this bath being located under stairs.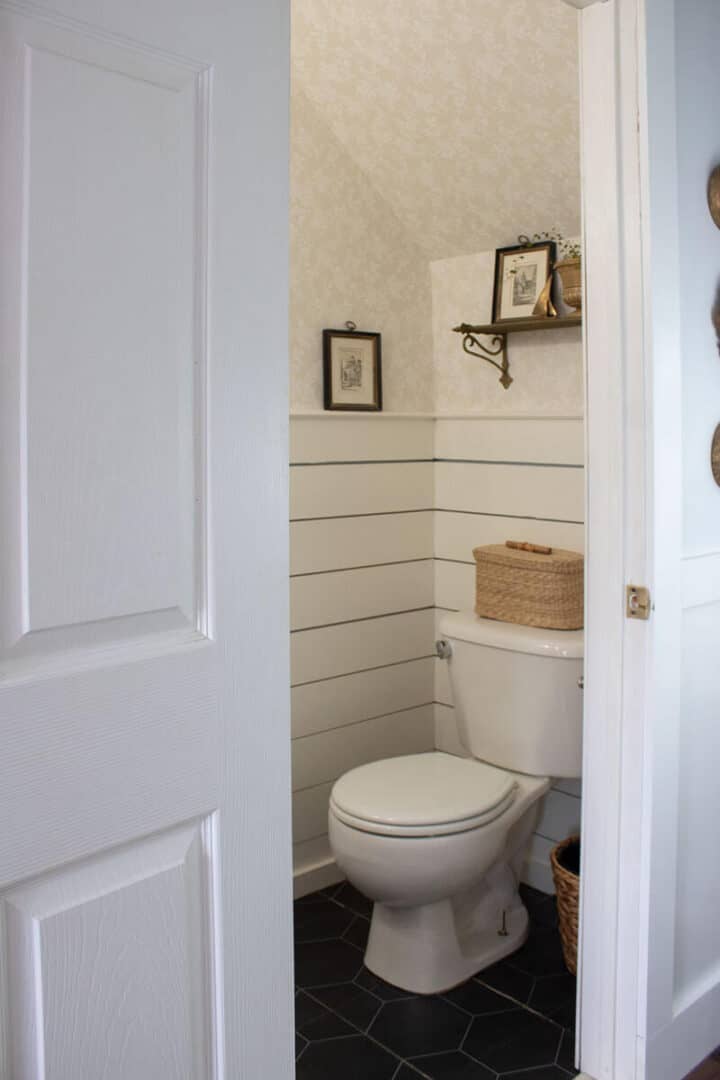 The storage basket on the back of the toilet is super useful in this small space. I also picked up this cute woven wastebasket recently. It has an inside plastic piece that comes out for cleaning while it also protects the jute on the outside.
The storage basket is pretty and packs a lot of storage space in its compact size.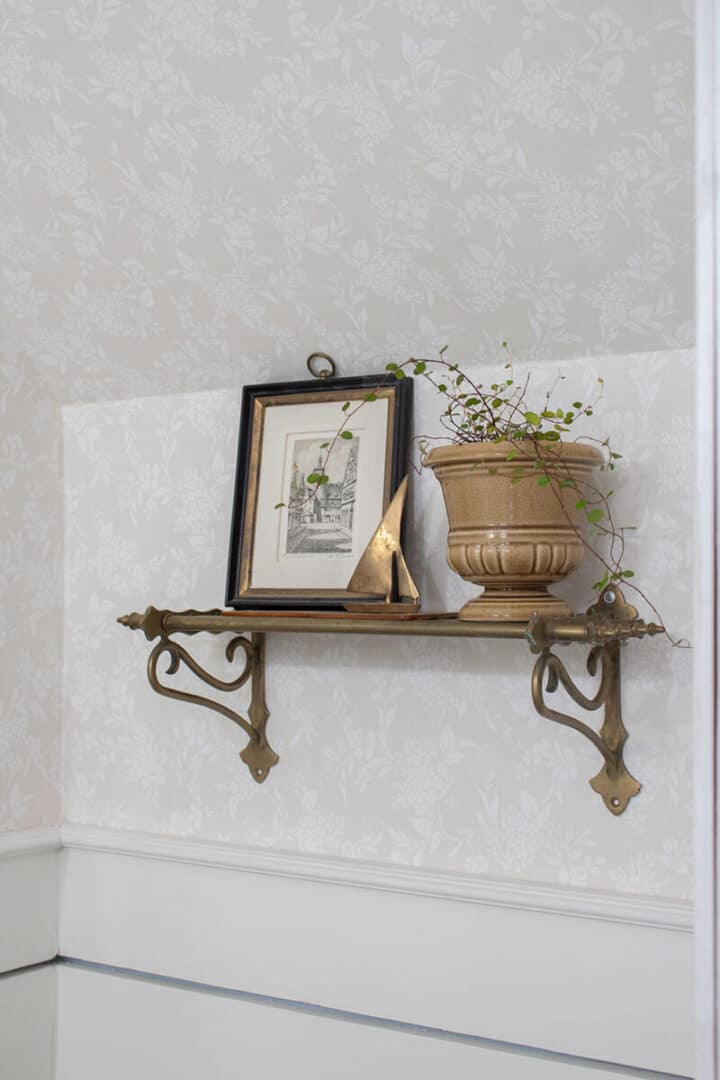 And that's it. No major renovations, just a few updates to change the whole look of the room. The more I watch HGTV the more it bothers me that everything on there is a house-flipping show. The reality is we don't all have the time and/or money to do major renovations on our homes all the time. That's especially true now with the soaring costs of everything! This makes me more determined to do what updates I can myself on a budget!