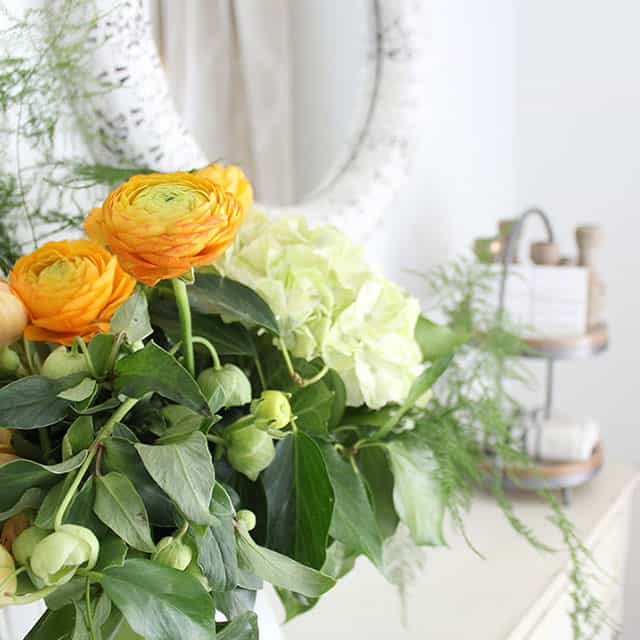 Fall is my favorite time for seasonal decorating. Those first few days of cooler air, when you can actually open the windows and breathe the cooler air is so refreshing. I love to spend one of those first cooler days getting out the fall decor, making the house feel cozy. It's therapeutic! Plus, you get the most mileage out of fall decor, considering it can be left out from September through November. Today I'm sharing my fall decor along with some of my blogging friends for the fall home tour season!
If you're new around here, welcome to my humble home! My husband and I are fixing up our small, builder grade house slowly, one DIY project at a time. Sometimes things go as well and sometimes not.
I started decorating outside with these hydrangeas. I found this bucket at a flea market over the summer and thought it was just perfect to display what's left of my hydrangeas. I paid over $20 for that old bucket which I thought was too much at the time (or maybe I'm just cheap) but I'm glad I did. I know I will use it often. Unfortunately, the dried hydrangeas didn't last very long outside (they last much longer inside). I've already made some changes to the porch after this picture, I may have design ADD.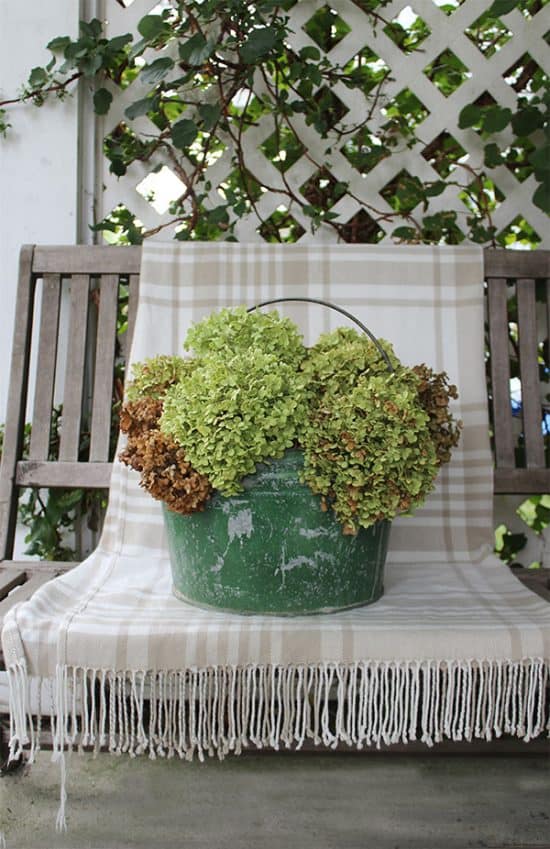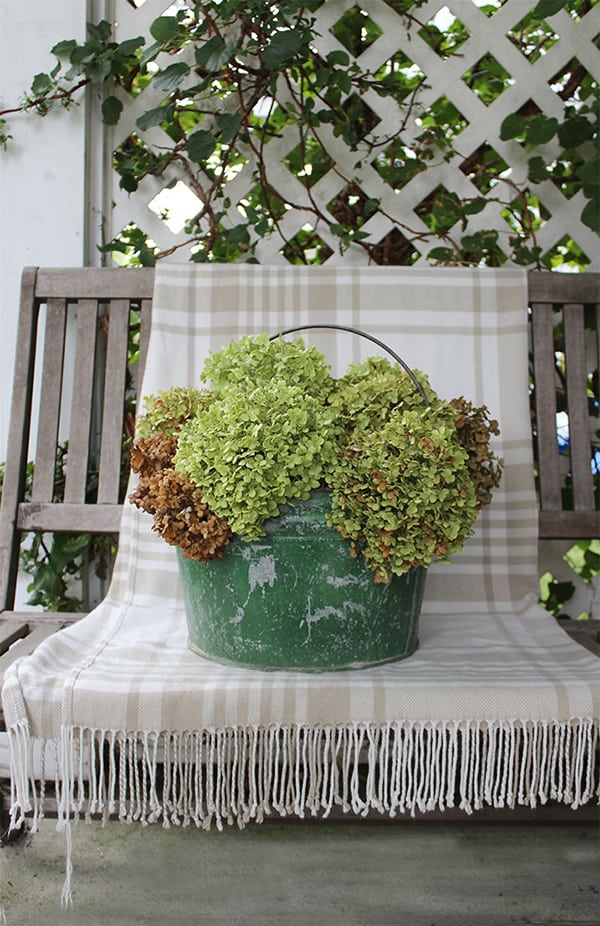 My entryway is tiny, so just a sprig of seasonal leaves and a pumpkin are more than enough here. It's been raining so much here the rain boots are a constant by the door.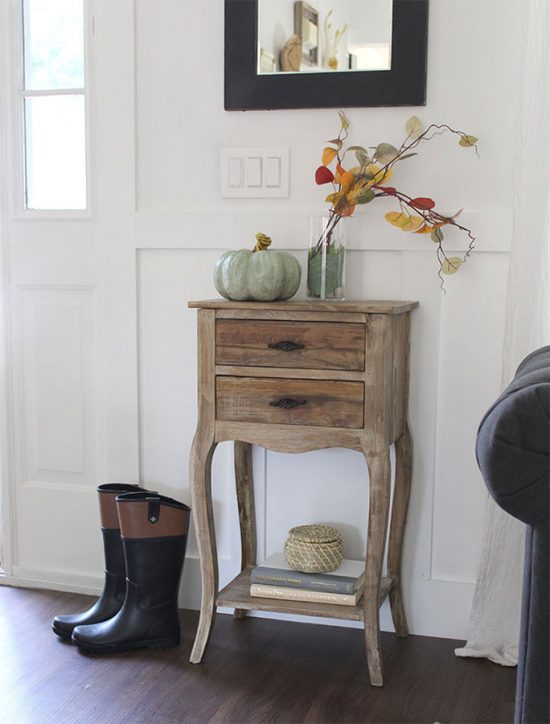 The focal point of our living room is this vintage mantel, another flea market find. I really, really like flea markets. My husband installed the mantel by building a custom surround for it. About a year after that, we installed the board and batten.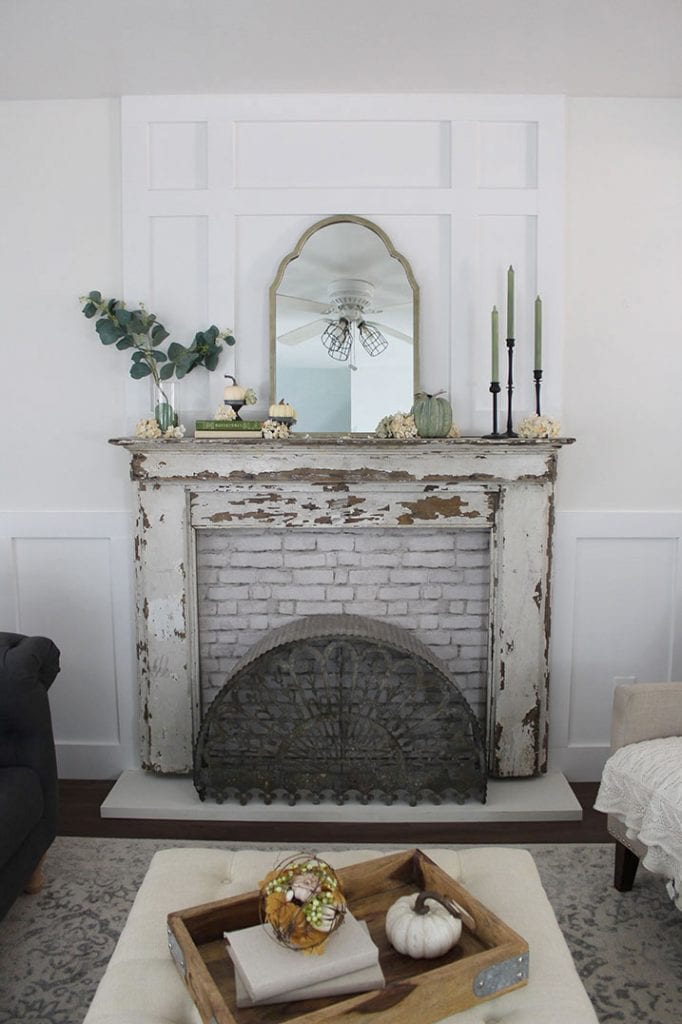 The pillow* on the couch is new this year (I really loved this one too), I couldn't resist that on a recent shopping trip!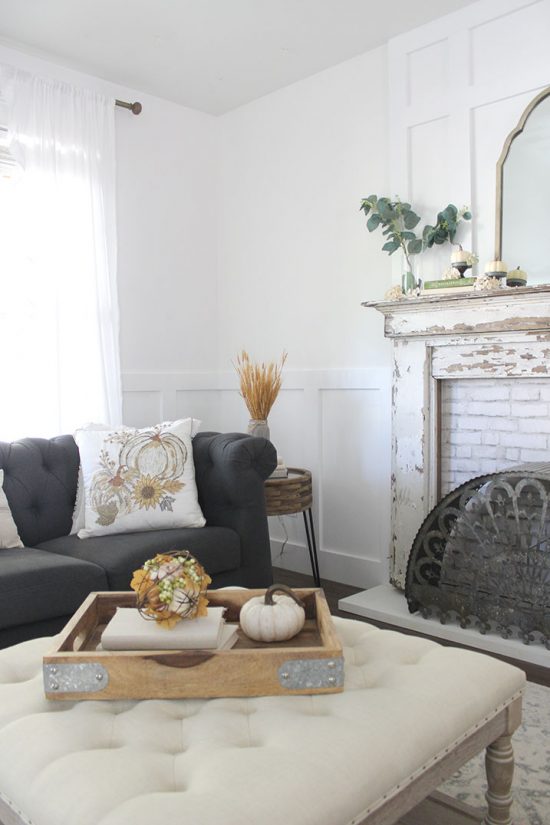 Here's a closer look at the mantel. I used fresh eucalyptus, faux hydrangea stems and my mini white pumpkins from last year. I elevated them with these vintage cupcake stands to give them some height.
Now into the kitchen.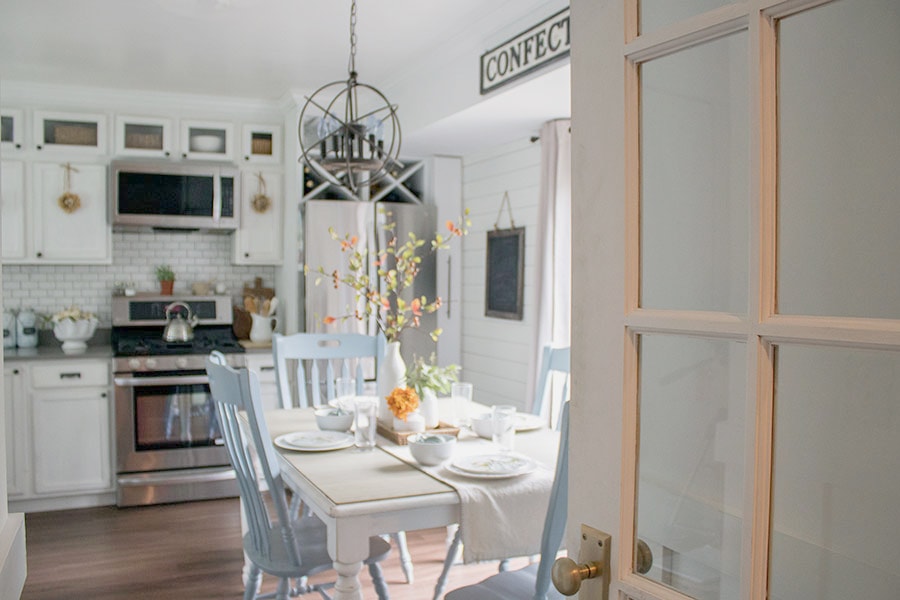 I added a little bit more color in here with some tall fall branches.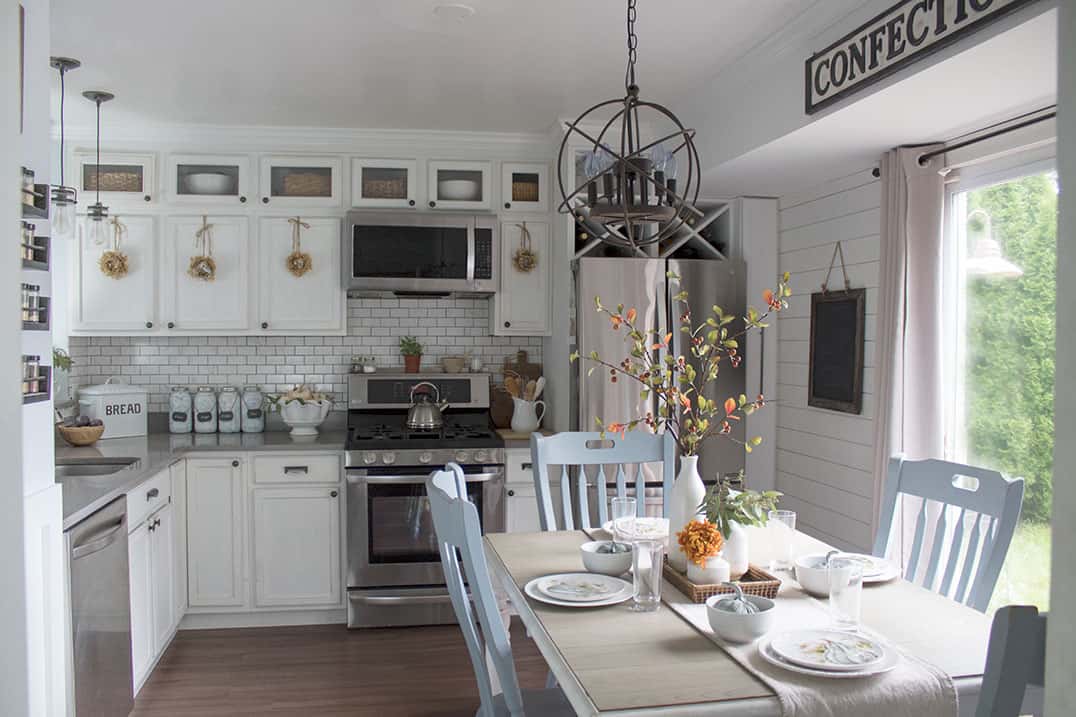 I was very excited when I found the velvet pumpkins at Target dollar spot. After ten minutes of trying to decide which colors to get, my daughter had to drag me away. My family is very patient with my design obsession.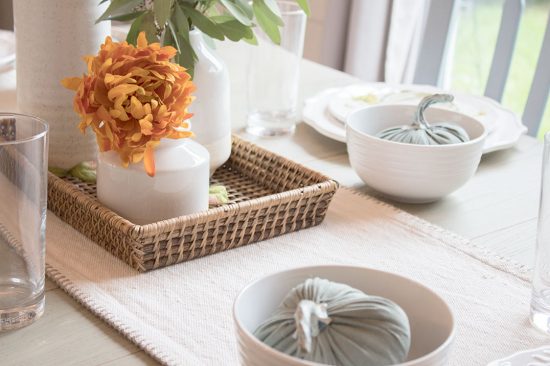 When we renovated the kitchen, I updated our old table and chairs. It was supposed to be a temporary fix, and now that one of the chairs are broken I think it's time to replace this set. You know, before someone sits on it and it collapses. (To my friends and family, don't sit in the chair by the sliding door).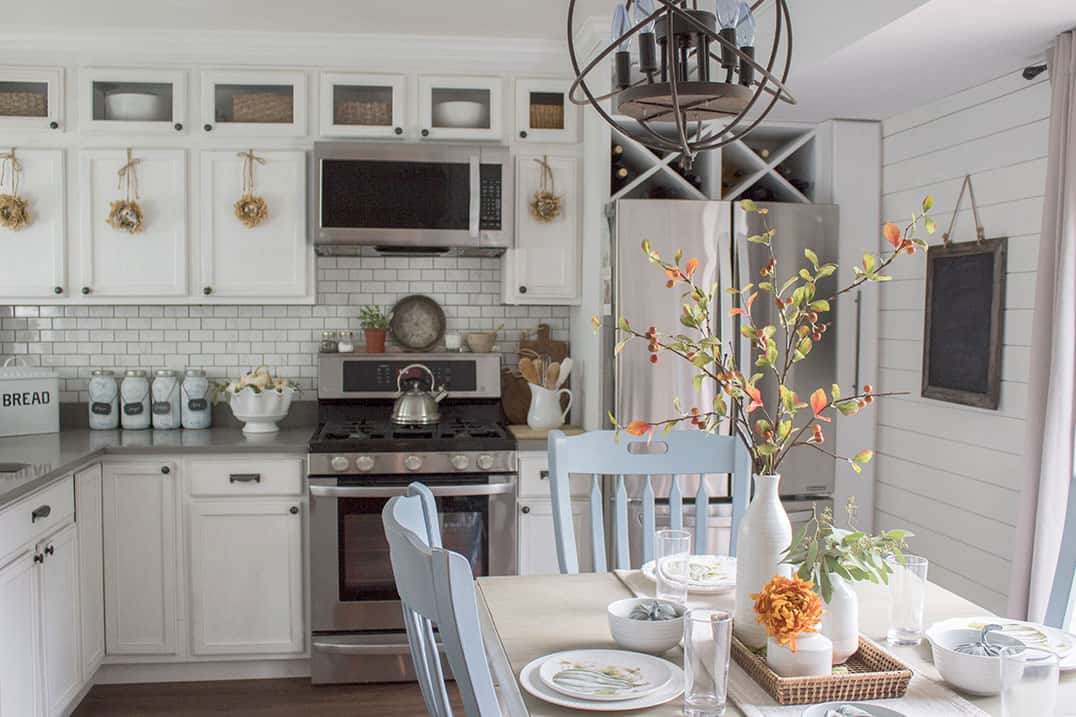 I've been stalking every store around for mini white pumpkins for weeks and I finally found some last weekend. I spotted them outside a local farmer's market as my husband and I were driving by and I nearly jumped out of the moving car.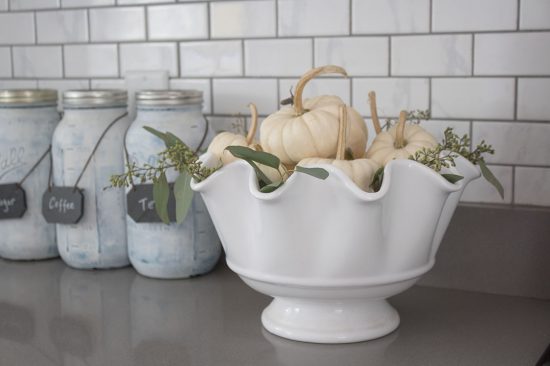 In the family room, I have the most amazing display of seasonal flowers. To be honest, I didn't buy these. I got to take them home from an event I attended in NYC with Ashely furniture. I was all too happy stuffing them into the Uber with me.
I wish I could make these last the whole season, they are so beautiful.
You've already seen my family room mantel when I shared with you how I made this fall banner. I'm itching to make a few changes in this room as well. I plan to replace my coffee table in there (gasp!). Literally, my husband gasped when I told him that because he knows how much I love it. It's just too big for the room so I'm going to have to let it go. If you love something, set it free…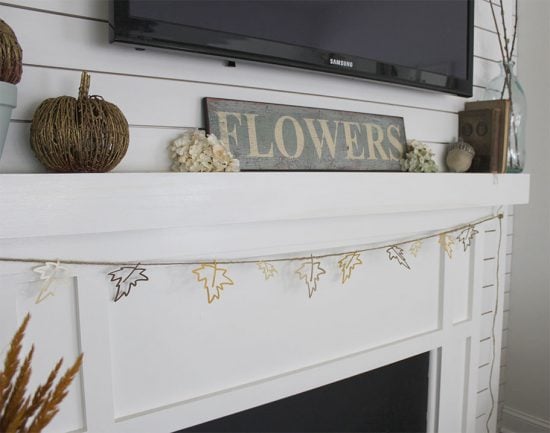 I balanced the brown of the pumpkins on the other side of the mantel with some vintage books and a decorative acorn.
Another little pumpkin vignette and a seasonal pillow.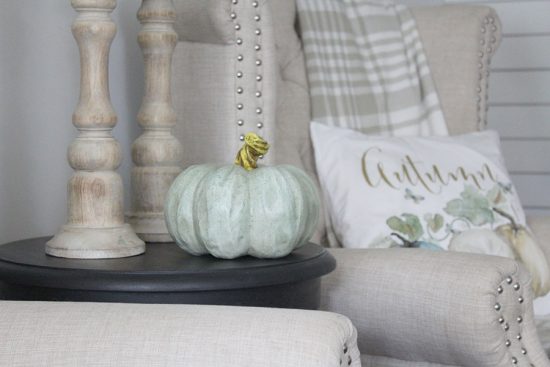 I finally changed out my spring accents for fall decor on my sideboard. Better late than never, lol. If it weren't for this fall home tour the spring decor might have stayed up until Christmas!
I made a centerpiece for the table in this room by flipping over a terra cotta pot and using the base as a topper.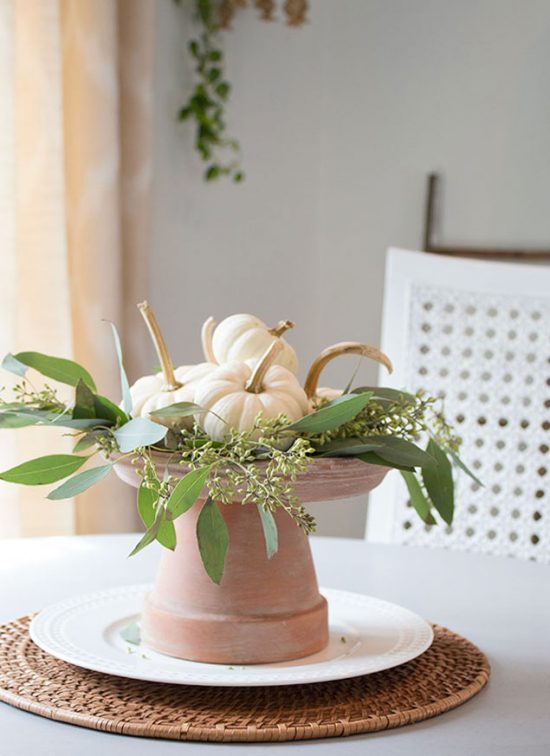 I filled it with seeded eucalyptus and mini white pumpkins. Those 2 things are all you really need for elegant fall decor.
If you enjoyed my home tour, I have plenty more inspiration for you. Stop by and visit these talented ladies for tons more fall decorating ideas. Thanks so much to Joy In Our Home for organizing these fun tours!!
---
Monday

Making It In the Mountains | My Life From Home |
Little House of Four | We Lived Happily Ever After
---
Tuesday

Postcards from the Ridge | Saw Nail and Paint |
Twelve On Main | Unskinny Boppy
---

Wednesday
My Creative Days | Worthing Court |
Little Home Reloved | Craving Some Creativity
---

ThursdayNorth Country Nest | The Honeycomb Home | Red Brick on the Lake |
Aratari At Home | A Blue Nest
---

FridayThe Frugal Homemaker | Joy In Our Home | County Road 407 | Sand Dollar Lane
Pin it for later: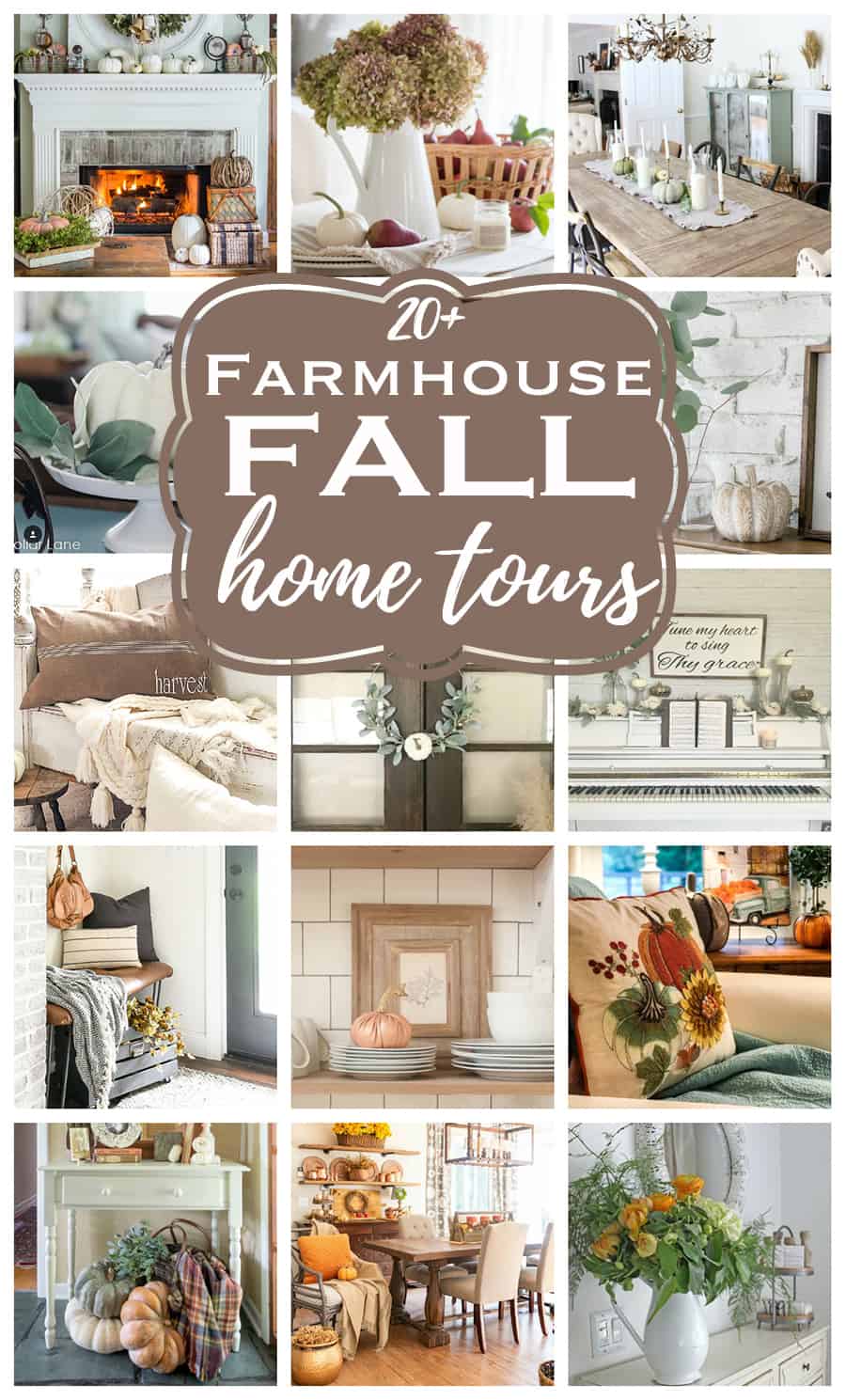 *This post may contain affiliate links.
---