3 Beautiful Fall Outdoor Table Settings Ideas! (2023)
There's something about putting together fall outdoor table settings that I really love.
With an abundance of things to harvest, fall is the perfect time to create a beautiful tablescape. Between the cooler temperatures, fall colors, and fresh air, everything feels easier.
While summer is the time most people think of gathering outside to eat, I think Fall is highly underrated for outdoor gatherings. No heat and no bugs!
For the last three years, I've put together fall table settings to embrace the beauty of the season! If you need fall table inspiration, check these out to inspire your next fall gathering or special occasion.
They're all easy to put together!
Gather these items for fall outdoor table settings
To get started, here's a list of go-to items you can use when putting together beautiful fall outdoor table settings:
Tablecloth or runner
Stack of white dishes & flatware
Fall foliage or flowers
Seasonal elements: pumpkins, gourds, pinecones
Candles in varying heights
Remember, abundance is key! I also like to add one unique element as well. Whether a piece of art on the table or an antique candleholder. Whatever I can find that I have on hand.
Use something unexpected to add interest!
Fall Outdoor Table (2020)
In 2020 it was all about embracing the outdoors. First, we started up the fire pit and grabbed a tray of S'mores. Then I decorated the table.
Plaid Tablecloth
To add pattern, I started with a plaid tablecloth. I went with neutral colors in the tablecloth so I could layer in fall colors with the table setting.
What fabric says fall better than plaid? I usually prefer buffet-style meals because they're less formal. So for this table, I stacked a pile of white dishes. They have a really pretty leaf pattern stamped into them.
I also scattered light purple drinking glasses around the table to match my pumpkins.
Colorful Pumpkins
For this fall table, I stepped out of my usually monochromatic color tendencies and went with purples and oranges.
Back then we had a rectangular, long table. Rather than one large centerpiece in the middle of the table, I ran candles and pumpkins all the way down the center of the table.
It's a mix of purple and white pumpkins in different sizes.
Candles and votive holders
Candles are such an easy way to create ambiance!
For this outdoor table setting, I layered orange taper candles in vintage brass candlestick holders with smaller votive holders. This creates variations in height and looks more interesting.
What made this table setting really fun was a tray of smores and a roaring fire in the fire pit. Think about what your family and friends will enjoy and add that to your tablescape.
Fall Table setting ideas 2021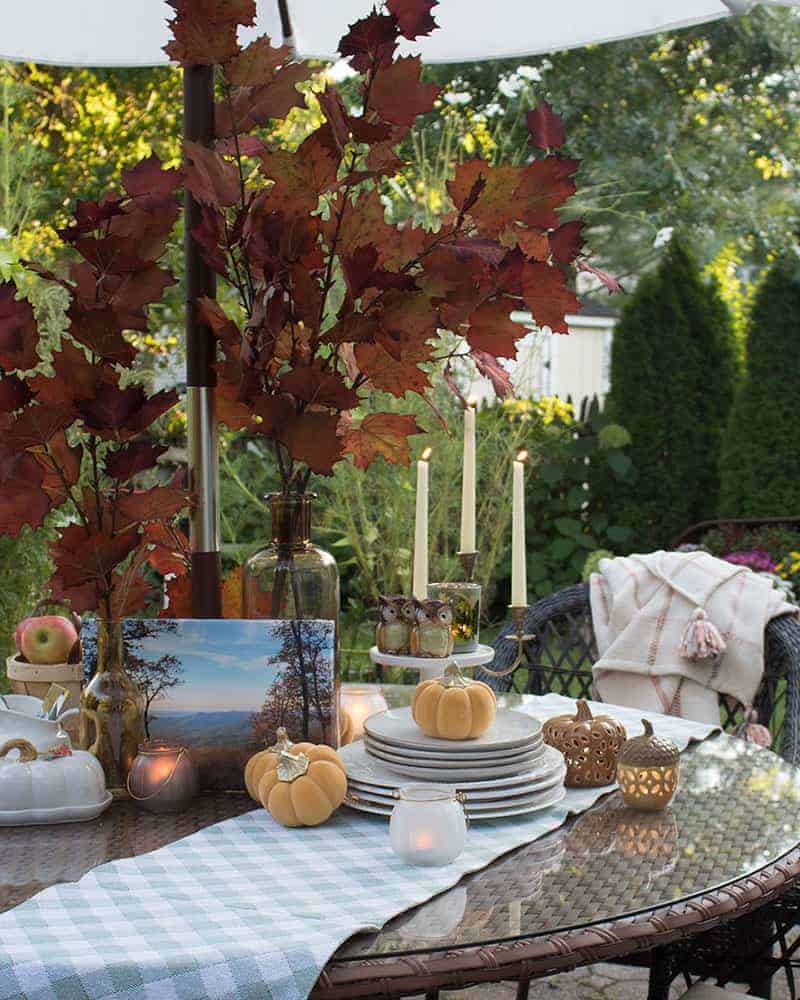 In 2021, we replaced our outdoor table with a round table. The round table has an umbrella in the middle so I had to decorate my fall table around that.
I wanted to use lots of earth tones for this table. For that reason, I again started with a stack of white dishes. I kept all the serving dishes white as well.
Table Runner
Even though I couldn't put a table runner right down the center of this round table, I used one anyway. I placed it off to the side. It helps to soften the glass table with some linen.
Here I used a plaid pattern again, but this time in green and white checks.
Fall Centerpiece
For the centerpiece, I used a simple amber vase with a huge bunch of faux fall foliage. These gorgeous brown and gold leaves were such a great find, they look real! Fall is all about abundance and harvest so I like my fall decorations to be full as well.
The fall leaves are tall and help to diminish the patio umbrella pole.
Mini Pumpkins
As with my table from the previous year, I used mini pumpkins. They are a pretty orange velvet and worked with my earth tone color scheme.
Then I layered in a mix of candles, both tall and short. A tall vintage candelabra I found at a flea market is one of my favorites.
Many of the white dishes were seasonal in theme. Such as owl salt and pepper shakers and a pumpkin-shaped butter dish.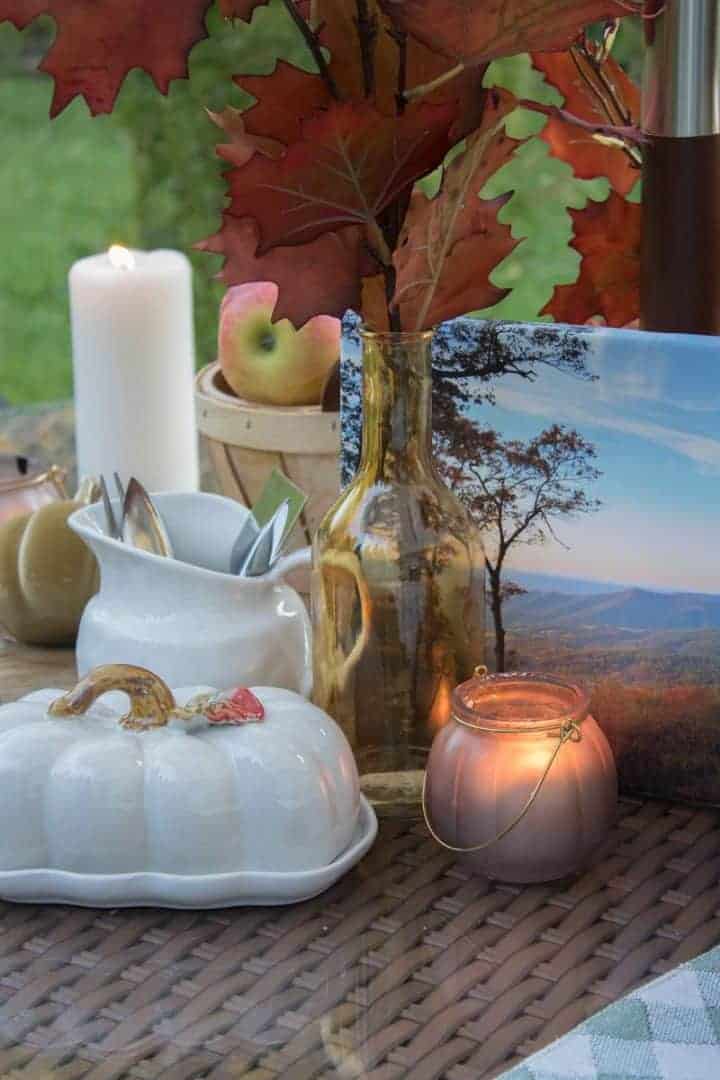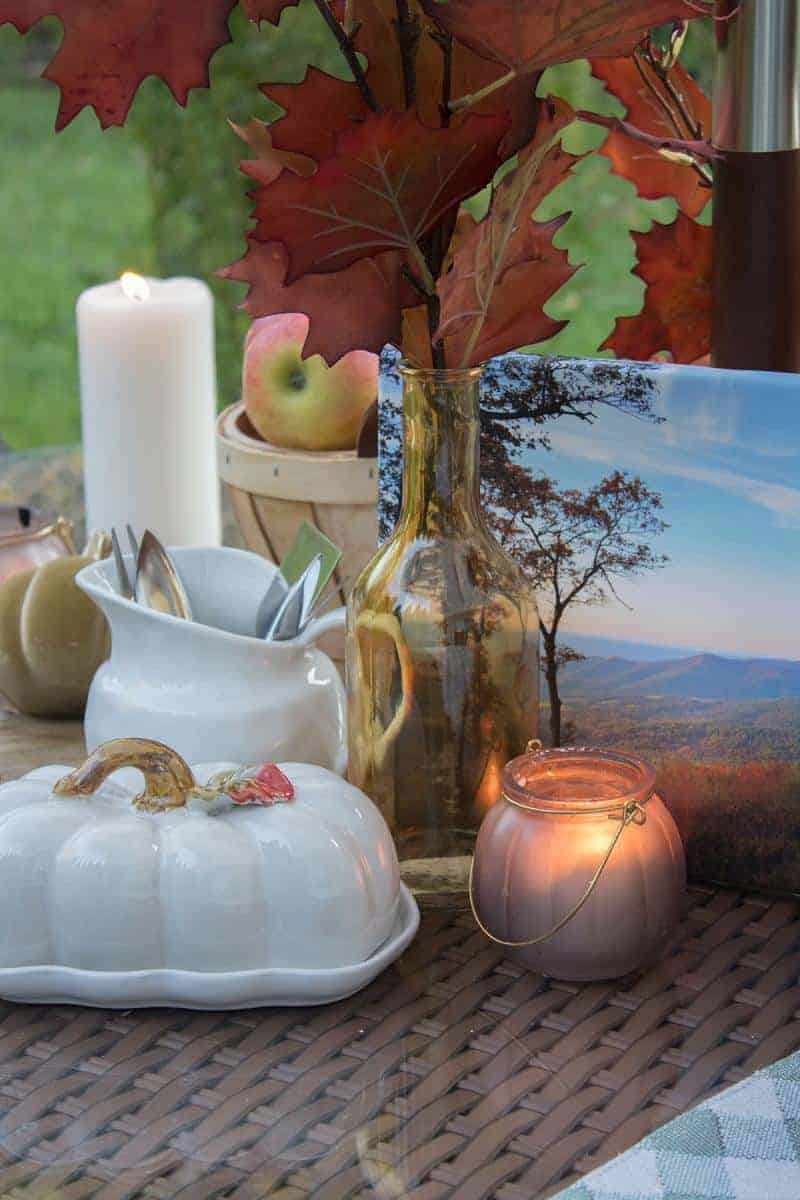 A basket full of apples was another natural element. To round out the table, I also added a painting in similar colors for an unexpected element.
What was really nice this year was the setting. Our yard looked especially good this year, and I filled our wheelbarrow planter with mums.
It was such a beautiful backdrop!
Fall Tablescape 2022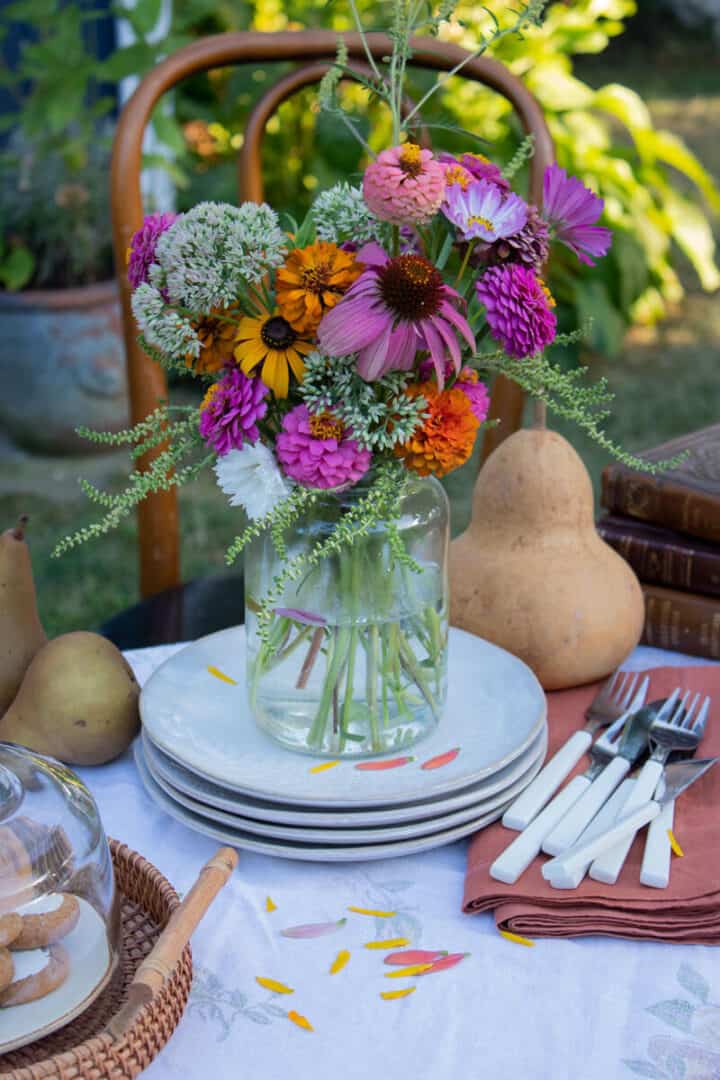 Last year, I created yet another fall outdoor table setting. Though we still have the round table I happened to have a fun vintage sewing table I bought at the flea market.
I decided to use that little table as the base for my fall table decorations this time around. The theme this year was mixing natural elements with vintage.
Fall Flowers
Each of my table settings contained fall flowers, but this year I used them for a simple centerpiece.
My clear glass vase is actually a recycled pickle jar. I filled it with a handful of cut flowers from my backyard.
These are all great ways to have abundance without any additional cost. The flowers shown in the vase are zinnia, cosmos, coneflowers, and sedum.
Sometimes simple is best!
Vintage Table Linens
To go with my vintage sewing table, I incorporated lots of vintage items into my fall outdoor table setting last year.
The floral tablecloth is vintage, as are the silverware and accessories. For more color, I used deep orange linen napkins.
Natural Elements
Using natural elements for fall doesn't always have to mean pumpkins.
Rather than the usual pumpkins, instead, I used gourds and fresh fruit. I scattered pears around the table and had a tray of caramel apples.
Using seasonal fruit and flowers in your table settings is a great way to keep the cost down. No waste and nothing to store away until next year!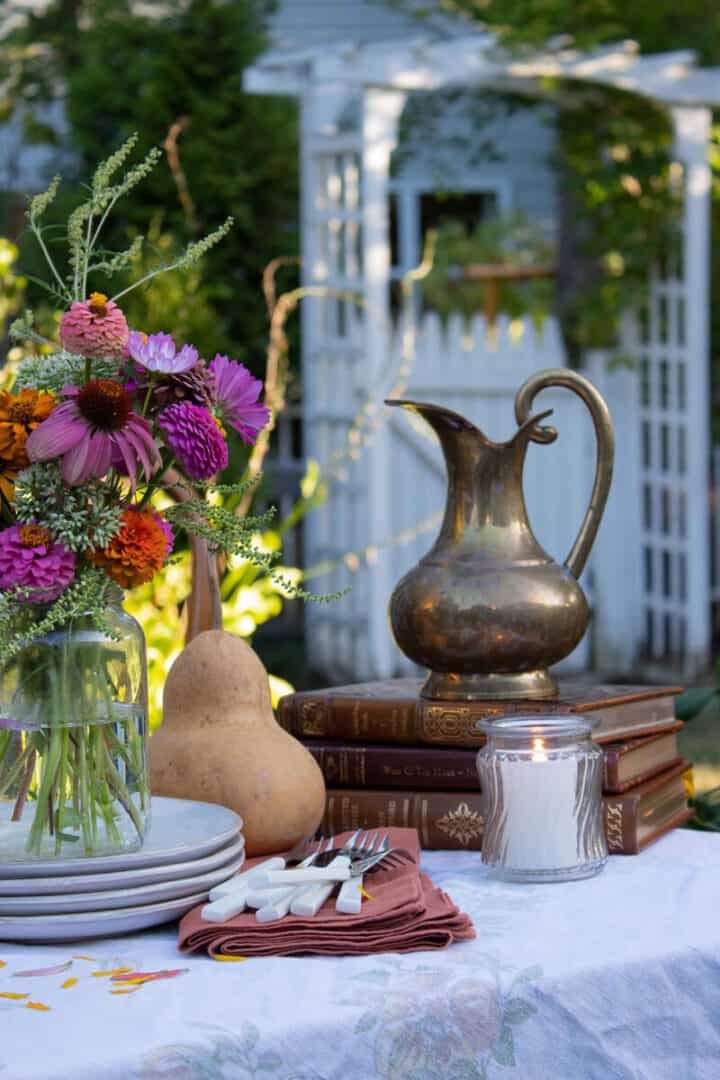 The unexpected element on this table was a stack of vintage books! The brown leather tied in so well with all the other elements on the table.
The abundance of natural elements available in fall makes it so easy to create a beautiful fall table setting. You could even grab pinecones, acorns, and tall branches. Or scatter colorful leaves across the table.
Whatever you have in your yard will work!
---
"Autumn carries more gold in its pocket than all the other seasons" – Jim Bishop
---
Lastly, back in 2018 I was inspired by the landscape around my friend's porch. Together we put together a simple harvest fall table to echo the surrounding landscape.
With all the good things the fall season brings, there are endless ways to create a cozy atmosphere for family gatherings.
I have so much fun creating these fall outdoor table settings. Especially when Mother Nature provides a perfect backdrop for an inviting atmosphere!
When the heat of summer is finally gone it's SO good to be back outside harvesting the garden and enjoying the fresh air! The fall season is my favorite!
And if it gets a little chilly, all you need to do is toss a pretty throw blanket over a chair, have a warm drink, and light the fire pit.
I hope you found some inspiration here as well! Which one is your favorite?
Here are a few pretty things I spied online this year:

---
YOU MAY ALSO LIKE: