Affordable Fall Table Decor Ideas
Simple yet beautiful fall table decor ideas that are so pretty you'd never guess they're budget-friendly!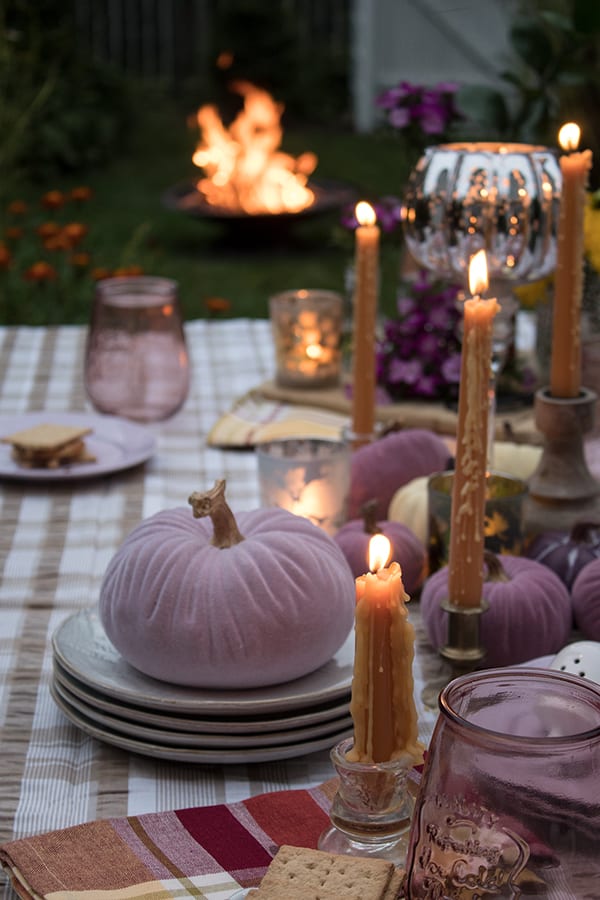 Though the pandemic seems to be slowing down in most areas of the country I'm sure most people are continuing to lean towards outdoor dining for as long as the weather permits. I love this time of year when things cool down. I prefer to eat outdoors when I'm not melting!
In that light, I put together a really pretty tablescape inspired by a recent trip to The Christmas Tree Shops. I left there with so many fall table decor ideas I couldn't wait to put one together!
When I think of a fall harvest, I think of abundance. So for my fall table decor ideas this year, I wanted to have an abundant mix without going overboard or spending a lot.
Start With A Fall Tablecloth
First, I started with a plaid fall tablecloth as the base. I love the neutral colors on this one.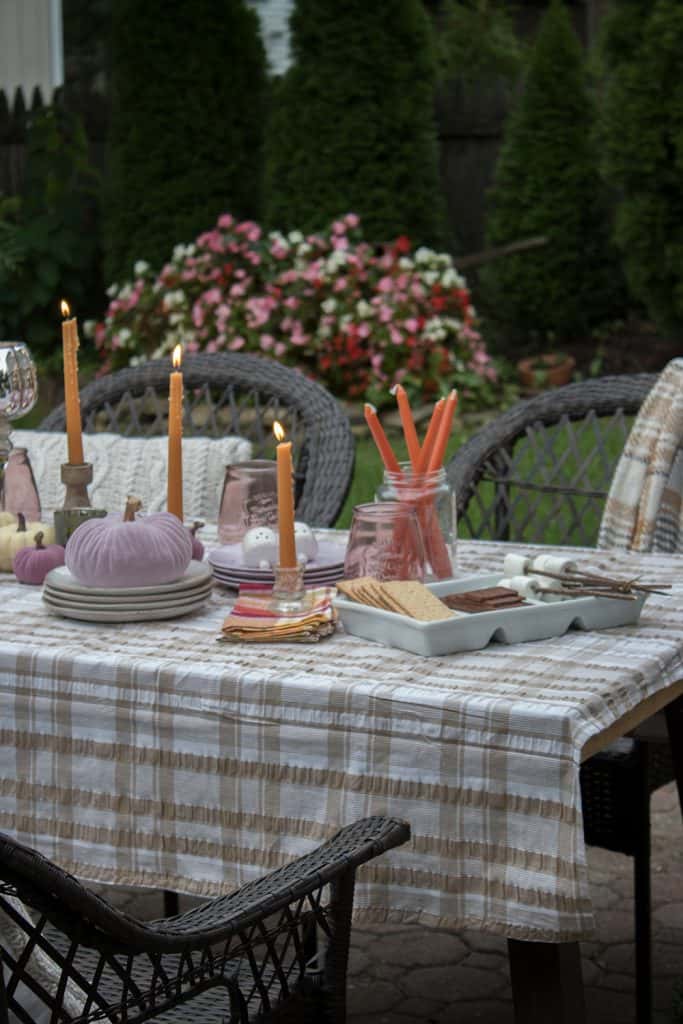 I really fell in love with these colored taper candles I found in store. They are such a perfect color. Even though this color is ideal for fall and Thanskgiving, it's pretty enough to use all year.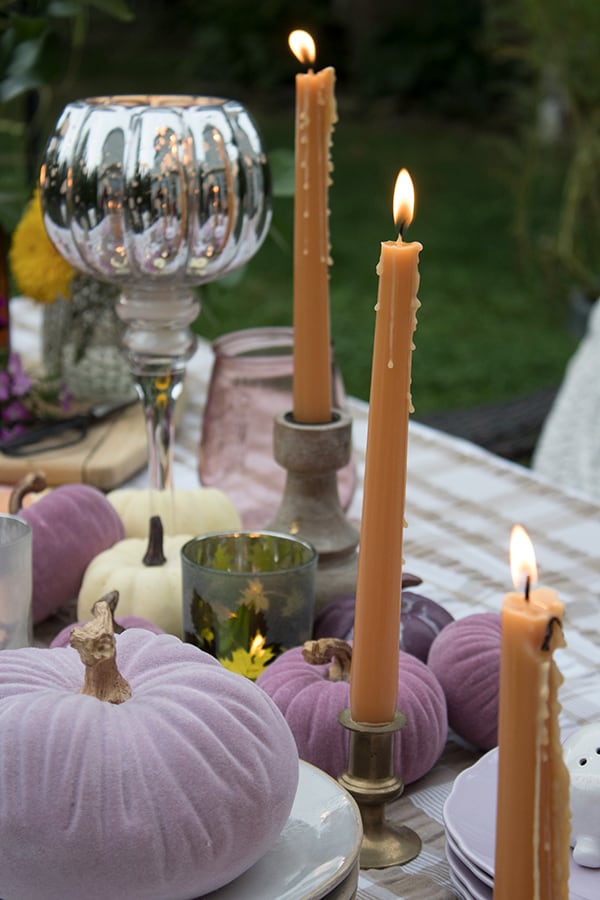 Create A Simple Fall Centerpiece
Next, I wanted to create some kind of fall centerpiece. Instead of using only one thing, I lined the center of the table with a cluster of fall candles (in varying heights) and assorted mini pumpkins.
I was really drawn to the purple pumpkins I found at the Christmas Tree Shops this year. They're a fun change from my usual colors. That's why I like to keep my overall decor neutral so I can mix up the colors seasonally and keep it interesting.
If you saw my Instagram stories last week, you may have noticed they also have a pretty selection of blue pumpkins as well as many natural fall-themed elements.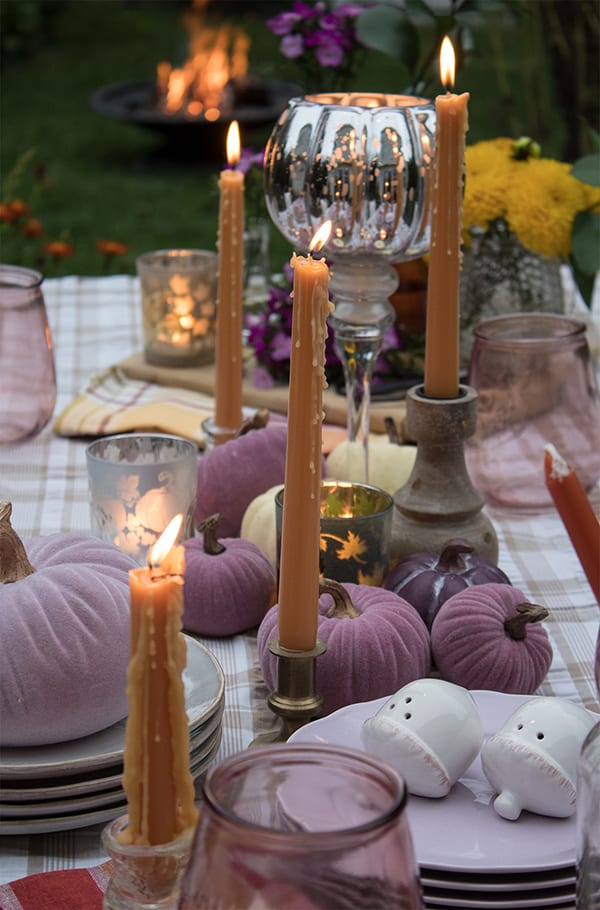 Pretty Fall Dishes & Glassware
Next, I added dishes. Notice the adorable acorn-shaped salt and pepper shakers. Aren't they the cutest?? I picked up lavender salad plates with a pretty slightly scalloped edge and glassware to go with the purple pumpkin theme.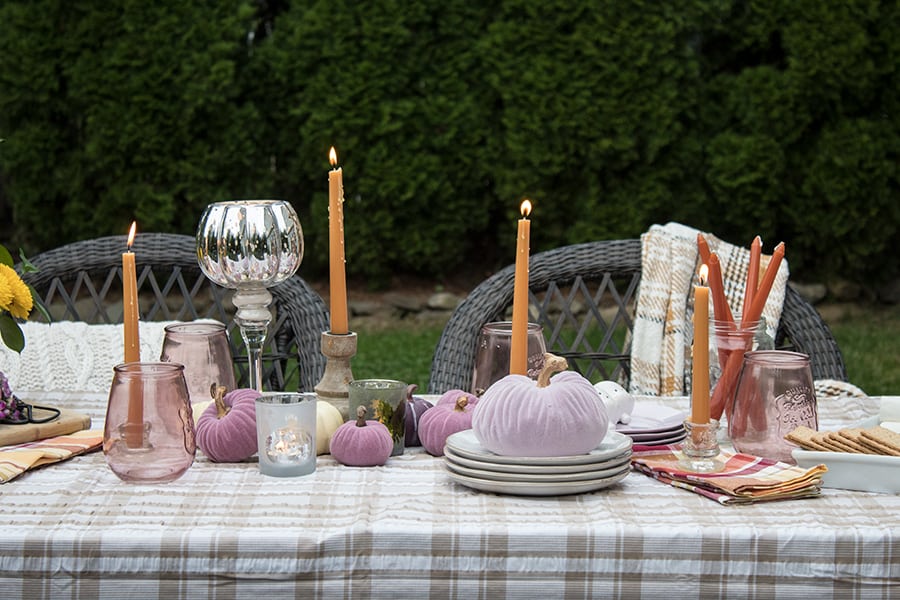 It's already been getting a little chilly at night here in NJ, so I put out my plaid throw blanket and a few sweater pillows. The plaid throw blanket is from last year and was also found at The Christmas Tree Shops. You may remember that from my post "5 Simple Fall Decorating Ideas". The pillows are from this year.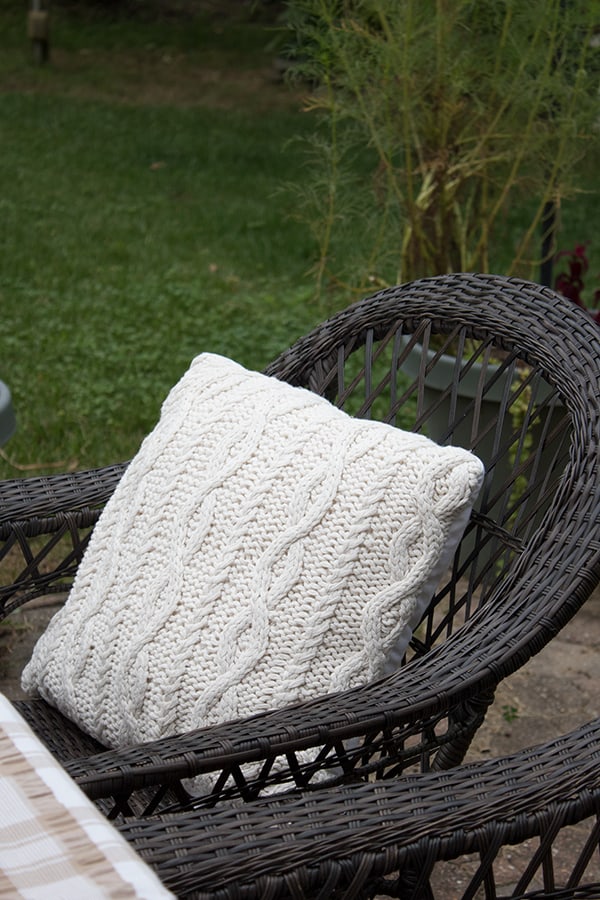 These will be useful all fall and winter with that pretty winter white color. They're also neutral enough to be layered with any other fall and winter pillows I have around here.
Add Fresh Flowers
Of course, no tablescape is complete without some fresh flowers. My daughter had a beautiful bouquet from her boyfriend that was starting to fade. I picked out what was left of that and put those flowers in assorted upcycled jars. It just so happened that some of the flowers that lasted were purple and matched my fall tablescape perfectly. 🙂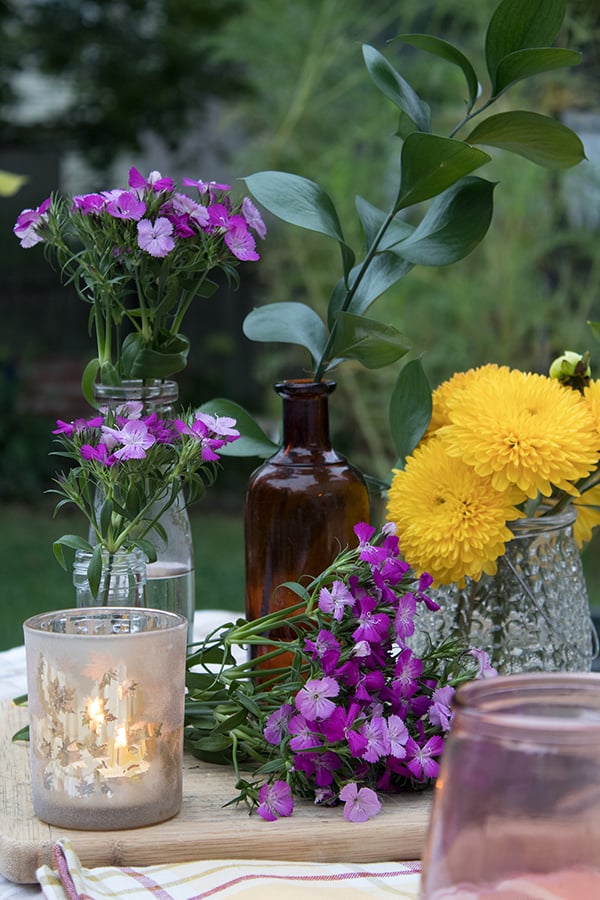 Almost every single thing on this fall tablescape is from The Christmas Tree Shops (exceptions are the glass jars, and the smores dish) and you guys it's all so affordable! The in-store products change often so you'll never know what treasures you'll find there.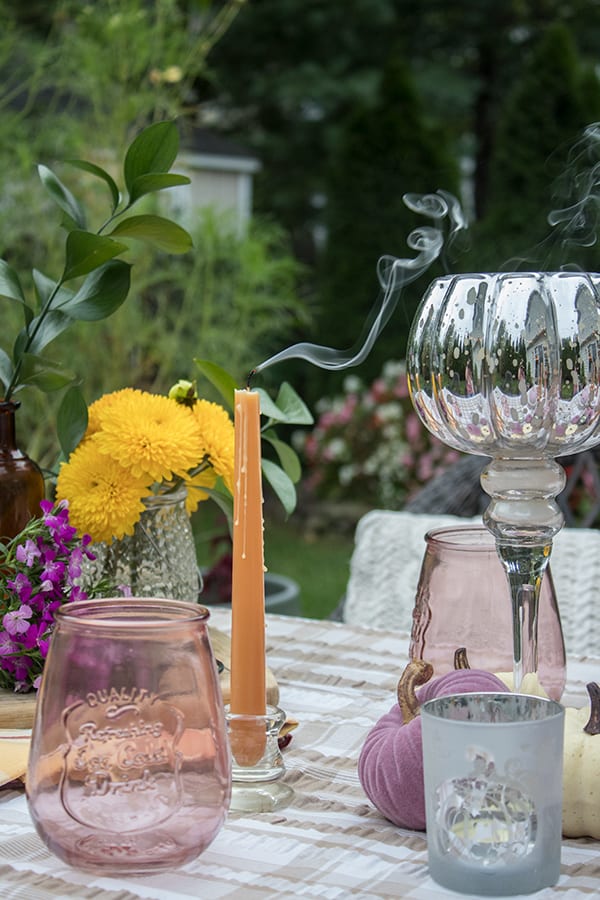 I even put together a short video to show how easy and affordable this tablescape was to put together.
You should also check out my other outdoor fall table settings for even more inspiration!
Do you have any affordable fall table decor ideas to share? Leave them in the comments!
This post was in partnership with The Christmas Tree Shops, all opinions are my own.