Mix and Match Bedroom Furniture Ideas (Easy Tips)
Recently I was thinking about mix-and-match bedroom furniture ideas. It reminded me that one of the first things they teach in design school is that you want to achieve a cohesive look when decorating a room.
However, I don't think that needs to be done with a matching bedroom set.
In fact, I think mixing things up is a fun way to create your own unique look.
Different Styles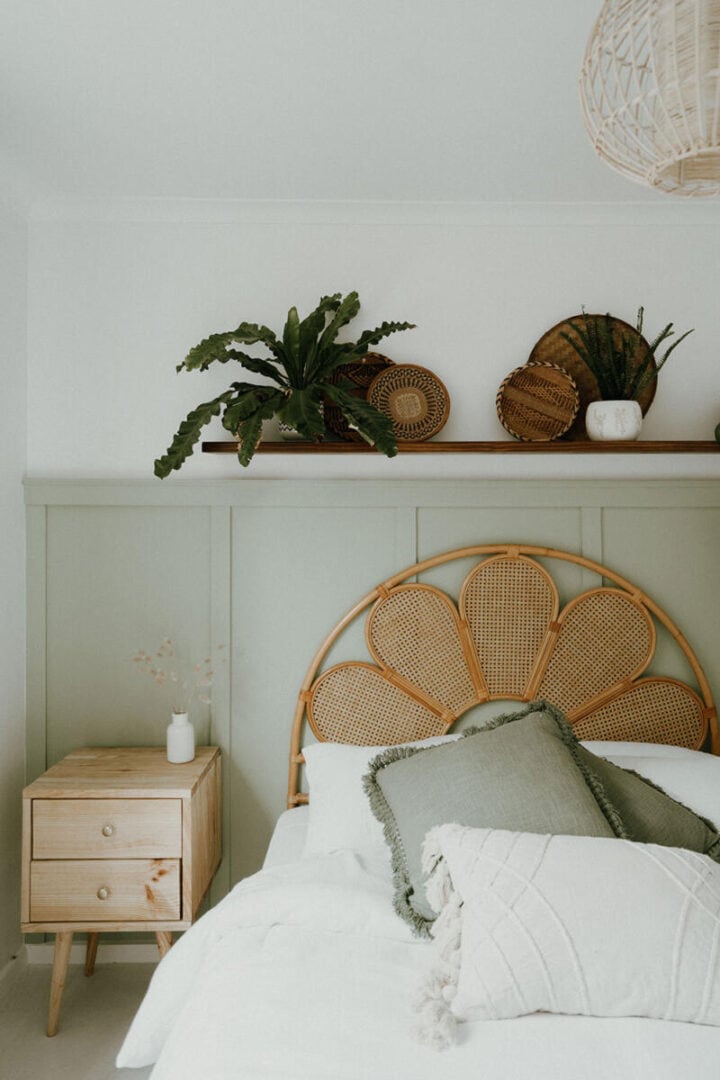 When choosing different furniture pieces to mix and match a good place to start is to consider what style you're drawn to.
Do you love warm, vintage rooms or cool, minimalist rooms? If you're unsure, take a look through your saved photos on Pinterest or look through design books. Save your favorite rooms and then go back and look at what they all have in common. More than likely, you will see a theme there.
This one step will help you keep your personal preferences in mind and guide you to creating a cohesive space.
Start With A Focal Point
Usually, the focal point of any bedroom is the bed. For that reason, I like to make this a statement piece. Whether that's an upholstered headboard, an antique bed frame, or something more minimalist the bed will dictate the rest of the space.
Once you choose your bed, also consider the bedding. This is a great area to add different textures, patterns, and colors to complement the various furniture pieces. Or keep the bedding subdued if you want to focus on one statement piece.
Vintage Beds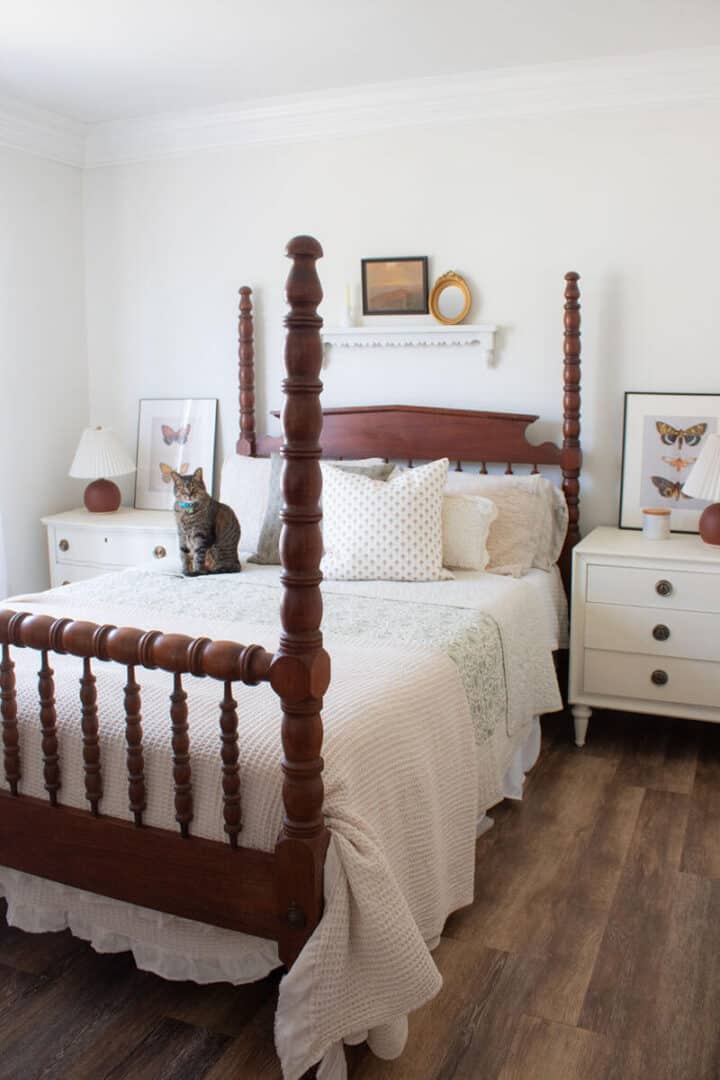 In my younger daughter's room we have a truly amazing antique bed frame. So unique I had to have a custom mattress made for it.
Because this bed is a showstopper, I kept the rest of the room rather simple in design. I painted the mismatched nightstands the same color for a harmonious look. One of them is actually a small vintage dresser.
To add more visual interest, I added color and pattern in the bedding and throw pillows. We also added a vintage dresser to compliment the bed.
Mixing Wood Tones
When shopping, I tend to look for a piece of furniture that I love without worrying too much about mixing wood tones.
What I do look for is wood tones in colors I like. I usually won't buy something if the wood has an orange or red tone. The only exception is if the piece is too amazing to pass up. In that case, I will buy it and refinish it.
When I do it that way, mixing wood tones usually looks good. I try to keep it to no more than three different wood tones per room.
Upholstered Headboards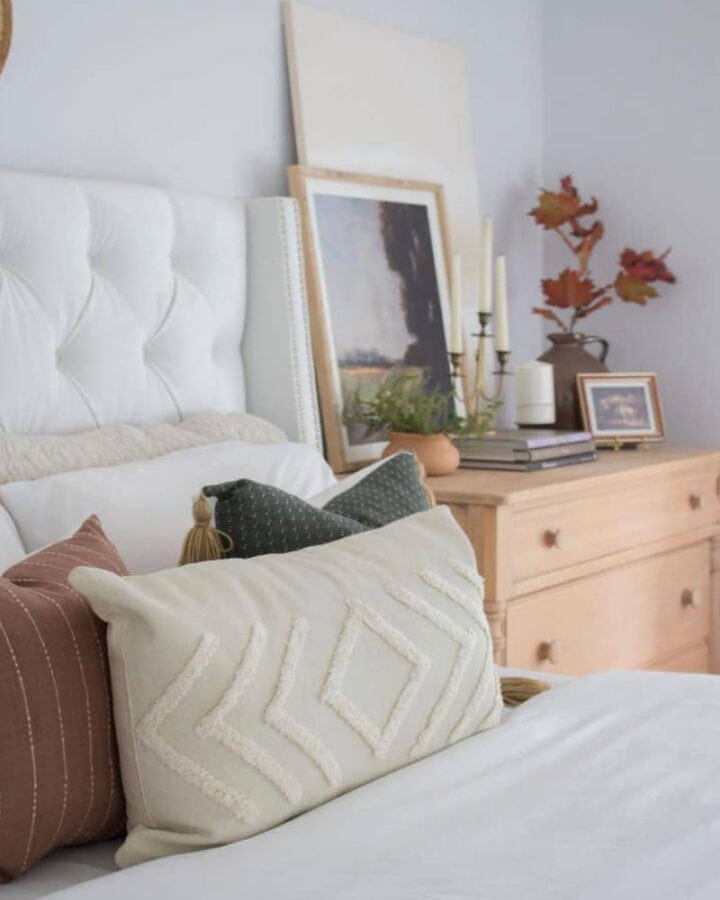 In my older daughter's room we went with a white upholstered headboard. It's classic, with no specific style. That keeps your options open for the rest of the room.
This is a great starting point if you're indecisive.
We wanted to have a desk in this small bedroom for extra workspace. For that reason, the desk doubles as a bedside table.
It's the best way to maximize space in smaller bedrooms.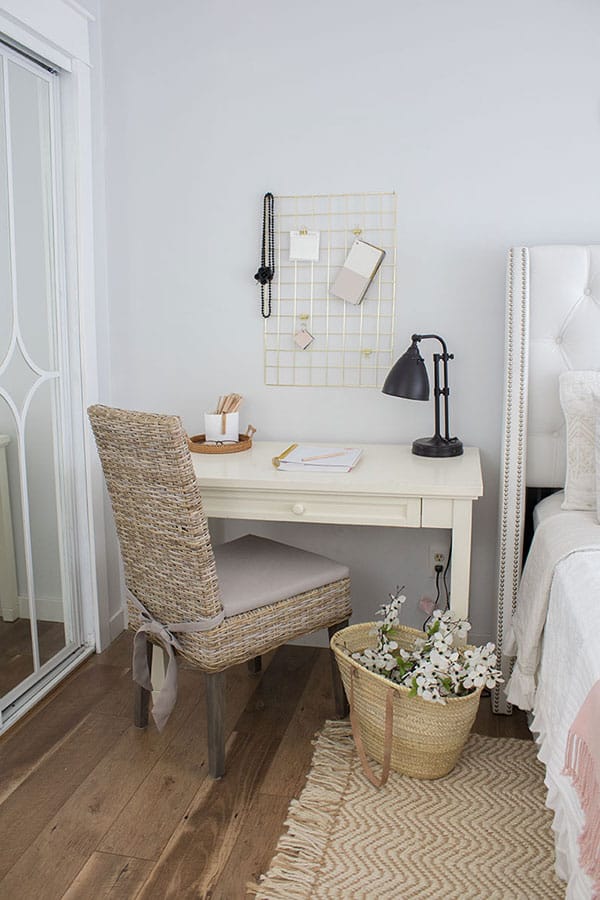 Because I usually just buy what I love, like the vintage dresser, the room ended up with a bit more of an eclectic style. Keeping everything neutral tones is what makes it look harmonious.
Minimalist headboards
For our main bedroom, I wanted a totally subtle, relaxing vibe. For me, that means everything is neutral and monochromatic.
We have a very simple (but classic) caned headboard. Our furniture here is actually a matching set we bought many years ago, except for the bed.
It was our first big furniture purchase as a couple and I remember how excited we were to get it. We said we felt like we were in a hotel.
Of course, I quickly got bored with that matchy-matchy look.
To mix it up, I painted the bedside tables & armoire in an off-white color. But kept the top wood toned for a subtle contrast. I also changed out the hardware for a bit more of a vintage look.
putting a bedroom color palette together
The best way to keep things cohesive with these mix-and-match bedroom furniture ideas is with color.
Adding color with throw pillows and fabrics is one of the easiest ways to pull a color palette together. There are three main places to add your color, all of which make a great starting point for color selections.
Choose one of these items with colors you love and use that to match the rest of the colors in the room. And when it comes to painting, I usually choose that last or go with white because paint is available in so many tones.
All of these are also a great way to add in the pattern. I personally love mix-and-matching patterns though I usually keep it to two. One large print and one smaller print in similar colors always look good.
Area Rugs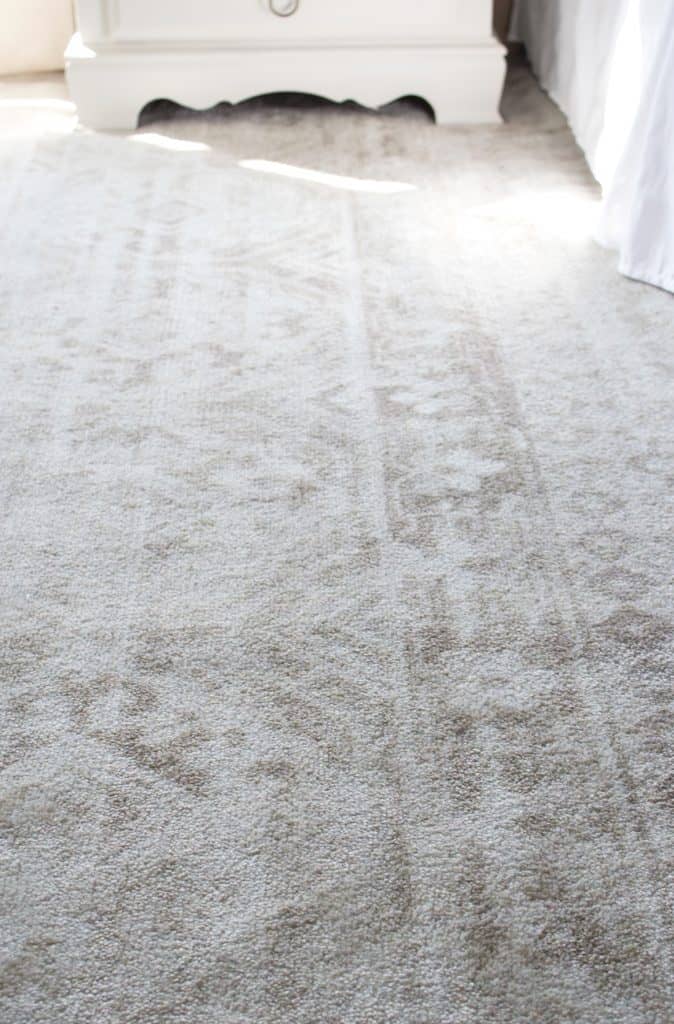 Area rugs take up a lot of real estate in a room so this is a great place to add your color. It's also the base of the room so pulling colors from there is a great way to sprinkle it throughout the rest of the space. Such as throw pillows and artwork.
Area rugs are also great for layering in texture. Sisal and jute rugs work well for that and are neutral in style.
Currently, I'm loving the patterns I'm finding in vintage Turkish and Persian rugs.
Window Treatments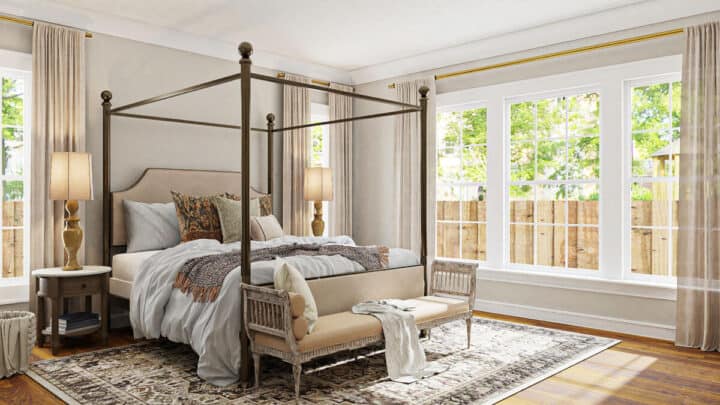 As with area rugs, window treatments can be another starting point for color selection. If you don't have much natural light, keeping them light in color or sheer will help. You can add blinds or custom shades for privacy.
You can also add texture to your windows with linen curtains or bamboo blinds.
Bedding
Last but not least is bedding. If the bed is the focal point, bedding matters. Find a quilt or comforter you love first, and then decorate around that.
My favorite quilt in our house is the green patterned quilt in my daughter's room. It adds so much to the room.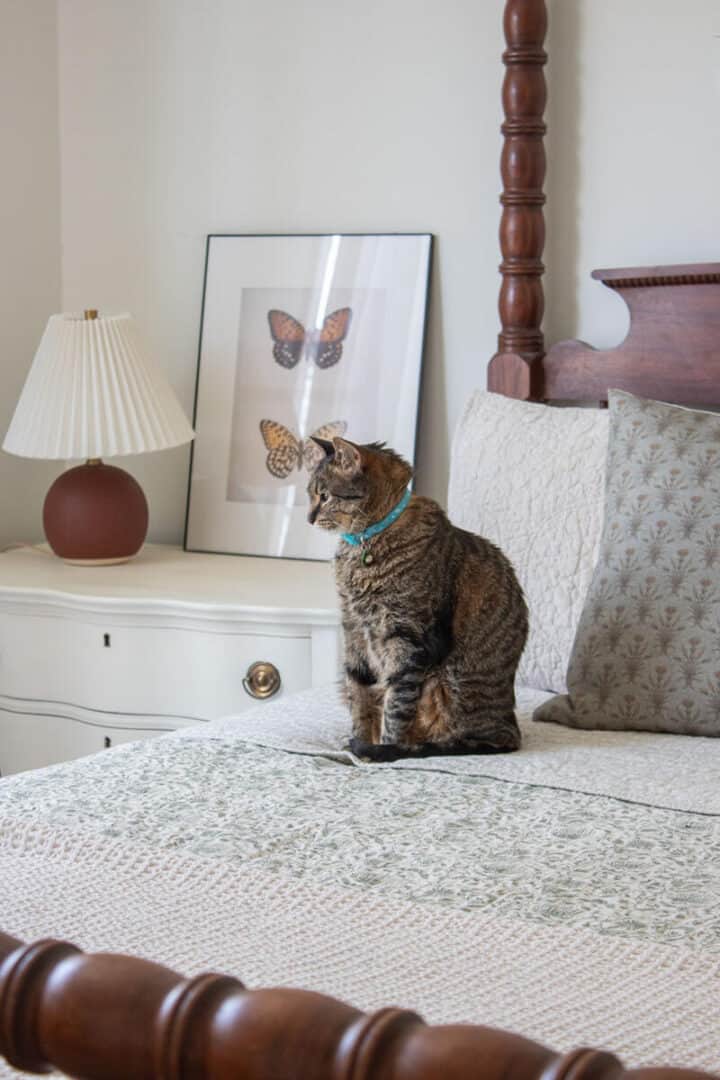 Then I matched the throw pillows to the lamps on the bedside tables in a complimentary color for a subtle contrast with the quilt.
Using Vintage Furniture to mix and match Your Bedroom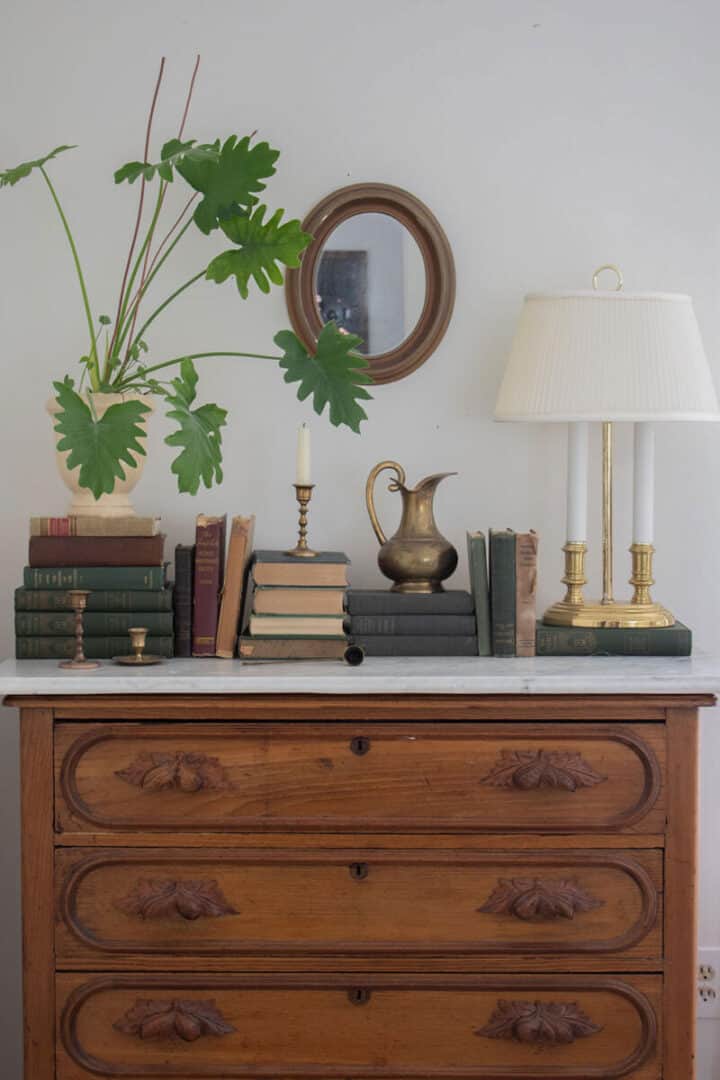 Don't be afraid of mixing antiques with modern decor.
It's a great way to mix and match your bedroom furniture without spending a fortune. Whether you shop at antique stores, flea markets, or Facebook Marketplace you'll likely find unique vintage pieces for less than buying new. And it's likely better made.
You know the old saying they really don't make them like that anymore? It's true. 😉 Not to mention, it's good for the environment.
Mixing old and new helps create a collected feel. It will also add character and warmth. I like to have at least one antique piece in a room (but usually many more).
I always feel like this is a no-risk option, This is because if I don't love the piece when I get it home I can resell it on Marketplace. Just because it doesn't work in my space doesn't mean it isn't perfect for someone else.
I very rarely buy furniture new anymore. The only exception to that is upholstered pieces. Usually, I'll skip those if they're second hand or if it's a small piece, I'll reupholster them myself.
Furniture balance for a Harmonious look
One thing to remember when mixing furniture and decor in any room is balance or scale. It's fine to use pieces from different eras but make sure they carry the same visual weight.
The idea is not to have a giant dresser on one side of the bed with a very small table on the other side.
Visually, it would look off balance.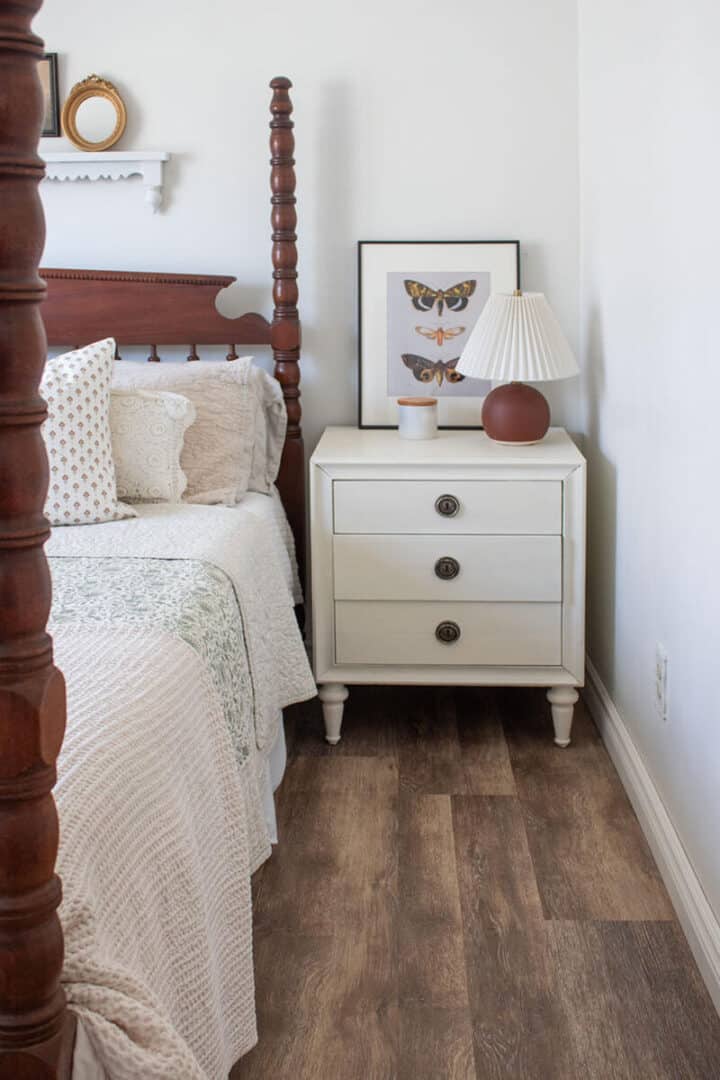 While sometimes such a juxtaposition can make a beautiful statement, usually it's best to keep the balance.
One last tip is to remember less is more.
Especially in a bedroom where you want the feel to be restful. You don't have to buy tons of furniture. Just enough to meet your storage needs. Having a bit of open space makes a room feel much less cluttered.
Using mix and match bedroom furniture ideas is a great way to add personal style to your bedroom design and create a unique space. By combining different furniture pieces and keeping the color scheme cohesive you will have a really stylish space.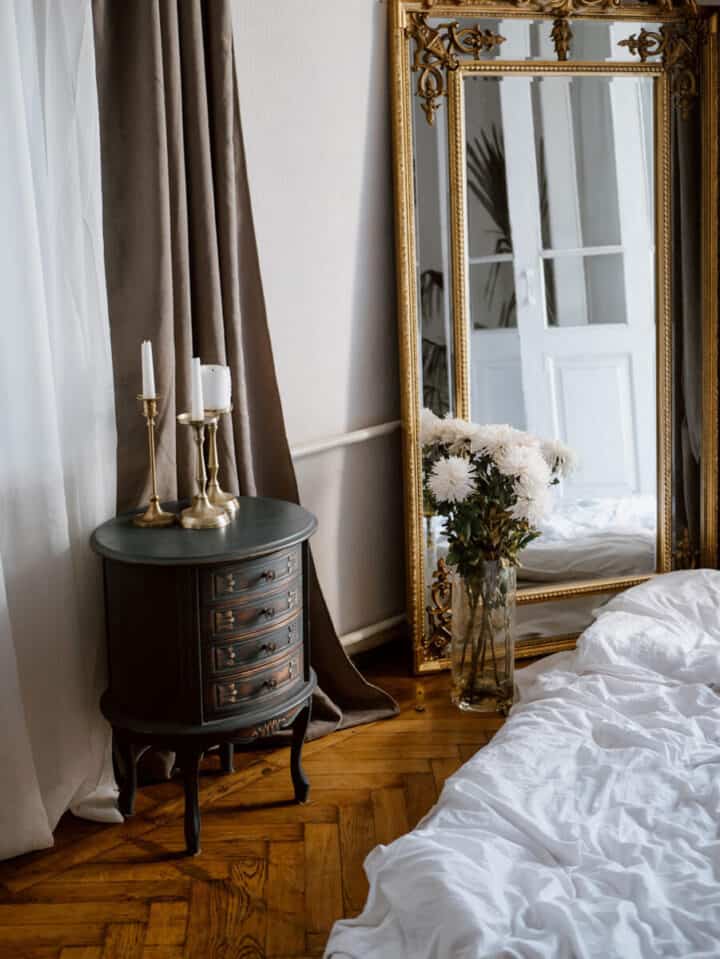 You can read more about how to plan your bedroom furniture layout here.
Don't be afraid to break the design rules – experiment and have fun with it! Take risks and try out different combinations. Your bedroom should be a place that you love.
The possibilities are endless to create a bedroom that truly reflects your individuality! Isn't that the most important thing of all?
---
If you liked these mix and match bedroom furniture ideas you may also like…