Buying An Antique Bed Mattress – What You Need To Know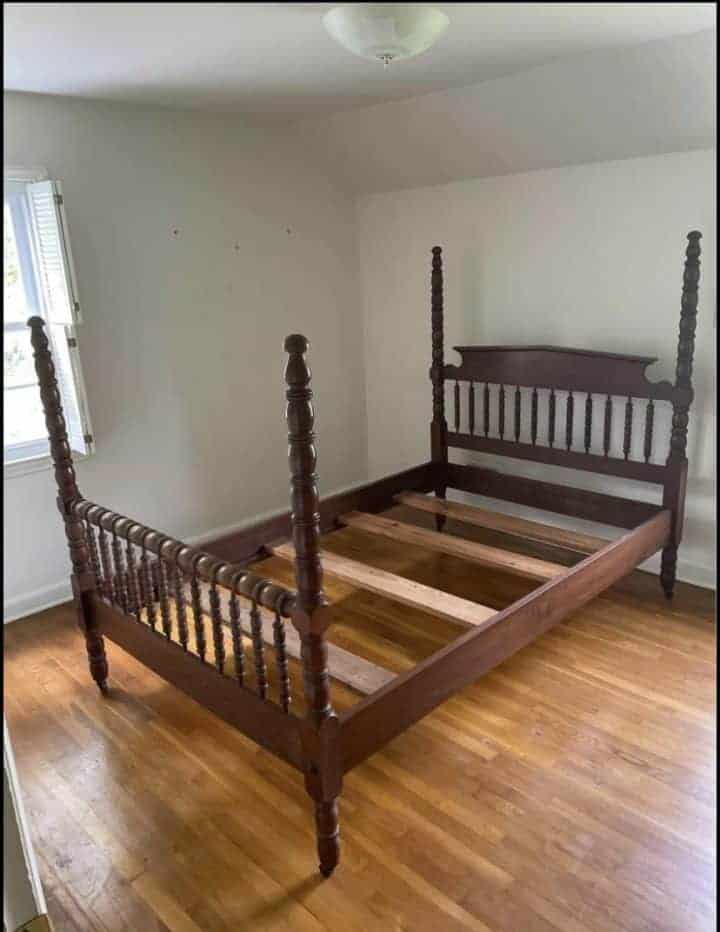 NOT ALL ANTIQUE BEDS ARE 3/4 SIZED, SOME ARE UNIQUE AND MAY REQUIRE A CUSTOM SIZE ANTIQUE BED MATTRESS.
You guys know I love shopping Facebook Marketplace for vintage finds. A while back, I came across a beautiful antique bed. When I looked into it further, I realized antique beds are sized differently than our modern options.
If you've ever looked into this yourself, you may have heard of 3/4 size beds. They are somewhat common with older beds, but I've found they're not the only size.
3/4 Size beds
For many antique beds, they are shorter in width but around the same in length. They're referred to as a 3/4 mattress because it's approximately 3/4 the size of a full mattress.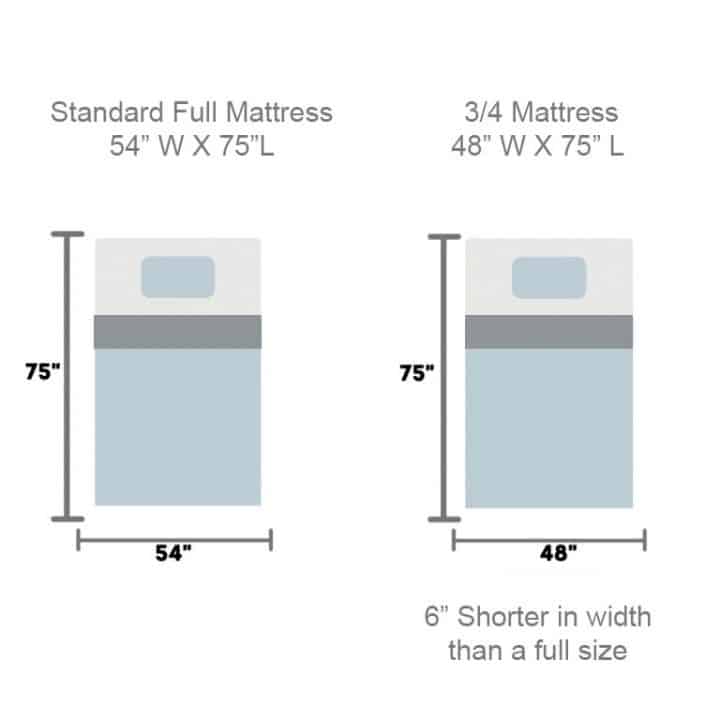 I had been searching for an antique bed for my daughter's room when a good friend of mine mentioned another friend of hers recently bought her daughter an antique bed for her dorm bedroom. That led to our whole conversation on how to buy a mattress for an antique bed. So I want to share her experience first.
Her friend is kindly letting me share the photos of her bed and room makeover here. This is the gorgeous antique bed she found for her daughter.
The dorm apartment room is small and odd-shaped. As it turned out, a bed of this size was the perfect solution. The bed she found was 3/4 size and it came with the mattress and boxspring.
I've also heard that mattresses made for RV's are the same size as the antique bed mattress. I haven't verified that myself. As with anything, check your measurements before buying.
As you can see, using the boxspring made it a little high. If your antique bed frame has sturdy wooden rails (more on that below), you may be able to skip the box spring.
She refinished the bed and redecorated the dorm room. Here is what it looks like now.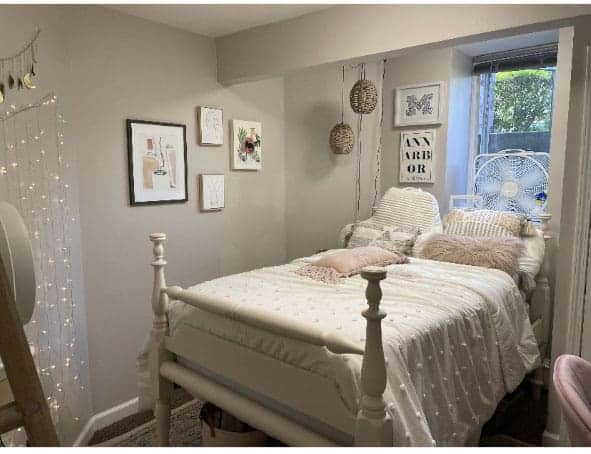 Isn't that SO pretty?
Antique Bed Sized
Don't assume all antique beds are made in the 3/4 size. My experience was very different than my friend's. I'd searched Facebook Marketplace for months looking for a beautiful vintage bed for my daughter's room.
I passed up several beauties (including the one above) because of the mattress sizes. My intent was to find one that fit her existing full-size mattress.
Then I saw this bed (below) advertised on marketplace in a full size so I snatched that up right away.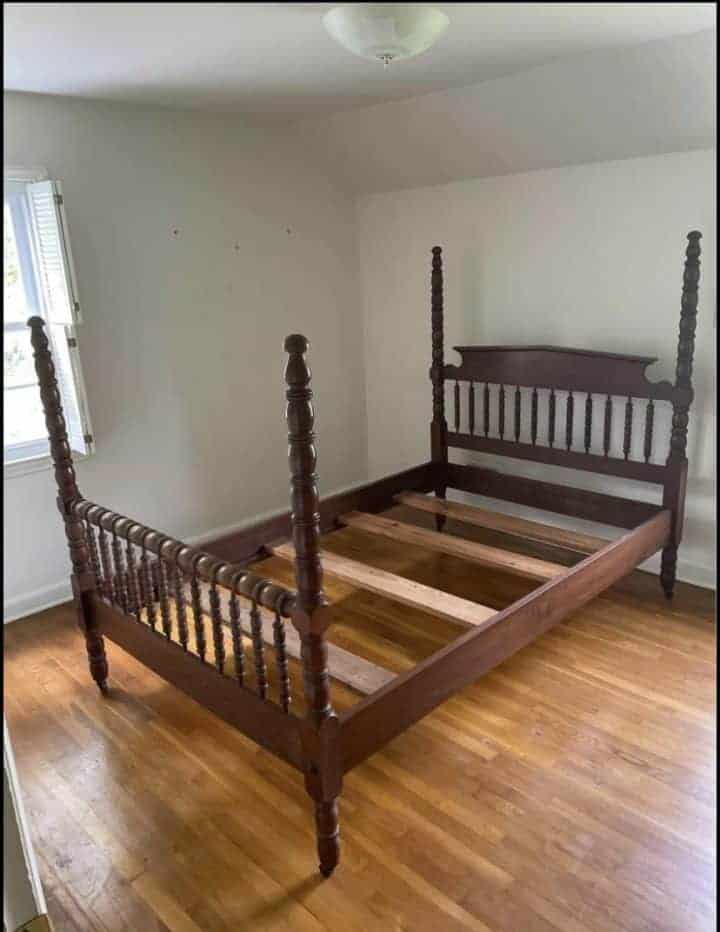 It's a beautiful 4 poster bed from either the late 1800s or early 1900s. The seller said it belonged to his grandparents who owned a furniture store in North Carolina many years ago. This bed belonged to them and had been in the family for years.
Which was all great until I got it home and put my daughter's mattress on it. It was definitely not a full size. And it wasn't a 3/4 size either!
There was a large gap. The mattress was placed centered in the photo above, the gap was double this size. There was no way this was going to work. Unlike the 3/4 sized beds, it wasn't the width that was different, it was the length!
The width on this bed was the same as a normal full size but the length was 84″ rather than 72″. That's a huge difference. At this point, I had the bed and there was no returning it. I searched the internet and could not find any mattresses made in this size.
Custom Antique Bed Mattress
What I did find was this company that will make custom-made mattresses. Fortunately, they were able to work with me to make a mattress for this bed. I sent them the dimensions and they got to work.
Another thing to consider when buying an antique is the boxspring. In my friend's photo, she used a boxspring even though the mattress will sit up higher. I wasn't sure I wanted my mattress to sit that high. Also, my daughter doesn't live here full time anymore so she won't be sleeping in it every day so I decided to skip the box spring.
The bed had come with four very strong boards to support the mattress but four was not enough. Even with our original mattress, if we sat on the bed it was sinking in between the boards. I ended up going to Home Depot and having pieces of wood cut to better support the new mattress.
Our order with Custom Mattress Factory took about 8 weeks to arrive. It came shrink-wrapped in this box (just like this mattress I ordered online a few years ago) which made it easy to maneuver upstairs.
It's made of organic cotton and is medium-firm in feel. My daughter said she slept very comfortably on it and likes it better than the previous mattress.
Custom Mattress Cost
I was concerned a custom mattress would be outrageously expensive but it was reasonable as far as mattresses go at around $600. Would I have bought the bed if I knew I would have to buy a mattress? Definitely not. But I'm glad it happened this way because I love the bed and my daughter really likes the mattress.
Custom Sized Sheets
The last hurdle was finding a sheet to fit this odd size. The Custom Mattress Factory also makes custom sheets. I didn't inquire on the cost of those but instead did some research and found that California King sheets are the right length. Obviously, they are wider, but I just tucked them under the sides. Those were $40, which I'm guessing would be less expensive than custom.
All in all, though this antique bed ended up costing me far more than I intended to spend, we are really happy with it and with the mattress.
Now I'm just deciding whether to strip off that dark finish for a lighter wood tone or leave it as is. After hearing the history of this bed, I hate to alter it. Either way, I think it'll be beautiful.
I'm working on a little refresh in this room and will share my progress on that soon!
---