You guys! I could not be happier that it's September and the weather is finally cooling off. Fall is the best time to eat outdoors! I recently put together a pretty tablescape and thought I'd share a few of these fall table setting ideas with you.
Almost every single thing I used on this table is from the Christmas Tree Shops! The only exceptions are a few vintage pieces I added as well as the artwork.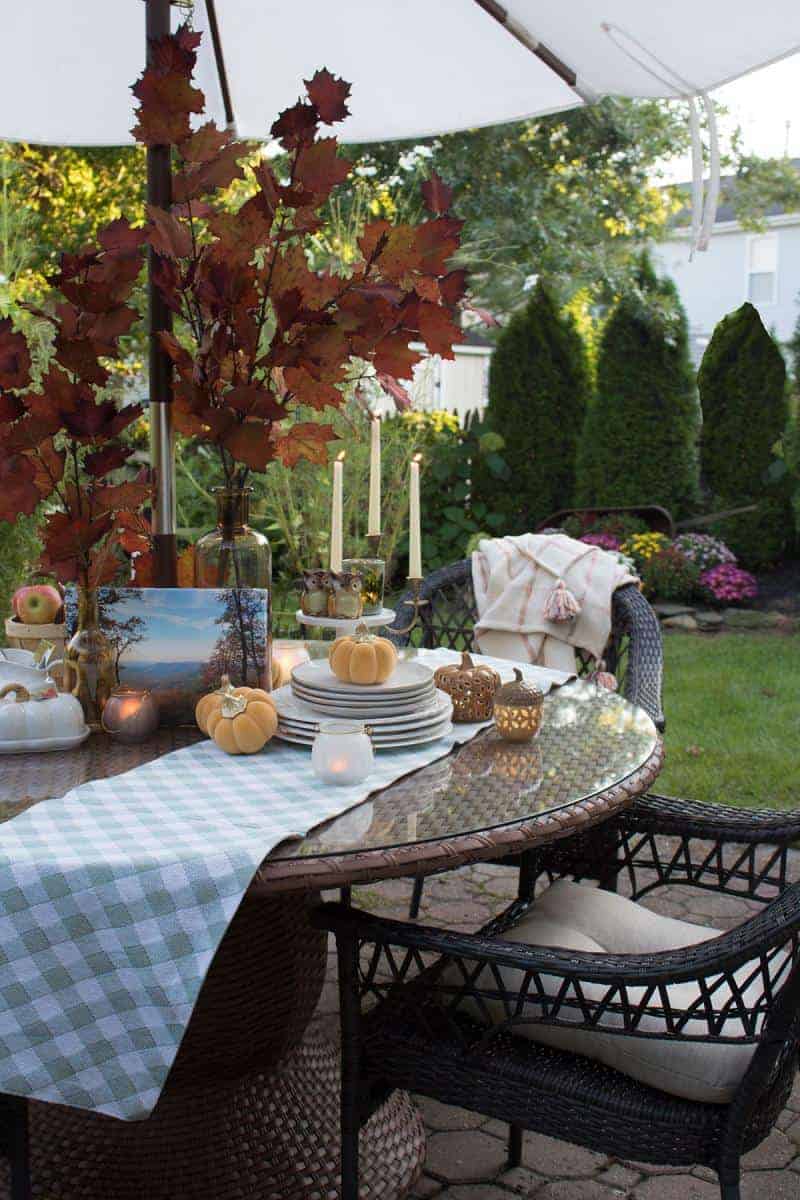 I like an abundant table which is why I usually go to the Christmas Tree Shops first. You can get a lot of affordable fall table decor there! Check out my post from last year for even more ideas.
fall Table centerpieces
The first thing I found was those branches of fall leaves. I bought several of those for a fall centerpiece. I have two oak trees on my property and I never get pretty colored leaves like that! The best part about faux branches is you'll have them forever. These are really perfect and were only $5.99/each!
Next, I found a bunch of absolutely adorable jewel-colored velvet pumpkins. The honey gold colors are my favorites but I also picked up some in a pretty green which you will see in a minute.
Did you notice the salt and pepper shakers? They're owls. Super cute! My grandmother used to collect salt and pepper shakers so whenever I see a cute pair I think of her.
The Christmas Tree Shops had tons of fall baskets in a variety of sizes. The mini apple baskets were my favorite for part of my fall table setting. I had that basket for about two days and my daughter loved it so much I let her take it home. It gives me an excuse to go back for more. 😉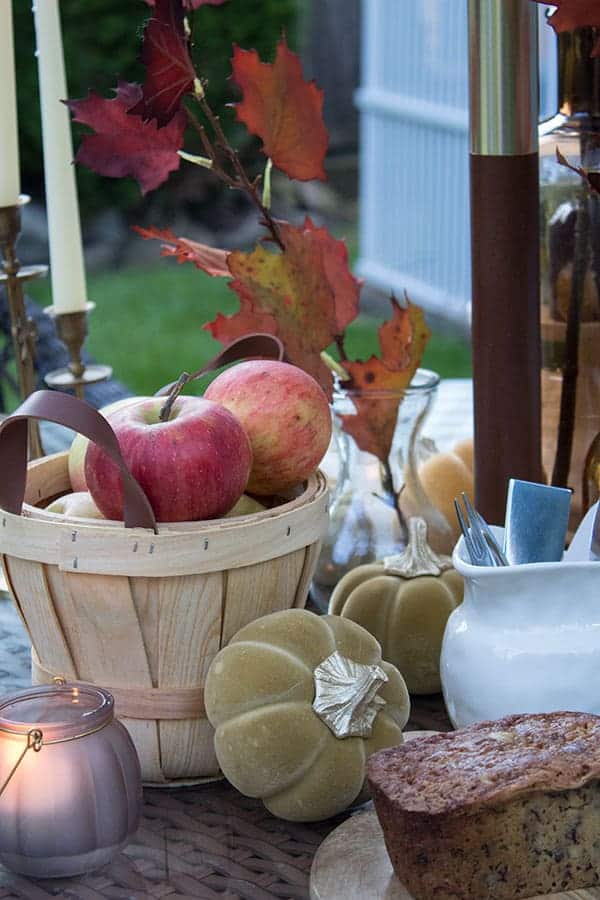 I also used lots of candles on the table. The acorn and pumpkin candles are battery-operated. I like them because you can leave them on anywhere and not worry about them.
I forgot to mention the two vases holding the leaves. Aren't those beautiful? The tall one is amber and the smaller one is a pretty yellow-amber color.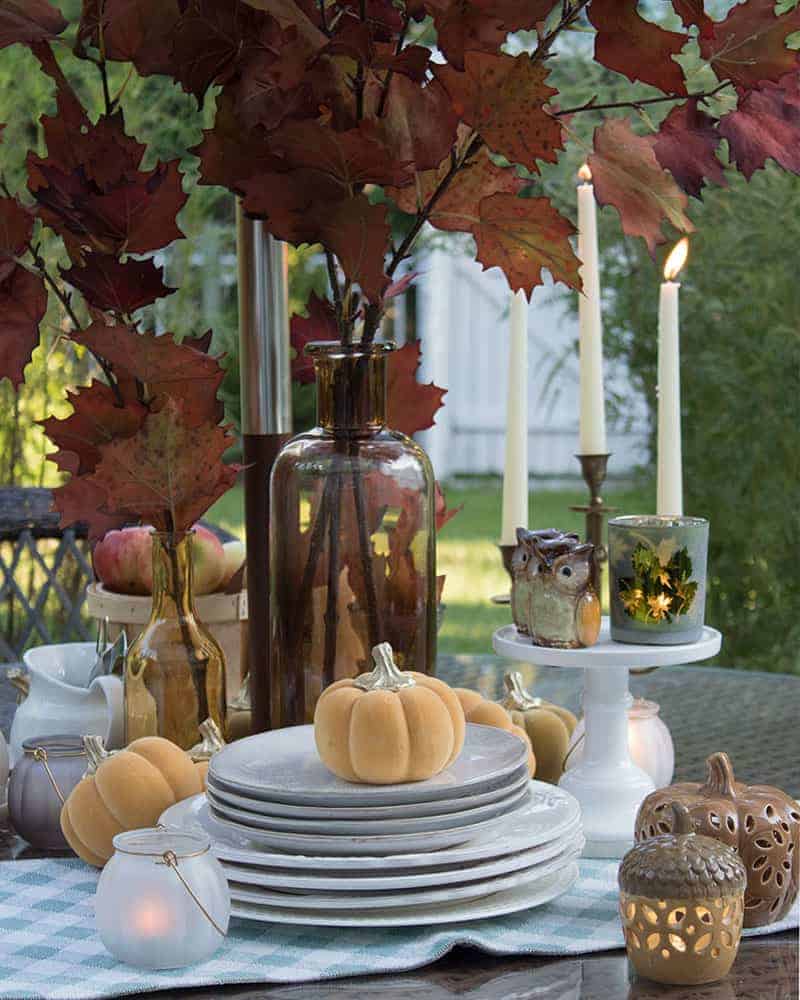 fall dishes
I picked up a few cute serve wear pieces as well. My plan is to slowly build up a complete serve wear set for Thanksgiving. I get a piece or two each year. The pumpkin butter dish was too cute to resist. I also bought a set of adorable cheese knives, which you can see peeking out of the small pitcher.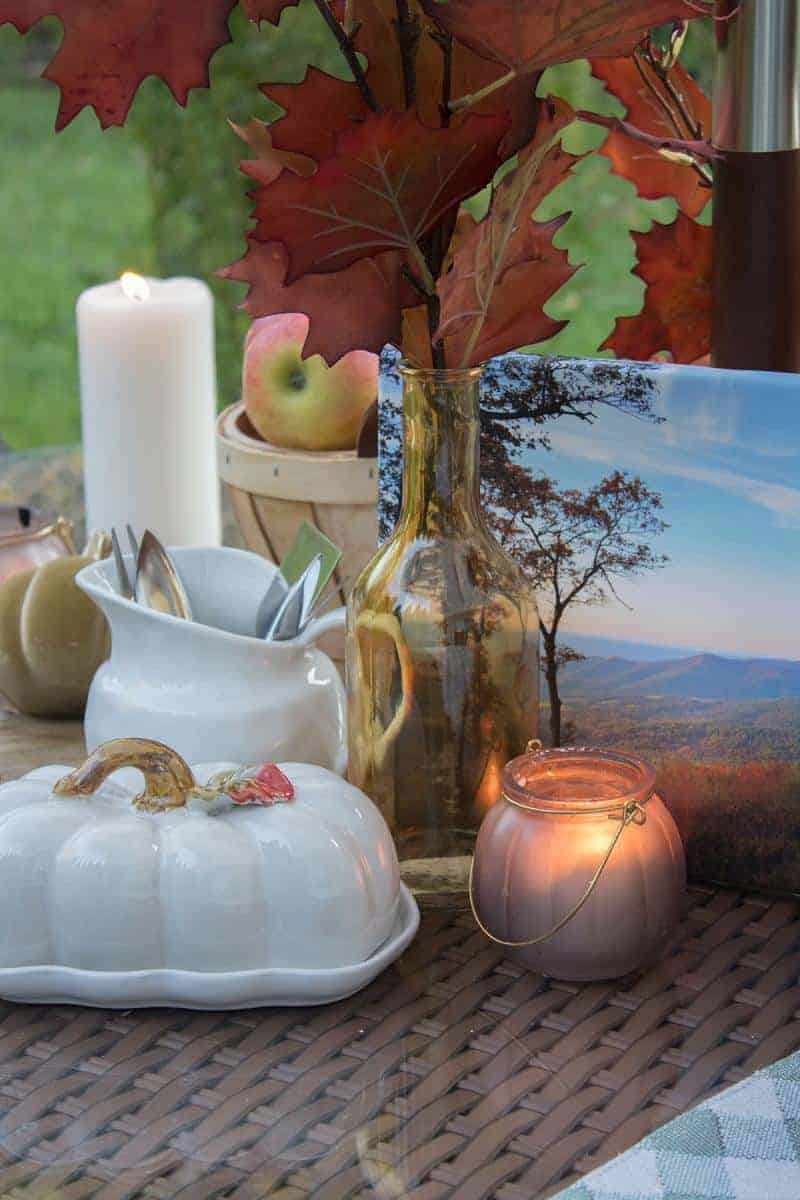 Don't forget a cozy throw blanket or two if you're eating outdoors!
fall table runner
The green plaid runner is a pretty subtle pattern that can be used all year long. I washed it once already and it's one that doesn't wrinkle. I'm always on the hunt for table runners that don't wrinkle. I always have one on my table to protect it and I really don't want to be bothered ironing them each week. Who has time for that?
That amazing candelabra you ask? That was vintage and I found it on Facebook marketplace for only $6! It was delivered as I was setting this table. Perfect timing.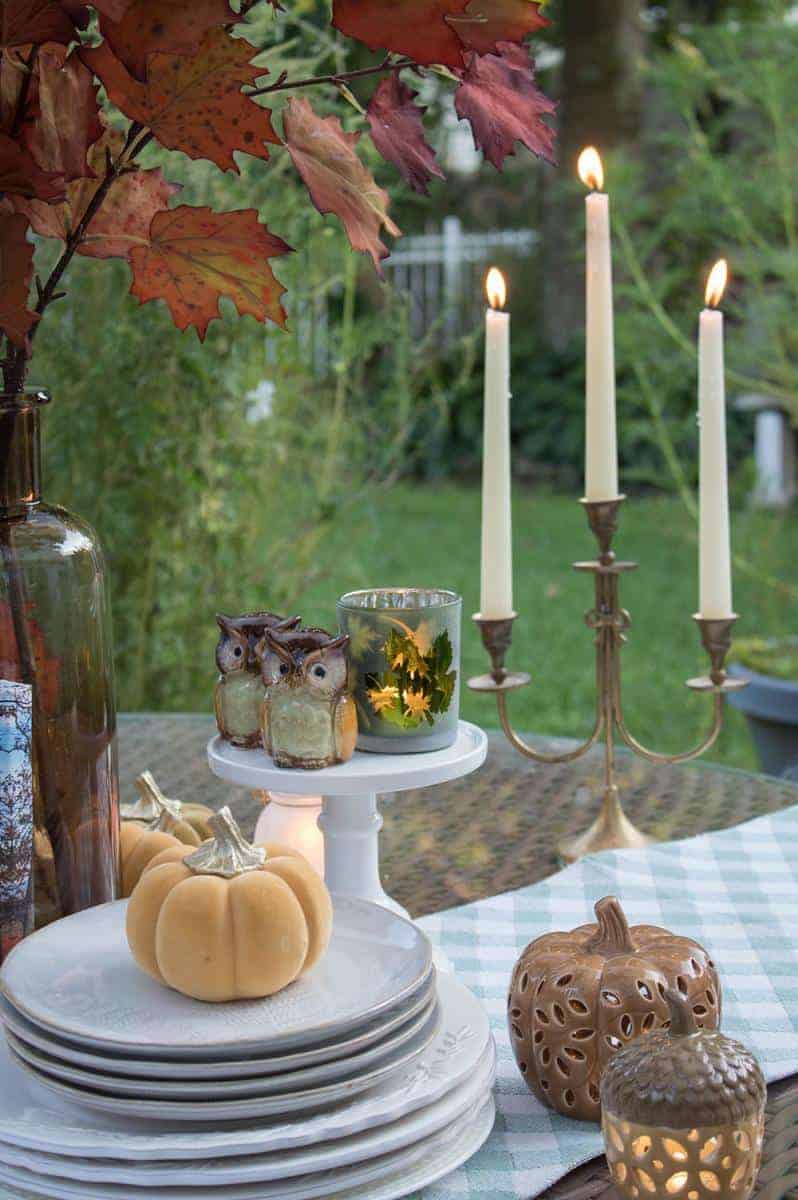 It's amazing how seasonal basics like foliage, pumpkins, and candles can make such a pretty and dramatic fall table setting.
I added that pretty artwork because it matched so well. It looks like an oil painting but it's actually a photograph put onto canvas. It was a gift to my husband from a family member. We both love that.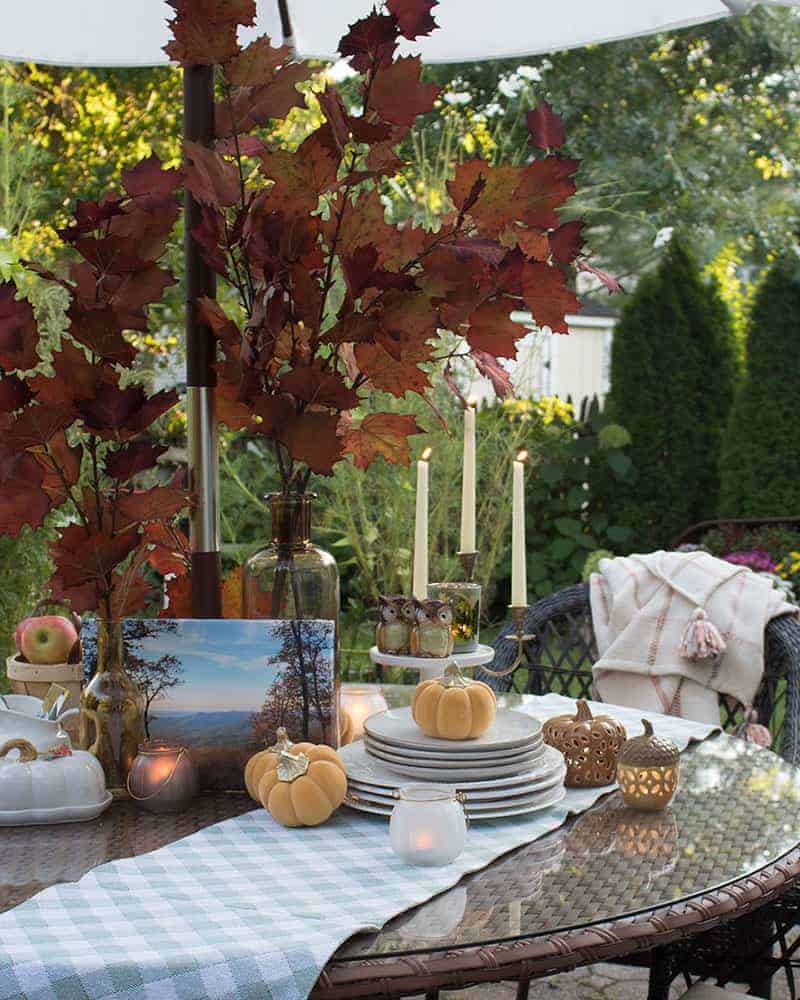 If you noticed my wheelbarrow full of mums in the background, I should mention they also came from The Christmas Tree Shops. I'm happy to report it's been almost a week and they still look as healthy as the day I bought them.
If you're planning a visit to The Christmas Tree Shops, be sure to stop by their site and get your $10 off $50 coupon!
This post was in partnership with The Christmas Tree Shops, all opinions are my own.
I've gotten behind on our design series posts but plan to resume that next week!