American Farmhouse Style Decorating
We all know how popular farmhouse style has become in the last several years. It definitely had its peak and as all trends do, it's on the decline now. However, for this installment of our design series, we are focusing on early American farmhouse style.
Many of the characteristics of this period are classics that have stood the test of time.
Early American farmhouse styles and furnishings date back to early North American settlers. These were styles that were popular in the 1600s and evolved through the 1800s. The homes and furniture back then were built by hand and were unrefined. Think simple lines and utilitarian.
Though over time, craftsmen evolved and began creating more decorative pieces with turned legs and more curvature.
Early American Farmhouse Characteristics
furniture with straight lines, or simple curves
unrefined
simple
wood materials
wood planked walls
rough hewn ceiling beams
wide planked floors
wrought iron hinges and latches
Early American Farmhouse Kitchens
If you want to read some history about how kitchens have evolved from the 1800s to now, this article is a really cool read.
The kitchens in the early days started with not much more than a cast-iron stove. Pots and pans were hung on the walls and kitchen cabinetry didn't exist yet. Eventually, free-standing sinks were introduced as well as free-standing cabinets.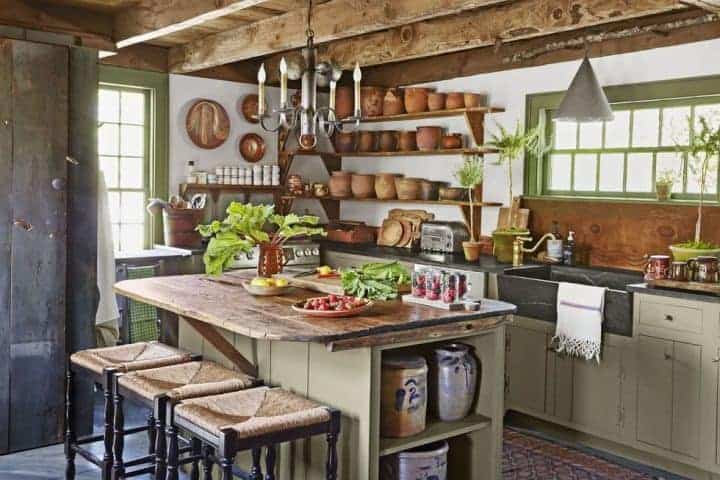 So when trying to decorate in that early farmhouse style, having kitchen items out in the open is one detail that lends to that authentic farmhouse look.
The kitchen above is a beautiful example of how this look can be achieved in a much more modern way. It's more of a polished rustic farmhouse vibe.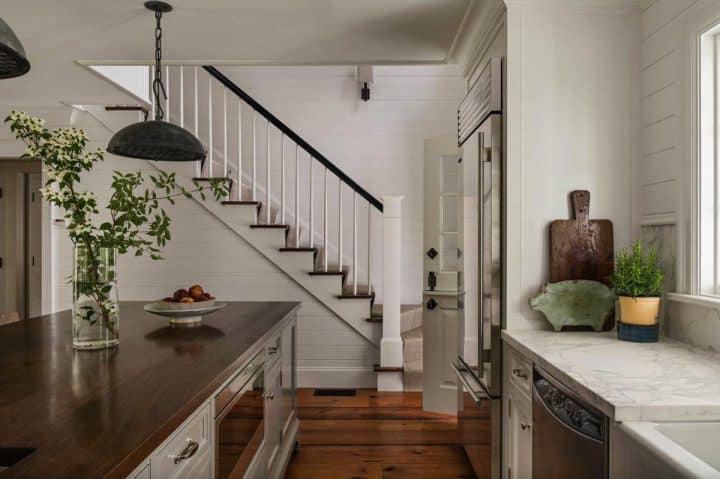 I've always wanted a house with a back staircase. This kitchen has all the early farmhouse feels but cleaned up for modern living.
Farmhouse Style Dining Rooms
In the early days, homes didn't have heat so there were fireplaces in many of the rooms. I love how giant the one above is. The mantel practically goes up to the ceiling. Ceilings were lower then to help keep the warmth from the fireplaces.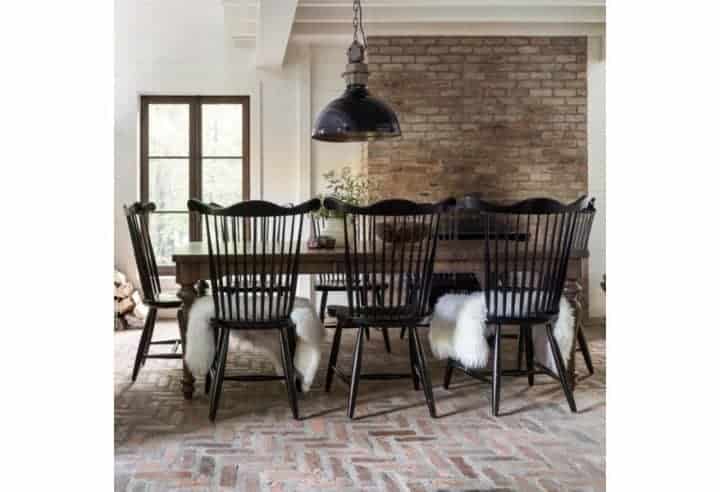 The dining room above is a pretty example of blending rustic and refined. I love all the texture from the bricks and the modern take on Windsor style chairs.
Baskets would have been kept in abundance as well back in the day. Love them displayed here on the ceiling! Windsor chairs are one element that has really stood the test of time!
Modern farmhouse Style Living Rooms
The living room above is a good depiction of what an early farmhouse living room may have looked like. Houses were smaller, ceilings were lower and everything was straight and simple.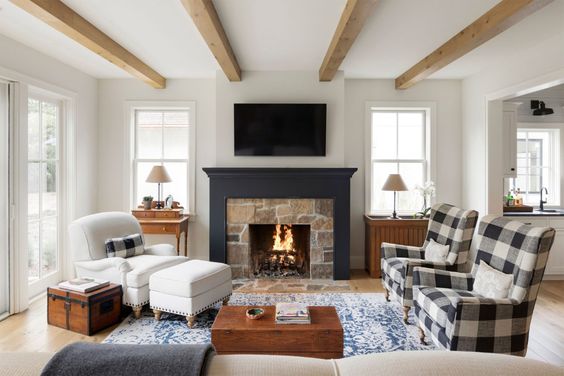 Here is a pretty example of today's take on early American farmhouse living room.
historic farmhouse bedrooms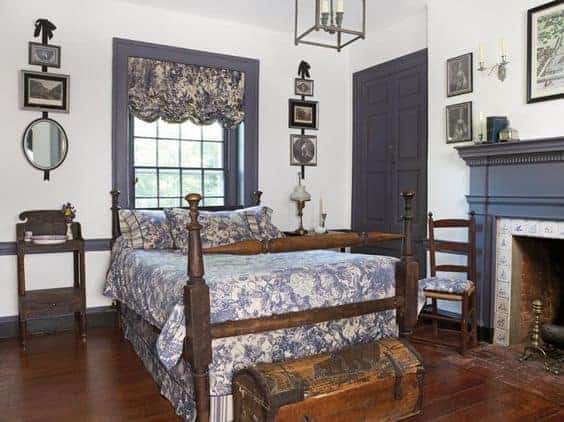 Another cool read for you is the history of bedroom. I'm on an especially historic kick lately which I believe has been further inspired by watching Cheap Old Houses. Anyone else loving that show? It's fun to watch people get as excited as I do about those old details. Sometimes my family thinks I'm weird about that. They don't get it!
The first bedroom above is a more developed farmhouse bedroom. But you can plainly see the early American vibe happening here.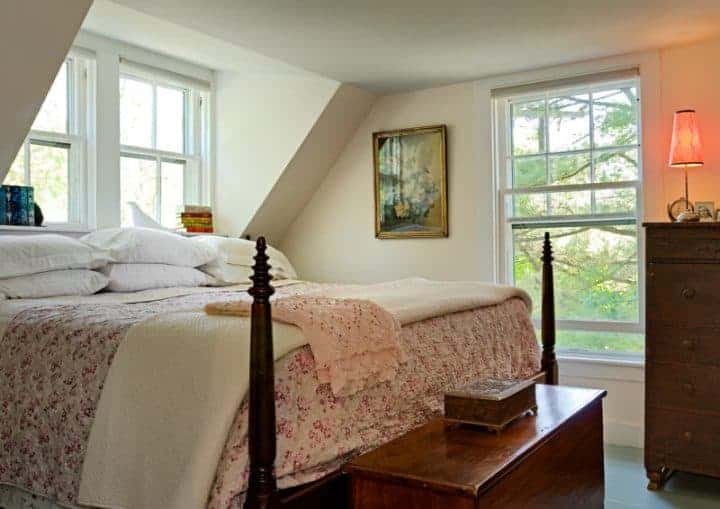 And here you see a modern minimalist version of a farmhouse bedroom today. The home this bedroom is in was built in the 1820s.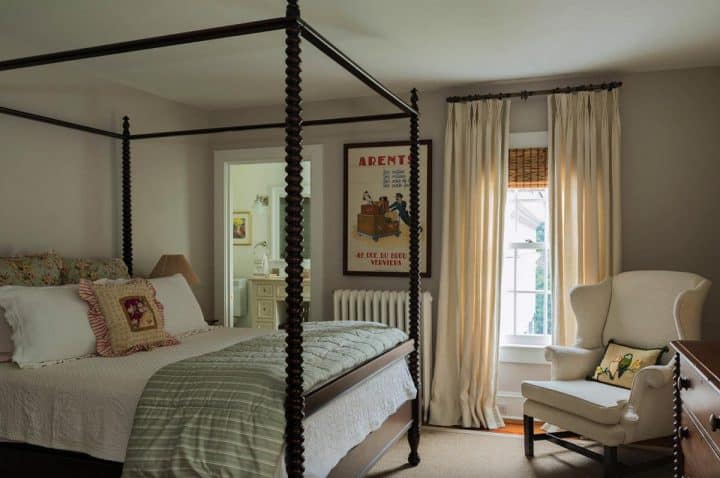 Who says you can't have a canopy bed in a room with 8′ ceilings? You can when it's as well done as this!
historic farmhouse bathrooms
I don't have any history lesson on early American farmhouse bathrooms. I doubt any of us want to emulate an outhouse indoors! Just a couple of really pretty rustic-style bathrooms to enjoy.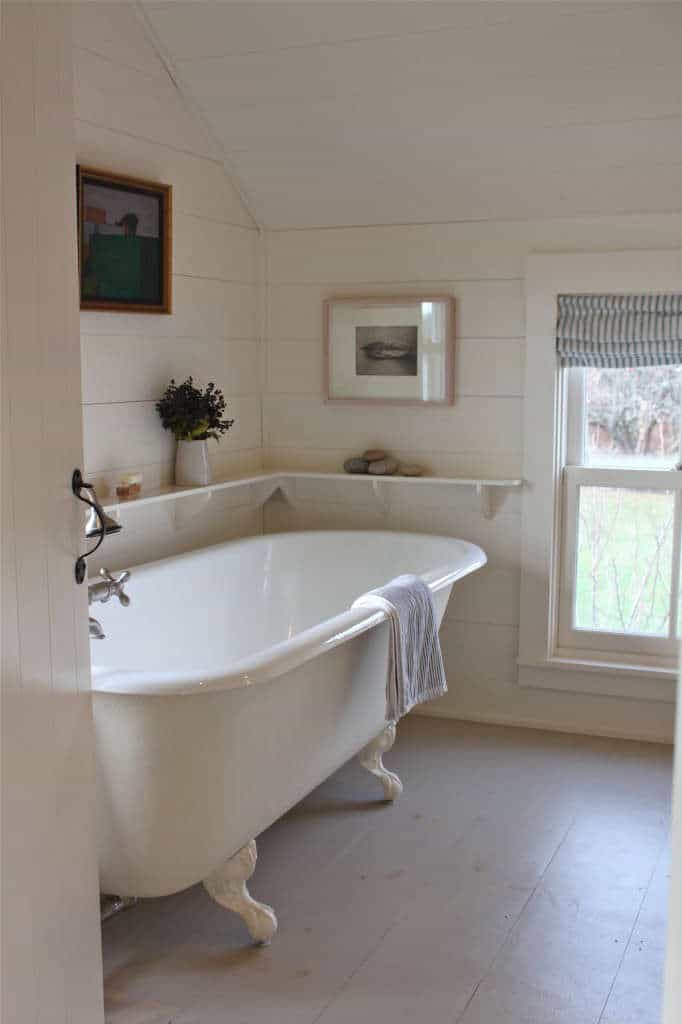 I especially love this one. That shelf is such a simple detail but it adds SO MUCH to this space. Brilliant.
So what do you think? Do you love the early American farmhouse style? Or are you sick of farmhouse altogether?
Design Styles Series:
If you've missed any of our previous posts in this design series, you can catch up below.