For week one of our interior design styles series, we are starting with traditional design style.
The traditional design style is the most popular of them all according to this article. When I worked as an interior designer I would say that is what most clients wanted. I believe that's because traditional design is associated with elegance. Many times the clients didn't know "traditional" is what they were going for but their tastes more often than not leaned heavily in that direction.
What is traditional home style?
Traditional design sometimes brings to mind heavy wood furniture, ornate design, and lots of red and green. It reminds me a bit of Buckingham Palace.
In my opinion, that style is long outdated. Today's traditional still includes wood furnishings but in a lightened up, slightly more modern style. No more scalloped or fringed drapes, please!
Classic and elegant are two terms that sum up traditional style. I also think of symmetry and balance when it comes to traditional design.
Traditional Interior Design Characteristics
Classic Style
Clean Lines
Symmetrical
Can Range from Casual to Formal
Can Lean Vintage or Modern
Tailored Upholstery & Curtains
Solid Furniture
Carved Wood Furniture
Detailed Wall Molding
Traditional Style Living Room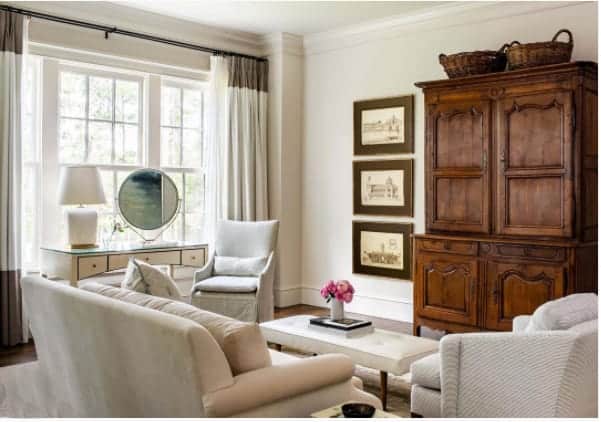 via: Jeff Herr
The living room above is a gorgeous example of traditional design with a bit more of a modern feel. The lighter upholstery pieces, tailored curtains, and gorgeous wood armoire are striking when paired together!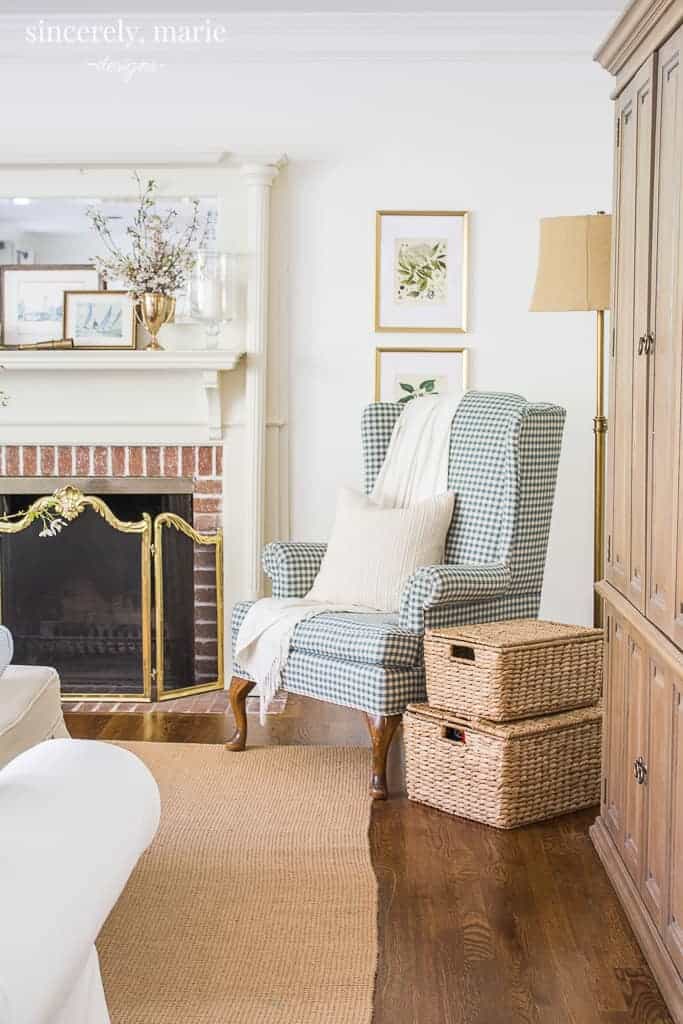 This pretty living room looks cozy, casual, and elegant at the same time. So well done. These timeless pieces will never go out of style.
via: Brook and Lou
This traditional living room is a pretty example of a modern take on the style. With classic furniture that looks as if it could have been passed down as family heirlooms, this exudes classic and comfort at the same time.
Traditional Kitchens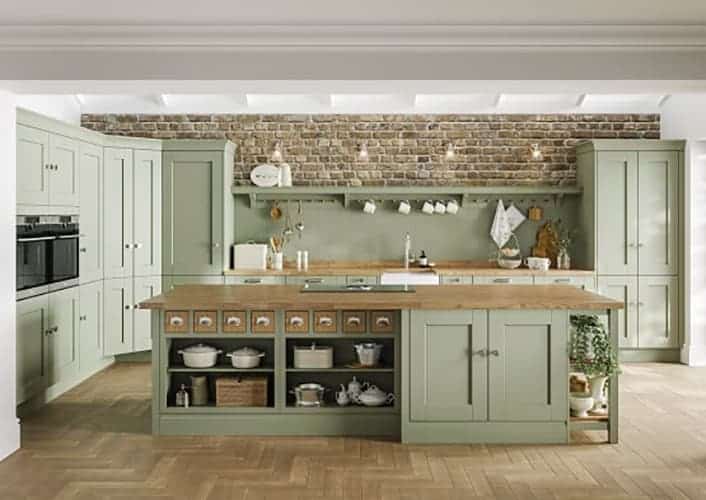 via: Leeks
This stunning kitchen is a beautiful take on the red and green colors often associated with traditional design. Here they are muted down, with lots of texture and classic lines. The butcher block counters add further warmth. Beautiful!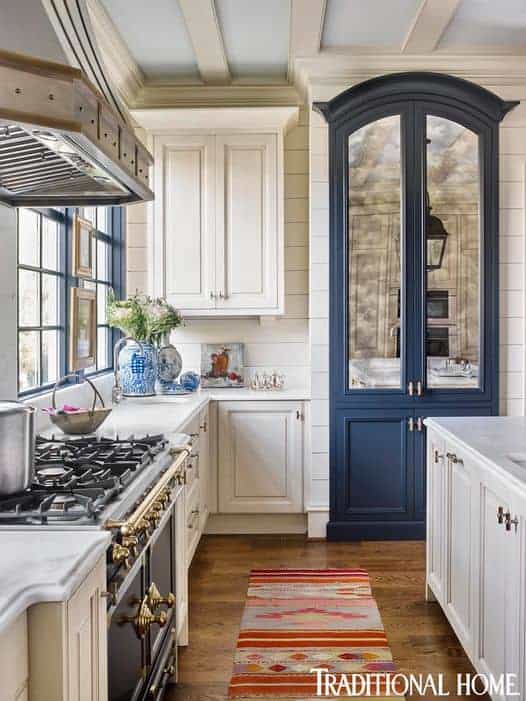 Here's another stunning example of a modern traditional kitchen. The blue built-in cabinet is a unique focal point. Everything in this room feels classic and will never go out of style.
Traditional Style Bedrooms
Traditional rooms often feature vintage or antique pieces, though not always. They can also be decidedly more modern. I love vintage pieces and these bedrooms are beautiful examples of traditional interior design that leans towards vintage.
via: Camille Styles
The vintage four-poster bed from Camille Styles is a stunning classic! The vintage bench at the end further defines this style. The white walls let the furniture shine.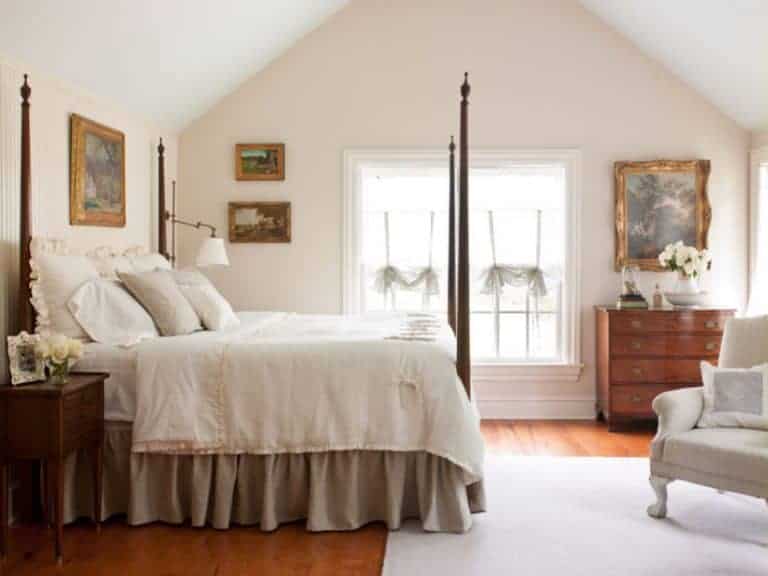 via: Grit and Polish
If you've been on Instagram lately chances are you've noticed vintage oil paintings are back in a big way. I love them paired here with another gorgeous four-poster bed.
Modern Traditional Bathrooms
Vintage not your style?
On the opposite end of the vintage traditional design style, here are two beautiful modern-traditional bathrooms.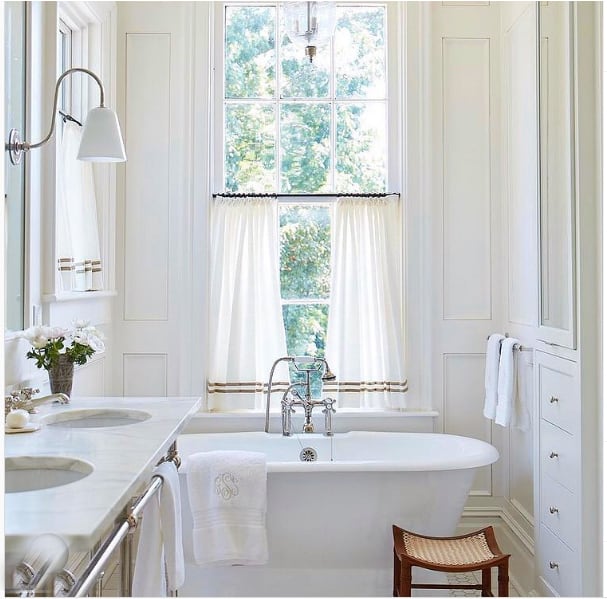 via: Sarah Bartholomew
The white-on-white tones and the two windows make this room look much bigger than it seems. The beautiful molding and built-ins are dreamy.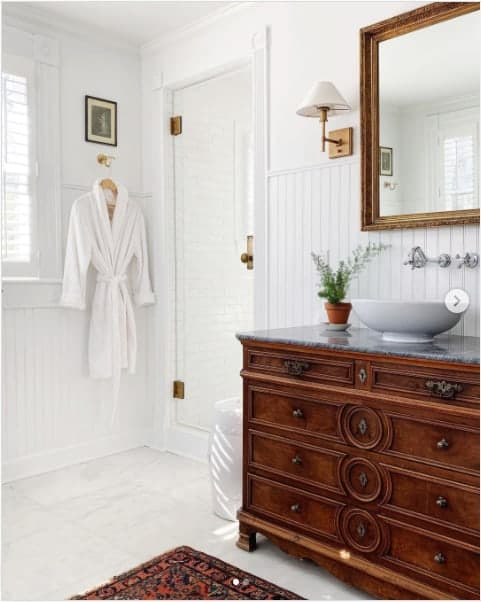 Many of my favorite designs feature lots of white with wood accents, as in this bathroom. The white beadboard walls are a simple backdrop that lets that stunning wood vanity be the focal point.
via: Amber Lewis
Clean lines, symmetry, and a pretty free-standing tub in the center make this a dream bathroom.
Traditional Dining Rooms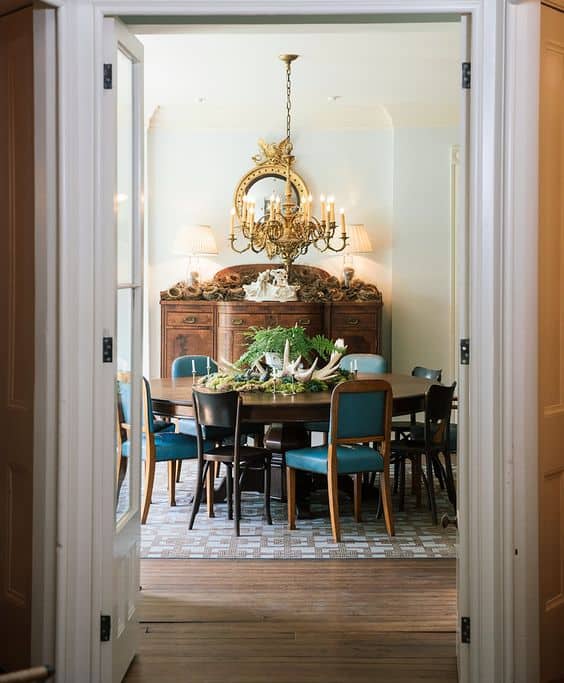 via: BHG
The formal dining room above is an elegant example. The vintage pieces add character. Although the chairs are mismatched, they're perfectly balanced.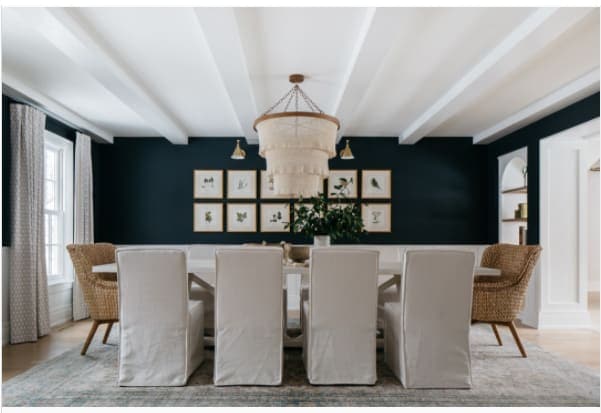 If you prefer a more casual feel, this second dining room is a beautiful example.
Traditional Home Office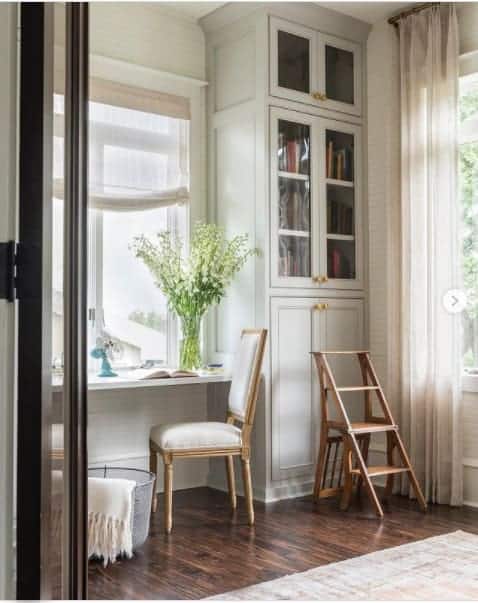 Since the pandemic, we all need to carve out more office space. I love this gorgeous nook. Certainly, a window view is much better than looking at a solid wall all day.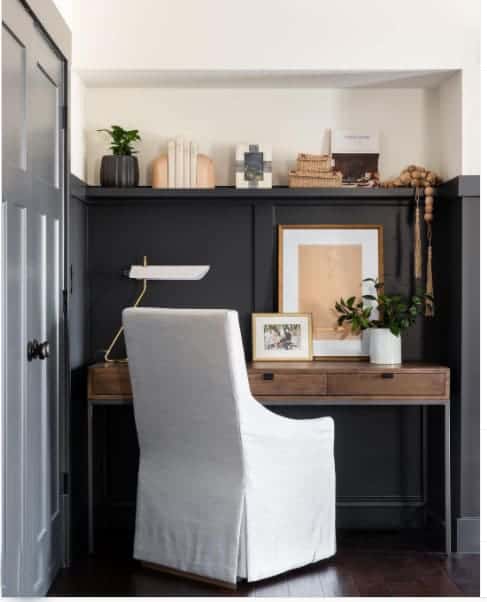 via: Studio McGee
Another cozy nook with bonus built-in shelf space above
Traditional foyer & Entry spaces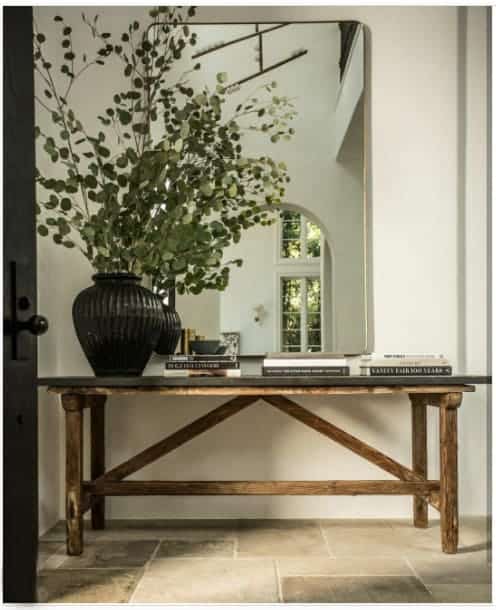 via: Maison Blonde
The foyer doesn't have to be huge to be elegant. A simple bench with a mirror is as functional as it is beautiful.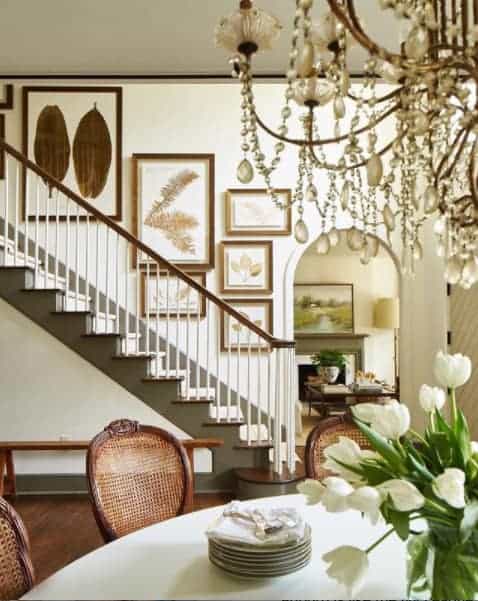 If you do have a large foyer, the decorating possibilities are endless. The crystal chandelier, classic cane chairs, and stunning gallery wall are gorgeous examples of a traditional style foyer.
mohawk home area rug giveaway!
Today I've teamed up with one of my favorite companies, Mohawk Home to bring you guys a fun giveaway. One lucky reader will win this beautiful area rug in Vertigo Gray (size 8 X 10)! To enter, first be sure you're following both The Honeycomb Home and Mohawk Home on Instagram. Second, leave a comment here with your Instagram handle!
Good Luck! (Giveaway closed)
Update:
SEE THE REST OF THE POSTS IN THIS DESIGN SERIES: