Scandinavian Interior Design style
Welcome to week two of our design style series! Last week we looked at Traditional design styles. This week we are discussing Scandinavian interior design.
As a fun bonus today, I've partnered with PosterStore.com to bring you guys a fun giveaway. They have a beautiful selection of posters and black and white prints that perfectly compliment the Scandinavian style. Keep reading to find out more on that!
Scandinavian interior design style really grew in popularity these last few years thanks to Pinterest. It's one of my personal favorite design styles and I believe it's also a classic style that will never grow outdated.
Scandinavian interior Design Characteristics
Minimalist
Simple
Uncluttered
White
Pale Wood
Natural
Function
That short list sums up Scandinavian interior design in a nutshell. Simple and uncluttered are a must to achieve Scandinavian design and it's harder to pull off than it looks! At least here in the US where we all have too much stuff.
Mostly white interiors with pale wood are also another major element of Scandinavian design. For that reason start with selecting white paint colors for the walls.
It can be done with other colors, but in my opinion, when more color is used it tends to look more modern than Scandinavian.
Let's look at a few pretty examples of this design style.
Scandinavian living room
This first Scandinavian living room is beautiful. Even though it's modern and uncluttered, it still has a cozy feel thanks to the throw blanket and pillows. The beautiful branches add life to the space.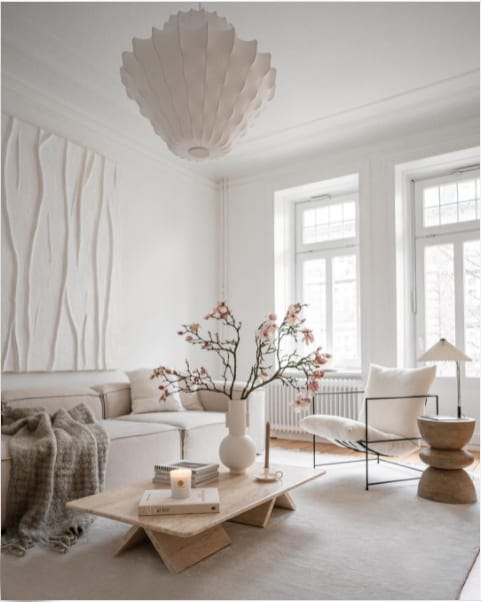 via: Scandinavian Interior on Instagram
This next living room lets the architecture shine.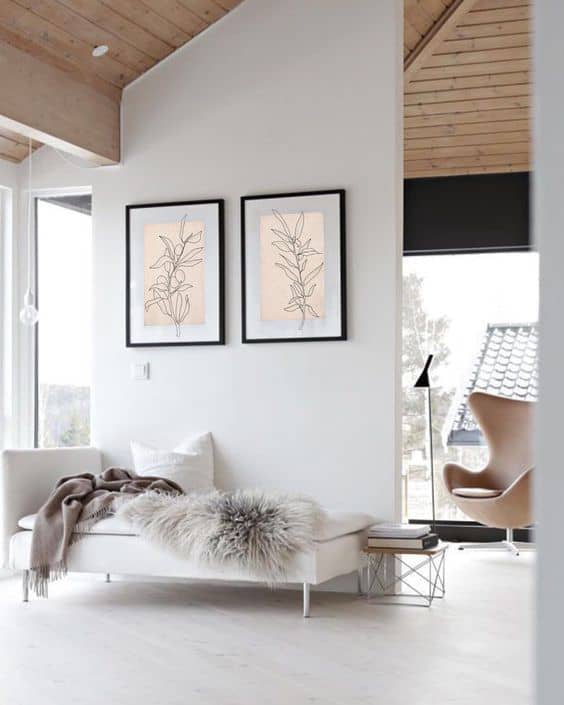 via: Etsy
Scandinavian kitchens
Light wood tones, lots of white and modern fixtures work so well together in this kitchen. We really like the contrast of the black chairs and artwork added here.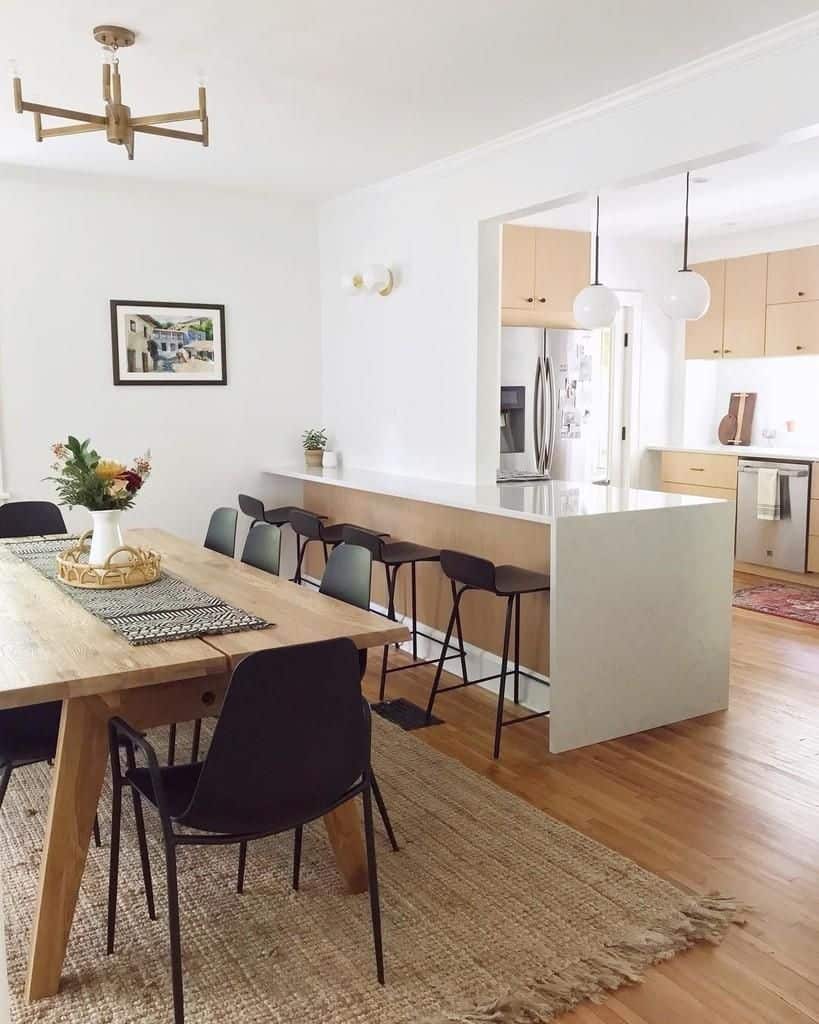 via: Pinterest
The Scandinavian kitchen below is so minimalist, the table and cool chairs become the focal point.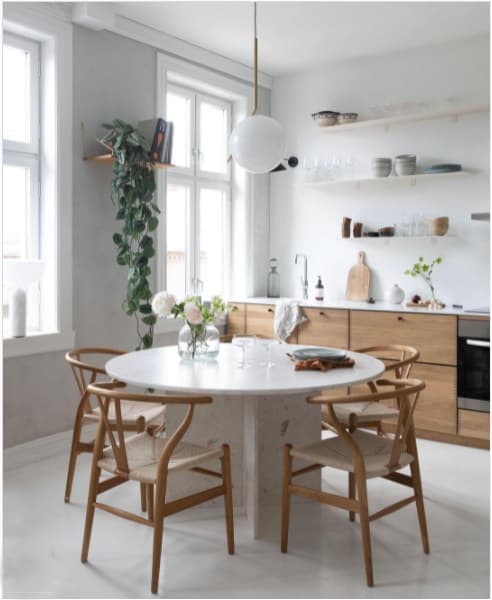 via: rom123
Scandinavian dining rooms
The super clean lines in the modern Scandinavian dining room below let the focus be the view out of those large windows.
via: Lightology
You can cozy up this design style with texture as shown below. Without the jute rug and placemats, this room would feel cold.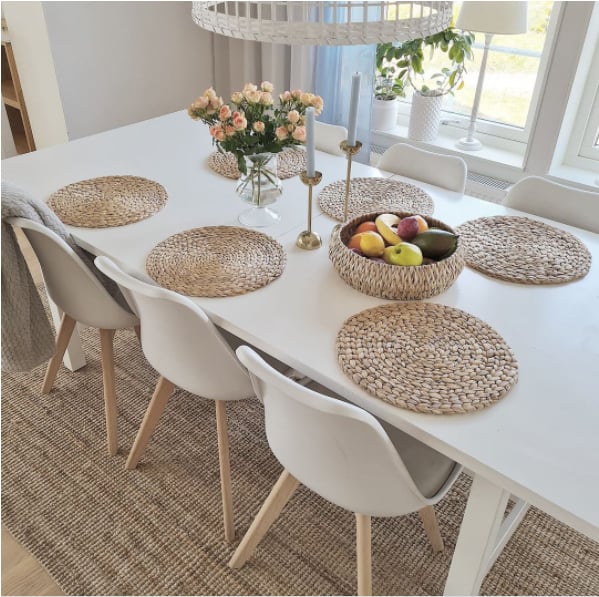 via: vitanybro
Scandinavian hallway
Transitional spaces should be pretty too and these Scandinavian hallways are beautiful examples of carrying a design throughout. A gorgeous gallery wall and wood floors are beautiful in this monochromic hallway.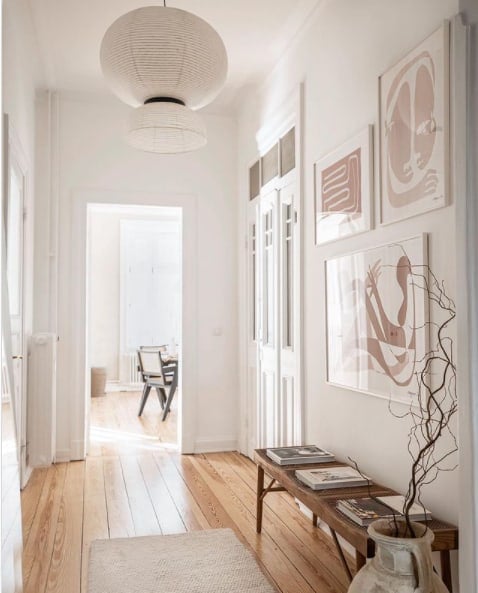 via: Scandinavian Interior Instagram
The less is more approach is also pretty.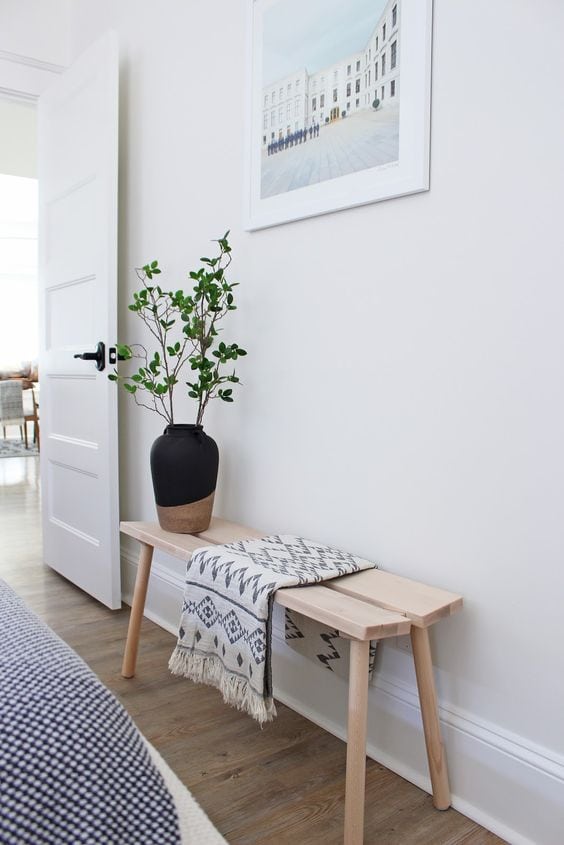 Scandinvian bedroom
An uncluttered, clean bedroom makes for a great way to start and end each day.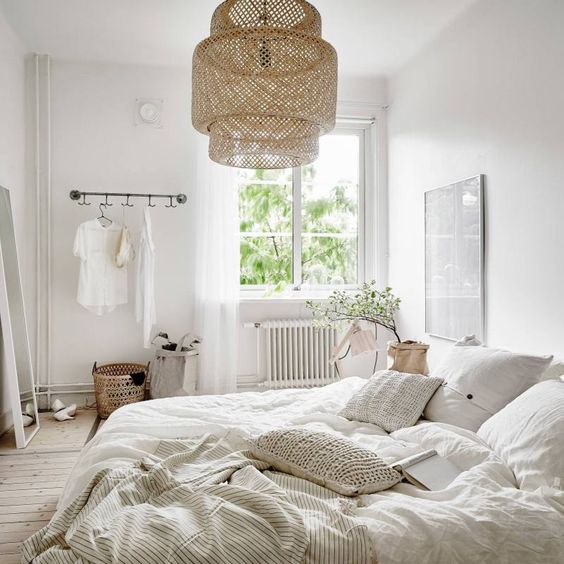 That is not to say that Scandinvain can't be full and cozy!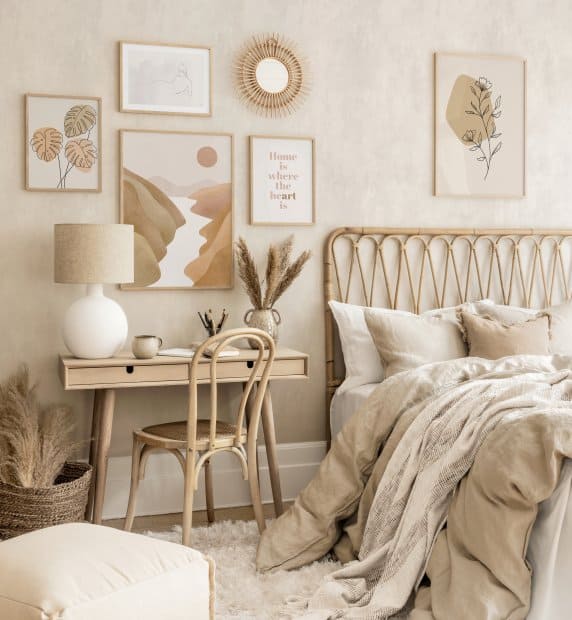 scandinavian bathrooms
Luxury Scandinavian never looked so good as in this bathroom below. Such a stunner!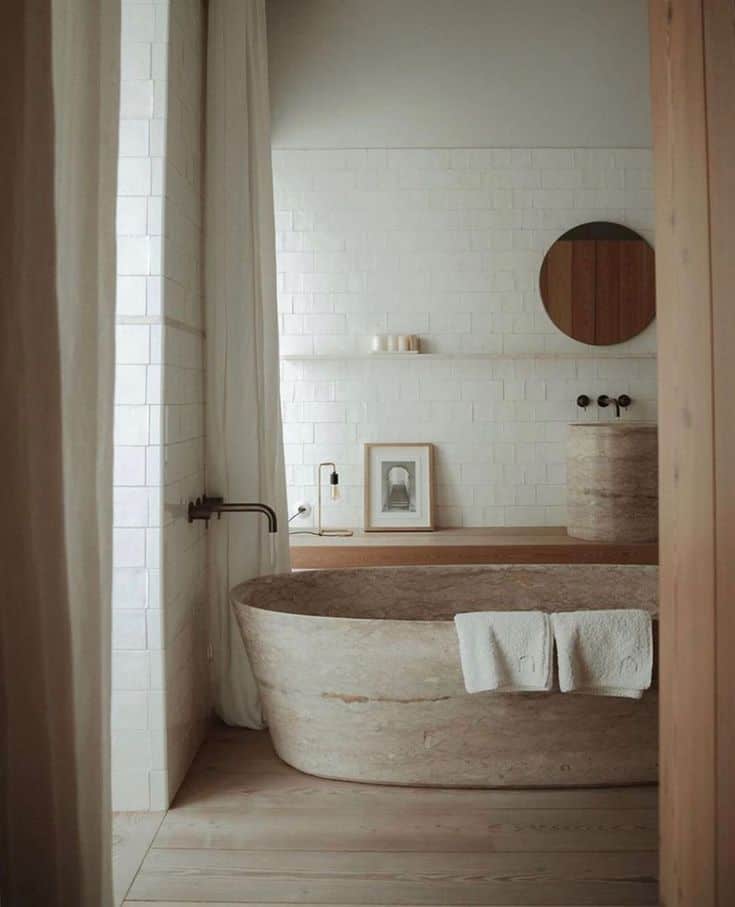 via: Pinterest
However, a modern Scandinavian bathroom is very achievable on a budget as you can see below.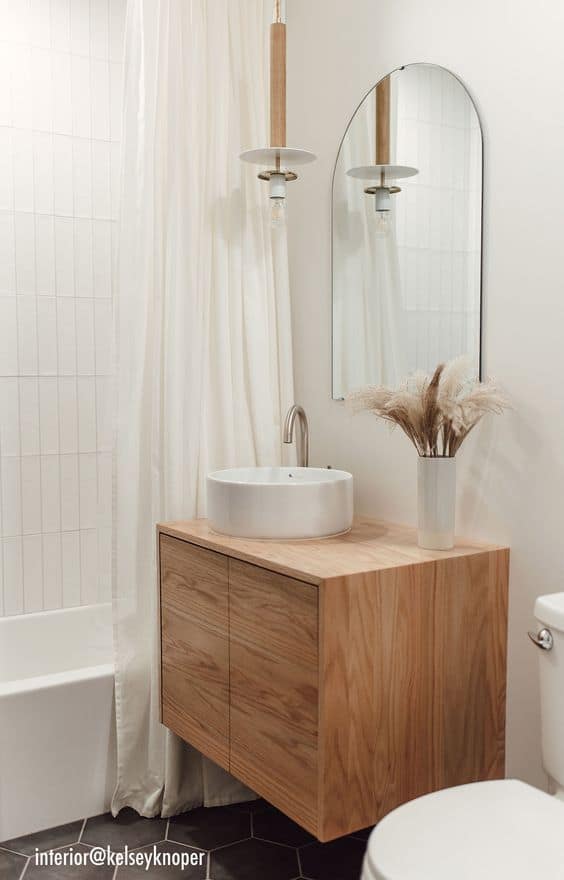 via: Kelsey Knoper
What do you think? Would you be able to keep your house this uncluttered and neat?
Scandinavian wall art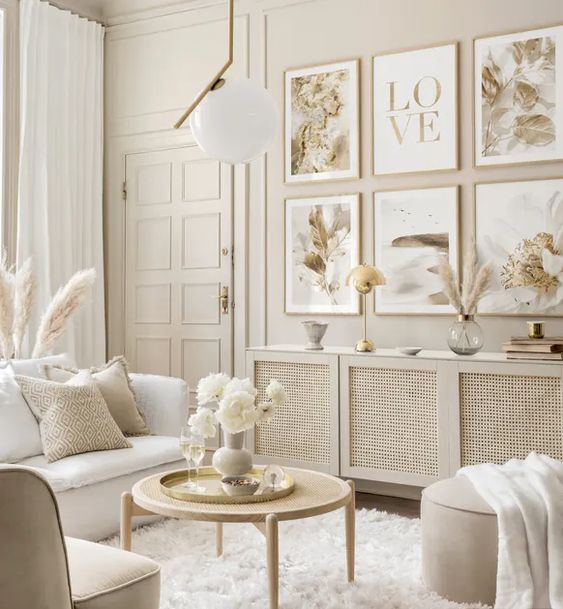 As a fun treat for you guys today, I've teamed up with PosterStore.com on a giveaway. One of you will win a $100 credit to Poster Store to pick out the wall art of your choosing.
To enter, head over to PosterStore.com and take a look at the wall art. Then leave a comment here telling us what art you'd pick if you are the winner. I especially love their done-for-you gallery walls.
They are also offering a 40% discount code to all of you. The 40% code is valid for all posters (except selection posters) and is valid through August 2nd. Use code: honey40
It's all beautiful, so it will be hard to pick! Good Luck! (Giveaway now closed)
---
SEE THE REST OF THE POSTS IN THIS DESIGN SERIES: