Simple Fall Tablescape Ideas
Most people prefer outdoor dining during the summer but I find eating outside in the fall to be the perfect time! This is why I was inspired to create another fall tablescape this year.
For my fall table setting last year, I used a lot of cute store-bought pumpkins and decor, which I loved. This year I wanted to mix natural elements with some fun vintage finds. There are so many natural elements to work with in the fall!
However, I did keep mine to a minimum for this table. Pumpkins aren't really out yet and mums aren't quite blooming. Once more is available, I'll add more of that on my front porch.
Fall tablescape elements
To give you a quick start on creating a simple yet beautiful fall tablescape, here are several items to pick up that are useful. Some are even free and can be found in your backyard this time of year.
Fall flowers or foliage
Little pumpkins or gourds (faux or real)
Pine cones
Candleholders & candles
Simple white plates
Seasonal salad plates
Tablecloth or Table runner
Fall Centerpiece Ideas
What I love most about putting together a beautiful tablescape for fall is that nature provides the color scheme.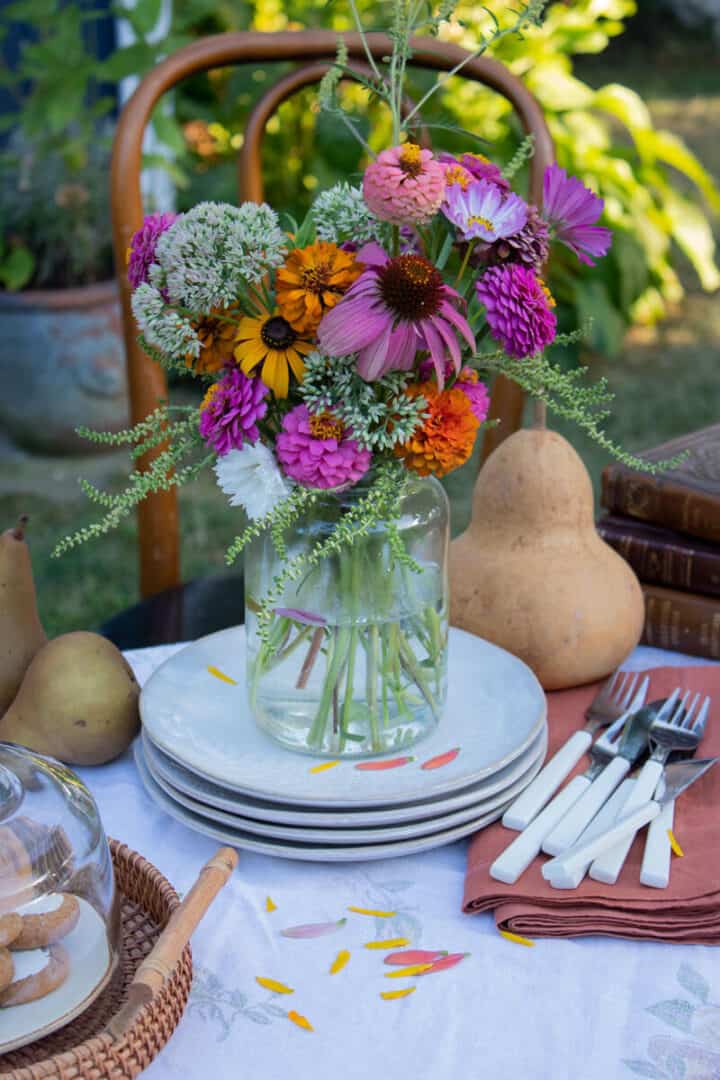 For the centerpiece of this fall tablescape, I wanted to make a floral arrangement. I started with flowers cut from my garden. It's a great way to harvest what's left of your garden while also adding a pop of color to your table.
It doesn't have to be huge to be a focal point. To make my flower arrangement stand out, I placed it on a stack of dishes. Though it's a small bouquet, the plates give it height.
I lost a lot of my garden due to heat and drought this year but I was happy to be able to salvage my cut flowers.
The arrangement is a mix of Zinnia, Coneflowers, Sedum, and Cosmos. The vase is an upcycled pickle jar. Pickle jars are a great size for small bouquets like this.
If you prefer not to make your own arrangement, you could use fresh mums instead. Placed in the center of the table in their classic fall colors they'd make a beautiful focal point.
The Dishes
I prefer informal gatherings, so I never set an individual place setting for everyone. Buffet style with a pile of pretty dishes and a stack of linen napkins is the perfect way to create a casual overall look.
I also never use napkin rings. I don't see the point in using them when they'll be immediately removed.
You can't tell from the photos but the white dishes have a beautiful leaf imprint on them. Pretty for the fall season but simple enough for use year-round.
I almost always use white plates as my base. Often, I'll layer them with a colorful or seasonal salad plate.
Fall Tablecloth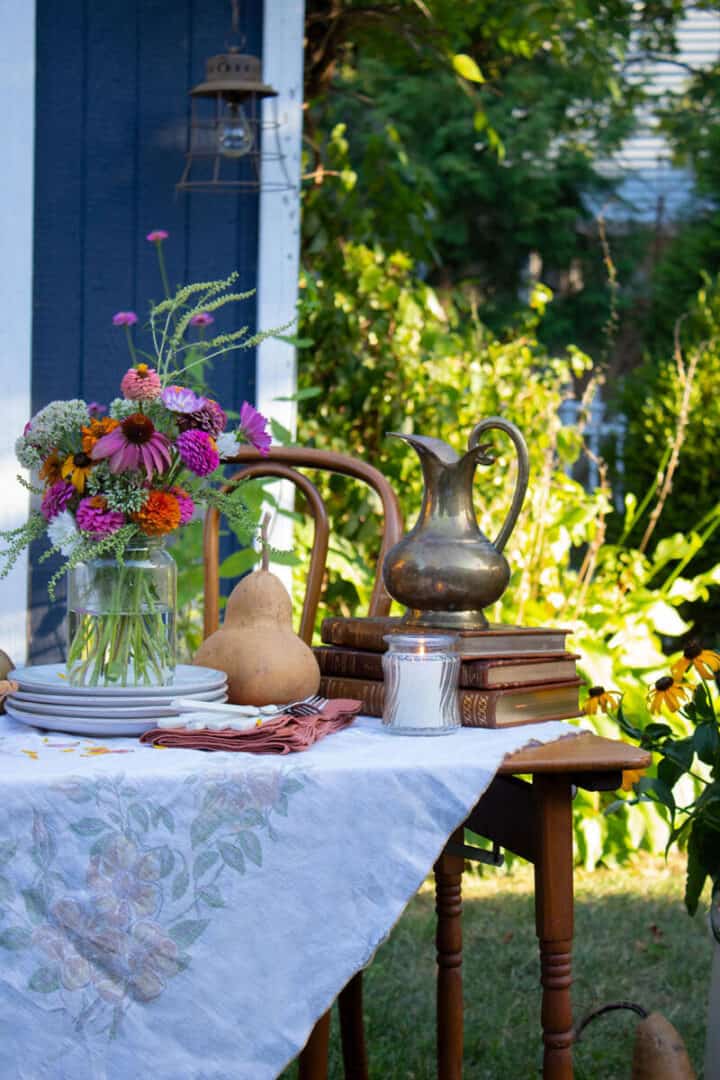 The tablecloth I used here is vintage, found at a flea market. Tablecloths are one of my favorite things to search for at thrift stores and flea markets.
This is one of my favorite finds, with its muted floral colors. The photos don't do it justice. However, it is small and would not fit a standard dining room table.
For that reason, I'll use it as a layering piece. But it does set the tone for more vintage elements. I don't mind if it doesn't fit exactly, it looks more organic this way. You could also layer a vintage tablecloth with a table runner.
Easy Ideas For A Fall Tablescape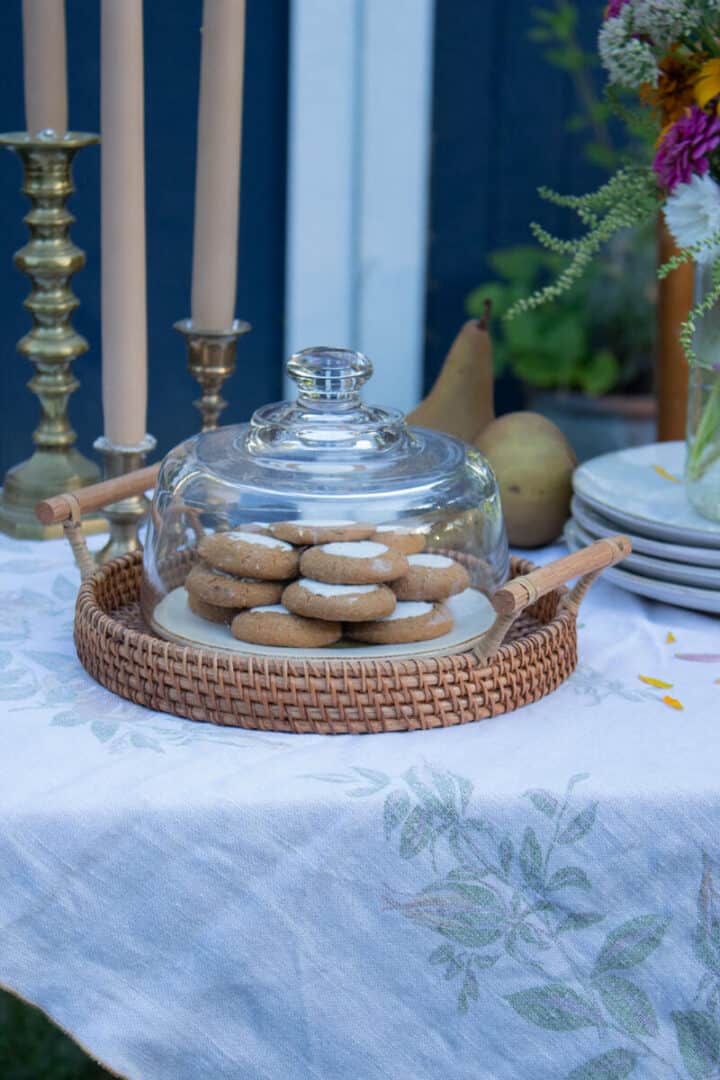 Using a cloche outside really comes in handy to keep bugs away from your food. This is a cute mini cloche that was found while thrifting. Those can be hard to find (and expensive!), but I did see this one on Etsy for a good price.
You may remember my extra tall candlesticks from last year. They're amazing and I'm glad to see they are back in stock in more colors this year.
They go really well with my vintage brass candle holders.
Vintage Elements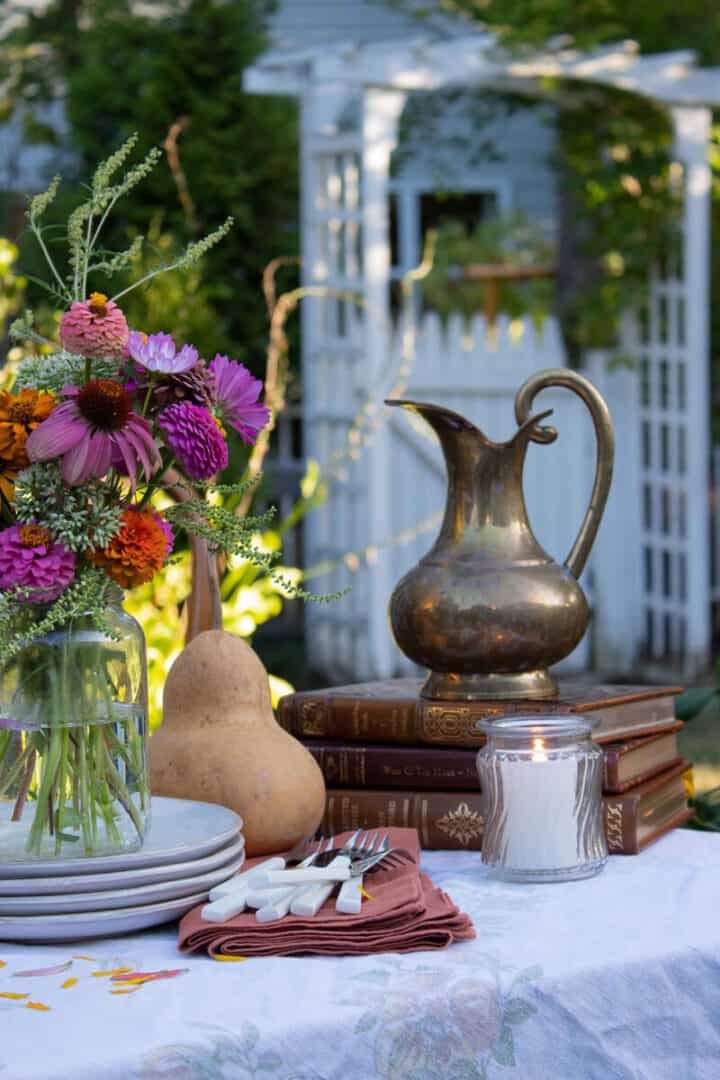 The cloth napkins are not vintage but I've had them for a long time. They are such a good fall color and happen to go with the vintage tablecloth perfectly.
It's so much fun when that happens and my hoarding pays off!
The gourds and antique books were found recently at an antiques show/flea market I went to. I like that the books add an unexpected element to the table setting.
And the amazing brass pitcher was also a vintage find. The shape of that one is so good.
I love how it all looks with my dark blue shed, it's the perfect backdrop to contrast the table's color palette. Painting that old shed was one of the best decisions I've ever made.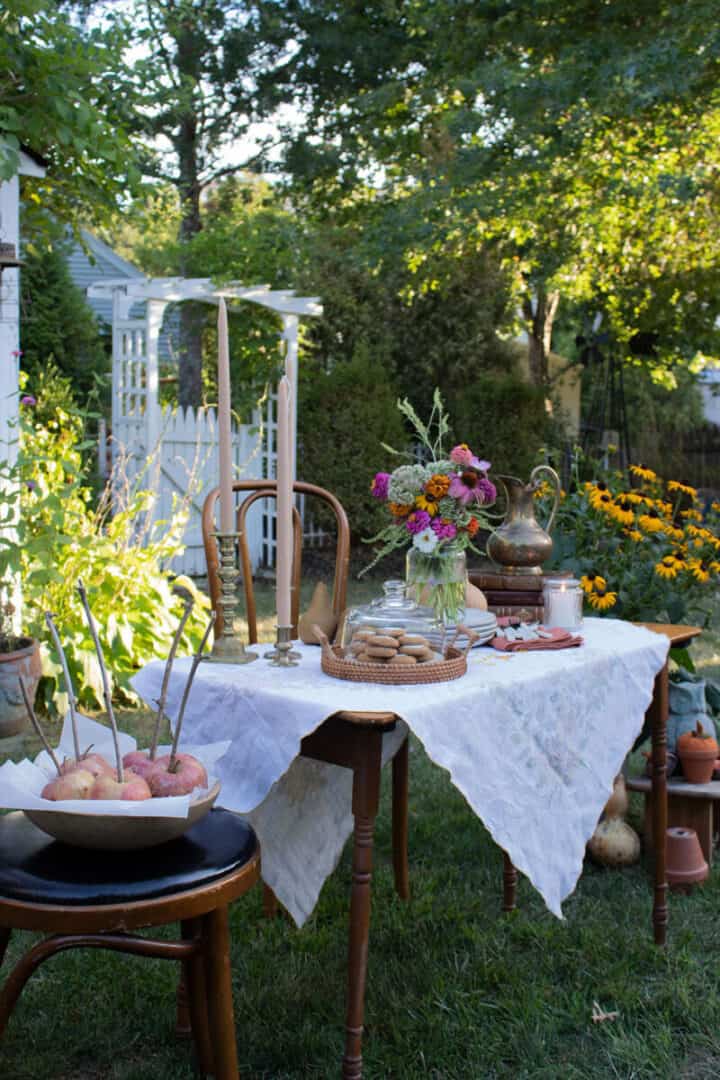 A few caramel-dipped apples and a large pot of black-eyed Susans complete the fall tablescape. This one was pretty simple to pull together but it's probably my favorite so far. The only thing missing is the fire pit (like I used with my affordable fall table setting). With the intense drought conditions we've had I didn't want to chance it.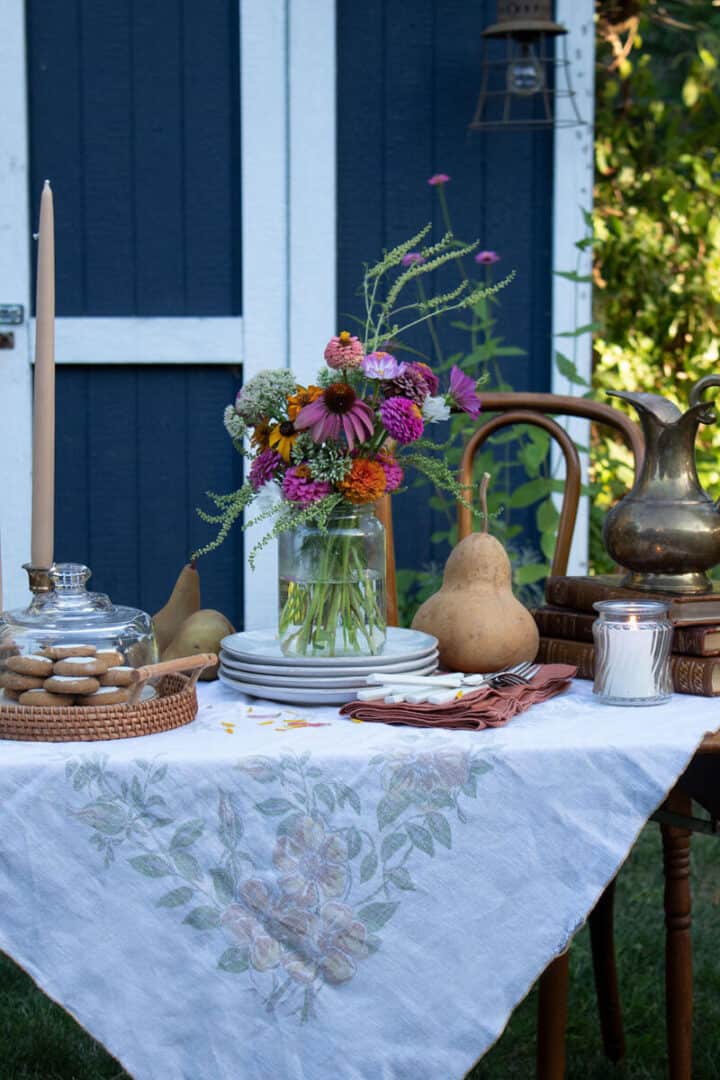 While most of what I used is vintage or natural, I have found so many great fall decor items while browsing recently, I'll share those with you soon.
I am very into fall decorating and enjoying the cooler weather this year, are you?
If not, I hope this inspired you to create your own beautiful fall tablescape! I had a great time pulling this together and I'm looking forward to hosting many fall gatherings this year!
---
YOU MAY ALSO LIKE THESE FALL TABLESCAPE IDEAS: